Email marketing is one of the most effective ways to reach customers. Unlike advertising, someone on your email list has usually opted to receive your messages. That means that they are "warm" leads who are much more likely to turn into a long-term customer. Therefore, you don't want to waste this opportunity. That's where a good marketing strategy for emails comes in.
Today, you can hire an email marketing specialist who can craft email campaigns, build your email list, and help boost your sales.
Here is a look at where you can find top email specialists online.

---
Strength in brand marketing, growth marketing, and fractional CMOs.
Elite, "Top 3%" of marketing talent in the world.
48-hour talent matching, with 75% of clients hiring their first match.
---
Strength in performance marketing, including paid ads and affiliate programs.
Specialties in SEO, content, and email marketing.
Great for growing agencies to augment staff. Easy to scale your team.
Match With the Perfect Agency
Use our free agency concierge service to find the perfect match. Takes about 1 minute.
Advertising Disclosure
Advertising Disclosure
We offer this website completely free to our visitors. To help pay the bills, we'll often (but not always) set up affiliate relationships with the top providers after selecting our favorites. However, we do our best not to let this impact our choices. There are plenty of high-paying companies we've turned down because we didn't like their product.
An added benefit of our relationships is that we always try to negotiate exclusive discounts for our visitors.
Top Email Marketing Agencies
Editor's Choice: Top Pick for Email Marketing Specialists
Learn More
Uplers is one of the few email-only marketing agencies that have vast experience with several different businesses. The company currently has over 5,000 clients from over 52 countries.
They can help build your email list or work with your existing email list to craft email campaigns, run split tests, and optimize your campaign. Since Uplers are email specialists, you know that you're getting an experienced team that can get the job done.
However, you should expect to spend a premium on their services. Overall, Uplers is an ideal choice for companies with larger budgets.
Learn More
If you have some experience handling email marketing yourself, then you'll likely just need a specialist to help you out when it comes to writing email campaigns and split testing.
That's where a great freelance site like Mayple can help you out. There are hundreds of email specialists that you can find for a small campaign or a large project.
While you should expect a few hundred dollars for their services, it's more cost-effective than hiring an entire email marketing agency.
Learn More
GrowTal is another freelancer site. However, you'll find that the talent on this site has a higher level of overall experience.
If you need to take a more "hands-off" approach with your email campaign, then starting your search on GrowTal is going to be a smart idea.
Sure, you'll have to pay a little more for their services. However, you can be sure that you'll find an experienced email marketing specialist who can hit the ground running on your campaign.
Learn More
The one thing about using freelance sites is that you have to spend lots of time searching and contacting the right pro for your job.
With MarketerHire, the site does some of the legwork for you. The company will pre-screen the best candidates for your email marketing project and send you two to five choices within 48 hours.
The best part about this service is that it's free. If you don't have the time to search through hundreds of freelancer profiles, then MarketerHire is for you.
Learn More
Got a small budget? Then you will want to get started on Fiverr.
This is the world's largest freelancer platform where you can find hundreds of email marketing specialists. Now, bear in mind that there is not a huge barrier to entry on the Fiverr platform. Therefore, you will need to spend some extra time screening the best candidates for your work.
However, you may be able to find someone for under $100 to write your email campaigns. If you need someone with a more established track record, then you can hire a Fiverr freelancer with a Fiverr Business or Fiverr Pro profile.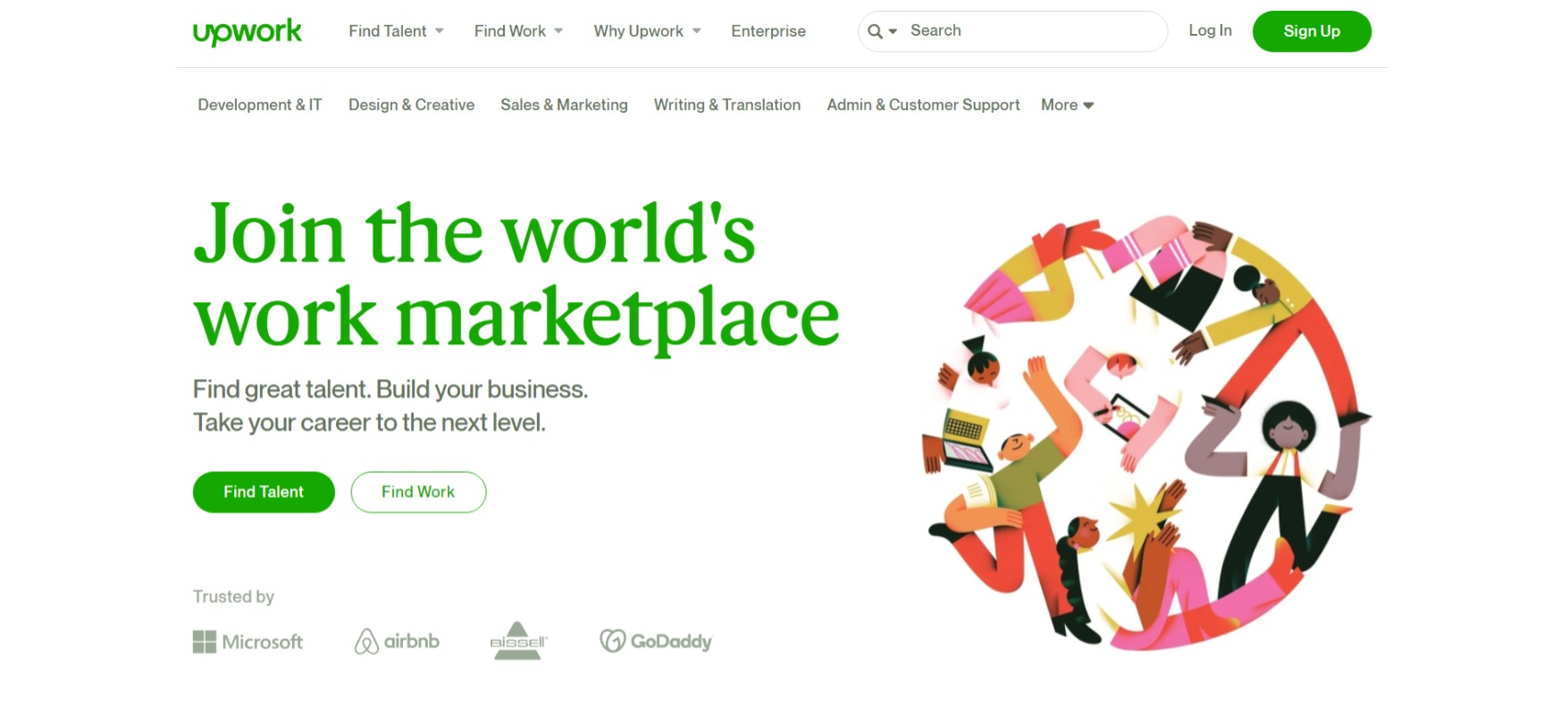 Learn More
Upwork is a great place to find email marketers if you want to handle most of the search yourself. The site has hundreds of email marketers of varying skill levels.
The chances are that you'll find freelancers with some level of experience. However, you'll likely not have to pay as much as hiring an entire email marketing agency.
Just be sure to ask for samples of their recent email campaign work to see if the skills are up to your requirements.
Types of Digital Marketing Agencies
What Is Email Marketing?
Email marketing can encompass the entire process of harvesting email leads, segmenting the list, writing campaigns, and managing split testing. In some cases, you may only need someone to write the emails. However, if you don't have an email list, then you will need to find someone who can provide a complete package of services.
What Does an Email Marketing Specialist Do?
An email specialist can handle several tasks related to email marketing:
Creating lead magnets
Creating opt-in forms
Managing email list
Segmenting email list
Writing emails
Split testing email executions
Culling email list
How Much Does an Email Marketing Specialist Charge?
An email marketing specialist can charge anywhere from $50 to $5,000 depending on how much work they need to complete. If you just need someone to write emails, then you can likely hire them for about $100. If you need a complete email marketing campaign, expect to pay several thousand dollars.
FAQs
Can email marketing specialists guarantee results?
Most email specialists will not be able to guarantee the results of their campaign.
Can I find an email marketing specialist with experience in my niche?
If your business is in a common niche – such as eCommerce or SaaS – then you may be able to find email marketing specialists with experience in your field.
What is the turnaround time for an email marketing specialist?
Turnaround time will depend on the scope of the work. Simple email scripts can take days, while an entire email campaign can take anywhere from 3 to 12 months.
Do I have to provide an email marketing specialist with an email list?
For simple script work, you should already have an email list. If you need a campaign created from scratch, then a list is not needed.
Not sure whether email marketing is for you? Check out these digital marketing stats; they may help with the decision making process.