At this point, who isn't addicted to scrolling through their feed and catching up on the latest from their friends, family, and the world at large? But Instagram isn't all play.
With the opportunity to develop engaging ads that can bring scrolling thumbs to a stop, there is a big potential for companies to use the platform to voice their authenticity and grow brand awareness. It's also a chance to reap the benefits of influencer marketing.
We wanted to find the best solutions to your Instagram marketing needs, which is why we came up with the following list of agencies and providers that will help you get your name on users' feeds.

---
Strength in

brand marketing, growth marketing, and fractional CMOs.
Elite, "Top 3%" of marketing talent in the world.
48-hour talent matching,

with 75% of clients hiring their first match.
---
Strength in performance marketing, including

paid ads and affiliate programs

.
Specialties in SEO, content, and email marketing.
Great for growing agencies to augment staff. Easy to scale your team.
Match With the Perfect Agency
Use our free agency concierge service to find the perfect match. Takes about 1 minute.
Advertising Disclosure
Advertising Disclosure
We offer this website completely free to our visitors. To help pay the bills, we'll often (but not always) set up affiliate relationships with the top providers after selecting our favorites. However, we do our best not to let this impact our choices. There are plenty of high-paying companies we've turned down because we didn't like their product.
An added benefit of our relationships is that we always try to negotiate exclusive discounts for our visitors.
Best Instagram Marketing Agencies
Of all the companies and online sources you can use to find and hire competent marketers for your Instagram needs, the following agencies and resources are our top choices.
Best for businesses that want to partner with a dedicated Instagram marketing agency.
Learn More
True North Social is a prime example of an agency that puts social media front and center. While some agencies lump all the social platforms together when discussing their strategy for growing followers and building your brand, True North Social takes the time to look at each platform on its own. Instagram is no exception, and they make a strong case for how they can grow your brand.
To boil down their strategy, they act fast and move quickly. Their team builds out your entire Instagram campaign using tools like branded content, ad optimization, analytics, and community and audience identification. This – coupled with the team's ability to keep up with the latest Instagram trends and talking points – enables them to put together a winning solution that gets you the views and engagement you're after. In fact, they boast that some of their clients gain 3,000 organic followers a month – no ads needed.
True North Social is also heavy on using digital influencers to provide your business with even more authentic online representation. Though other digital marketing firms may say the same thing, those companies might not be based in Los Angeles like this team is. And we don't need to remind you that LA is an international hub for all things media, especially in today's influencer era. Because of their location and connections, they can get you in with the top creators, giving your brand that extra boost required of a truly top-notch Instagram marketing campaign.
Best for companies that want low-cost solutions working with freelancers unaffiliated with any agency or provider.
Learn More
Unlike some other freelance platforms, Fiverr has historically targeted small, one-off jobs rather than larger-scale projects. That's changed in recent years; with the company undergoing some pretty phenomenal growth over the course of the pandemic, Fiverr has begun to branch out from its core affordability schtick to something more on par with what you see in other freelance platforms. Still, Fiverr is still known as the destination for quick jobs rather than all-consuming projects.
This plays in your favor when it comes to Instagram marketing. The best Instagram content creators are all about timely and authentic posts, not big orchestrations that require committee meetings for posting approval. By hiring someone on Fiverr, you can quickly get someone on your team who can swoop in and help out with anything from content scheduling to drafting up new posts. And with Fiverr's pricing flexibility – jobs on the site are no longer exclusively $5 like they used to be – you can pay a bit more if you're looking for someone at the top of their game.
On that point, Fiverr has also released something known as Fiverr Pro, which is essentially a more premium Fiverr marketplace where freelancers come pre-vetted and have been identified by the platform as experts in their niche. It's the perfect option to work with professional freelancers with known success and expertise in Instagram marketing.
Best for companies looking to work with top-performing freelancers that have already been vetted by industry experts.
Learn More
As a marketplace specifically for freelance marketers, MarketerHire promises that it will pair you up with somebody that knows the ins and outs of today's digital environment. Unlike a traditional freelance platform, MarketerHire thoroughly vets anyone you might work with through their site. In fact, they set a high bar for their applicants: only five percent of freelance applicants make it through their multi-step process. When you sign on with them, you're getting proven talent, not just another content creator with a fancy profile.
When it comes to finding the ideal freelancer, MarketerHire takes care of the matchmaking process. Just post your job, and within 48 hours, they'll pair you up with a freelancer that they believe is an ideal match for your needs. Afterward, they'll regularly check in to see how the relationship is developing to ensure both parties are happy with the results.
It's this sort of oversight and fixation on happy freelancer/client matches that has us liking the MarketerHire process. Working with them also means you won't have to constantly send along test assignments or begin on tentative terms as you would with hiring a freelancer off one of the many wild-west platforms out there. With MarketerHire's in-house support and vetting process, you can start working with quality freelancers quickly and painlessly – perfect for when you're looking for talented Instagram freelance marketers that can elevate your online presence.
Best for growth-oriented businesses looking to work with thoroughly vetted freelancers who know your niche as well as you do.
Learn More
GrowTal pairs you up with top-notch freelance marketers that have already proven their mettle in their niche. Because the company has pre-vetted everyone you might work with, you can be sure that your work will be done to a level of quality and consistency that's never promised or even likely with other platforms.
GrowTal's vetting process is four steps, beginning with a review of an applicant's online profile and culminating with an in-depth interview that is designed to gauge the candidate's skill level, professionalism, and abilities. The final call on whether or not to accept a freelancer onto the platform is made by a seasoned pro within the particular marketing vertical that an applicant is interested in. Any hopeful freelancer looking to find work through this agency will need to impress these subject matter experts first before getting the chance to work with GrowTal's clients.
Considering the leadership team for Growtal cut their teeth in the likes of companies such as Uber, Square, Shutterfly, and other big names, it's no surprise that excellence is the name of the game here. And they seem to deliver: their stats show 62 percent savings for companies who choose to work with their pre-vetted freelancers over hiring someone in-house. It's a compelling data point that underscores why GrowTal ultimately made our shortlist.
Best for businesses looking for a provider that offers quality freelance talent in an agency-like arrangement for an affordable, transparent price.
Learn More
Mayple's premise is simple: they'll pair you up with some of their top-rated freelance talent to create your dream team of marketers to bring your Instagram goals to life. Along the way, you'll benefit from regular feedback and conversations with an assigned Growth Strategist. The approach combines the best of an in-house marketing team with a traditional agency, only the talent is under contract rather than on salary.
Mayple finds the perfect freelancers for your business by using an advanced algorithm that takes into account more than 25 factors, ranging from personality type to prior work experience. Their goal is to find someone with the right background, talent, and working style for your needs. You can typically expect to be matched with a freelancer within three days of submitting your profile. Worried the results might look like your last attempt using Tinder? Relax: the company claims a 92 percent success rate when it comes to their client/freelancer matches.
Their social media management arm of the business covers the Instagram marketing solutions you're interested in. Refreshingly, they offer reasonable pricing for their social services: costs range from $1,850 a month to $3,950 a month, depending on the package you choose. Even the cheapest package supports three different social channels, allowing you to balance out your Instagram needs with other complementary social solutions.
Best for businesses that have small-scale needs and would do well hiring an independent freelancer.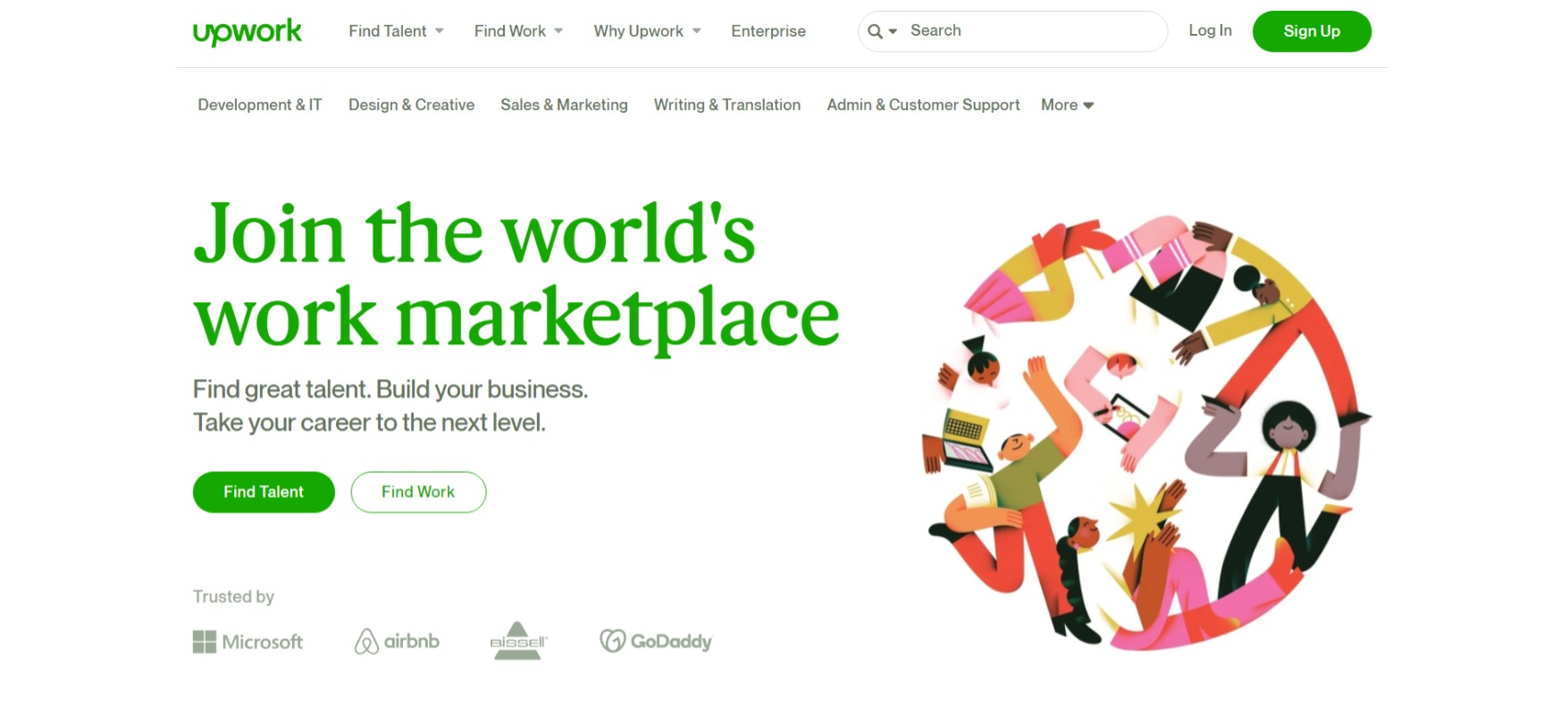 Learn More
Upwork is one of the biggest names in online freelance work, and there's no shortage of freelance Instagram specialists in its ranks. Because there's such a wealth of talent on the platform, you can find the exact right fit for your marketing needs no matter how niche you're trying to go.
Upwork also offers excellent flexibility for hirers, as you can have the job go on for as little or as long as possible, depending on the scope of the project. When it comes to Instagram marketing, you can hire someone to make posts on an ad-hoc basis or set up an ongoing arrangement with a content creator if you're looking for a longer-term solution.
Similar to Fiverr, we think Upwork is the ideal solution if you just need some light work done on Instagram – perhaps someone to make a couple of posts a week or help you craft a content schedule. It's a great option if you already work with an agency that doesn't offer social media management or have an in-house marketing arm too tied up in other projects to devote time to social. Upwork's flexibility in both work, price, and contract duration make it an excellent solution for such scenarios.
Best for businesses that want to work with an agency that knows Instagram and social media better than just about anyone.
Learn More
A lot of agencies offer social media as an available service along with their other digital marketing verticals, and too often it gets lost in the shadow of SEO or other digital marketing strategies. That's not the case at The Snow Agency, where social media is their specialty. In fact, they hardly offer anything else besides focused campaigns for all manner of social platforms.
Being such a highly specialized agency, the team at Snow can dive deep into your Instagram campaign. They know how to leverage all the data and goal-tracking analytics offered by Instagram. They use this data to their advantage as they continuously craft and hone your message to see what resonates the strongest with your audience. In fact, constant A/B testing features large in their marketing toolbox.
By exploiting data and tirelessly crafting just the right content for your Instagram posts, The Snow Agency seeks to provide a more tailored approach to social media. It's an approach we approve of, and so does the market: the company reports that they've generated $250 million in revenue for its clients through the social media marketing work that they provide. If you'd like a cut of the action, reach out and see what they can do for your Instagram channel.
Types of Digital Marketing Agencies
What is an Instagram digital marketing agency?
A digital marketing agency with a focus on Instagram and other social media platforms provides content creation, online reputation management, social posting, channel growth, and other social-specific services. Experts in this niche live and breathe social media, so they know exactly what content resonates with certain audiences, which is how they can lend your brand that perfect online voice your targeted consumers should love.
When it comes to social media management, the scope of services offered by firms and providers can vary widely. Some freelancers, for instance, might only be on the creative side of Instagram and won't touch analytics or even growth planning. Others may bundle Instagram content strategy into a larger social media management solution, forcing you to buy a larger and more comprehensive package. And then there are firms like The Snow Agency, where social media marketing is all they do. All of these approaches are valid options – which is right for you just depends on what you're looking for from an agency or freelancer.
What does an Instagram marketing agency do?
An Instagram marketing agency is usually bundled as part of social media management. That term is a catch-all used to cover everything from Instagram posting to online reputation management to Facebook analytics. Agencies that offer social media management will typically handle every aspect of your social presence, from laying out and executing a posting schedule to managing negative posts and questions directed at your business.
An important point to note is that while all social media professionals will know some level of digital marketing, not all marketers will know social media. Forget this and you could end up working with someone who doesn't quite know the nuances of navigating the world of social, which is very much its own beast that requires specialized knowledge in order to deliver the results you're after.
How much does an Instagram marketing agency charge?
This is a tough one. Typically, you'll need to schedule a free consultation before learning any pricing information. Some of this is due to how custom the work can be: depending on your company's needs, the agency's available service packages, and the inevitable negotiating, pricing for such services are frustratingly difficult to pinpoint. And the quality of service couldn't get any wider: you could pay your Gen-Z neighbor a bit of gas money to do some Instagramming for you in their free time, or you could contract with a full-service social media agency for thousands of dollars a month.
Our advice? Determine just how much you want to spend and how thorough of a solution you're looking for. A tighter budget can easily buy a quality freelancer and maybe even some entry-level agency services. A more ambitious Instagram marketing plan will require deeper pockets, but you'll be rewarded with top talent from highly competitive digital marketing firms.
FAQs
What is an Instagram digital marketing agency?
It's a digital marketing agency that specializes in helping companies grow their brand awareness on Instagram. Some digital marketing agencies offer total social media management, but you can also hire freelancers from Upwork and Fiverr to do some one-off or light-duty work. One of the pre-vetted freelance platforms like GrowTal and Mayple are also great options when you want top talent to tackle your Instagram marketing goals.
Is it worth it to hire an Instagram marketing agency?
Generally, yes. These agencies build your brand in the eyes of your ideal consumer through targeted analytics. This brings you to welcome Instagram growth as you focus on what you do best: developing your product or service.
How do I choose an Instagram marketing agency?
Start with a list like the one above, then determine what your needs and budget are. If you only want a few Instagram posts a week, consider an independent freelancer. Looking for a bit more support and maybe some analytics and strategy work? Consider a traditional agency or a firm that contracts out vetted freelancers ready to take on more serious projects.
Which Instagram marketing agency is best for small businesses?
For small businesses, we'd recommend starting with Upwork or Fiverr. Why? Because of ease of use and price point. You can easily start by offloading a few Instagram posts to a proven freelancer on one of these platforms to test the waters of social before jumping into anything more serious. It's a great way to get some off-the-bat growth without spending a lot of money. The cost will be a fraction of what you'd pay a larger agency.