Today I'm going to give you an inside look into one of the more in-depth ecommerce training courses on the market, Steve Chou's Create a Profitable Online Store.  I'll unbox each section of the course so you can try before you buy.
And if you want my opinion on the pros, cons, and whether this course is worth the money, check out my review of Create a Profitable Online Store.
Profitable Online Store: Course Walk-Through Video
Profitable Online Store: Course Curriculum
The course is broken up into 15 different sections and contains over 300 videos.
Module 1: Find a Profitable Niche Market (25+ videos)

Using software tools to find products to sell
Evaluate the niche for profitability
Assess competition
Choosing the right ecommerce business model for you
Module 2: How & Where To Source Your Products (25+ videos)

Dropshipping vs Wholesale vs Private Label
How to find legitimate vendors to source products to sell online
How to buy wholesale from domestic vendors or import products from overseas
How to setup manufacturing
How to negotiate and import products from China
Managing inventory and working with fulfillment vendors
Module 3: Set Up Your Online Store (70+ videos)

Choosing the right shopping cart software
Configuring your store Webhosting, securing online transactions with SSL, and credit card processing
Optimizing product images on your website
Creating high-converting landing pages
Module 4: How To Sell On Amazon (40+ videos)

Optimizing your product listings
Attracting reviews
Validating your niche
Launch strategies and growth hacks
Preventing copycats, getting hijacked, and removing negative reviews
Module 5: How To Create Sales Funnels (5+ videos)

Combining sales funnels, ads, email, and social media marketing
Example funnel that works
Techniques to increase conversions and get repeat customers
Module 6: Make Your Business Legal (5+ videos)

Corporate structures, licenses, insurance, and permits
Tax strategies
Accounting and HR
Protecting your IP (trademarks, patents, and copyrights)
Module 7: Market Your Online Store For Free (10+ videos)

Generate traffic using free marketing techniques
Upselling and cross-selling your products
Influencer marketing and finding guest post and PR opportunities
Module 8: Email Marketing (20+ videos)

Growing your email list
Writing high converting email autoresponder sequences
Recovering abandoned shopping carts
GDPR compliance
Increasing email deliverability
Module 9: Using Google Adwords And Google Shopping (25+ videos)

Launching profitable Google Shopping ads
Setting up Google Ads campaigns, ads, and bidding strategies
Optimizing Google Ads campaigns for better conversions
Using remarketing to bring customers back
Module 10: Running Facebook Ads (15+ videos)

Launching profitable Facebook ad campaigns
Sales funnels for Facebook ads
Setting up retargeting for repeat visitors
Module 11: Facebook Messenger Marketing (5+ videos)

How to run Facebook Messenger Ads
Facebook Messenger funnel strategy and successful flows
Running giveaways to build your email list
Module 12: Optimize Your Store For The Search Engines (20+ videos)

Optimizing your website and online store for search
Strategies to rank blog posts
How and where to obtain high-quality backlinks
Implementing rich snippets and schema
Module 13: Pricing Products (2 videos)

Different types of pricing strategies
Setting the optimal price for your products
Psychological pricing strategies
Dealing with competitors that undercut your price
Module 14: Advanced Website Optimization (15+ videos)

Fundamentals of effective website design
Improving your store search function
How to speed up your website (compression, caching, and page speed optimization)
Optimizing your store through split testing
How to properly use coupon codes
Preventing security issues
Module 15: Customer Service And Managing Your Online Reputation

Handling customer support with little or no staff
Reducing unnecessary support phone calls
Handling returns and chargebacks
Bonus Lessons

How to mitigate risk when starting your online store
How to run a business while working a full time job
How to test the market before you launch your store
How to pick the right type of product to sell
A checklist for everything you should include on your website
Profitable Online Store: Course Details
Let's preview some highlights of the Create a Profitable Online Store course.
Introduction
When you access the course for the first time you are taken to an orientation video.
And right when you get started, Steve will get you into a small focus group of your peers and into the private Facebook group.  More on those items later.
Course Navigation
Steve has 3 different ways to guide you through the 300+ videos in the curriculum to get you to the information that's most important for your specific situation.
#1 – Course Learning Paths based on the current stage of your business
If you are a beginner: Steve will give you a lesson plan to walk you through selecting a niche and setting up your store
If you already have a store: Steve will give you a lesson plan to move you to profitability
If you want to sell on Amazon: Steve will give you a lesson plan to get setup and optimized for conversions
#2 – To Do Lists and videos based on Topics
#3 – Course categories – which match the modules listed in the previous section
Course Preview
Inside each course category or module, you'll find a list of related video topics.
Each of these topics opens up a video plus an accompanying outline.
When you play each video you'll see Steve in the bottom right corner and he'll move between slides and hands on tutorials with the different software programs you will utilize.
Access to the Teacher
Steve Chou makes himself very accessible to his students to help them launch and grow their stores.  He does this in 3 main ways:
#1 – Weekly Office Hours
Every Wednesday Steve holds office hours where he does a lecture and holds a live Q&A via chat
#2 – Website and Online Store Critiques
Steve regularly critiques and provides recommendations for improvement on his students' websites.  The critiques are available for any student to review.
To encourage class participation and engagement, Steve sets milestones for each of his students to earn points.  If you earn enough points, Steve will personally critique your website as well.
#3 – Regular Content Updates & Speakers
In addition to updating his course content weekly, Steve also publishes interviews and webinars with other industry experts.  Below is just a small sampling of the guest speakers Steve has interviewed.
Community of Ecommerce Entrepreneurs
Steve doesn't just teach the course, he builds a community of like-minded entrepreneurs that support each other.  There are 2 main community elements
#1 – Profitable Online Store: Private Facebook Group
The Facebook group is very active and questions are answered every single day by Steve or other expert online sellers.
#2 – Profitable Online Store: Focus Group (mastermind)
Being an online entrepreneur can be lonely.  So Steve decided he wanted to build a community that collaborates and supports each other.
When you start the program you have the opportunity to join a 4 person focus group, run like a mastermind group.  Each group meets virtually once a week for an hour to bounce ideas off each other, stay motivated, and be held accountable.
Tools for Online Store Owners
Steve has created a variety of tools to help online shop owners.  You'll find a curated list of recommended free and paid tools and service providers.  Steve has used the vast majority of these himself and shares the pros and cons along with explanations of why he has switched from one tool to another.
In addition, Profitable Online Store comes with:
Spreadsheets to help you find your niche
Worksheets to apply what you've learned
Checklists to make sure you don't miss any details prior to launch
Questionnaires to you help you choose a shopping cart
Pre-negotiated discounts on popular tools and services used by online sellers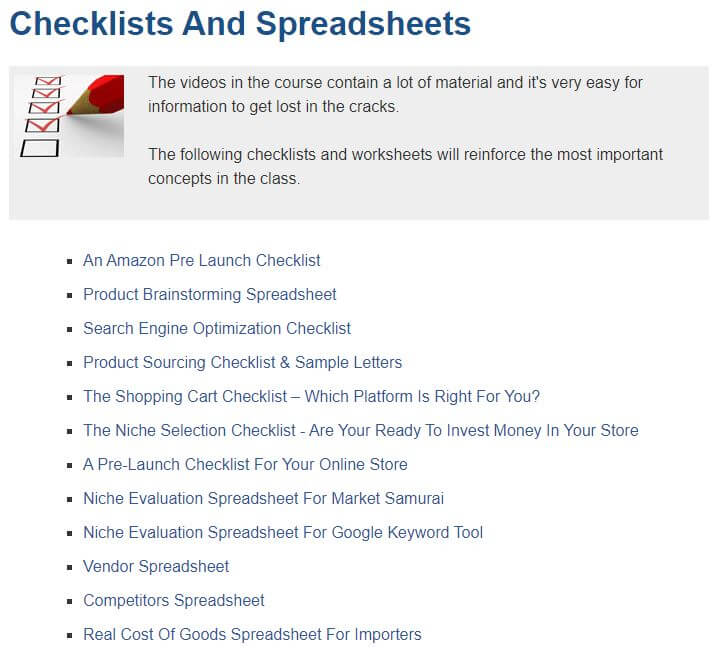 Some of the discounts Steve has negotiated are below with more being added regularly.
Profitable Online Store: Summary of Course Features
For free, you can try the Profitable Online Store mini-course that is packed with value.
For a one-time fee (no recurring subscription), you'll get lifetime access to the full Create a Profitable Online Store course and related features including:
300+ video tutorials (with new videos added each week)
Weekly live office hours and online webinars
Get matched up into a small mastermind group of your peers (Steve calls these "focus groups")
Private Facebook group and exclusive member forums
View critiques of student's websites (Steve will personally critique your website as well if you hit participation milestones in the class)
Interviews and webinars with industry experts
Spreadsheetsto help you find your niche
Worksheetsto apply what you've learned
Checkliststo make sure you don't miss any details prior to launch
Questionnairesto you help you choose a shopping cart
Pre-negotiated discounts on popular tools and services used by online sellers