You can say volumes in just 280 characters – especially when it comes to growing your business and expanding your reach. Getting your business on Twitter is an excellent way to further your brand awareness with the desired audience on a platform that isn't Facebook or Instagram.
Not into tweeting yourself? No problem – there are countless agencies that will handle your Twitter marketing needs.
Of course, finding the perfect marketing option can get daunting. That's why we created this list – to help business owners whittle down their options by finding the best players for different budgets, needs, niches, and preferences.
Advertising Disclosure
Advertising Disclosure
We offer this website completely free to our visitors. To help pay the bills, we'll often (but not always) set up affiliate relationships with the top providers after selecting our favorites. However, we do our best not to let this impact our choices. There are plenty of high-paying companies we've turned down because we didn't like their product.
An added benefit of our relationships is that we always try to negotiate exclusive discounts for our visitors.
Top Twitter Marketing Agencies
Best for hiring freelancers for a small volume of work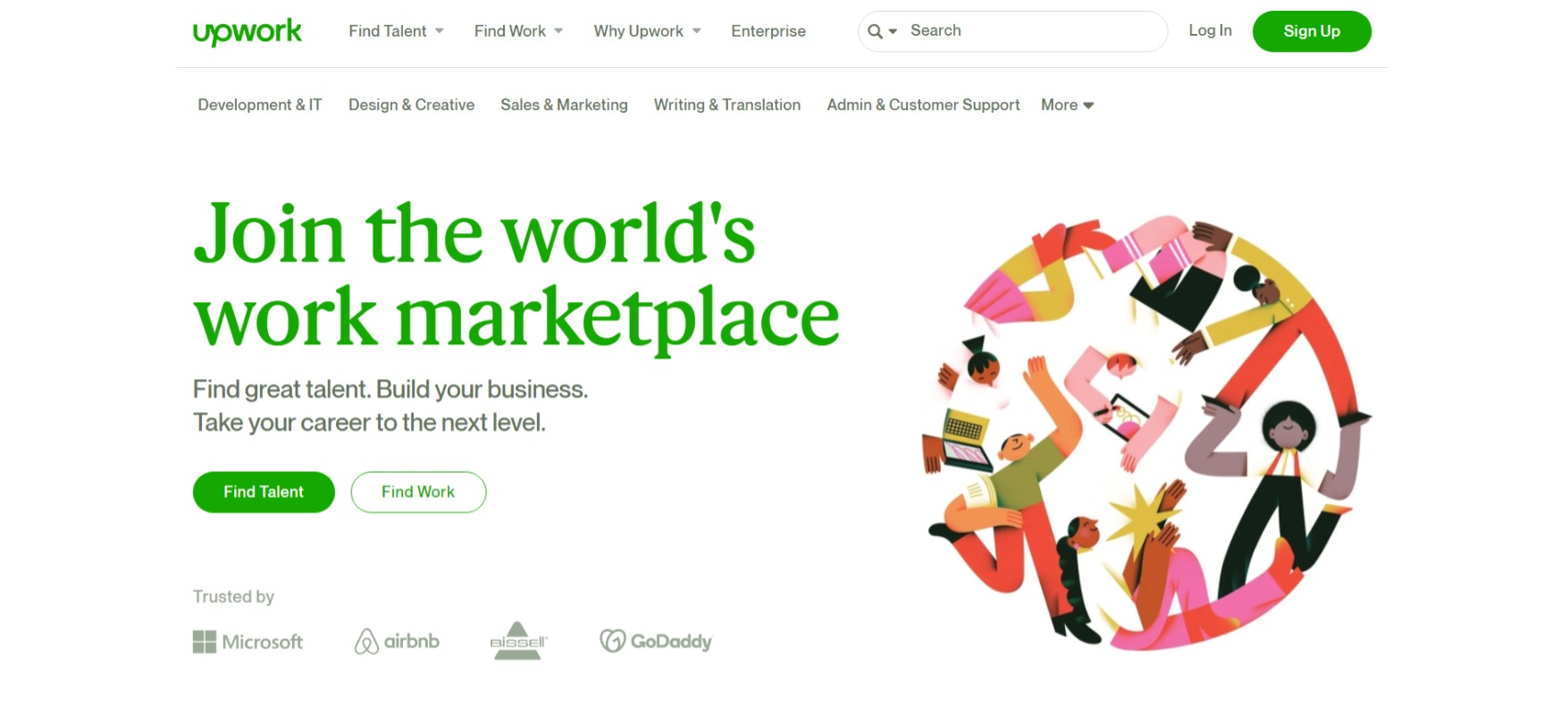 Learn More
How could we not start with Upwork? As one of the most popular online marketplaces to connect service providers with clients, Upwork is awash with highly talented digital marketers ready to help you with your Twitter needs. All you have to do is make an account, post your job, and wait for the applicants to come to you.
For those unfamiliar, Upwork is a platform where freelancers can pitch, propose, and offer their services to businesses and entrepreneurs looking to contract out gigs. As a business owner, all you have to do is create a posting detailing the job or project you have in mind. Freelancers can then find your job either in their feed or through the search function. If they like what they see, they can send you a proposal, which should provide a high-level overview of their talents, skillsets, and expected pay rate.
After you collect a few proposals, you can create a contract with whoever seems like the best fit. Whatever the agreed-upon payment was then sits in an escrow account hosted by Upwork until the job is finished, at which point funds transfer to the freelancer.
With so much diverse talent on Upwork, the odds are in your favor of finding someone on the site with the skills you're looking for at a price you can afford. The best part? You can have the job go on for as little or as long as possible. When it comes to Twitter marketing, you can hire someone to tweet for just a few weeks or set up an ongoing arrangement.
This is beneficial if, say, you work with an agency that doesn't offer Twitter or social media marketing. Rather than tweet yourself, just post the job on Upwork and contract out the work at a price that's fair for both parties. This flexibility in both work, price, and contract duration is why Upwork is such an excellent solution for so many businesses who want to leverage talent on a more informal or small-scale basis.
Best for companies looking for a short-term, low-cost solution
Learn More
Like Upwork, Fiverr is another well-known freelance marketplace. Go on their site, make your posting, and let interested freelancers come to you. It's as easy as Upwork, with many of the same benefits.
What differentiates Fiverr vs. Upwork? For starters, expectations on both sides of the aisle. For a long time, Fiverr was the option for companies looking to hire freelancers on a tight budget for one-off work – in fact, the name Fiverr refers to the fact that all jobs paid freelancers $5 a pop. That's changed in recent years as the platform has evolved to accommodate more involved projects and longer-term assignments, though any job on the platform is still referred to as a Gig. But generally, Fiverr still is better known as the destination for those short-term or one-off gigs.
When it comes to Twitter marketing, that sentiment is a benefit. The nature of Twitter marketing – fast, informal, topical, authentic – makes it a perfect Gig for the traditional freelancer using Fiverr. And with the more recent focus on jobs paying well above $5 – it's now possible to list Gigs for thousands of dollars on the marketplace – you don't have to pay bottom-dollar prices if you don't want to. Raise the price floor, vet a bit more carefully, and bring on someone who offers the quality commensurate with their skillset.
Fiverr also offers something known as Fiverr Pro as well, which is essentially an already-vetted group of freelancers that are known experts in their specialties. If you're really looking to work only with established hotspots, using Fiverr Pro is a great option.
Best for companies looking for quality freelancers without the hassle of screening
Learn More
Upwork and Fiverr are known mainstays on the freelance marketplace arena, but they aren't infallible. For one, you have to be willing to sift through proposals and freelancers until you find someone you hope works – and then they have to deliver. With MarketerHire, much of that hope-and-pray portion of the process is cut out entirely.
For starters, MarketerHire is what it says it is: a marketplace specifically for freelance marketers. Right off the bat, that specificity ensures that you'll work with somebody that knows the ins and outs of today's digital marketing environment. And you can feel confident about their knowledge base because they've already been vetted by MarketerHire before being featured on the site – in fact, they claim only five percent of freelance applicants make it through. When you sign on with them, you know that you're getting proven talent, not just somebody who can artificially jazz up an online profile to sneak past the approving algorithms.
What's more, you don't have to choose which freelancer you think is best for you – MarketerHire handles that. All you have to do is post your job, and within 48 hours, they will pair you up with a freelancer that they believe is best suited for the gig. Afterward, they'll check in regularly to see how things are going.
All in all, the process is easy and simple. Most importantly, it cuts out much of the uncertainty when working with freelancers, which means you won't have to constantly send along test assignments or begin on tentative terms. With MarketerHire's in-house support and vetting process, you can start working with quality freelancers quickly and painlessly – perfect for when you need to farm out that Twitter marketing work.
Best for growth-oriented businesses looking to work with vetted freelancers
Learn More
Similar to MarketerHire, GrowTal seeks to take the hassle out of working with freelancers by delivering the top-notch candidates you're after. They've pre-vetted everyone you might work with to ensure that the people they bring on are at the top of their game.
GrowTal's vetting process is four steps, beginning with a review of an applicant's online profile and culminating with an in-depth interview that is designed to gauge the skill level, professionalism, and abilities. The final call on whether or not to bring someone on board is made by a seasoned pro within the particular marketing vertical that an applicant is interested in. Want to be a freelance social media marketer through GrowTal in order to offer your Twitter marketing services? You'll have to impress their subject matter experts first before you'll be writing any tweets for their big-name clients.
Considering the leadership team for Growtal cut their teeth in the likes of companies such as Uber, Square, Shutterfly, and other big names, it's no surprise that excellence is the name of the game here. And they seem to deliver: their stats suggest 62 percent savings for companies who choose to work with their pre-vetted freelancers over hiring someone in-house. It's a compelling data point that underscores the reason GrowTal ended up on our shortlist.
Best for those looking for top freelancers already familiar with their niche
Learn More
Another great option for businesses looking for vetted freelance talent is Mayple. Similar to other specialized digital marketing freelance platforms, Mayple's premise is simple: they'll pair you up with some of their top-rated freelance talent, and they'll execute your marketing design briefs. Along the way, you'll enjoy continuous feedback, open communication, and frequent meetings with your assigned Experts and Growth Strategist.
To assemble your dream team, Mayple uses an advanced algorithm that takes into account more than 25 factors, ranging from personality type to prior work experience. Their goal with their matching is to find someone that has worked in your niche or something similar and who has a working style that fits your expectations. You can typically expect a match within three days, and these matches seem to have some staying power: the company claims a 92 percent success rate when it comes to their matchmaking abilities.
What's interesting about Mayple is that they don't just pair you with a single freelancer: they'll assemble a full team of freelance marketers working on your business if that's the best option for your marketing plan. Essentially, this approach speaks to Mayple's goal of supplanting any traditional agency or in-house setup. They have the regular strategy sessions that you'd find with a more traditional agency.
Their social media management arm of the business ensures they offer the twitter marketing solutions you might be looking for, and they offer reasonable pricing for their social services, ranging from $1,850 a month to $3,950 a month. They'll support three to five different social channels, allowing you to augment your twitter work with other social solutions.
Best for businesses looking for a hyper-focused Twitter marketing solution
Learn More
Though many agency firms will bundle Twitter solutions into a larger social media package, Thrive Agency breaks out their Twitter offerings for customers. Of course, they also offer a whole raft of typical digital marketing agency services, but for the context of this article, we're talking about their Twitter solutions.
When it comes to their Twitter solutions, it's no surprise they've won recognition for their work – after all, their team has some serious experience in this arena. In fact, they have years of experience working across a wide range of brands and industries, and they've helped companies reach thousands of Twitter users and grow engagement substantially.
How do they do it? Through robust analytics, real-time monitoring, audience identification, and other strategies that combine real data with expert social media management. Couple this with a team that always has their finger on the pulse of the latest online trends, and you have the recipe for a dynamic, reactive, fast-paced digital team that will craft successful, impactful tweets for your brand that resonate.
If you're not into hiring freelancers and want to work with a proven, dedicated agency that offers a specialized Twitter solutions team, Thrive Agency is your answer.
Best for companies looking for a proven agency with a focus on social media management
Learn More
Though Sachs Marketing Group offers a range of marketing solutions that you'd find with any agency, they are unique in that they put an outsize focus on building out your social presence and managing your online reputation. That means not only Twitter but also the other big social platforms as well.
Their approach to social is strategic and data-centric. The first thing they do when you sign them on is analyze your current social platform and determine your audience, then focus on where your audience is coming from so you can meet them there head-on. Their goal is to get you on the platforms where the ROI for your business is worthwhile, thus stretching your social media marketing dollars further.
When you review the website and services of Sachs Marketing Group, it's clear from the get-go that these guys and gals know their stuff. They have dissected the social media landscape and know what works and what doesn't, and their focus on social media as an agency means that your Twitter marketing goals won't be on the back burner – they'll stay front and center. Ultimately, this is an agency with a social-first mindset that's perfect for not only Twitter but your overall holistic social media strategy.
Types of Digital Marketing Agencies
What Is a Twitter Digital Marketing Agency?
A digital marketing agency with a focus on Twitter and other social media platforms provides online reputation management, social posting, channel growth, and other social-specific services. Experts in this niche live and breathe social media, so they know exactly what kind of posts resonate with consumers and will know just how to lend your brand that perfect online voice that the consumers you're hoping to engage with will love.
When it comes to social, not every firm offers the same scope of services. Some freelancers, for instance, might offer just Twitter marketing alone. Others may bundle it into a larger social media management solution and won't offer it piecemeal. Still, other social media firms are more specialized, hyper-focusing on one or two specific niches within digital marketing. All of these are valid options – which is right for you just depends on what you need.
What Does a Twitter Marketing Agency Do?
A Twitter marketing agency is not something you'll typically see advertised – instead, Twitter is usually bundled as part of social media management, which covers all your online social platforms, from TikTok to Facebook and everything in between. Agencies that offer social media management will typically handle all aspects of your social presence, from laying out and executing a posting schedule to managing your online reputation.
The main differentiator between social media management solutions and other digital marketing offerings is that the SMM folks know how to best use social tools and strategies to build your brand and enhance your reputation and online clout. That means creating engaging content that speaks to the authenticity and value of your brand, which will help put your business front and center on social media.
How Much Does a Twitter Marketing Agency Charge?
This is a tough one, as most agencies and freelancers are initially coy about their rates. Check out different agency websites and you'll find that most will push you to schedule a free consultation before relaying any pricing information. Some of this is due to how custom the work can be: depending on your company's needs, the agency's available service packages, and the negotiating that might ultimately dictate a final price, there really is no one-size-fits-all MSRP for digital marketing services. You can pay a freelancer a couple of hundred bucks a month for a few weekly Twitter posts, or you can pay a few thousand a month to an agency with a full-service social media management package.
Our advice? Determine just how much you want to spend and how thorough of a solution you're looking for. A tighter budget can easily buy you a quality freelancer and maybe even some entry-level services at an agency. A more ambitious plan will require deeper pockets but buy you some of the top talent at highly competitive digital firms.
FAQs
Is it worth it to hire a Twitter marketing agency?
Generally, yes. These agencies and freelancers can help you quickly develop awareness around your brand and build out your following, freeing you up to focus on your product or service without worrying about what the next company tweet should be.
How do I choose a Twitter marketing agency?
Start with a list like the one above, then determine what your needs and budget are. If you only want a few Twitter posts a week, consider an independent freelancer. Looking for a bit more support? Consider a traditional agency or a firm that contracts out vetted freelancers ready to take on more serious projects.
Which Twitter marketing agency is best for small businesses?
For small businesses, we'd recommend starting with Upwork or Fiverr. Why? Because odds are cash is a bit tighter in your small business, and if this is your first foray into social, it's worth spending a bit of time finding a talented freelancer to get your page up to speed. The money you'll pay to directly contract a single freelancer for Twitter posts would be a fraction of what you'll pay at an agency for social media management.