One of the best ways to gain exposure to your product or service is with an effective digital marketing strategy with video ads. There are lots of case studies that show that video ads provide more engagement, click-throughs, and purchases versus photo ads. However, you want to make sure that you only publish high-quality videos that will deliver a high return on investment (ROI).
This is where video marketing agencies come in.
A quality video-production agency will have the experience and the resources to deliver effective video ads with a fast turnaround time. Here is a look at the top video marketing agencies that can help boost your campaign ROI.

---
Strength in brand marketing, growth marketing, and fractional CMOs.
Elite, "Top 3%" of marketing talent in the world.
48-hour talent matching, with 75% of clients hiring their first match.
---
Strength in performance marketing, including paid ads and affiliate programs.
Specialties in SEO, content, and email marketing.
Great for growing agencies to augment staff. Easy to scale your team.
Match With the Perfect Agency
Use our free agency concierge service to find the perfect match. Takes about 1 minute.
Advertising Disclosure
Advertising Disclosure
We offer this website completely free to our visitors. To help pay the bills, we'll often (but not always) set up affiliate relationships with the top providers after selecting our favorites. However, we do our best not to let this impact our choices. There are plenty of high-paying companies we've turned down because we didn't like their product.
An added benefit of our relationships is that we always try to negotiate exclusive discounts for our visitors.
Top Video Marketing Agencies
Best overall freelance website to find marketing talent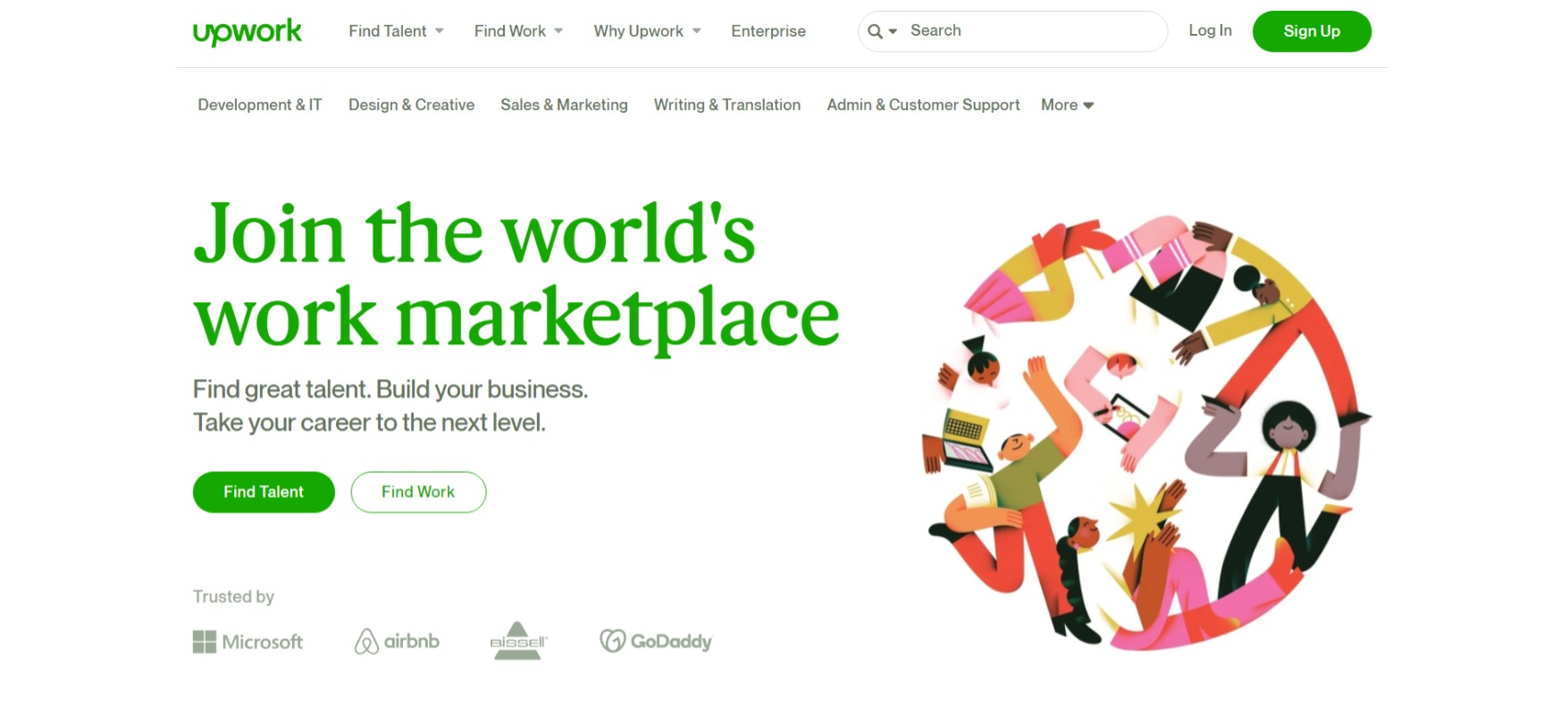 Learn More
In some cases, a freelancer marketing company such as Fiverr may be a little too basic for you. That's because they have lots of beginners on the platform.
However, if you're looking for a lower-cost alternative and want a video production company or specialists who have some experience, then you should take a look at Upwork.
This is a freelancer marketplace where more full-time and professional-level video marketing creators maintain a profile. On the platform, you can put requests for bids and get several freelancers to offer their services. On the low end, you should expect to pay at least $100 for a job that will involve editing existing footage.
Best overall pricing
Learn More
If you're just starting out, then working with a Video marketing-focused agency will not be the best for you. That's because you will be expected to pay thousands of dollars. The best option for you is to use Fiverr.
This is a marketplace where hundreds of video marketing freelancers offer their services. If you search hard enough, you can find someone who can create a video from existing footage for under $50.
Of course, they do have pros who can create and edit videos for hundreds of dollars. Overall, this is going to be a great choice for those will limited budgets.
Best for beginners
Learn More
Another great alternative to hiring a production company is to get a group of pros to find the best freelancer for your project. That's where MarketerHire comes in.
The platform works a lot like Upwork. However, with MarketerHire, you will have a specialist find two to five video producers or production companies for you. From there, you can compare the bids and hire the right person or team for your job.
While you don't have to pay for MarketerHire to find the video producers for you, you should expect to pay at least a couple of hundred dollars per job at the low end.
Learn More
Surprisingly, a video production company with the name of NoGood is one of the best in the industry when it comes to professional-level videos.
The company has worked with some of the top brands in the world including Nike, Bytedance, and Steer. Based out of New York, NoGood has 30 to 40 employees and can work with a smaller budget. While they are not quite small enough to work with solopreneurs, you can surely hire NoGood if you are a company that's on the smaller side.
NoGood can help bring your videos to top platforms such as Youtube, Facebook, and Instagram and deliver positive results. It's a good idea to review their recent work through their link to see if their style is ideal for your brand.
Related: Check out our guide on setting up YouTube Influencer Sponsorships
Learn More
Los Angeles-based Sandwich Video is one of the largest video marketing agencies in the country. With 60 to 70 employees, they have entire departments of video marketing pros at your disposal.
Since the company's inception in 2009, they have worked with an impressive list of clients including Rothy's, Stitch Fix, and Slack. The company provides four full services: creative, production, post-production, and distribution. Therefore, they can handle all aspects of video production.
Be aware that Sandwich Video is intended for larger companies with big budgets. It is not unexpected to spend six figures on some of their projects. However, Sandwich Video provides excellent service and will do well to serve large-scale campaigns.
Learn More
Another big entry in the video marketing world is Harmon Brothers. This is another large-scale video production company that has a full staff of 50 to 60 personnel.
The company has worked with large brands such as Click Funnels, Purple Mattress, and FiberFix. The company has worked on several campaigns that have generated tens of millions of dollars in sales. Since 2013, Harmon Brothers have been the "go-to" choice for brands that want to make a big impression with their video ads.
According to the company, their combined client video views exceed one billion impressions and have resulted in over $300 million in sales. If you are looking to produce a major video campaign, the Harmon Brothers should be at the top of your list.
Learn More
As one of the oldest companies on the list, The DVI Group has decades of experience going back to 1999. This Atlanta, GA-based video marketing company has worked with several large brands including Holiday Inn, Mercedes-Benz, and MLB.
Therefore, if you are looking for a more professional and polished look, then you should certainly take a look at the DVI Group reel.
Also, it should be said that the DVI Group can deliver more than conventional video ads. They can also provide training videos, corporate videos, and more.
This company is an ideal choice for those who want an experienced team for long-term video marketing and production work.
Learn More
If you're looking for a large-scale production company that works on a smaller budget, then check out what Indigo Productions has to offer.
This New York-based video marketing company can provide everything from creative to production and post-production. The company has been around since 1991 and has produced work for the NHL, Sony, and Rolling Stone. Also, Indigo Productions has a top team of directors that can help make your work look much more impressive on smaller budgets.
Whether you are looking to put your video marketing on social media or broadcast, Indigo Productions will be able to deliver high-quality work that should deliver the results that you are looking for.
Types of Digital Marketing Agencies
What Is a Video Digital Marketing Agency?
A video marketing agency will provide the production for videos that can be used on social media. In some cases, they will be able to deliver videos that are high quality enough for broadcast productions
What Does a Video Marketing Agency Do?
While all video production companies will offer production services, some companies may offer additional services, like:
Creative
Strategy
Production
Post-Production
Distribution
How Much Does a Video Marketing Agency Charge?
On the low end, a video production company will charge about $5K to $10K per project. On the high end, they will charge over $100K. The average cost of a project is about $30K to $50K.
FAQs
How do you hire a video production agency?
You will want to consult with a video production company and talk about the work that you want to produce. From there, they should give you an estimate of how much it will cost to produce the campaign as well as how much time it will take.
What is a production reel?
A production reel will show recent work produced by the company. This will give you a good idea of what type of work the company can produce for you.
How long does video production take?
Production time depends on how many creative executions you need and the complexity of the project. On average, a product should last about one month.
Can video production companies offer creative ideas or do they already need the ideas?
Some production companies will offer creative services while others will need to have creative provided.
Do video marketing agencies have their own directors?
Some production companies will have their directors while others will hire them on your behalf.