As more and more people rely on internet access to conduct daily activities, accessibility for people with disabilities becomes more and more important.
But just how big is the barrier that keeps people with disabilities from accessing such an important technological resource in today's culture? And how many people with disabilities is this affecting?
Check out these 57 statistics to get a more comprehensive picture of what web accessibility means, how important it is, and what the future looks like.
Key takeaways:
1. 64.4% of the worlds total population uses the internet
2. As of 2023, approximately 92% of the United States accessed the internet
3. 59.6% of the U.S population with disabilities were living in a household without internet access
4. 72% of adults with disabilities own a smartphone
5. 96.8% of homepages had detectable WCAG 2 failures
Advertising Disclosure
Advertising Disclosure
We offer this website completely free to our visitors. To help pay the bills, we'll often (but not always) set up affiliate relationships with the top providers after selecting our favorites. However, we do our best not to let this impact our choices. There are plenty of high-paying companies we've turned down because we didn't like their product.
An added benefit of our relationships is that we always try to negotiate exclusive discounts for our visitors.
General web usage & access statistics
From 2000 to 2023, internet usage increased by 1,355%.
A total of 5.16 billion people around the world use the internet at the start of 2023.
In 2023, 54.4% of all internet traffic worldwide was conducted on mobile devices.
65.74% of internet users use Google Chrome as their primary browser.
Internet users are reported to increase at an annual rate of 3.5%.
As of January 2023, the global reach of social media has grown to 4.74 billion people.
92.1% of internet users use mobile phones to browse the internet.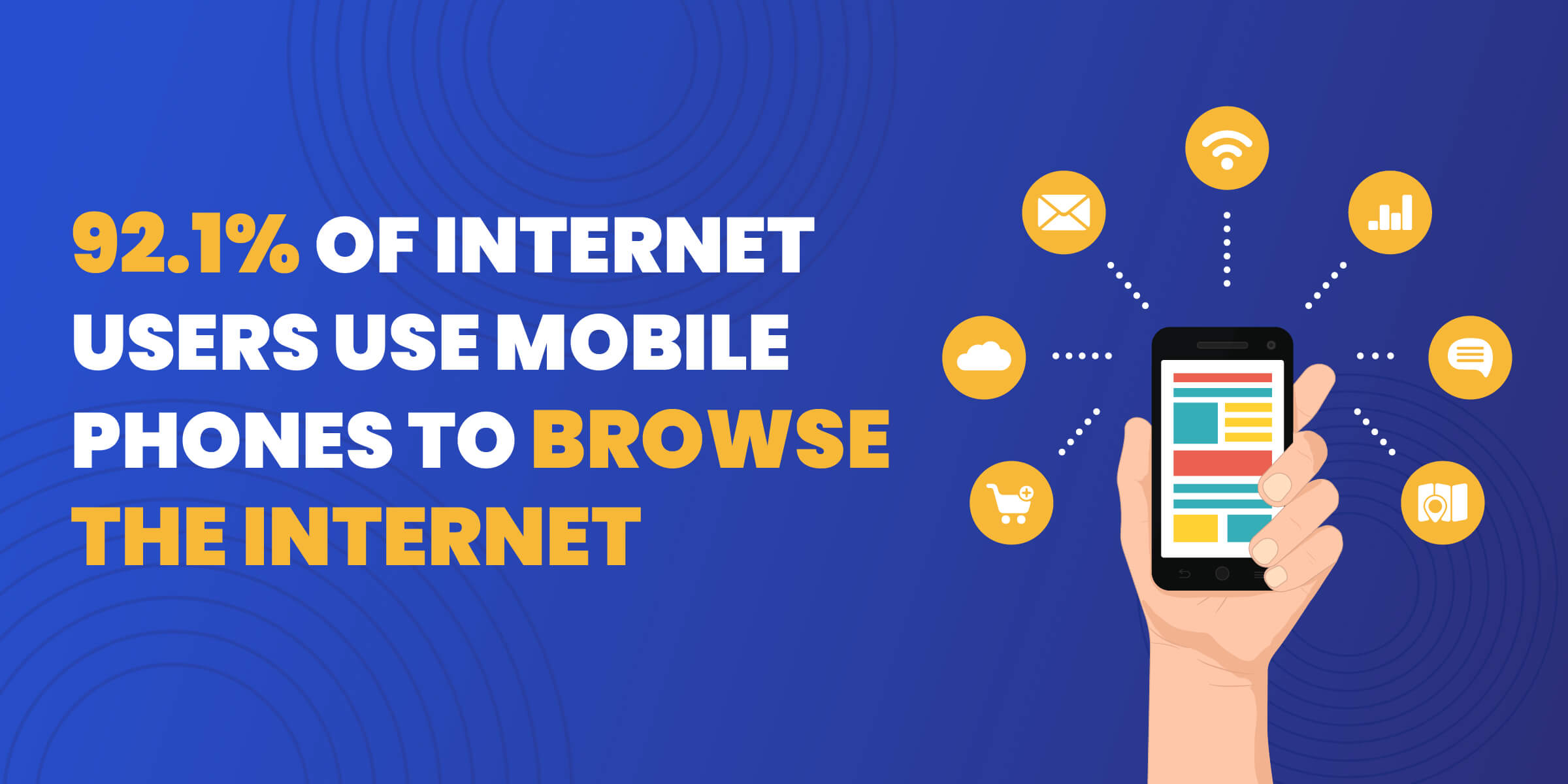 What percentage of the world has access to the internet?
64.4% of the world's total population uses the internet.
The population of the world using the internet grew by close to 100 million users in the 12 months to January 2023.
The number of people without access to the internet has fallen to 2.85 billion this year.
China ranks first in the number of internet users with over 1 billion internet users.
What percentage of U.S. households have internet access?
As of 2023, approximately 92% of people in the United States accessed the Internet.
This is a significant increase from nearly 75% in 2012.
There were nearly 299 million internet users in the US in 2022.
14. What percentage of websites use WordPress? As of 2023, the number of websites using WordPress around the globe is 455 million, making up 42.7% of all websites.
Key web accessibility statistics
Before we get into the more specific types of statistics surrounding this important and complex issue, let's look at the big picture.
15% of the world's population has some sort of disability.
Up to 1 in 4 (26%) adults in the United States have some type of disability.
59.6% of the U.S. population with disabilities were living in a household with internet access.
62% of adults with a disability own a laptop or desktop computer compared to 81% of adults without a disability.
72% of adults with disabilities own a smartphone.
According to the Web AIM Million Report researching one million websites, the number of detectable accessibility errors was 50.8 on average per home page. This was a minor improvement from 51.4 errors one year ago.
Now that you can understand the scope of the situation, let's look at more of the surprising numbers related to web accessibility.
How many people need website accessibility modifications?
Though millions of people are living with disabilities, these disabilities can look different from person to person.
Not every disability negatively affects a person's ability to access the internet through a computer or a smartphone, but many of the disabilities that affect people create barriers and difficulties in accessing and processing some web pages.
Here are the numbers regarding how many people have disabilities that make accessibility features necessary when surfing the internet.
4.9% of U.S. adults have a vision disability with blindness or serious difficulty seeing even when wearing glasses, requiring screen readers.
5.7% of U.S. adults are deaf or have serious difficulty hearing.
10.8% of people with a disability have a cognition disability with serious difficulty concentrating, remembering, or making decisions.
There are an estimated 300 million people in the world with color vision deficiency which requires color-adjusting tools on sites.
About 16% of people who use screen readers have multiple disabilities.
Roughly a quarter of Americans with disabilities (26%) say they have high-speed internet at home, a smartphone, a desktop or laptop computer, and a tablet compared with 44% of those who report not having a disability.
18% of US adults report that they have a disability, according to this survey, which asked respondents if any "disability, handicap, or chronic disease keeps you from participating fully in work, school, housework, or other activities."
Americans with disabilities are three times as likely as those without a disability to say they never go online (15% vs. 5%.)
By 2050 nearly 2.5 billion people are projected to have some degree of hearing loss and at least 700 million will require hearing rehabilitation.
By 2060 the number of people 65 or older is expected to double to 98 million.
How websites fall short of offering accessible features
Unfortunately, many websites fall painfully short of providing accessible modifications that make their pages available to people with certain disabilities.
These are the most significant areas for improvement that every website owner needs to address to ensure easy usage and a positive user experience for all people.
96.8% of home pages had detectable WCAG 2 failures.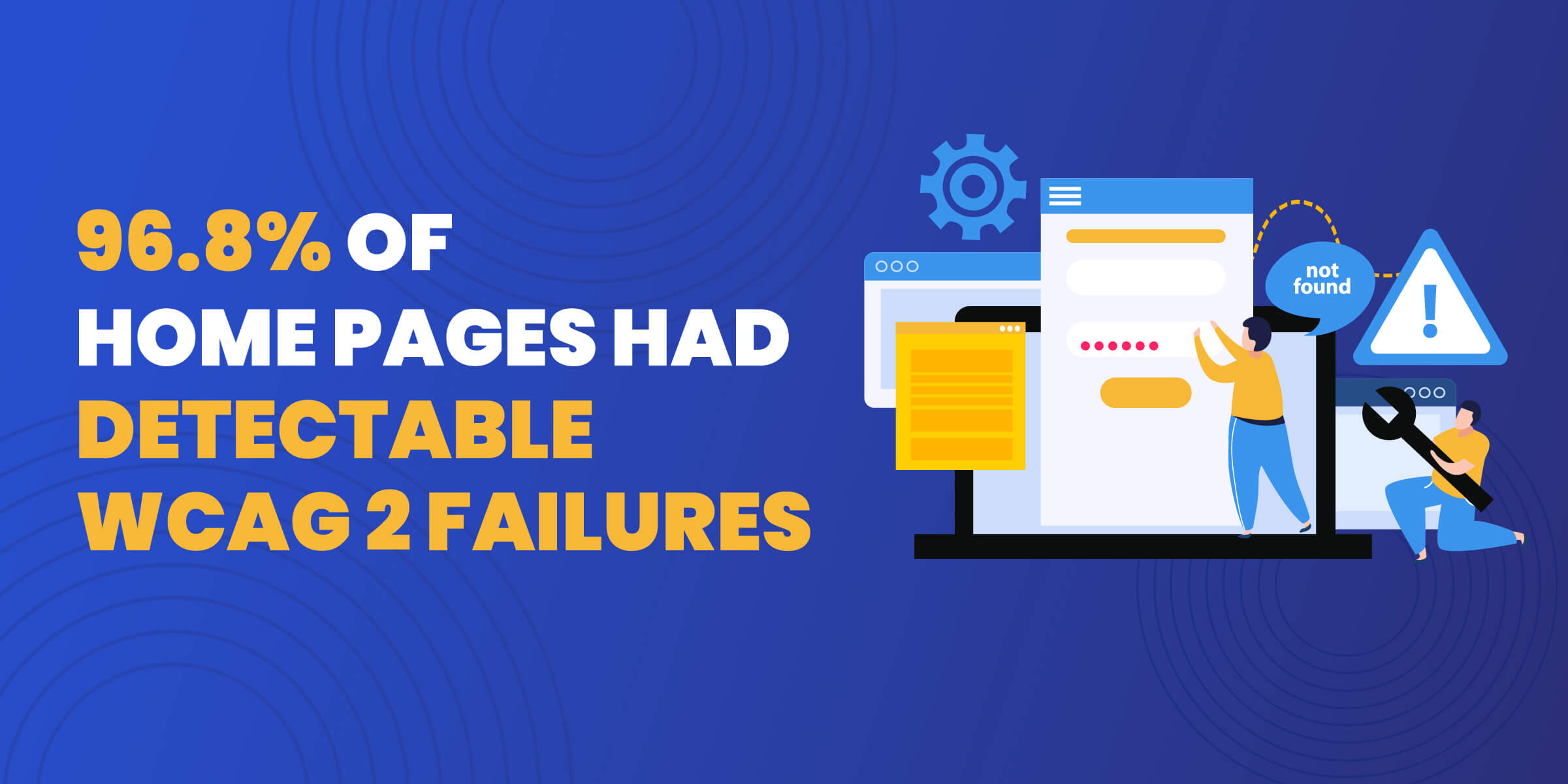 Home pages most commonly had low-contrast text, missing alternative text, empty links, missing form input labels, empty buttons, and missing document language. 96.5% of all errors detected fall into these six categories.
84% of home pages had low-contrast text.
23% of images had missing alternative text and over one-third of all images analyzed had detectable accessibility issues.
39% of the 4.4 million form inputs detected were not properly labeled.
86% of home pages had a valid HTML5 doctype. HTML5 pages had nearly double the page elements and 15% more accessibility errors than pages with other doctypes.
92% of the most popular federal websites fail to meet basic standards for accessibility, says a study from the Information Technology and Innovation Foundation.
Home pages with ARIA present averaged 70% more detectable errors (23 additional potential barriers per page) than those without ARIA.
In 2022, Utah State University's Web AIM Million Project reported that 96.8% of homepages were not compliant, with an average of 51.4 barriers.
Since the guidelines are so nuanced and interpretive, automated tools can only detect ~30% of WCAG issues.
90% of websites are inaccessible to people with disabilities who use assistive technologies.
Web accessibility efforts are increasing
Though some of those numbers can seem disparaging at first glance, many websites have begun to take steps to facilitate more inclusive practices in the operational functions of their sites.
Here are a few ways that companies are working toward building a better future for web accessibility.
89.1% of web accessibility practitioners indicated that better websites would have a bigger impact on accessibility than better assistive technology and browsers in 2021. This is an increase from 83.1% in 2018, showing that practitioners have placed additional responsibility on websites over time.
The percentage of home pages that had detectable WCAG 2 failures (96.8%) was a small improvement from 97.4% in 2021 and 98.1% in 2020.
The percentage of missing alternative text for images on home pages has improved every year since 2019. In 2019 that number was 68.0%, in 2020 it was 66.0%, in 2021 it was 60.6%, and in 2022 it was 55.4%.
39% of the 4.4 million form inputs identified were not properly labeled which is a notable improvement from 45% in 2021, 55% in 2020, and 59% in 2019.
Home pages in the Food and Drink category were most improved since 2020 with errors reduced from 66.1 to 46.4 errors on average.
Shopping sites, which were also highly subject to accessibility complaints and lawsuits, were greatly improved from 90.5 errors to 72.9 errors on average over two years.
Legal ramifications for websites without accessibility features
Aside from the obvious benefit of creating a website that allows access to more people, there are some serious legal ramifications to avoiding important updates.
Multiple ADA-based lawsuits have been filed against companies who have failed to make their websites ADA-compliant.
Between 2017 and 2021, the number of ADA-related lawsuits and legal actions increased by 400%.
The number of web accessibility lawsuits that were brought to federal court citing Title III of the Americans with Disabilities Act (ADA) reached a new record in 2022, with plaintiffs filing 3,255 lawsuits which is a 12% increase from 2021.
Federal website accessibility lawsuits accounted for 37% of the 8,694 ADA Title III lawsuits filed in federal court in 2022.
More than 66% of all web accessibility lawsuits in 2022 were filed by five law firms and one law firm was responsible for 372 lawsuits.
WCAG 2.2 is expected to become an official recommendation in 2023 and future lawsuits may cite violations of WCAG 2.2 as evidence of ADA non-compliance.
A 2022 analysis found a 143% year-over-year increase in the number of companies that received multiple lawsuits and predicts a 200% increase in 2023.
Consumer Goods, Services & Retail sites were the subjects of 1,378 lawsuits.
Apparel, Durables & Beauty came in at a distant second with 247 lawsuits.
According to an accessibility compliance report by Ovum, 815,600 WCAG compliance issues were found among Fortune 100 companies.
Make web accessibility the norm
With today's society relying more and more on internet access, it's irrefutably important to make these resources accessible to people with disabilities.
Updating websites with widgets and other accessible features increase user experience and allows the internet to be an available resource for all.
Sources:
https://www.broadbandsearch.net/blog/internet-statistics
https://datareportal.com/global-digital-overview
https://www.broadbandsearch.net/blog/internet-statistics
https://gs.statcounter.com/browser-market-share
https://www.demandsage.com/internet-user-statistics/
https://www.demandsage.com/internet-user-statistics/
https://www.demandsage.com/internet-user-statistics/
https://datareportal.com/global-digital-overview
https://datareportal.com/global-digital-overview
https://datareportal.com/global-digital-overview
https://www.statista.com/statistics/262966/number-of-internet-users-in-selected-countries/
https://www.statista.com/statistics/209117/us-internet-penetration/
https://www.statista.com/statistics/209117/us-internet-penetration/
https://www.statista.com/statistics/209117/us-internet-penetration/
https://popupsmart.com/blog/wordpress-statistics
https://monsido.com/blog/accessibility-statistics
https://www.cdc.gov/ncbddd/disabilityandhealth/infographic-disability-impacts-all.html
https://monsido.com/blog/accessibility-statistics
https://www.pewresearch.org/fact-tank/2021/09/10/americans-with-disabilities-less-likely-than-those-without-to-own-some-digital-devices/
https://www.pewresearch.org/fact-tank/2021/09/10/americans-with-disabilities-less-likely-than-those-without-to-own-some-digital-devices/
https://webaim.org/blog/webaim-million-2022/
https://www.cdc.gov/ncbddd/disabilityandhealth/infographic-disability-impacts-all.html
https://www.cdc.gov/ncbddd/disabilityandhealth/infographic-disability-impacts-all.html
https://www.cdc.gov/ncbddd/disabilityandhealth/infographic-disability-impacts-all.html
https://www.clintoneye.com/color-blindness.html
https://www.accessibility.com/blog/do-all-blind-users-use-screenreaders-and-other-faqs-about-this-technology
https://www.pewresearch.org/fact-tank/2021/09/10/americans-with-disabilities-less-likely-than-those-without-to-own-some-digital-devices/
https://www.pewresearch.org/fact-tank/2021/09/10/americans-with-disabilities-less-likely-than-those-without-to-own-some-digital-devices/
https://www.pewresearch.org/fact-tank/2021/09/10/americans-with-disabilities-less-likely-than-those-without-to-own-some-digital-devices/
https://www.who.int/news-room/fact-sheets/detail/deafness-and-hearing-loss#
https://monsido.com/blog/accessibility-statistics
https://webaim.org/blog/webaim-million-2022/
https://webaim.org/blog/webaim-million-2022/
https://webaim.org/blog/webaim-million-2022/
https://webaim.org/blog/webaim-million-2022/
https://webaim.org/blog/webaim-million-2022/
https://webaim.org/blog/webaim-million-2022/
https://monsido.com/blog/accessibility-statistics
https://webaim.org/blog/webaim-million-2022/
https://www.accessibility.works/blog/2023-wcag-ada-website-compliance-standards-requirements/
https://www.accessibility.works/blog/2023-wcag-ada-website-compliance-standards-requirements/
https://cielo24.com/2023/02/12-accessibility-statistics-you-need-to-know/
https://blog.hubspot.com/website/accessibility-statistics
https://webaim.org/projects/million/
https://webaim.org/projects/million/
https://webaim.org/projects/million/
https://webaim.org/projects/million/
https://webaim.org/projects/million/
https://cielo24.com/2023/02/12-accessibility-statistics-you-need-to-know/
https://www.levelaccess.com/blog/web-accessibility-lawsuits-2022-recap-and-what-to-expect-in-2023
https://www.adatitleiii.com/2023/02/ada-title-iii-federal-lawsuits-numbers-are-down-but-likely-to-rebound-in-2023/
https://www.boia.org/blog/2022-web-accessibility-lawsuits-recap-4-key-takeaways
https://www.boia.org/blog/2022-web-accessibility-lawsuits-recap-4-key-takeaways
https://www.boia.org/blog/2022-web-accessibility-lawsuits-recap-4-key-takeaways
https://www.boia.org/blog/2022-web-accessibility-lawsuits-recap-4-key-takeaways
https://www.boia.org/blog/2022-web-accessibility-lawsuits-recap-4-key-takeaways
https://cielo24.com/2023/02/12-accessibility-statistics-you-need-to-know/