As the holiday season approaches and you look at the list of people you need to find gifts for, you may draw a blank when trying to figure out a gift for the coder in your life.
If you're not familiar with the development universe, you may be wondering where to even start when it comes to looking for a present for a programmer.
You don't have to just buy a Best Buy gift card! Check out this list of developer gift ideas to give to the programmer you love.
Advertising Disclosure
Advertising Disclosure
We offer this website completely free to our visitors. To help pay the bills, we'll often (but not always) set up affiliate relationships with the top providers after selecting our favorites. However, we do our best not to let this impact our choices. There are plenty of high-paying companies we've turned down because we didn't like their product.
An added benefit of our relationships is that we always try to negotiate exclusive discounts for our visitors.
Practical Gifts for Coders of All Varieties
To kick things off, let's look at some gifts that will make those long working days easier and more comfortable for coders at all levels.
We love multi-use products, and this charging desk pad is a shining example of a gift that any coder will love.
First, you have a high-quality desk pad that protects your desktop from your mouse, keyboard, and laptop. The pad itself has a sleek design and is anti-scratch and stain-resistant, so it will last years. The material is plush and comfortable to provide a supportive place for a developer to rest their forearms while they work.
Then you add a helpful charging area where your coder can fast-charge their phone wirelessly, and you have a perfect gift for the programmer you love.
When it comes to programming, wrist pain and hand cramping are just a part of the job.
But they don't have to be.
This ergonomic mouse is designed to hold the user's wrist in a neutral, relaxed, "handshake" position. Its funky design is raised at a 57-degree angle with a comfortable thumb rest on one side, making it great for anyone with carpal tunnel, arthritis, or just general wrist fatigue after long days at the computer.
It's wireless and has multiple options for connection, including BlueTooth and USB.
If you've ever looked at a web developer's desk setup, you know the deal. Multiple monitors, some at varying heights, a big keyboard (maybe with extra keys that you have never seen in your life), a large console (often put together by the programmer themself), and a bunch of tech stuff you can't quite identify.
One thing you can know for sure about all of these items is that they have to be connected to something.
Help them keep their cables in one centralized place with a USB C docking station.
This 14-in-1 docking station comes complete with 2 4K HDMI ports, 1 VGA port, 1 RJ45 port, 1 Power Play delivery port, 3 USB 3.0 ports, 2 USB 2.0 ports, 1 USB C data transfer port, 1 SD & TF card reader, and 1 3.5mm audio/mic 2-in-2 jack.
Convertible Standing Desk – FlexiSpot E7
Standing desks are all the rage these days, and for good reason.
They have plenty of health benefits and are a great way to break up the day when you're spending hours at the computer.
The FlexiSpot E7 is our favorite for a variety of reasons [review]. This desk is convertible, so users can switch between standing up and sitting down throughout the day. The system is electrical, allowing users to smoothly adjust height. You can even create settings for your favorite heights and move between those at the push of a button.
It's super durable and can hold 355 lbs, even at the highest setting, making it perfect for supporting all of your programmer's precious gear.
For bonus points, add on their under-the-desk treadmill, the WalkingPad A1 Pro [review].
Funny Gifts for the Humorous Coder in Your Life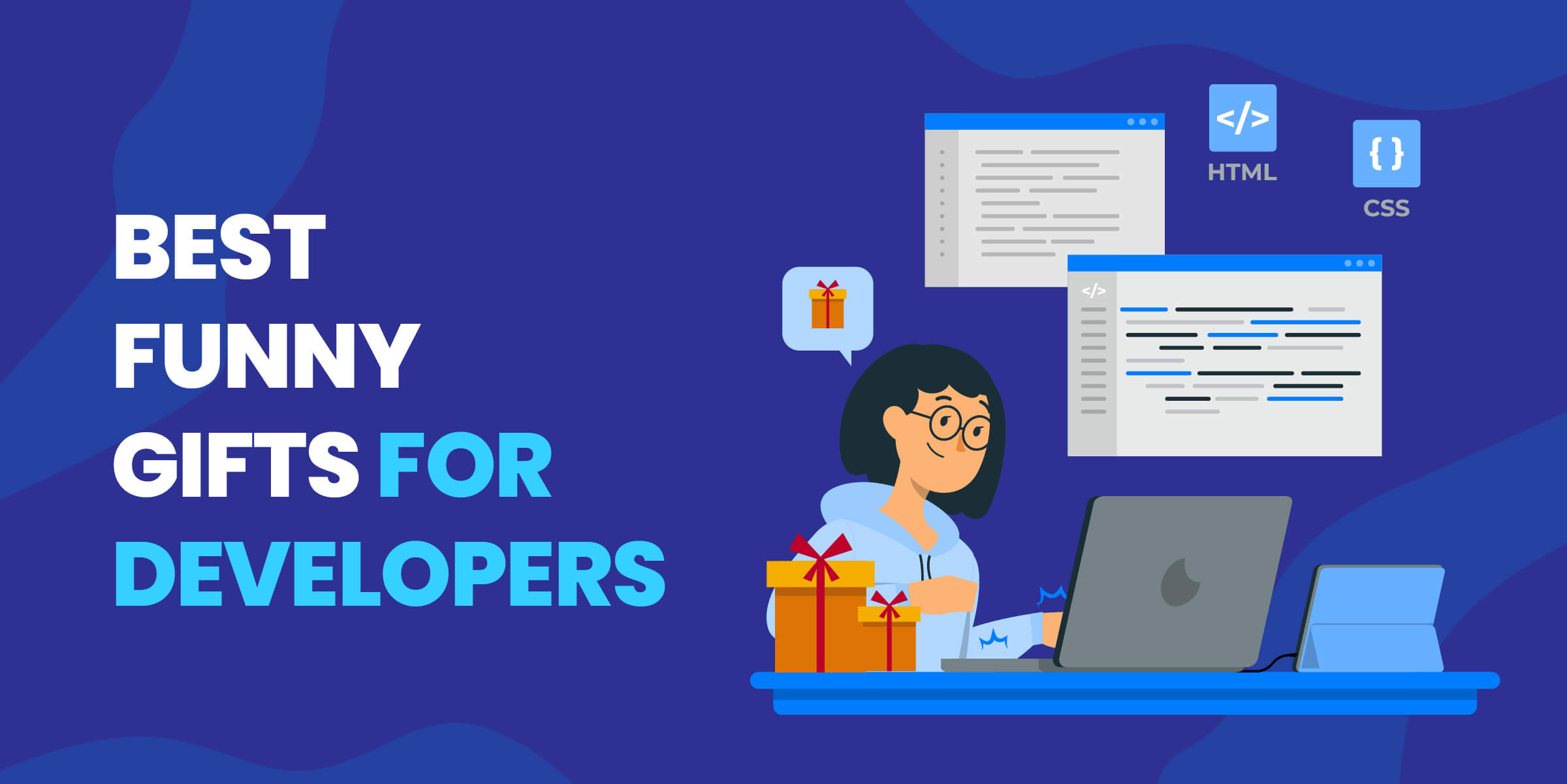 Does the developer you're shopping for appreciate a jokey gift? Try one of these to put a smile on their face.
Talk to a Rubber Duck
Many developers are familiar with the concept of rubber duck debugging. The quirky process of figuring out fixes by explaining their code line-by-line to a rubber duck (literal or metaphorical) is a popular way for developers to get their thoughts organized.
An essential part of this technique is speaking out loud to a target. In the case of a true rubber duck, you likely won't get any sort of response except for a blank stare, since they aren't notorious for being active listeners.
We have figured out a more interactive (and free!) solution.
Check out our free, interactive version of "rubber duck debugging." Our CEO, Geoff, will listen to the developer in your life lament about the snags they come across in coding and pretend to be interested so you don't have to.
Developers are notorious for working long hours on programming and often don't find the time to take a meal break. This leads to snacking at the computer, which leads to crumbs.
This cute mini desk vacuum will effectively suck up any food particles that have found their way into the cracks and crevices of your beloved programmer's setup while giving them a smile.
The small red tabletop accessory comes with an attached, extendable hose for reaching every corner of their desk and a smiley face painted on the side for… funsies. Oh, and its name is Henry.
This little battery-powered device requires 3 AA batteries. There are wheels attached to the bottom of the lightweight unit so that developers can wheel their friend around their setup.
Some of the greatest code ever written was fueled by caffeine.
Coffee is a developer's best friend. So why not give them a fun new vessel to hold that sacred caffeinated beverage?
This relatable debugging mug accurately portrays the annoying debugging process that programmers deal with daily.
It's topical, it's fun, it's functional, and it's better than another pair of socks. What more could you ask for?
Want a creative gift idea? Check out these hot air balloon games and toys.
Gifts for New Coders

Is your friend just now getting into coding? Here are some gifts that can help them on their journey.
Since many developers learn everything they know on the internet anyway, why not help them out by gifting them an online course?
Many of them are self-paced, and they can cover all of the basics in detail, which could set up your new programmer friend for success.
A favorite is this Python Bootcamp to learn everything they need to know about one of the most popular programming languages. They will leave the course with a portfolio of Python-based projects that they can share with possible future employers.
While tech-based gifts are probably the first thing you think of, you should also consider going old-school and getting a step-by-step coding book.
This coding book is a great way to give them a comprehensive guide to coding and give their eyes a break from looking at screens all day.
The book is broken up into chapters with practical examples that cover all basic topics of coding, including building websites, designing apps, and creating games.
The layout is designed to be easy to digest while packing as much information as possible.
If your beginner developer is interested in building a whole computer, get them this Raspberry Pi 4 Starter Kit.
For those of us who aren't developers, Raspberry Pi sounds more like a delicious dessert than anything tech-related. Turns out, it's actually a small single-board computer that runs on Linux.
The starter kit comes with everything your developing developer needs to build a Raspberry Pi system. This includes things like the Pi itself, cables, a fan, an SD card, and a power supply.
If they want a bigger challenge, there are also kits that include extras like motors, sensors, LEDs, and more.
Gifts for Teen Coders

Showing an interest in coding while still in grade school is a great way for young adults to get a jumpstart into a profitable career in web development, so it's definitely a passion you'll want to nurture.
Make coding fun with one of these nifty gifts for teen coders (but honestly, developers of all ages will love these.)
This binary digital watch is a funky way for the young coder in your life to show off their skills.
It displays the time in binary in a circuit board outline, with the top row showing numbers to indicate the hour and the bottom displaying minutes. All that they have to do is some quick math and voila! They know the time.
Since it does show time in binary, it creates an air of mystery, as many folks won't be able to tell that it's a watch at all.
The watch sports a sleek, simplistic design and is made from waterproof plastic that's comfortable to wear and durable.
Do you know what's cool to any developer (or most people in general)? A robot.
With today's advanced tech, programming a robot is pretty easy.
This Anki Cozmo Robot is as cute as it is educational. The interface is fairly easy but still requires a little work, making it a great option for beginner coders.
This adorable sidekick is designed for users to play games or use "Explorer" mode to see from its perspective. Teens can program Cozmo to do simple tasks like performing a victory dance, playing hot potato with the included cubes it comes with, and even sneezing.
It has a personality all its own and develops more and more as folks interact with it, allowing young developers to unlock new games as time goes on.
Internet of Things (aka IoT) is a big part of coding that takes some practice to get used to, so using a small smart house IoT toolkit is a good place to start.
The kit teaches Mega2560 as the main hardware platform and C/C++ to write sketches, so teens can learn a little bit about multiple different types of programming.
Beginning programmers can set up things like opening the door using a sensor, a light show, a breaking-in alarm, and more. Don't worry, there are detailed, comprehensive tutorials included for all of these functions, so it won't prove more challenging than it's worth for young coders.
They can control these functions easily from their smartphone, making it a convenient, fun project for any coder interested in IoT.