You've heard about the whole "branding guide" thing but… do you really need one?
The short answer is, yes.
Here, we'll get into why you should build a brand kit and branding guide.
What Is a Brand Style Guide?
A brand style guide, also known as a branding kit, is essentially a playbook for how you want to present your business to customers and clients.
A branding kit is one definitive document that compiles all of the rules and creative elements that make up the brand's identity and how that brand wants to be perceived by the public.
It's essential for a brand to have a solid identity to stand out in the marketplace and a brand guide is there to ensure consistency and cohesion with all design elements that the brand uses.
What Is Included in a Branding Guide?
A branding guide includes 6 essential elements:
Logos – A branding guide includes the business's primary logo, but should also include all logo variations.
Mission statement/values – A brand guide should include a mission statement encompassing the company's values and objective.
Fonts and typography – To ensure consistency, stick to a short list of on-brand fonts for all written marketing materials.
Color palette – Color is one of the most impactful visual elements of a brand. Clearly define a color scheme in the branding guide to make a statement and solidify your relationship with the consumer.
Voice and tone – Define what type of voice and tone you want your brand to have both visually and "verbally." Do you want a fun, whimsical visual tone? For voice, do you want your brand to be serious, humorous, or friendly? Provide some examples of on-brand words and ones to avoid for your desired tone.
Imagery and iconography – Include visual elements and examples to use as inspiration for branding content.
Examples of Brand Style Guides
Brand style guides can be pretty long documents. Here are some examples of specific pages for each design element of a brand guide.
Logos
Mission statement
Fonts and Typography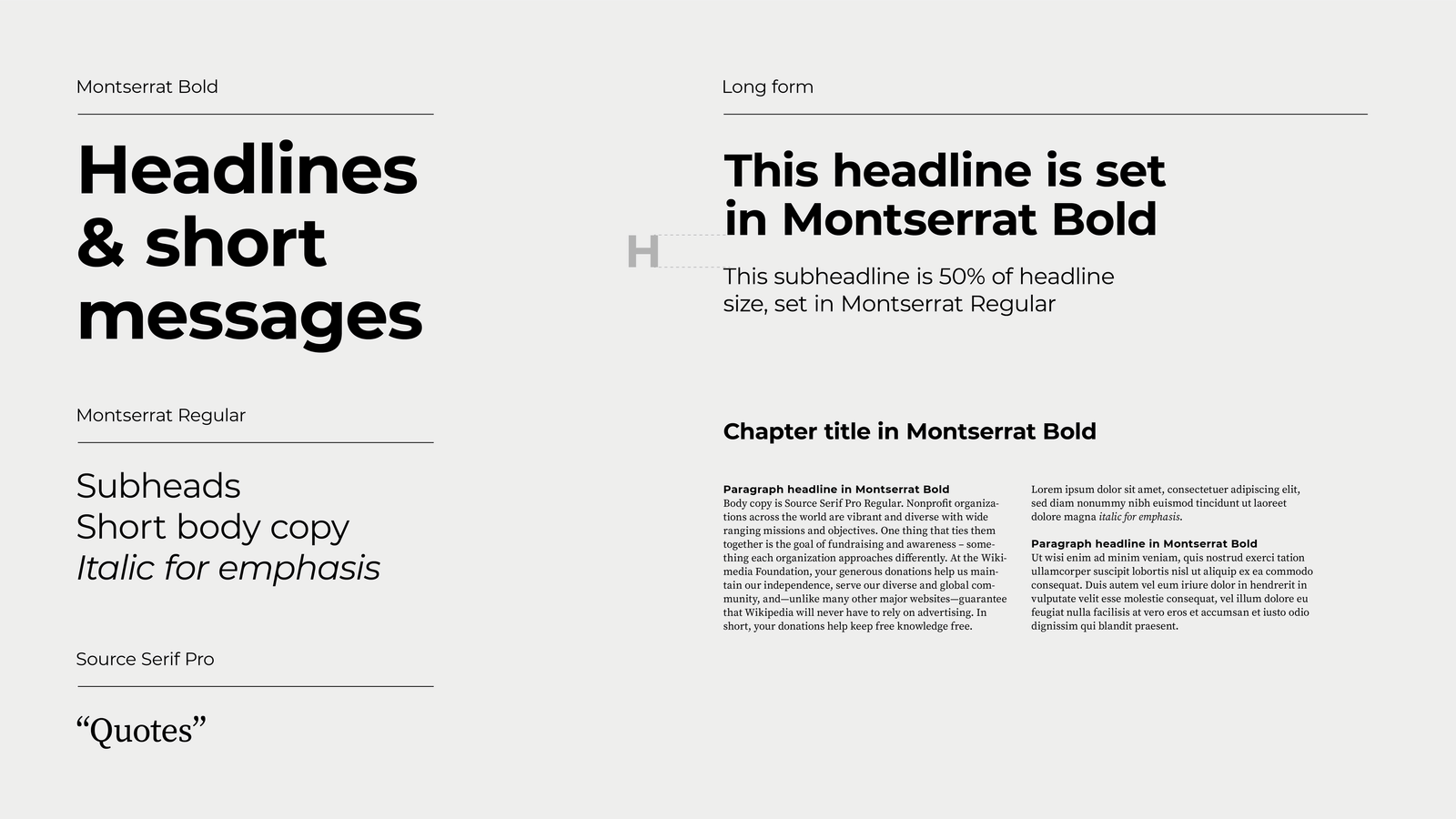 Color palette
Voice and Tone
Imagery and Iconography
What to Consider When Designing Brand Style Guide
When designing a brand style guide, you should consider… well, your brand. Who you want your company to be and how you want consumers to feel about your brand and its offers.
First, think about your origin story. Were you cooking and noticed the need for an all-in-one tool that didn't yet exist? Did you and your buddies get really into chess in college and decide to launch a business where you could share your passion with others? Your story will shape your brand.
Next, think about what makes your company unique. Is your product funky and fun? Is your service one that involves something serious and possibly emotional? Keep that in mind when selecting the elements for your brand style guide.
Create a mission statement that encompasses all of the key elements of your brand and let that guide your guide. Then connect to your audience.
Keep in mind what your audience wants and give it to them. Look up the psychology behind colors in marketing and select a palette that communicates your brand and looks good together as a whole.
As you go through each element, make sure that they all make sense together. Having a cohesive brand image is key to creating brand loyalty.
Use your logo as a guide to ensure cohesion. It should encompass your brand's colors, font, and iconography.
Finally, review everything from the viewpoint of a customer and tweak it as necessary.
What Are the Benefits of a Brand Style Guide?
There are a many benefits to creating a strong brand style guide.
A few of them are:
Recognition
When you see that Apple logo or even the American Apparel font, you instantly associate it with that brand. That's because they have a strong brand style guide.
With a strong branding kit, your brand becomes more recognizable and familiar to consumers. That brand recognition is key for a successful business.
Sets Standards
A brand can't go anywhere without a plan, and the brand guide is a playbook. Setting standards for how you want your branding to look makes it easier to meet your own standards over time.
Value
Having a cohesive brand (thanks to a branding guide) increases the perceived value of your brand. People spend more money on brands that they identify as valuable.
Consistency
A brand that's messy, all over the place, and confused about its own identity is confusing and unappealing to consumers.
A brand guide ensures consistency, which creates a better brand image and impact.
Professionalism
Consistency leads to an air of professionalism.
If your logo is different across different social media platforms and your site, your brand looks amateurish and even tacky. This makes it seem like your company is unprofessional and unreliable. The lack of consistency drives down interest and trust from the consumer.
Who Should Hire a Branding Designer?
Your brand is your everything. It's essential to your overall success in the business. Knowing this, it's a good idea for anyone and everyone who has it within their budget to hire a branding designer.
A branding designer can help you solidify your brand identity and select the right design and tone elements. They'll ensure that your brand stands out and gains recognition.
How Much Does a Brand Style Guide Cost?
A brand style guide typically costs between $60 to $4,000 depending on who you hire.
How to Pick a Branding Designer?
To pick a branding designer, think about what you need in your branding guide. Do you have a pretty solid idea of how you want your brand to be perceived? Or do you need someone to walk you through making major decisions?
Then consider the budget. If you're not working with much, you may need to hire an affordable freelancer on a large marketplace site like Fiverr or Upwork. If you have the capital and want to make the investment in your brand's success, check out agencies.
Whether you go with a freelancer or a large agency, try to find someone who has experience in your industry. They can guide you through the process in the best way for your niche, which makes all the difference.
Frequently Asked Questions
What are the qualities of good branding?
The qualities of good branding are a strong brand identity, image, culture, and personality.
What are brand style guides used for?
Brand style guides create a set of rules and guidelines for a brand's image and marketing to create a cohesive brand message.
Do I need a brand style guide?
Yes, you need a brand style guide to set your brand up for success.
Are brand kit design, branding, and brand style guide the same thing?
Branding is the overall presentation of your brand. It includes how you package your company to others. Brank kits and brand style guides define branding. A brand kit design refers specifically to the visual elements of your brand. A brand style guide includes rules for every aspect of your brand including everything from written content to general tone.