Creating convincing and professional-looking business proposals is key to making sales and growing your business. Prospero is a platform that lets you optimize this process with tools and services that even the most inexperienced user can leverage to create powerful proposals.
In this article, we'll be covering all of Prospero's features as well as its pros and cons to help you decide whether Prospero is the right platform for you.
Create proposals with ease. Impress your clients and win more projects. Check out Prospero


Visit Prospero
Advertising Disclosure
Advertising Disclosure
We offer this website completely free to our visitors. To help pay the bills, we'll often (but not always) set up affiliate relationships with the top providers after selecting our favorites. However, we do our best not to let this impact our choices. There are plenty of high-paying companies we've turned down because we didn't like their product.
An added benefit of our relationships is that we always try to negotiate exclusive discounts for our visitors.
Prospero Overview
What is Prospero?
Prospero is a cloud-based proposal creation software that helps users create simple yet professional-looking business proposals in a matter of minutes. They offer plenty of templates that their users can edit and populate with their own branding material. 
Prospero allows you to send your proposals directly to clients. It also comes with eSignature capabilities and various integrations to streamline the sales process.
How Does Prospero Work?
Once you log into Prospero, you're met with a prompt to create a new project. You can either pick from one of their 30+ templates or create your own.
Their templates are all geared towards different industries and niches, including proposals for graphic design, photography, writing, and more. Each page of the proposal comes with pre-written paragraphs that users can edit to their liking.
Each proposal is segmented into different parts, such as the overview, your milestones, fees, conditions, and anything else you need to communicate to a client.
Users can customize the proposal's font as well as its overall layout. You can include a cover at the top of the page. For the cover, you can select a set of colors and insert your own brand logo.
Once you're done editing your template, you can add an electronic signature before publishing. Users can either convert the proposal to a PDF or send it to your client through a link.
Prospero Features
Prospero's main features are their proposal creation tools. You can add your own logo, images, videos, and other branding elements to each proposal.
Create proposals with ease. Impress your clients and win more projects. Check out Prospero


Visit Prospero
Their templates are geared towards different industries and niches, but you can add or delete segments as you choose.
Because Prospero is a cloud-based app, you can access your documents from anywhere. They also have an analytics program that tracks whether your proposal is being seen, for how long, and how many times the document has been opened.
You can add integrations directly to your projects within the proposal creation tool. These integrations include:
Stripe
Zapier
Integromat
FreshBooks
QuickBooks
Additionally, Prospero has plenty of informational resources such as a YouTube channel with different tutorials and a dedicated customer service team.
Who Uses Prospero?
Prospero is designed for marketing teams and individual freelancers. Examples of users who use Prospero's proposal creation tools include:
Freelance writers
Digital marketing agencies
Graphic designers
WordPress developers
PR teams
Human resources
Photographers
Their customer testimonials suggest that Prospero helps users close more deals faster. This means greater sales and a higher bottom line. Some of the brands using Prospero include:
Fulton Creative LLC
Mindshare Digital
inVision
FullStory
Creative Bloq
Prospero Pricing
Prospero only has one plan with two payment options:
Monthly – $8/month
Yearly – $5/month paid annually
Their first plan starts at $1 and runs for 21 days. It's essentially their version of a trial period, where you get access to unlimited proposals and you get to use their creation tools and integrations.
Their primary plan costs $8 a month, or $5 a month if you pay through their annual subscription. Both options give you the same amount of features, including unlimited proposals, PDF and eSignature functionality, customer support, proposal status notifications, analytics, and mobile dashboard support.
There are no free trials and no contracts. You can cancel each plan at any time.
Prospero Review
Compared to its competitors, Prospero is one of the most cost-effective proposal creation documents on the market. Its simplicity and straightforward tools make it an easy sell for individual users that might be new to the proposal creation process.
Create proposals with ease. Impress your clients and win more projects. Check out Prospero


Visit Prospero
It has a clean dashboard that isn't hampered by confusing tabs, meaning you always know where to go if you want to get some work done. On top of that, creating a proposal takes probably 10 minutes at most if you start with a template.
Even those that want to make proposals from scratch can leverage Prospero's tools to streamline the process. Prospero also has a content generator tool called Proposal Wizard where you can click on a specific word and the program generates a paragraph or sentence for you.
For example, if you're editing a "Why Me?" section and you want to express your originality, you can click on the "Originality" prompt. Proposal Wizard will then generate a broad sentence that talks about your creative originality.
This is especially valuable for freelancers and independent contractors that might not be used to creating proposals on their own. Having a helping hand in creating effective copy is crucial for newcomers, and just extremely convenient for others.
The amount of customization that's available for each project is an underrated feature of Prospero. Everything from how each line is set or aligned to the colors of your cover can be tweaked. You can also set your cover image to your brand logo or color scheme, which is definitely useful for larger companies.
Their analytics and reporting are relatively sparse and could definitely be improved. They do provide some basic insights like when a client is viewing your document and for how long. They also let you set an expiration date on each proposal, even though that feature seems hidden away under the Settings tab.
Prospero also has a decent set of integrations to help automate some of your sales functions.
You can also install third-party scripts, meaning you can set up features such as Google Analytics, live chat, and heatmaps.
While your dashboard and projects can be viewed on mobile, you, unfortunately, can't create projects on the go. Another downside is that you can't seem to import contacts or previously made templates to your Prospero account.
With that being said, you still get plenty of tools for an incredibly low price of $8 a month or $60 a year. Since there aren't any pricing tiers, Prospero becomes a tool that's affordable for freelancers and incredibly valuable for smaller teams. Marketing agencies, writers, and developers should definitely check it out. Larger teams and enterprises might want to explore alternatives.
Pros: Here's what I like about Prospero
Their UI and dashboard are extremely easy to navigate and creating proposals took as long as 10 minutes. 

Each project is extremely customizable, as you can adjust anything from the colors to your branding images for each template. 

Their Proposal Wizard tool generates key phrases and sentences that elevate the quality of your projects. 

Their services are extremely affordable, especially for solo creators and freelancers. 

They offer a good set of integrations and third-party tools to help optimize your sales process. 

You can send your project directly to clients or download PDFs and add eSignatures to close deals quicker. 

They support multiple languages and currency, which might be important for non-U.S. users or for reaching out to non-U.S. clients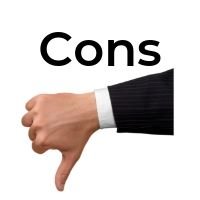 Cons: Here are the only things I don't like about Prospero
You can't import contacts or templates from other programs into Prospero.

They don't offer any mobile creation tools, though each proposal is optimized for mobile viewing. 

While Prospero is simple, it might be "too simple", especially for larger organizations and enterprises that need multiple user seats, detailed analytics, and tracking to enhance their marketing and sales performance.
Prospero Alternatives
Do you like some of Prospero's features but aren't sure if they're the right choice for you? Here are the top Prospero alternatives:
Choosing the right online proposal software is an important step for businesses to streamline their sales and marketing processes. When choosing a tool consider cost, scalability, integrations, and general usability.
Are you a freelancer? If so, we recommend using AND.CO for proposals. Not only do they provide tools to create and send proposals, but they also offer additional solutions for time and expense tracking, invoicing, payments, and more. Read our full AND.CO review for more information.
Frequently Asked Questions
Does Prospero offer a free trial?
They do not offer a free trial but instead have a 21-day trial that only costs $1.
Are there any contracts?
No, Prospero doesn't require you to sign any contracts.
Does Prospero support multiple languages?
Yes, Prospero supports these languages:
English
Spanish
Portuguese
Italian
Dutch
German
French
Romanian
Russian
Polish
Turkish
Hebrew
Does Prospero offer customer service?
You can always click the "Help" prompt to the side of your dashboard to access Prospero's customer support. They have plenty of FAQs already answered and you can email them with any issues.