According to American Disabilities Act (ADA) Title III, every business website has to be accessible to people with disabilities, or it will be at risk of being sued and facing unnecessary legal expenses.
So, how do you get your website to be ADA compliant? Until recently there was no reasonable option for anyone other than the largest enterprise companies to make websites accessible. You had to manually updated your website.
Our Top Recommendation for ADA Compliance
---
Our Rating – 4.9/5
Get 20% Off. Enter GRANDS22 at checkout.
UserWay creates advanced website accessibility solutions that help ensure ADA website compliance without refactoring your existing code.
Make your website ADA compliant in minutes
Stay protected with real-time accessibility monitoring
Save thousands of dollars in development
However, now there are companies releasing cost-effective technology backed by artificial intelligence to bring a site up to compliance. One of those companies is accessiBe.
In this review, we'll look at accessiBe's Automated Web Accessibility Solution, discuss how it works, and share our personal thoughts on its pros and cons.
Advertising Disclosure
Advertising Disclosure
We offer this website completely free to our visitors. To help pay the bills, we'll often (but not always) set up affiliate relationships with the top providers after selecting our favorites. However, we do our best not to let this impact our choices. There are plenty of high-paying companies we've turned down because we didn't like their product.
An added benefit of our relationships is that we always try to negotiate exclusive discounts for our visitors.
accessiBe Overview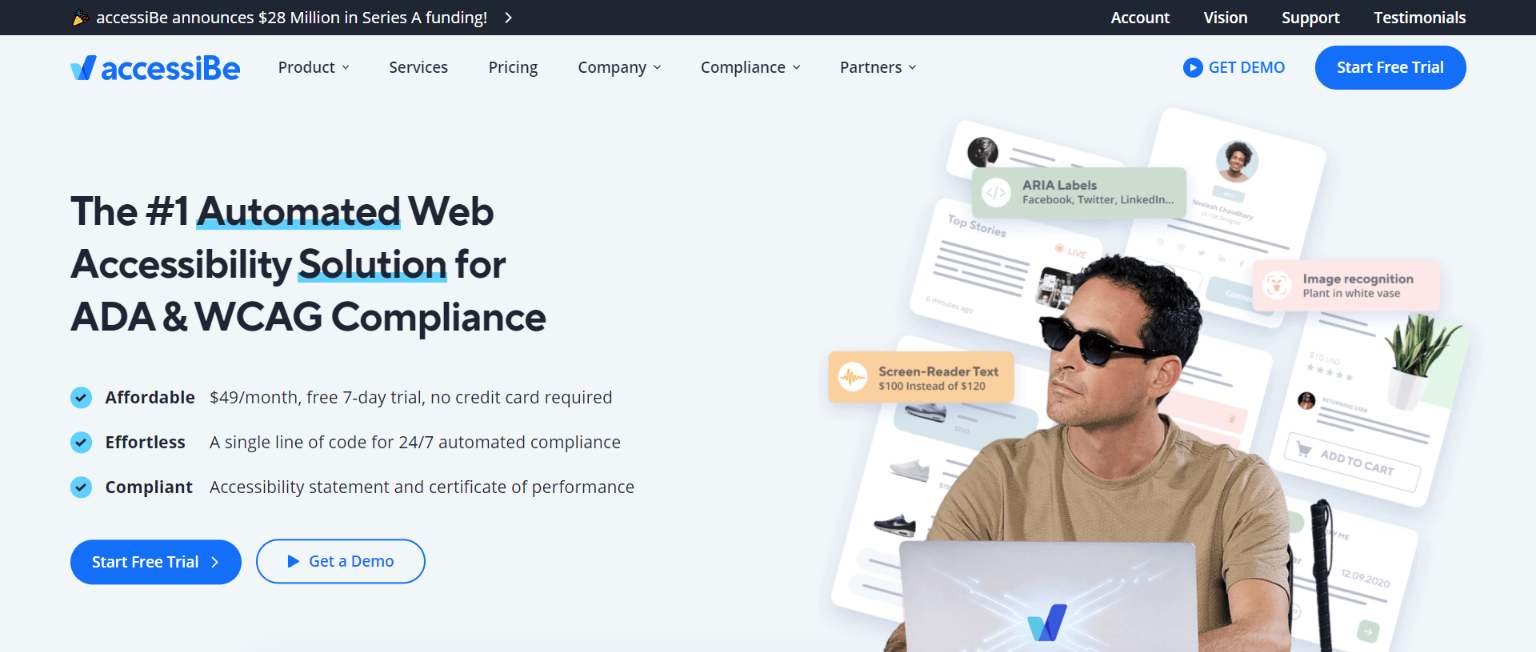 accessiBe is a leading AI-powered web accessibility solution that makes websites accessible to people with disabilities, and compliant with the WCAG, ADA, and other accessibility legislation.
By using artificial intelligence and automation, accessiBe significantly reduces costs and time, making web accessibility
achievable for all businesses.
accessiBe's first stable version took 18 months of daily development in collaboration with people with disabilities. That process still continues today. Blind people, motor and visually impaired people, epileptics, and others are all a vital part of their research & development.
How Does Accessibe Work?
accessiBe utilizes two applications that together achieve compliance: the interface and AI-powered processes.
accessiBe's interface is a session-based design and UI adjustment tool that makes accessibility modifications based on a user's individual needs. All adjustments are compliant with WCAG 2.1 AA & AAA requirements.
accessiBe's AI machine learning technology uses contextual understanding and computer vision to address the complex, back-end requirements needed for screen reader and keyboard navigation adjustments.
Protect your business from web accessibility lawsuits with accessiBe.


Visit accessiBe
After the initial remediation, you'll receive an accessibility statement, also visible within the interface, that confirms your website's compliance status to all site visitors. Here's our accessibility statement for reference.
The Accessibility Interface
The interface is designed to address accessibility requirements relating to the UI, design, and readability of your website. Users can choose a disability profile like "Visually Impaired Profile" and simultaneously activate all relevant adjustments.
Alternatively, or in addition to the profiles, users can enable singular adjustments like increasing font sizes, change color contrasts, and stop animations.
Here are some of accessiBe's interface's capabilities:
Font handling – users can increase and decrease font size, change type, adjust spacing, alignment, line height, and more.
Color handling – users can select various color contrast profiles such as light, dark, inverted, and monochrome. Additionally, users can swap color schemes of titles, texts, and backgrounds, with over 7 different colors.
Animations – users with epilepsy can stop all running animations at the click of a button. This includes videos, GIFs and CSS flashing transitions.
Content highlighting – users can emphasize important elements, such as links and titles. They can also highlight particular focused or hovered elements.
Audio muting – users with hearing devices may experience headaches or other issues due to automatic audio playing. This option allows users to mute the entire website instantly.
On-demand dictionary – accessiBe utilizes a search engine that is linked to Wikipedia and Wiktionary, allowing people with cognitive disorders to decipher meanings of phrases, initials, and slang on the spot.
Other options – users can change the cursor's color and sizing, view in printing mode, enable a virtual keyboard, and much more.
The AI Application
accessiBe uses contextual understanding, OCR, and image recognition AI technologies to address the complex requirements needed for screen reader and keyboard navigation adjustments. Prior to accessiBe, these could only be achieved manually, with long, complex, and costly projects.
The AI automatically rescans a website every 24 hours after the initial remediation to ensure that all content updates and adjustments made to a website are accessible and compliant as well.
Who Uses Accessibe?
Virtually any business with a website can benefit from using accessiBe.
Their technology was developed as an affordable and easy solution for smaller businesses to make their ADA compliant websites. However, they have grown into one of the leaders in the automated accessibility space.
Today, accessiBe has helped over 100,000 websites, including some larger enterprise websites and eCommerce businesses including:
Oreo
Energizer
Quiksilver
Knoll
Everlast
Los Angeles Lakers
Fiverr
Intex
Benadryl
How Does Accessibe Handle 508 Compliance?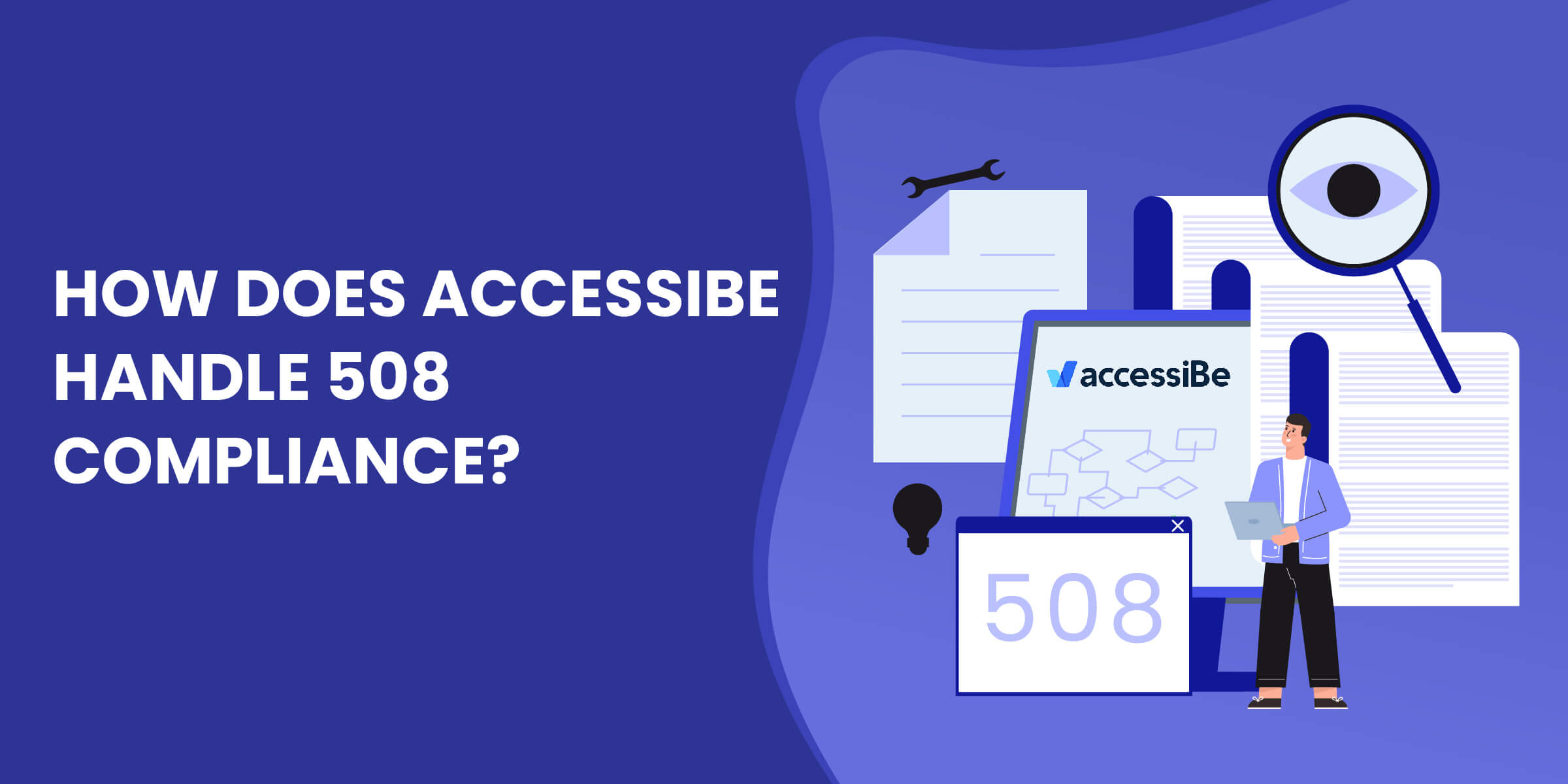 accessiBe offers a unique service called accessiServices, which will perform an audit of your site based on a Section 508 checklist, and recommend and implement any corrections necessary to ensure your site is 508 compliant.
What Does accessiBe Cost? (accessiBe Pricing)
The cost of accessiBe will ultimately depend on how many pages your website is and whether you choose to pay monthly or annually. Their plans range from $49 to $349 per month.

Here is accessiBe's pricing levels explained:
Standard – $49/month (For websites under 1,000 unique pages)
Advanced – $149/month (For websites under 10,000 unique pages)
Advanced Plus – $349/month (For websites under 100,000 unique pages)
Enterprise – Custom pricing for unlimited plan
All plans can be purchased annually and are eligible for a 20% discount. Based on my experience, the vast majority of users will fall under the Standard package. One important thing to note is that the pricing is based on a single domain. That means if you have multiple websites, you'll need to make additional purchases for each.
Each plan comes with:
Accessibility statement & certification
Compliance with WCAG, ADA, EAA & more
Screen-reader & keyboard navigation adjustments
Accessibility interface for UI and design fixes
Monthly accessibility compliance audits
Automatic daily monitoring and scans
Dedicated litigation Support Package
accessiBe Review
Like many other businesses I started looking into ADA website compliance soon after hearing about some big ADA lawsuits like Dominos (Robles v. Domino's Pizza), Five Guys (Lucia Markett v. Five Guys), Hobby Lobby (Sean Gorecki v. Hobby Lobby), and Winn-Dixie (Gil vs. Winn-Dixie) grocery store who had to pay $105K.
All of those lawsuits involved visually impaired people trying to access the company's website and were filed under ADA Title III. This is the "public access" section of ADA compliance.
Protect your business from web accessibility lawsuits with accessiBe.


Visit accessiBe
I am NOT a lawyer, so I started speaking to a number of industry experts, consultants, and companies that specialize in ensuring websites are fully ADA compliant. What I soon found out was that this was not strictly a BIG company problem. This was a global business problem.
I found out that a few small businesses, Mom & Pop type shops, were getting hit with these same lawsuits. They were getting absolutely crippled and that really hit home with me.
Because of this shift, I searched for effective and simple solutions to bring a website up to compliance. At first, I had a tough time finding anything. Businesses could either:
Pay a developer for manual web accessibility coding.  This was ridiculously expensive ($5,000 to $15,000 per project). It was also slow and to deploy and required a lot of quality assurance testing. On top of that, it only provided a band-aid for compliance as we know it today, not the future.
Install a web accessibility plugin – This only works for some websites depending on the content management system (CMS). It also achieves only 20% compliance (roughly) making you vulnerable to lawsuits since it does not abide by the legislative guidelines.
But thanks to multiple Google searches, I came across accessiBe. And I was absolutely sold from the jump.
What I love about accessiBe is that it is an automatic, simple, and affordable solution. The vast majority of small businesses cannot afford the big price tag of hiring a custom developer to do everything you need to do bring a website up to compliance. The list is staggering.
On average, accessiBe runs most businesses around $49/month. And it provides an AI-driven system that can achieve full ADA compliance within 48 hours. Because I manage multiple sites, I needed something that was easy to deploy, but something that would no impact usability.
I was thoroughly impressed with accessiBe's easy of installation. It took me less than 5-minutes to customize the widget and deploy on our website. Here's a quick video showing the capabilities and visual output:
Once you have configured the widget settings your specification, you can grab the JavaScript code and add it to your website. This is a fairly simple process that even non-developers can handle fairly easily. With that being said, I made a mistake during this process that is SUPER IMPORTANT to not make.
When adding the code snippet to your website, make sure you paste the code within the footers menu of your website, or place it just before the closing body tag.
I thought I knew what I was doing because I've added similar JavaScript tags to my website in the past. I added the code to the header file and this started causing some weird issues where our site's meta data was being overrode by accessiBe. Thankfully, we caught it early and reached out to accessiBe who was able to provide guidance and support very quickly.
Overall, I really like accessiBe so far. The widget is small enough to be non-intrusive and getting the accessibility statement quickly put my ease at mind. The added protection of litigation support is an added bonus that I don't believe any other automated solution has been able to match so far.
Pros: Here's what I like about accessiBe
Super affordable starting at $49/month for websites under 1,000 pages.
Easy to implement; only requires a single line of code for 24/7 automated compliance
accessiBe is fully customizable and can easily adapt to your brand and the design of your website
Trusted by industry leaders, so you know you are in good hands
Automatic Screen-Reader adjustments powered by artificial intelligence
Adheres to WCAG 2.1 AA requirements, which includes a wide array of disabilities including blindness, motor impairments, various degrees of visual and cognitive disabilities
Was developed side-by-side with people with disabilities
Accessibility statement & certification with date stamp to prove when your site was brought up to compliance
Litigation Support Package is provided to all customers, at no extra cost, in the case that your website's compliance is challenged
Cons: Here are the only things I don't like about accessiBe
You need to purchase multiple licenses for each one of your domains
AI-powered process takes up to 48 hours to complete from the initial installation and this is when your website is accessible and compliant
accessiBe does not create captions to videos nor remediate PDF or SVG formats as part of the standard subscription
In very rare cases, a current script on your site may conflict with accessiBe and its ability to load on the site
accessiBe Alternatives
ADA compliance is a hot button topic as of late. As such, a number of accessibility solutions have come on the market. Based on our experience, the top accessibE alternatives are:
Our Top Recommendation for ADA Compliance
---
Our Rating – 4.9/5
Get 20% Off. Enter GRANDS22 at checkout.
UserWay creates advanced website accessibility solutions that help ensure ADA website compliance without refactoring your existing code.
Make your website ADA compliant in minutes
Stay protected with real-time accessibility monitoring
Save thousands of dollars in development
Userway
UserWay creates advanced website accessibility solutions that help ensure ADA compliance without refactoring your website's existing code.
With UserWay's RaaS™ (Remediation as a Service™) technology you can effortlessly increase compliance with WCAG 2.1, ADA, ATAG 2.0, EN 301-549, and Section 508 regulations as required by US & international governmental & regulatory bodies.
UserWay is led by a world class team with decades of experience with complex accessibility protocols, delivery of large scale systems and innovation that pushes the envelope. We are lucky to have some of the world's leading engineers, entrepreneurs, and visionaries who are defining the future of digital accessibility for us all.
AudioEye
AudioEye is a platform that combines cutting-edge software with legal knowledge of ADA laws to ensure that your website is accessible and compliant. They offer not only practical solutions that adjust your website to make it easier for more people to use, but they also offer legal advice from professionals that are well-versed in ADA law.
The adjustments it makes and the tools it embeds for users with different abilities are not only completely ADA-compliant but that your website also meets the Web Content Accessibility Guidelines (WCAG).
It also offers services for PDFs and mobile apps, meaning your company's website and every other electronic communication you use is accessible to all.
Frequently Asked Questions
Does accessiBe protect me from lawsuits?
Yes. accessiBe turns inaccessible websites into WCAG and ADA compliant websites. In addition, accessiBe provides you with a Litigation Support Package, in case you need to prove your ADA website compliance, and guides you through the process.
How is accessiBe different from accessibility plugins?
accessiBe is the only AI-powered, automatic solution in the industry today that is proven to make websites fully WCAG and ADA compliant and beat legal cases. accessiBe fully certify and protects your business from litigation around the clock.
What website platforms does accessiBe support?
accessiBe is platform agnostic and can be integrated into any CMS and website building platform. To mention a few: WordPress, Joomla, Squarespace Shopify, WiX, BigCommerce, Volusion, Magento, Concrete 5, Weebly, and more.
Does accessiBe cover all accessibility requirements?
Yes. accessiBe covers the WCAG (Web Content Accessibility Guidelines) version 2.1 at the AA level success criteria, and in certain areas even level AAA. This is a step beyond what legislation requires.
Does accessiBe affect loading speed?
No. accessiBe loads asynchronously with your website. Meaning, that the browser loads your website in parallel with accessiBe, and does not wait for it to load or process anything.
Is accessiBe GDPR & CCPA compliant?
Yes. accessiBe complies with all major data protection regulations, including GDPR and CCPA. Moreover, accessiBe does not collect any personal or identifiable data, only structure, and behavior.
How do I install accessiBe?
Installing accessiBe is as simple as adding a single line of JavaScript code to your website. You can also add it through Google Tag Manager, or use one of our CMS extensions like WordPress, Joomla, BigCommerce, Drupal, etc.