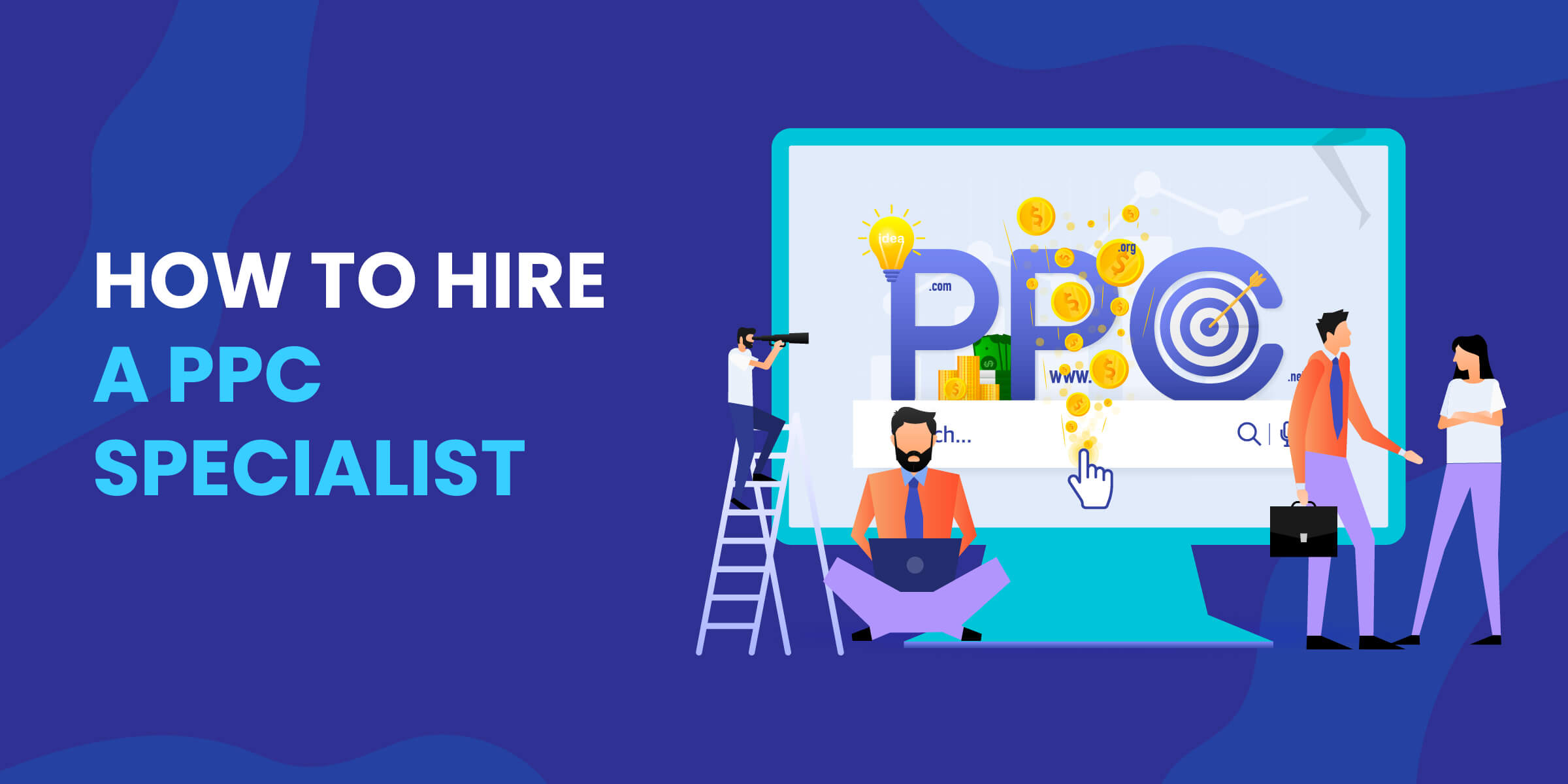 Optimizing PPC ads and maximizing their return on investment requires specialized skills and knowledge.
This is where a PPC specialist comes into play.
In this ultimate guide, we'll explore everything you need to know about hiring the right PPC specialist for your business.
Advertising Disclosure
Advertising Disclosure
We offer this website completely free to our visitors. To help pay the bills, we'll often (but not always) set up affiliate relationships with the top providers after selecting our favorites. However, we do our best not to let this impact our choices. There are plenty of high-paying companies we've turned down because we didn't like their product.
An added benefit of our relationships is that we always try to negotiate exclusive discounts for our visitors.
Considerations for Hiring a PPC Specialist
Before diving into the hiring process, it's essential to consider a few key factors:
Types of PPC Specialists
PPC specialists can vary in their expertise. Determine which type aligns best with your business goals.
Generalist vs. Specialist: Consider whether you're looking for a PPC Specialist who works with multiple types of PPC advertising or a specialist who focuses on a specific area such as search engine, social media, display, or retargeting.
Industry expertise: When evaluating your business's needs, take into account the importance of industry-specific knowledge. Some industries may demand a more profound grasp of market dynamics, consumer behavior, or regulatory considerations. There are specialists for everything from dentistry to PPC for law firms.
Individual or Agency: You can hire a PPC marketing agency or work with an individual.
Scope of Responsibilities
Clarify the specific tasks and responsibilities you expect the PPC specialist to handle, including ad creation, keyword research, performance tracking, and more.
Goals and Objectives
Set clear goals and objectives for your PPC campaigns, such as lead generation, sales, or website traffic increase, to ensure the PPC specialist understands your targets.
How to Hire a PPC Specialist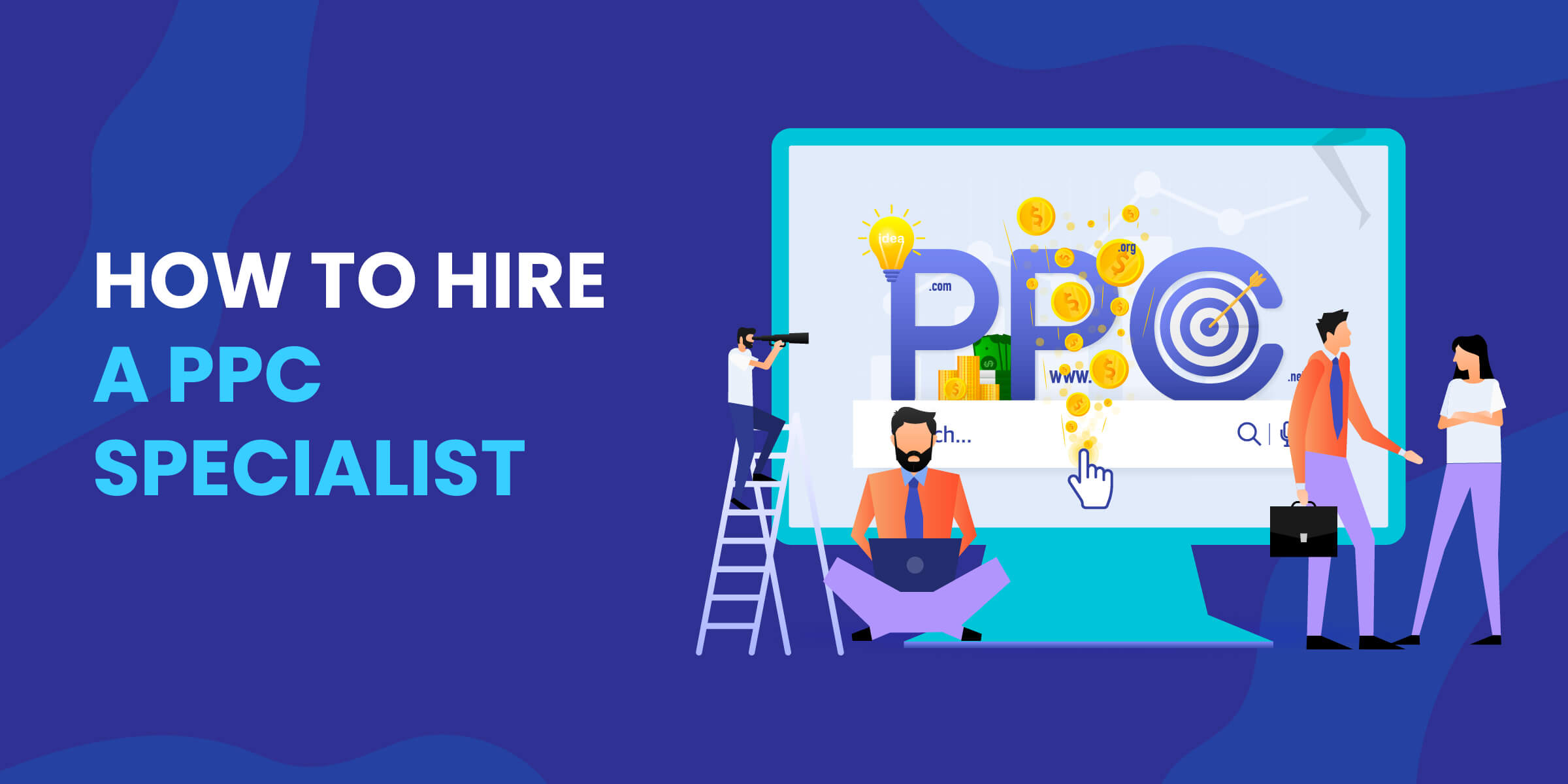 Here's a step-by-step guide on hiring a PPC specialist.
1. Define Your Needs
Begin by identifying the specific reasons you want to hire a PPC specialist, keeping in mind the size of your business (there are special considerations for small businesses using PPC). Know the number of ad campaigns you need, the duration of their engagement, and the frequency of communication and reporting.
2. Decide Freelancer or Agency
Determine whether you prefer working with a freelance PPC specialist or a PPC agency. Each option has its pros and cons, so choose based on your business's needs and budget.
3. Create a Job Description
Craft a comprehensive job description that outlines the responsibilities, qualifications, and required skills for the PPC specialist position. This will attract candidates who align with your requirements.
4. Conduct Interviews
After shortlisting potential candidates, conduct interviews to gauge their expertise, experience, and cultural fit within your organization.
5. Track Performance
Once you've hired a PPC specialist, closely monitor the performance of their campaigns and assess their impact on your business objectives. Regularly communicate and provide feedback to ensure continuous improvement.
What Does a PPC Specialist Do?
A PPC specialist plays a crucial role in managing and optimizing PPC advertising campaigns. Their daily duties may include:
Analyzing market trends and competitor strategies to identify opportunities for improvement.
Designing captivating landing pages to engage the target audience and enhance conversion rates.
Conducting in-depth keyword research to target the most relevant and high-performing keywords.
Creating compelling ad copies and monitoring their performance to maximize click-through rates.
Adjusting targeting options and optimizing ad budgets to achieve better ROI.
When to Hire a PPC Specialist
Determining the right time to hire a PPC specialist depends on your business's needs and marketing objectives. Consider hiring a PPC specialist when:
You want to launch new PPC campaigns but lack the expertise to do so effectively.
Your existing PPC campaigns are not generating the desired results or ROI.
You want to scale up your PPC efforts and need dedicated expertise to manage the increased workload.
What To Look For in a PPC Specialist
When it's time to hire a PPC specialist, here are some things to look for:
Characteristics
Seek a PPC specialist who is analytical, detail-oriented, and data-driven. Effective communication and a proactive approach to problem-solving are also valuable traits.
Skills
A PPC specialist requires a diverse set of skills to effectively manage and optimize pay-per-click advertising campaigns. These skills include:
Keyword Research: The ability to conduct thorough keyword research to identify relevant and high-performing keywords that align with the campaign's goals.
Ad Copywriting: Proficiency in creating compelling and engaging ad copies that attract the target audience and entice them to click on the ads.
Bid Management: Skill in setting and adjusting bids to maximize the return on investment while staying within the specified budget.
Analytics and Data Analysis: Strong analytical skills to interpret campaign data, track key performance indicators (KPIs), and make data-driven decisions to improve campaign performance.
A/B Testing: Knowledge of A/B testing methodologies to experiment with different ad variations, landing pages, and targeting options to identify the most effective strategies.
Landing Page Optimization: Understanding of user experience (UX) principles and the ability to optimize landing pages to improve conversion rates.
Platform Proficiency: Expertise in using PPC advertising platforms such as Google Ads, Bing Ads, Facebook Ads, LinkedIn Ads, and other relevant platforms.
Budget Management: Skill in managing campaign budgets effectively to allocate funds efficiently and achieve the best possible results.
Conversion Tracking: Ability to set up and monitor conversion tracking to measure the success of PPC campaigns and attribute conversions accurately.
Competitor Analysis: Knowledge of competitive analysis to identify strengths, weaknesses, and opportunities in comparison to competitors' PPC strategies.
Qualifications
The qualifications of a PPC specialist may vary based on the specific job requirements and the level of expertise needed for the role. However, some common qualifications and attributes of a competent PPC specialist include:
Education: A bachelor's degree in marketing, advertising, business, or a related field is often preferred, but not always mandatory. Relevant certifications and courses in digital marketing and PPC advertising can also be beneficial.
PPC Certifications: Possession of certifications from major advertising platforms, such as Google Ads certifications, is highly valuable. These certifications demonstrate proficiency in using the respective platforms and their advertising features.
Experience: Previous experience in managing PPC campaigns is crucial. Employers often seek candidates with a proven track record of successful PPC campaigns and measurable results.
Analytical Skills: A PPC specialist should possess strong analytical skills to interpret data, analyze campaign performance metrics, and make data-driven decisions to optimize campaigns effectively.
Technical Knowledge: Proficiency in using PPC advertising platforms like Google Ads, Bing Ads, Facebook Ads, or others is essential. Knowledge of analytics tools, conversion tracking, and other relevant marketing technologies is also beneficial.
Research Abilities: Strong research skills to conduct keyword research, competitor analysis, and market research are crucial for identifying opportunities and formulating effective PPC strategies.
Results-Oriented: A PPC specialist should be focused on achieving measurable results and ROI for clients or the company, continuously striving to improve campaign performance.
How Much Do PPC Specialists Cost
The cost of hiring a PPC specialist can vary based on several factors, including location, experience level, project scope, and the PPC specialist's expertise. On average, hourly rates range from $15 to $250, with an average rate of $79.50. It's crucial to balance your budget with the desired level of expertise.
Where to Find a PPC Specialist
Several platforms connect businesses with skilled PPC specialists. Some recommended options include:
MarketerHire: Boasts a rigorous screening process, ensuring that only the best PPC experts are available for hire. [Check out our review]
Mayple: Known for matching companies with top digital marketing experts through a tech-savvy vetting process.
GrowTal: Provides a personalized approach, meeting with businesses to understand their needs before presenting suitable PPC freelancers.
Upwork: A popular freelance platform offering a diverse pool of PPC specialists for businesses of all sizes.
Fiverr: Another large freelancing platform with a vast selection of PPC experts to choose from.
Conclusion
By following this comprehensive guide, you'll be well-equipped to find and hire the perfect PPC specialist for your business. Remember to define your goals clearly, conduct thorough evaluations, and maintain open communication with the PPC specialist to achieve successful and profitable PPC campaigns.
Frequently Asked Questions
What is a PPC specialist, and why do I need one?
A PPC specialist is an expert in online advertising, particularly pay-per-click campaigns. They can optimize your ads to generate a higher return on investment and drive targeted traffic to your website.
Hiring a PPC specialist is essential because managing PPC campaigns requires specialized skills and knowledge to ensure effective results.
How do I know if my business needs a PPC specialist?
You should consider hiring a PPC specialist if you want to improve the performance of your PPC campaigns, maximize your advertising budget, or lack the expertise to manage PPC effectively.
If your current campaigns are not generating the desired results, a PPC specialist can help you identify and address areas for improvement.
What qualifications and skills should I look for in a PPC specialist?
Look for PPC specialists with relevant certifications, such as Google Ads certifications, which demonstrate their proficiency in managing specific platforms.
Additionally, they should possess strong analytical skills, experience in keyword research, ad creation, performance tracking, and familiarity with A/B testing.
What questions should I ask during the PPC specialist interview?
During the interview, ask about their previous experience with PPC campaigns, specific strategies they have used to improve ROI, and how they stay updated on industry trends. Inquire about their approach to analyzing data and making data-driven decisions. Additionally, assess their communication skills and cultural fit with your organization.