If you've ever bought anything, you've witnessed product packaging design (whether it's good or really bad.)
Maybe you witnessed such a beautiful packaging design that you bought something for a way higher price than you would have originally, or you saw something packaged with comic sans font and immediately put it back on the shelf.
Either way, it's an essential part of building a brand. So let's take a look at the what, the why, and the how.
Advertising Disclosure
Advertising Disclosure
We offer this website completely free to our visitors. To help pay the bills, we'll often (but not always) set up affiliate relationships with the top providers after selecting our favorites. However, we do our best not to let this impact our choices. There are plenty of high-paying companies we've turned down because we didn't like their product.
An added benefit of our relationships is that we always try to negotiate exclusive discounts for our visitors.
What Is Product Package Design?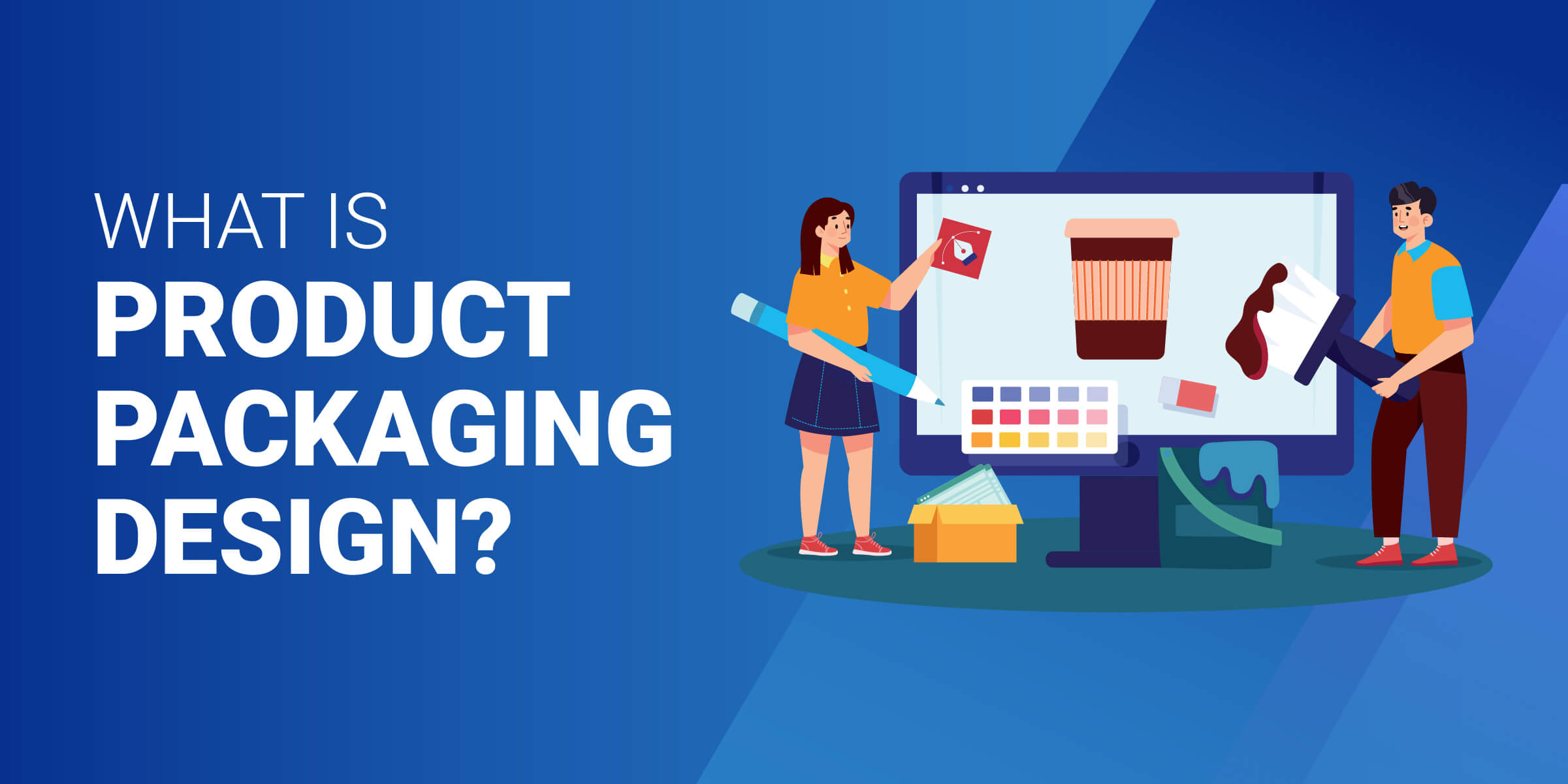 Product packaging design is the creation of the outward appearance of a product.
This includes all of the essential design elements like color, imagery, font, text, size, and shape. Since this type of design on physical products, it also requires consideration for things like feel and texture and what materials the packaging is made from.
Since it is the first impression that buyers will get of your product, it takes a lot of thought and strategic planning to create a successful product package design.
It engages multiple senses and should create a positive experience for the customer.
Is Good Product Packaging Effective?
Yes, good product packaging is incredibly effective.
The visual aspect of your product, if done well, captures the attention of consumers and is more likely to get your product in customers' hands.
If a customer interacts with a well-packaged product, they're bound to have a generally more positive outlook on the product itself, no matter the quality of the product itself.
Types of Product Packaging w/Examples
Deciding what sort of packaging a product comes in is the first step to designing the packaging itself.
Here are the most popular types of packaging.
Boxes
Boxes can come in all shapes and sizes and are made from a wide variety of materials.
Corrugated cardboard boxes are one of the most popular, but you will also find plastic, wood, rigid, or even aluminum, or tin boxes.
A few good examples of cardboard box design:
Rigid boxes are made from a stronger, more protective material and are used for things like new phones, glasses, or other delicate and expensive products. They often look like:
Plastic boxes are often used for food items and takeout or small goods like toys or small electronics.
Wood boxes have a refined look and are used to package things like tea, watches, fine desserts, or novelty items.
Aluminum and tin boxes often have a nostalgic quality and are used to package anything from mints and gum to cocoa powder and colored pencils.
Bottles
Bottles are typically used to package liquids like beverages, shampoos and body washes, powders, and sauces.
They are typically made from plastic, glass, and aluminum.
Vacuum Pouch
Vacuum-sealed packages are typically made from plastic or foil, and they can be resealable.
Vacuum pouches are often used for food or coffee, and beauty products.
Cans
Cans are a cylindrical, tube type of product packaging. Though they are typically made out of aluminum (for beverages) they're also made from cardboard, plastic, and rigid materials like some boxes are.
Adornment Packaging
Adornment packaging is extra cute and frilly stuff that doesn't quite fit into any of the other categories. It can also be combined with canisters or boxes, but it's more of the "extra" stuff.
This includes things like wrapping paper, twine or ribbon, drawstring pouches, stickers, or cardboard sleeves for things like bars of soap or sandwiches.
What to Consider When Designing a Product Package
It's key to be intentional with your product packaging design. This is the first impression that a customer will have of your product, so you need to make sure you're communicating the right message.
Product and Branding
What are you selling?
You could have the coolest product packaging in the history of product packaging but if nobody has any idea what's in the package, they're probably not going to buy it.
Think about your product and what your brand message is. Make sure the packaging is congruent with what the business is about.
If you're not clear on your brand message and how to fit product with it, you may want to consider hiring a brand manager to help you create a uniform branding message across channels.
Type of Package
What are you putting your product in?
If you're selling some type of liquid, you probably shouldn't put it in a box (unless you're going for something edgy and making a strong choice.) Likewise, if you sell bars of soap, a can may not be the most practical option.
Branding plays a key role in this. If you want to take a traditionalist route, choose a package that easily communicates what the item is. If you want to stand out, use something unique and unexpected.
Materials
If you have a fragile item like an heirloom piece of jewelry, your packaging should be made from a strong outer material to protect it while in transit.
If your company prides itself on being "green," using recycled and organic materials can keep you on-theme brand-wise.
Color, Font, and Style
Last but not least, think about the basics of design.
Is your product bright and cheery? Colorful, busy patterns can give customers a taste of what's to come. Is your product more sleek and classy? Solid color packaging with a simple font can communicate elegance.
What Are the Benefits of Good Product Packaging?
Good product packaging can make or break your product.
Here's how.
Stand Out
An eye-catching, unique look makes a great first impression and entices customers to try your product over others.
Social media is one of, if not the, most important platforms for digital marketing.
Good product packaging makes it more likely for customers to take a pic of your product or share your post which means free marketing.
Protect the Goods
The last thing you want is for your product to arrive damaged.
Good product packaging will protect whatever is in it from wear and tear from shipping and handling.
Tell a Story
You want customers to know what you're about and your product packaging is the first (and possibly only) opportunity you have to do that.
If your packaging design is congruent with your brand message, there will be no doubt in the customer's mind about your product.
Who Should Hire a Product Package Designer?
Companies that sell physical goods and have the budget to spend on package design should hire a product package designer for the best results.
How Much Do Product Package Designers Charge?
Freelance product package designers charge anywhere from $50 an hour to $5,000 per project for smaller businesses.
If you go with a product package design agency, you can expect to pay between $10,000 and $50,000.
How to Pick Product Package Designer
To pick a product package designer, you need to first figure out your budget.
Then, look at what kind of packaging you need. Are you a small brewery that needs a few beer labels or cans? Are you knitting beanies and need something interesting to ship your wares? Or do you need a flashy design for your homemade body scrub container?
Once you have that in mind, check out freelancer marketplace sites like Fiverr or Upwork, or more highly-vetted sites like Toptal if you have it in your budget.
Check out the profiles and information on each designer on any site to see which one may best fit the needs of your business.
You can also choose an unlimited graphic design service like Kimp or Graphically that can provide you with product package designs as well as unlimited requests for any other graphic design needs you may have in the future.
If you have it in the budget, it may be worth it to hire an agency to design the package for you.
Frequently Asked Questions
What are the main types of package design?
The main types of package design include boxes, bottles, cans, adornments, and vacuum pouches.
What is the main purpose of product package design?
The main purpose of product package design is to catch the attention of customers while protecting your product from the elements.
How do I become a product package designer?
To become a product package designer, learn the basics of graphic design and marketing. Creating a freelancer profile on sites like Upwork and Fiverr is a good place to start getting jobs.
What software is used to make product package designs?
Adobe Illustrator and Adobe Photoshop are the most commonly used software to make product package designs.