Graphic design is largely the only type of design used in marketing today.
From web design to UX/UI and Interactive design, advertising and marketing design, motion graphics and animation, and packaging design, a wide array of options are available for companies looking to maximize their online presence.
These various types of graphic design that help create a successful strategy are becoming increasingly important.
Types of Graphic Design
There are a few major categories of graphic design. They are web design, advertising and marketing design, motion graphics and animation, and packaging design.
Let's take a look at each one in greater detail.
Web Design
Web design is the process of creating a website that meets the needs of its users.
First impressions count. Having a professional website makes all the difference when it comes time for customers or potential clients to find you online. A professional-looking site will give your business credibility.
Poor-quality graphics or outdated designs could cost you valuable leads. These potential leads may not take you seriously if your digital presence isn't up-to-par with what's expected nowadays.
Investing time into designing a modern website that looks great across all devices (desktop/laptop/mobile) offers numerous advantages, including increased visibility in search engine results, improved user experience, and more recognizable branding.
Using a combination of HTML, CSS, JavaScript, and other programming languages, web designers create an attractive and user-friendly interface to meet the needs of website visitors.
Popular Tools Used in Web Design
Adobe Dreamweaver is a widely-used web design tool, offering users both coding power and the ability to create pages quickly through drag-and-drop features. It offers powerful coding capabilities as well as drag-and-drop features for quick page creation.
WordPress is another great choice for web designers due to its wide range of plugins and themes that can be used to customize websites quickly and easily.
Wix, Squarespace, and Weebly are popular options with intuitive interfaces, making them easy to use even for beginners in web design.
By leveraging these tools, businesses can reduce the time and cost of manual coding or graphic design services. The tools also provide access to a range of ready-made designs, allowing companies to easily make small changes, such as altering colors or including images, and saving them lots of effort and funds.
UX/UI and Interactive Design
Creating visually appealing interfaces that facilitate intuitive and easy user interaction with products or services is the goal of UX/UI and Interactive Design.
The objective of this type of design is all about crafting attractive and functional designs that make it easier for people to navigate through websites or applications quickly without any hassle and without becoming disoriented.
To do this successfully, designers must consider factors like usability, accessibility, aesthetics, and responsiveness when designing these interfaces.
The advantages of employing effective UI/interactive design range from enhancing user experience and increasing customer satisfaction to facilitating SEO optimization and faster loading times.
Aesthetically pleasing visuals can also draw the eye of potential customers, while consistent branding across different platforms strengthens brand recognition. Additionally, utilizing good UX/UI designs can save time on maintenance and troubleshooting issues, making it a win-win situation.
Popular UI Design Tools
Popular UI/Interactive Design tools include Adobe XD, Figma, Sketch App, InVision Studio, Framer X, and others. These applications give designers the power to craft mockups or prototypes rapidly before building their website design and allow for experimentation with various color schemes, typefaces, arrangements, and movements.
Some tools also offer collaboration capabilities so that multiple team members can work together on projects simultaneously, streamlining organizational processes.
UX/UI is a powerful tool for businesses to engage customers, increase conversions, and boost their brand presence.
Advertising and Marketing Design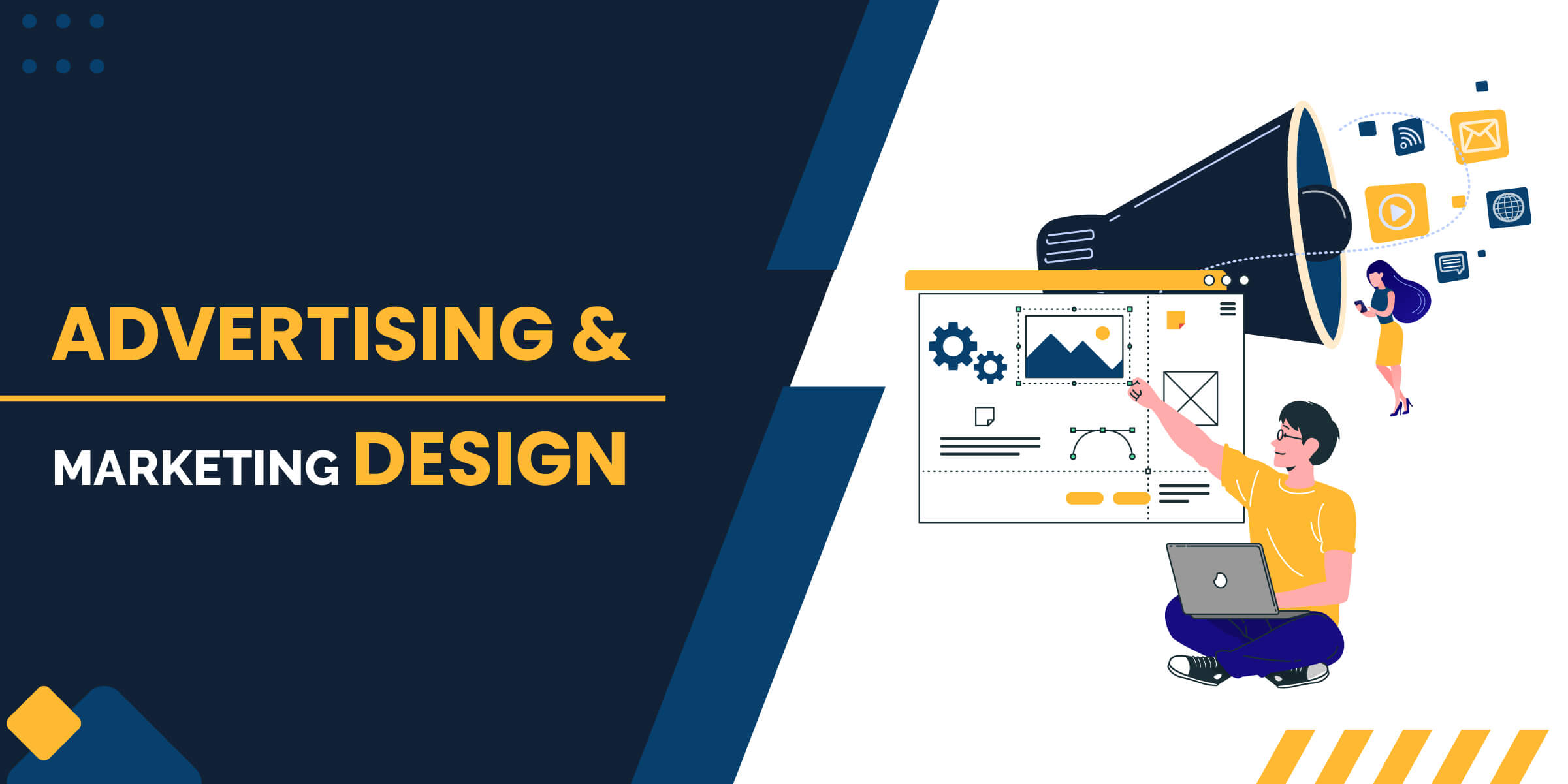 Advertising and marketing design entails the creation of visuals to communicate a message about an item or service for the purpose of promotion.
Advertising and marketing design incorporates various components, including visuals, videos, words, shapes, colors, and more, to craft eye-catching materials that provide information about the product or service advertised in an interesting and engaging way.
This type of design can help businesses boost the recognition of their brand and increase customer involvement with what they offer.
Good advertising design can boost brand recognition among target audiences to improve customer engagement through creative visuals tailored specifically toward them. Advertising graphic design also means saving costs on traditional forms of advertising like TV commercials or radio spots since most digital media platforms don't require expensive production costs like their analog counterparts do.
Well-designed visuals also have the potential to go viral if they are interesting enough, which means free exposure across multiple channels, which could then lead to even more customers being attracted to your business.
Popular Tools Used in Advertising and Marketing Design
Popular tools used in advertising and marketing design include Canva Pro, Adobe Photoshop, Adobe Illustrator, CorelDRAW, and InDesign.
These tools make advertising design easy. Simply drag-and-drop your way through Canva Pro's template library for quick graphics, mask layers in Adobe Photoshop, draw vectors in Adobe Illustrator, illustrate with CorelDRAW, or easily create layouts for print publications with InDesign.
Motion Graphics and Animation
Motion graphics and animation combine design, storytelling, and technology to create engaging, moving visuals.
Motion graphics are utilized in a multitude of applications, from ads to video games and films to websites. They're largely regarded as a form of art because they require creative skills such as drawing or illustration to create compelling designs.
Animation and motion graphics are visual elements that move in time with sound or music. They can be created using 2D or 3D computer-generated imagery (CGI), stop-motion photography techniques, hand-drawn illustrations, or even real objects filmed in front of a camera. Animations may include characters speaking dialogue or text scrolling across the screen as well as effects like explosions and fireballs.
These forms of design enable companies to present complicated topics in a simplified manner instead of having extended texts on their web pages or other promotional material. They also provide an engaging experience that helps keep visitors on your site longer while increasing conversion rates by providing clear calls-to-action (CTAs).
Using this type of creative design adds another layer of professionalism to any business's digital presence by making it stand out from competitors.
Packaging Design
Packaging design is the process of creating materials like boxes or bags to contain products.
It requires an understanding of colors, shapes, textures, and other elements that make up a package's visual and tactile appeal. Packaging design also needs to provide protection for products inside from damage during transportation and storage processes.
The benefits of packaging design include improved customer experience and increased sales.
Attractive packaging and effective branding can lead to increased customer satisfaction and recognition. For example, Apple Inc.'s use of minimalist white packaging has become iconic over the years. It helps customers easily identify their products on store shelves even without looking at the logo or name printed on them.
Popular Tools Used in Packaging Design
Tools like Illustrator, CorelDraw, Inkscape, and GIMP are frequently employed for packaging design.
These programs enable designers to produce professional-looking visuals using vector graphics that can easily be adjusted.
They also offer features, including text manipulation tools, that let users easily add copy to their designs.
Frequently Asked Questions
What are the 5 types of graphic design?
The 5 types of graphic design are web design, advertising/marketing design, motion graphics/animation, packaging design, and UX/UI design.
What is graphic design?
Graphic design combines and creates visuals using technical applications to convey specific messages to specific groups.
What are the elements of design?
The elements of design include line, shape, form, space, color, texture, and tone (a.k.a. value).
What are the 4 types of graphic designers?
The 4 types of graphic designers are logo designers, print designers, web designers, and motion graphics designers.