I love having written something, but I can't stand writing! I have a vision for content, but it takes me 10 times as long as a professional blog writer to knock out content.
So I'm always searching for good freelance bloggers that can research topics and provide engaging content.  Unfortunately, there are a lot of terrible providers out there.
So today I'll save you the trouble of vetting blog writing services yourself and share my favorites.
Let's cut to the chase.  Our top pick is Content Cucumber.  They have a reliable service with carefully screened blog writers.

Use the coupon code DDIY and receive $30 off.


Try Content Cucumber
Comparison of Blog Writing Services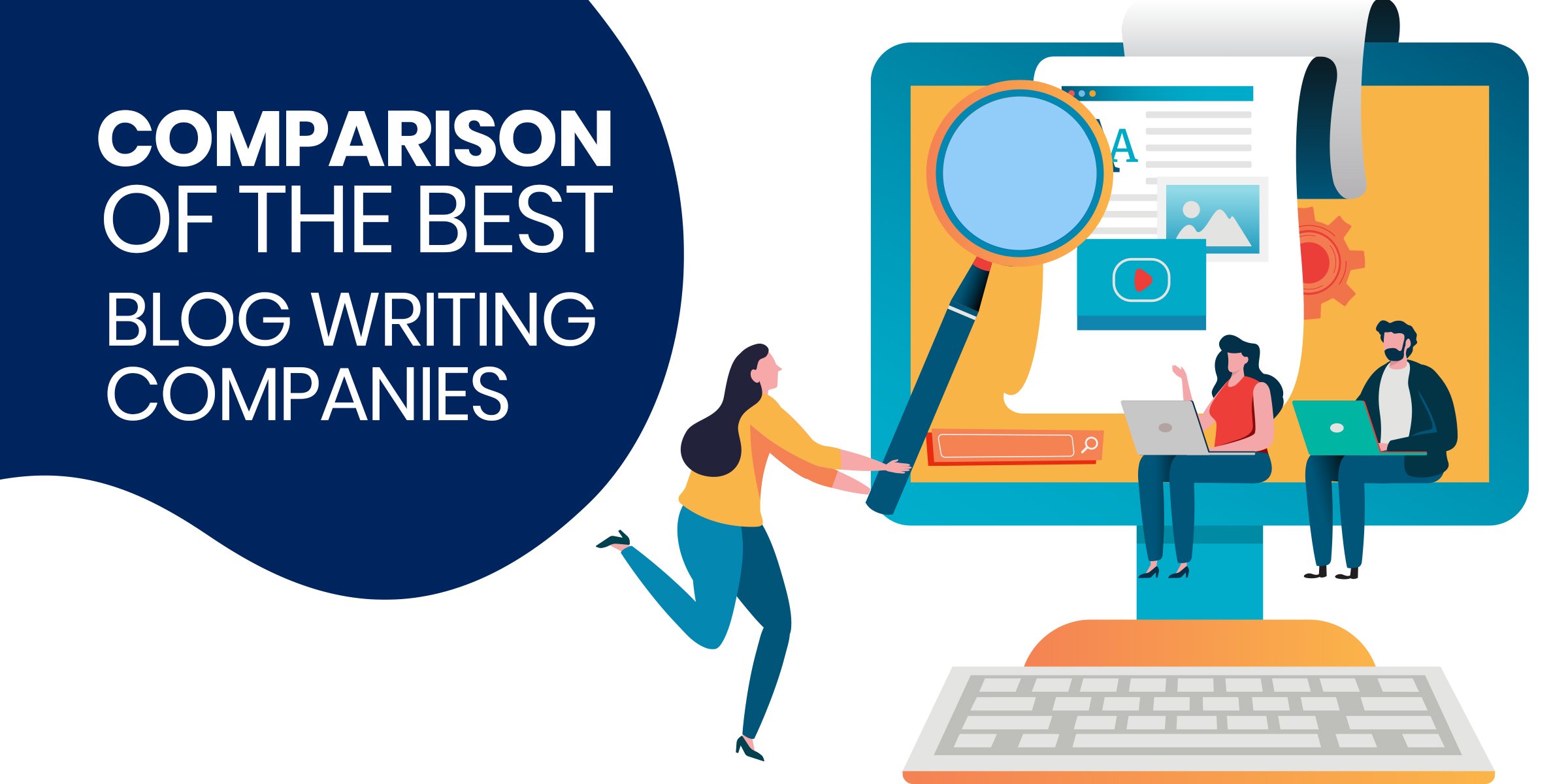 Blog Writing Service Ratings

Service Name
Our Overall Rating

Our Full Review
Content Cucumber Review
SEOButler Review
SEO Content Hero Review
WriterAccess Review
Fiverr Review
Editor's Notes

Best for ongoing, high-quality content needs at a fixed monthly price

We've experienced very well researched posts that work well for agencies and established blogs.

Best for affiliate content, product reviews, and buyer's guides (and routinely handle bulk orders of 50k-100k words.)

Also good for small, local business blogs.

Best for SEO optimized content.

For agencies and bloggers with content demand that goes up and down from month to month.

Best for finding technical writers with expertise in specific fields.

Best for translation, transcripts, and white papers.

Fiverr also has the widest variety of different types of writing services.
Blog post image included?
(2 royalty free images included or $6 for Getty image)
Up to writer
Industry Specific Writers
Writer location
Primarily the United States and some writers in Canada, the UK, and Australia
United States & UK
United States & UK
Primarily the United States
Worldwide
Business model
Fixed monthly fee (recurring)
Pay per 100/words
Pay per 100/words
Monthly platform fee + pay per word
Pay per gig (amount set by writer)
Cost
$490/month
$0.05-$0.10/word depending on content type ($.035/word extra for Surfer optimized content)
$0.06-$0.12/word depending on experience and expertise ($.035/word extra for Surfer optimized content)
Starts at $39/month to use the platform and $0.06-$0.10/word depending on experience and expertise
starts at $5
Current Discounts
$30 Off With Code DDIY
10% Off Any Order With Code DDIY
10% Off First Order With Code DDIY
14 day free trial
10% Off First Order With Code FVRROFF10
Best Blog Writing Services
Here are the best blog writing services in 2020.
Following the "unlimited business services" model pioneered by companies such as Design Pickle, Content Cucumber allows clients to request an unlimited number of blog posts, emails, newsletters, and other written media for a flat monthly fee. By charging a fixed price for an unlimited number of written materials, clients can avoid hiring freelance blog writers to produce their content.
Clients are paired up with one of Content Cucumber's writers who produce content, discuss any revisions, and suggest possible topics. All clients have to do is submit a request describing the topic and the desired word length, at which point your writer receives the request and begins working. The turnaround time for articles is 1 day for every 400 words, meaning shorter articles take about one business day, while longer ones take closer to a week
Although Content Cucumber specializes in writing blog posts, newsletters, and other longform web copies or emails, they can also produce product descriptions for Amazon listings. If clients have questions about a project that doesn't lie within those boundaries, they can consult with their writer on the best approach. Agencies can request projects on behalf of their clients, and users can utilize Content Cucumber for as many brands as they would like.
For all of these services, clients pay $490 a month with a 14-day money back guarantee. By using Content Cucumber instead of hiring freelance writers, businesses can save thousands of dollars a month for an unlimited number of content requests and revisions. To get the full value of Content Cucumber's services, however, users will have to request a relatively heavy workload. Although requesting articles with higher word counts are considered a bargain, they do have longer turnaround times. It's also worth noting that while each of their writers are SEO trained, clients have to make SEO recommendations themselves.
Visit Content Cucumber
SEOButler strives to provide content that falls outside of what most writing services specialize in, such as blog posts or product descriptions. Their catalog of services ranges from guest posts on other websites to citations and even social signals. All of these products are offered with search engine optimization in mind, meaning they'll help your site get traffic through organic activations.
Users can order a regular blog article under their specifications. SEOButler also offers a guest post service where they conduct outreach with other sites that may want to feature a client, and produces quality guest articles on the user's behalf. In addition to writing articles, SEOButler offers services aimed at directing traffic to user websites, such as social signals and citations.
SEOButler is therefore an excellent service for businesses and websites looking to increase their client base. Independent businesses and online marketing agencies will benefit the most from SEOButler's diverse services.
For articles, SEOButler charges per word, about $0.05 to $0.13 depending on the category. Guest posts vary in price, and users pay a flat fee for each guest post requested. Social signals and citations are also charged similarly, as SEOButler charges $14 for every 200 signals and $1 for every citation.
Visit SEOButler
This Florida-based company provides its clients with exactly what their name suggests – SEO-optimized written content. SEO Content Hero employs a reliable team of SEO-experts, researchers, and writers to produce material that's sure to place you at the top of your desired search engine results.
To order a product, users select one of three styles they want their piece to be written under – Authority, Professional, and Elite – while filling out a template that specifies the topic of the piece and desired word count. SEO Content Hero optimizes their clients' content to appear on the top of search results by incorporating main SEO keywords for every piece. They also use third-party software such as Surfer SEO to bolster its place in search engine rankings.
Their well-vetted writing staff consistently produce quality written content that's perfect for small to medium-sized businesses. Bloggers, web designers, and marketing agencies will benefit from SEO Content Hero's services.
SEO Content Hero chargers by word and each dollar-per-word rate depends on the level of content you choose. The "Authority" level delivers factually accurate and informative articles perfect for blog articles and landing pages. The "Professional" level offers more business-minded documents perfect for agencies, while the "Elite" level incorporates detailed research and highly-specialized content for larger businesses. The prices range from $6 to $12 per 100 words, and discounts are offered for higher word counts.
Visit SEO Content Hero
There's perhaps no other content writing service that is as robust as WriterAccess. Launched in 2010, the company has since supported over 39,000 brands and 1,000 agencies, employing a writing team of over 15,000. They have lent their services to big-name companies like Microsoft, AAA, and 3M. Their diverse team of writers allows clients to search for writers with experience in a number of specific fields and niches.
WriterAccess charges a small monthly fee to gain access to the platform and clients pay their writers per word for each project. Based on the payment plan they choose, clients get access to different types of content producers, workflow tools, images, and many other components. Clients can select their writer through a robust search engine that can be filtered based on a number of criteria, one of which is WriterAccess's own writer rating system that ranges from 2 to 5 stars. WriterAccess also heavily vets its staff based on writing ability, SEO and social media knowledge, education, and online experience.
To use their system, WriterAccess charges $39, $79, or $99 a month depending on the plan. Writers typically charge from 6 to 10 cents per word for each article. Although WriterAccess is extremely comprehensive, paying a variable rate for writers on top of a monthly fee can make it difficult for clients to manage their budgets, while finding the right writer can take some trial and error. However, the diversity of the writing staff is unmatched by most online writing services and is undoubtedly its biggest selling point.
Visit WriterAccess
If you're tired of having to go through a middle man to gain access to reliable freelance writers, Fiverr is likely the site for you. Getting its name from the minimum freelancer hiring price of $5, this platform connects clients with thousands of freelancers, many of whom are writing specialists.
Fiverr offers a comprehensive list of written content, ranging from regular blog posts to podcast scripts and even screenplays. There are at least a few dozen writers who specialize in each category. Basically, if what you want can be written by someone and be delivered to you online, you'll probably find someone on Fiverr who can do it for you.
The site is equipped with a robust rating system and user profile interface that provides as much information about each freelancer as a client may need. Users can even apply specific filters such as delivery times, price range, language, and writing style to find the best possible writer. When they find a freelancer they'd like to work with, Fiverr puts them in touch. The turnaround time for each project is quick, ranging from two days to a week depending on the complexity of the request.
You'll find an unmatched number of freelance writers on Fiverr, all of whom set their own price per service. Users pay their writers up front, and receive a few days to review their work to decide whether they'll keep the work or order a refund. While there's no standard fee for each order, with a little digging you can find a reliable freelancer that can provide excellent written content within your price range.
Visit Fiverr
How to Choose a Blog Writing Service
There are many things to consider when you are evaluating an blogging service. Our suggestion is to work through the list below to help your decision-making process.
Your specific projects
How often do you need blog posts written? Daily? Weekly? Monthly?
How long are your blog posts?  Short and concise (500 words)? Or researched and extensive 2000-4000 words.  Try to estimate the amount of content you need.
What types of content do you need?  Will a writer with common sense and the ability to interpret google results work?  Or do you a subject matter expert with a background in your niche?
Are you writing blog posts, product descriptions, email nuture series, lead magnets, or something else entirely?
Do you need new content or a copywriter to improve existing content to make it convert?
Can you edit content yourself, do you need to hire an editor, or are you looking for someone to produce content that doesn't need to be edited?
Do you need SEO expertise or can you provide keywords, post structure, and guidelines?
Do you want the writers to provide images?
Cost
What do you typically spend on blog content every month? Do you have a monthly budget for content?
What is the cost of time of managing your current/past writers?
Do you have the budget to bring on a full-time employee or would a fixed cost be more beneficial? You should also consider the cost of time of bringing on a contractor or employee.
What Do Blog Writers Cost?
Average blog writers typically charge 5-20 cents per word. So a 1,000 word blog post could cost between $50-200.  Prices typically go up based on writing quality and the amount of research and expertise required.
While many writing services charge by the word, some new companies like Content Cucumber offer a fixed monthly fee for unlimited content.  However, there's always a limit for this type of service, which typically results about 400 words per day.
What is the Best Blogging Service?
Our top choice for content development and blog writing is Content Cucumber.
Their service offering is the most straightforward – you pay a fixed monthly fee for roughly 400 words per day.  If you need more, you can stack multiple subscriptions.
Content Cucumber carefully screens U.S. based, native English speaking writers.
The best way to determine if Content Cucumber makes the sense for you and your business is to give them a try. They have a 14 day money back guarantee, which provides enough time to dig into their services.
Use promo code DDIY to get $30 OFF.
Try Content Cucumber
Frequently Asked Questions
What is unlimited blogging?
Some blogging services offer unlimited content and revisions for a fixed monthly fee.  The output is usually about 400 words per day.
What should I look for when hiring a writer?
You should determine whether you need a generalist or a subject matter expert, a blogger's writing style, what type of content you need, and of course cost.
What does a blog post cost?
A well written, 1,000 word blog post costs between $50-200.  Some bloggers charge by the word, some by the piece, and some charge a fixed price per month.
Do any blog writing services offer a free trial?
Yes, several writing services offer a free 14 day trial or a free sample blog post.
Do blog writing services require contracts?
None of the top providers require a contract and you can cancel anytime.
What can blog writing services write about?
Many services specialize in blog posts, newsletters, and long form web copies or emails. They can also provide product descriptions for ecommerce stores and online shopping sites. Many of these sites employ writers equipped to handle most writing challenges. If you are unsure about how to approach a project, writers are often eager to lend a helping hand.
Can I dictate the writing output?
Yes, to varying degrees. For unlimited writing services, the turnaround time for articles depend on the word count for the requested documents. For example, 400 word articles will be produced in one day, meanwhile 1600 word articles will take 4 days. Some services allow their writers to create a posting schedule on your behalf, meaning you can collaborate with companies to find the best timeframe for controlling your output.
Do blog writers offer revisions?
Yes, most blog writing services offer revisions. For unlimited writing services, revisions are done at no additional cost to the client. Companies will also use revision processes to judge whether a specific writer is fit for a certain client, as too many revisions will result in a writer change.
Do blog writing services offer SEO?
Yes, although the type of SEO may depend on the service. Some claim that their writers are SEO trained, but require the client to supply SEO keywords. Other more personalized services try to identify potential questions that a business's clients may have, and construct SEO strategies around that.
Do I own the copyright on the content I request?
Yes, blog writing services allow the clients to retain the copyright on any content they request. Furthermore, clients do not own copyright on products that they disapprove of or send back for revisions. Businesses can then publish, sell, and distribute their purchased content in any way they see fit.
Can I use photos for my blog posts?
Some blog writing services provide photos that clients can use to bolster their content. These photos tend to be royalty free images or free to use with attribution. More complex services allow clients to access Shutterstock and Getty images for a higher monthly fee.
If I handle multiple brands, can I still use these services?
Yes, as long as you have content that needs to be produced, they can be written. Unlimited writing companies allow clients to use their accounts for as many brands as they want. Agencies can also use these services to request projects on behalf of their clients.