Trying to choose a text messaging provider?
My agency partners and I have implemented SMS programs for companies of all sizes ranging from solopreneurs to national telecommunications providers.  Along the way we've learned what works for successful SMS campaigns that drive sales.
To simplify your selection process, we've tested and reviewed the top SMS marketing software on the market today.  We're gonna outline the key differences and share our recommendations based on our experience, usability, and cost.
Best SMS Marketing Software

---
TextMagic
Send bulk SMS campaigns in minutes
Cost-effective pay-per-text message pricing
Great for any business that need a simple online SMS software
Best All in One Communication Platform
---
Sendinblue
Send both emails and text messages
Flexible monthly pricing based on total sends
Great for small businesses that want to centralize communications
What is SMS Marketing?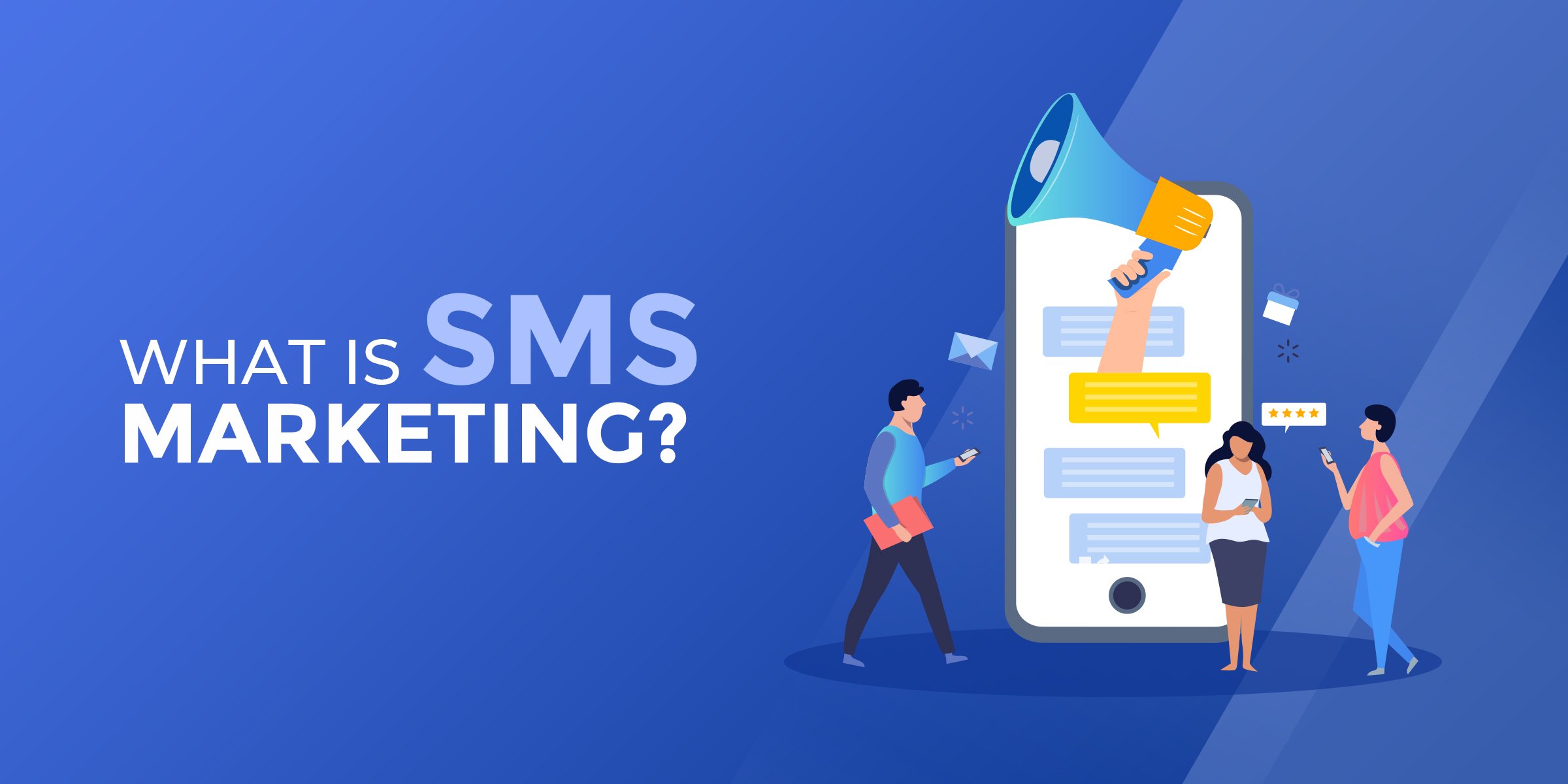 SMS marketing is the process of sending promotional and transactional messages for marketing purposes through text messages. These messages are meant to notify customers about promotional offers, reminders, and other updates to those who consented to receive such texts.
As an evolution of fax and email marketing, SMS has become increasingly sought after because of the increase in the number of people checking their phones daily. Because just about all consumers own a cell phone, SMS marketing allows companies to reach their customers at the touch of a button.
The effectiveness of SMS marketing speaks for itself, as it's known to increase foot traffic to businesses while increasing overall sales and customer base. Don't believe us? Check out these mouth-watering statistics to see the full potential of SMS marketing.
The instant communication that SMS facilitates creates stronger connections between customers and the business. Not only can consumers stay in touch with their favorite brands, but they'll also be immediately notified of pertinent updates.
It can even be a useful tool to complement other marketing strategies, as SMS marketing initiatives are known to improve the effectiveness of email marketing strategies when conducted together while staying compliant with SMS marketing regulations. This is a great way to maximize ROI for businesses focused on multi-channel marketing.
Best SMS Marketing Software & Services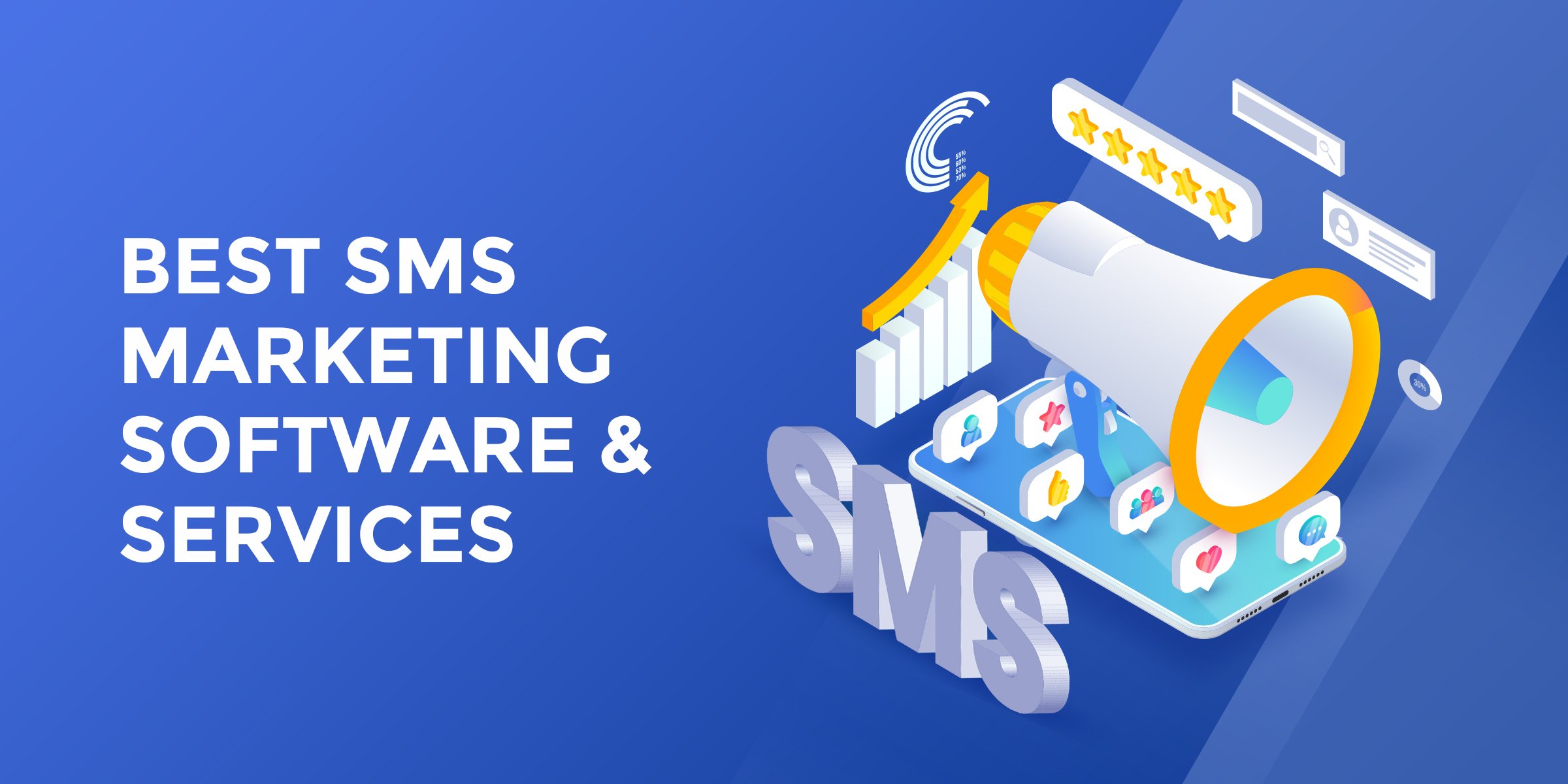 The 5 best SMS marketing software and service providers that we found were the following:
Sendinblue – Read our review
TextMagic – Read our review
ClickSend – Read our review
Salesmsg – Read our review
SimpleTexting – Read our review
Best all-in-one marketing communication platform
Sendinblue is a digital marketing platform that offers every tool that a business needs to connect digitally with its customers and clients.
This company offers businesses all that they need, including SMS marketing tools, email marketing services, a shared inbox, and even a live chat feature, to ensure success in keeping their business at the forefront of customers' minds.
They also offer a CRM, which allows companies to keep track of every single customer interaction that takes place between the company and the people it reaches. This feature also allows companies to organize their contacts into different target groups, allowing marketing campaigns to be more specific to each individual customer.
With easy access to everything a business needs for digital marketing all in one place, reaching out to customers is made easier than ever.
Check out our detailed Sendinblue Review.
Visit Sendinblue
Best all-in-one SMS marketing software
TextMagic is an SMS company based in the UK, with over 14 years' experience in helping businesses improve communications and mobile marketing through sending and receiving text messages online.
TextMagic is a business text messaging service that allows you to send notifications, alerts, reminders, and SMS marketing messages to your customers.
Through TextMagic, you can send bulk texts online through their desktop, browser, or mobile applications. They also offer two-way conversations with customers. You can even send and receive texts through your email.
TextMagic also provides API gateways and Zapier integrations on top of a team-sharing function to automate and optimize your SMS strategies. You can also track your leads and overall outreach through their reporting and analytics functions.
Check out our detailed TextMagic Review.
Visit TextMagic
ClickSend allows organizations to send thousands of text messages from anywhere in the world without downloading any proprietary software. Users can send bulk text messages through their SMS service provider, or even through their email accounts.
Users can manage different digital marketing campaigns through a cloud-based application, switching from email, text, fax, and even non-SMS channels like Facebook and WhatsApp on the fly. While these options make ClickSend a much more robust service, it is likely more suited for experienced marketers and developers.
ClickSend provides APIs to allow integrations to make their services compatible with third-party apps and programs. Tasks such as event management, customer support, and general reminders are made simpler using ClickSend's features, making life a lot easier for many marketing agencies and businesses.
Check out our detailed ClickSend Review.
Visit ClickSend
Small businesses need SMS marketing software just as much as any other company. Salesmsg accommodates smaller enterprises to make sure they have the tools they need to reach their customers.
While Salesmsg's user interface might not seem impressive, its quality comes from its simplicity and integrability with other applications. Salesmsg can generate new numbers for businesses to contact their customers using local landlines and phone services, providing an unlimited number of contacts and canned responses.
You can set up auto-replies during non-business hours while scheduling specific messages to go out during the day. The Salesmsg app allows users to import contacts while including a call-forwarding feature that forwards all calls made to your business to your phone or landline.
Best of all, Salesmsg allows users to integrate its features with thousands of other applications using Zapier. This means more automation and an overall easier time for small businesses to manage their outreach.
Check out our detailed Salesmsg Review.
Visit Salesmsg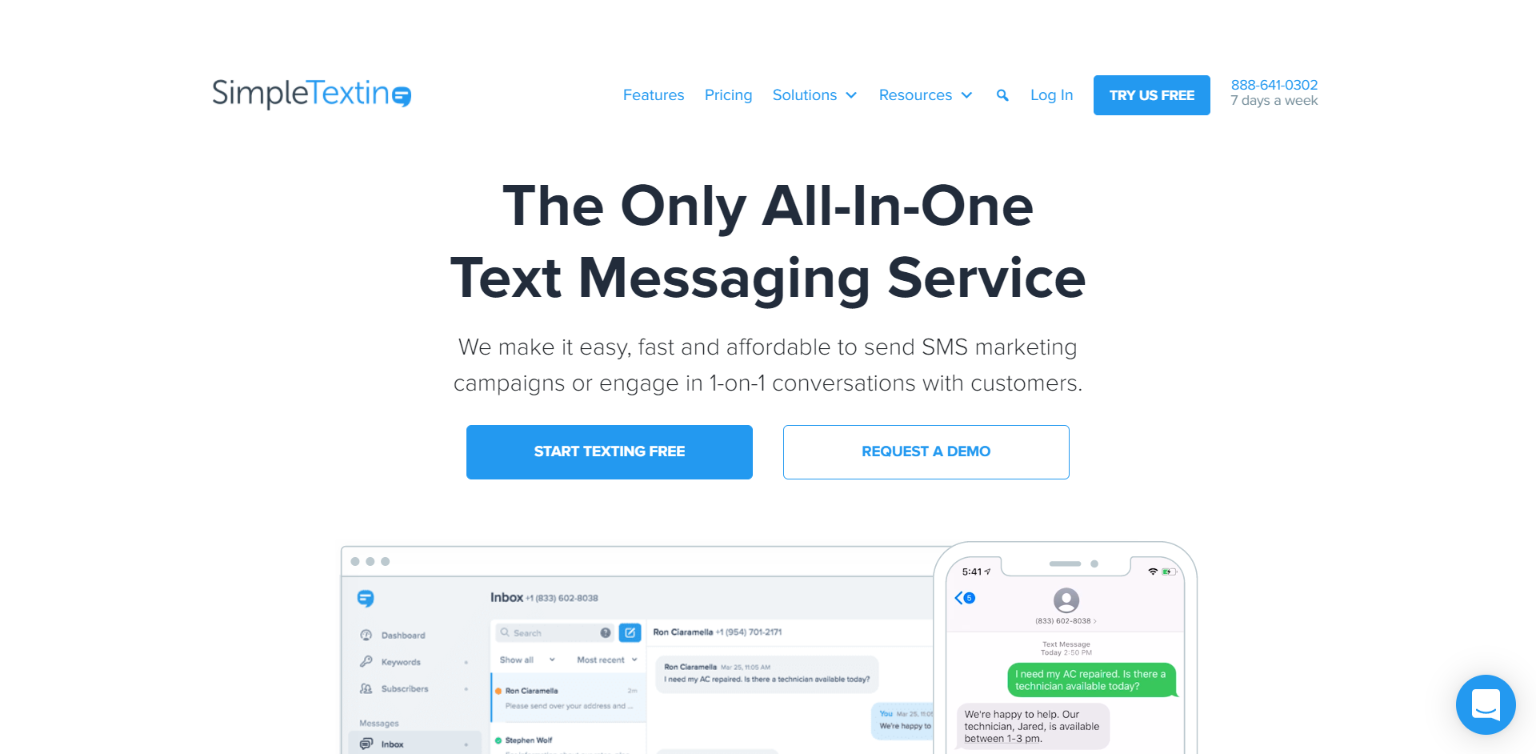 SimpleTexting's SMS marketing service offers exactly what its name implies – simple, intuitive, and accessible text messaging features.
Businesses can send text messages to a list of contacts. They can add pictures and other promotional material to each one, and even track who clicked on each link. It allows users to facilitate two-way conversations without a hitch, using new numbers or leveraging a previously generated one.
SimpleTexting's features run deep, as users can send mass texts while creating drip campaigns that automate one or messages to be sent as follow-up texts. Managing customer data and sending personalized texts can be done with ease.
They also include a dedicated customer support team as well as plenty of resources to help inexperienced developers understand the ins and outs of SMS marketing.
It also offers integrations with Mailchimp, allowing users to integrate their contacts from that service over to SimpleTexting. You can also automate other tedious tasks by using Zapier to connect all of your pertinent applications.
Users can also track clicks and engagements through their clicks, how many people unsubscribed, and detailed breakdowns for each marketing campaign. You can also send mass texts through SimpleTexting's mobile application if they don't have access to a computer.
Check out our detailed SimpleTexting Review.
Visit SimpleTexting
SMS Marketing Software Reviews
Comparison of the Best SMS Marketing Software

Service Name
Our Full Review
Sendinblue Review
TextMagic Review
ClickSend Review
Salesmsg Review
SimpleTexting Review
Editor's Notes

Best all-in-one digital marketing communication platform.

Includes email, SMS, marketing automation, contact management, and more!

Best SMS marketing software.

Good for getting started quickly with an SMS marketing service. Getting an account setup and sending text messages takes minutes.
Easy to use API and Zapier integrations for marketing automation.
Good for small, local U.S. and Canada based businesses using SMS. Very simple dashboard, nice option for beginners.
Easy to send bulk SMS campaigns. Two-way text messaging. Loads of integrations, including MailChimp sync.
Billing Model
Monthly subscription
Pay as you go
Pay as you go
Monthly subscription
Monthly subscription
Pricing
See Plans
See Plans
See Plans
See Plans
See Plans
What to Look For in SMS Marketing Software?
Because of how effective SMS marketing has proven to be, businesses have dozens of options to choose from when it comes to SMS programs or service providers.
However, it's important to get the best SMS marketing software and services so that your text-marketing strategies are foolproof. We narrowed down the four most important qualities of a great SMS marketing program.
Ease of use
While this may vary among businesses, there are plenty of companies that want to integrate SMS marketing into their strategies but lack the technological capabilities to properly implement the service. This is why ease of use is so important, as having the right tools to build a functional SMS service with little development or coding experience will make this process much easier.
If you have in-house developers and experienced coders on your team, they should also be able to pick up the SMS marketing software and create the ideal service without any hassle. Once the software is installed and the service is up and running, these programs should be accessible for anyone in your business to use without a hitch.
Integration with other apps
Chances are, your business uses a myriad of other programs and third-party applications to handle your business needs. Your SMS strategy should not be mutually exclusive from those functions either, meaning it'll need to be integrated with other applications.
Whether you need to connect your text-marketing program with Google Calendar, Outlook, Salesforce, MailChimp, or another application, having the freedom to connect with other important services will be important for executing your SMS strategy.
Mass texting and 2-way communication
If your business wants to get your latest marketing information out to thousands of people at once, that's essentially what SMS marketing is all about. Finding the software or service that lets you do this is key.
At the same time, texting is all about conversations. Programs that allow businesses to communicate with their customers once a text has been sent out is important for facilitating proper relationships.
Pricing and scalability
While taking up SMS marketing is a big step, finding services that offer scalable plans is important, especially for businesses that are just starting up and might not have a massive customer base yet. Paying for a service that primarily services large companies is not ideal, but choosing programs that allow you to pay relative to the number of your customers will reap greater rewards.
Why We Don't Recommend Twilio for SMS Marketing
You might be wondering why Twilio isn't on our list of best SMS marketing software…
Twilio is probably the biggest name in SMS. They're a publicly-traded company and highly regarded as one of the top cloud communications platforms in the world.
With all that being said, Twilio is geared more for enterprises and development teams. Their software, while very impressive, is not tailored towards most marketers. It can 100% be used for SMS marketing campagins, but if you're not a developer, it's likely going to leave a lot to be desired.
In fact, when we first started exploring and testing out SMS platforms, Twilio was actually our first stop. We quickly became overwhelmed because it was not simple enough for us to use. There was no way for us to send bulk campaigns out with lists. We had to hire developers to program scripts for any inbound messages that we received. Simply put, Twilio was overkill for our marketing requirements.
If you're looking for a world-class SMS API for development, give Twilio a shot. If you're looking for a simple tool to easily send and receive text messages, keep reading to get our #1 recommended SMS marketing software.
What is the Best SMS Marketing Software & Service?
SMS marketing is an incredibly versatile tool for a variety of businesses. The software and services that we highlighted in this article are all fairly robust and offer competitive pricing.
Editor's Pick: Our favorite app for SMS Marketing is TextMagic. They provide the best overall pricing and an easy to use platform to send bulk marketing text messages.

Visit TextMagic
At the end of the day, it's all about usability and cost. After all, marketing is all about ROI. We've tested every provider on this list and have found that TextMagic is the best SMS software for marketing. Setting up an account and campaign takes less than 30 minutes. Also, their flexible API and pre-built Zapier integrations make setting up your marketing automation workflows a breeze.
Best of all, they only charge for outbound messages and allow you to roll over monthly credits. The more texts you buy upfront, the lower the cost. There are no setup fees, no contracts, no user restrictions, and unlimited contacts.
Frequently Asked Questions
Is SMS marketing effective?
SMS marketing is widely believed to be an effective marketing technique. Almost 97% of people text at least once a day, meaning they're constantly checking their phones for one reason or another.
SMS messages are also not screened by any spam filter, meaning they can reach your intended audience with little to no interference. Almost 90% of SMS messages are read within the first few minutes.
Even bigger brands are beginning to use SMS services. Time Warner started deploying SMS to remind their customers to pay their bills and boosted late bill collections by almost 50%, while Kiehl saw 70% of customers make a purchase after opting into their SMS program.
For more information on the effectiveness of SMS marketing, check out our post on SMS Marketing Statistics.
What is the open rate for SMS marketing?
Open rate is the percentage of messages sent by companies that are actually opened by the recipients. SMS marketing strategies typically have an open rate of 98%.
As a comparison, email marketing only has an average open rate of 20%. Thus, SMS marketing gives you a much higher chance of reaching your target audience with deals and promotions.
What is the conversion rate for SMS marketing?
Conversion rate is the percentage of visitors to your site that completes the desired goal, such as making a purchase or signing up for a newsletter.
Traditional email marketing has a conversion rate of about 3%. Meanwhile, SMS marketing strategies have a conversion rate of over 30%.
Nearly 50% of SMS recipients are known to make purchases based on the promotional texts they receive. It also boosts other marketing techniques, as urging recipients to open a promotional email also significantly improves conversion rates.
How do you use SMS marketing?
SMS marketing should be used in a way that brings total value to your customers, not just to draw attention to a brand.
The best way to do this is by integrating SMS marketing into your other marketing systems, such as your site's eCommerce functionality or even your email newsletters. Here are three types of SMS messages that are the most effective:
Incredibly specific marketing messages that point toward a promotion or offer will lead to more conversions. You can tell customers that these offers are only available if you sign up for SMS services.
Leverage SMS platforms to provide great customer service. Following up with customers after they made a purchase through text is an effective way to keep in touch, and updating them on their delivery through SMS is also valuable.
Use SMS to introduce customers to new products and services. So long as you're not constantly bombarding them with new offers, this will keep traffic going into your site.
Is SMS marketing legal?
Yes, SMS marketing is legal under U.S. federal law. Marketers have to follow a set of rules and codes so as to not send a barrage of irrelevant messages to customers.
The Telephone Consumer Protection Act and the CAN-SPAM Act, both regulated under the Federal Communications Commission (FCC), set the standard for legal SMS practices. Businesses that don't comply have to pay penalties of up to $1,500 per unsolicited message, so most businesses are likely going to follow these SMS laws.
Read our detailed compliance guide for more information on text message marketing laws.
What are the benefits of SMS marketing?
Some quick benefits of SMS marketing include:
Loyal customers that'll keep coming back to your business since you offer them the best promotions and deals.
Greater word-of-mouth advertising since your customers will likely tell their friends and family about all the unique deals you give them
Better overall communication between you and your customers through two-way texting channels that serves as great channels for customer service
Incredibly wide yet equally quick outreach, since mass texts take only minutes to execute
Optimized marketing budgets due to the wide reach of SMS marketing
Easy opt-in or opt-out functionality that won't annoy your customers if they want to sign up or opt out of your marketing services
Should I use SMS or MMS?
MMS stands for multimedia messaging service, which is a fancy way of saying text messages that can send images, videos, audio, and GIFs. Outside of the content you can send with MMS, it differs from SMS in that it typically costs more.
Read more on the differences between SMS vs MMS.
Whether you should use SMS or MMS depends on your marketing strategy and your budget. SMS is best used for opting new customers into a service or to send quick promotional deals to existing customers. It leverages keywords to generate traffic and conversions.
MMS should be used whenever you want to show off a new product. If you're promoting a new shoe, it's best to send a customer a picture for better reference. MMS lends for flashier presentation that helps you convince customers to engage with a service.