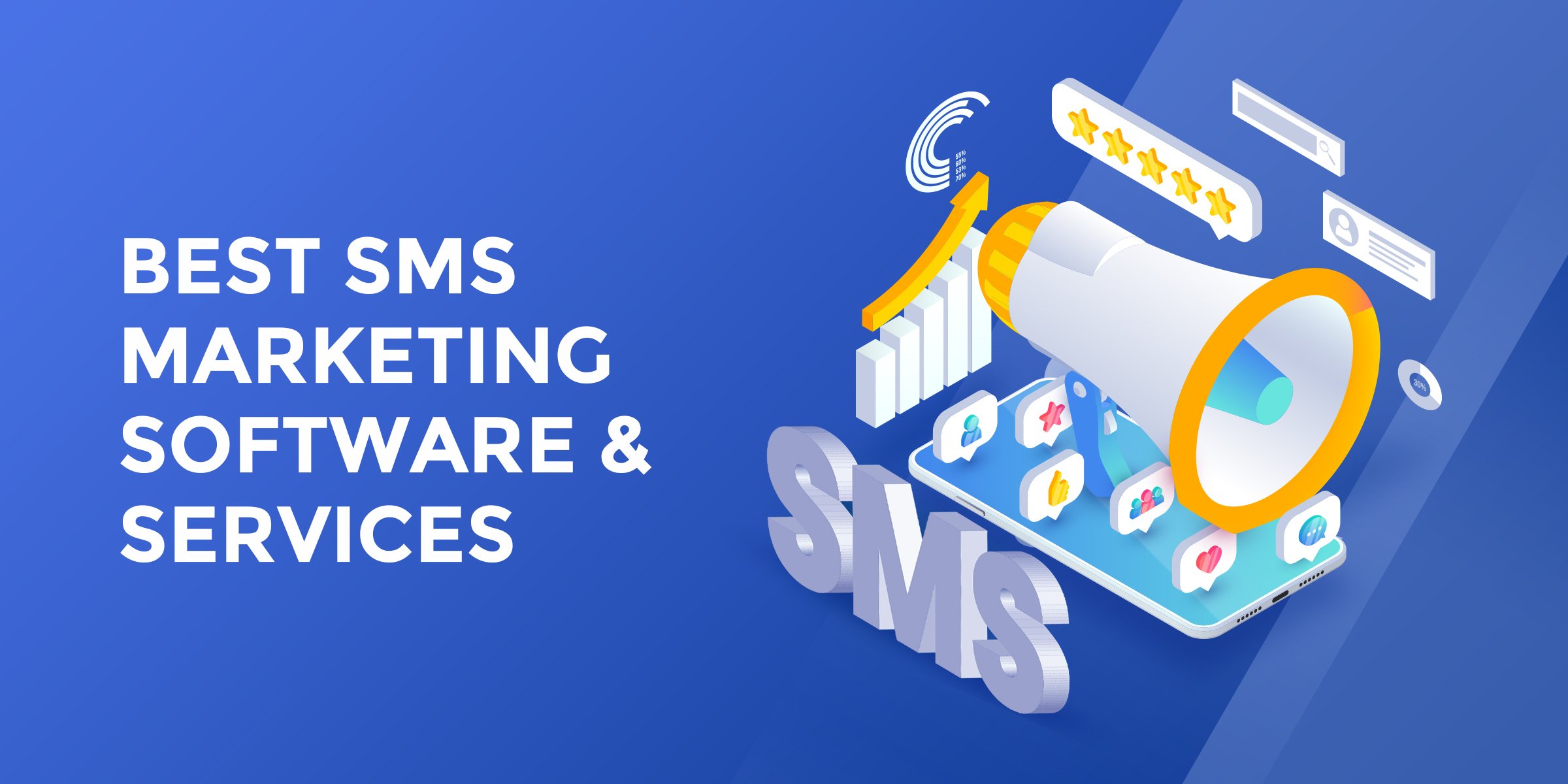 Trying to choose an SMS marketing software?
My agency partners and I have implemented SMS platforms for companies of all sizes ranging from solopreneurs to enterprises.  Along the way, we've learned what works for successful SMS campaigns that drive sales.
To simplify your selection process, we've tested and reviewed the top SMS marketing software available today.  We're going to outline the key differences and share our recommendations based on our experience, usability, and cost.
Advertising Disclosure
Advertising Disclosure
We offer this website completely free to our visitors. To help pay the bills, we'll often (but not always) set up affiliate relationships with the top providers after selecting our favorites. However, we do our best not to let this impact our choices. There are plenty of high-paying companies we've turned down because we didn't like their product.
An added benefit of our relationships is that we always try to negotiate exclusive discounts for our visitors.
---
How We Rank & Evaluate SMS Marketing Platforms
Yes, we tested them for real. Here's what we compared to figure out which software you need to create and send automated text message campaigns.
User Satisfaction / Ease of Use – How easy is it for us to upload and organize contacts and prospects, launch a program, and schedule SMS broadcasts?
Integration – Can this SMS software integrate with the rest of our workflow (Salesforce, Google Calendar, etc.)? Do you need a programmer to develop and code an application?
Features – What sort of "bells and whistles" does the SMS service come with? Does it have a mobile app, two-way communication, work internationally, etc.?
Pricing + Scalability – How affordable is the SMS tool, and can you easily upgrade as your company grows? Check out our calculator to compare costs between the top providers.
Customer support– Were they available to help me if I encountered any issues or had any questions?
---
SMS Marketing Tools Compared
Comparison of the Best SMS Marketing Software

Service Name




Our Full Review
SimpleTexting Review
Omnisend Review
Mobile Text Alerts Review
TextMagic Review
ClickSend Review
UltraSMSScript Review
Editor's Notes

Easy to send bulk SMS campaigns.

Two-way text messaging. Loads of integrations, including MailChimp sync.

Best for SMS and email in a single platform.

Designed for eCommerce brands.
Best hosted SMS marketing software. Good for getting started quickly with an SMS marketing service.
Runner up for the best hosted SMS marketing software. Best pay per text message solution.
Easy to use API and Zapier integrations for marketing automation.
Best self-hosted SMS marketing software. Good for businesses that want more customization and wholesale prices.
Billing Model
Monthly subscription
Monthly subscription
Monthly subscription
Pay as you go
Pay as you go
One time fee or monthly + wholesale text messages
Pricing
See Plans
See Plans
See Plans
See Plans
See Plans
See Plans
Best SMS Marketing Software & Platforms
The 6 best SMS marketing providers that we found were the following:
Easiest platform to use and our top overall pick
Visit SimpleTexting
SimpleTexting is our top pick because we can integrate the service with all of our other workflow management systems (most notably, Mailchimp), they have great customer service, and we're able to personalize user profiles with information, photos, etc.
They have affordable yet scalable plans, so we can use the cheaper plans until we become as huge as some of their other clients (Starbucks and Cisco!)
Features
Two-way messaging
Scheduled texts
Automate text messages
SMS keywords to create contact lists
Data collection and analytical tools
Premade templates
Tiny links
Reminder texts
Pros
Free incoming messages are a great money-saving feature
The simple dashboard made it easy to build my first campaign in less than 20 minutes.
We can create multiple keywords for our phone number at no additional cost.
Plans start at just $23 (if billing annually)
Importing contacts is made easy by their various integrations. A big plus is that they have a pre-built MailChimp integration.
Cons
Sharing SimpleTexting's platform among your team members costs more (unless you choose the 50,000+ credit plan.)
More experienced programmers might feel constrained by the platform's simplicity.
I went over my text character limit (160) pretty quickly when working on some of my campaigns. For marketing promotions, you may need to trim down your texts more than you would like to save on outgoing message costs.
Pricing
Pricing is based on purchasing a certain number of credits each month (SMS costs 1 credit each, and MMS costs 3 credits.) All plans include free incoming SMS messages, unlimited contacts, a free number, customer support 7 days/week, Mailchimp and Zapier integrations, unlimited keywords, and rollover credits.
You'll save 20% on prices if you pay annually instead of monthly.
---
Use the Link Below & Enter Code "DDIY20" to Get 20% Off Your First Month or Annual Plan
Read our SimpleTexting review.
Best multichannel (Email + SMS + Push Notifications + Pop-ups)
Visit Omnisend
Omnisend is our favorite multi-channel mobile marketing solution. They combine Email + SMS + Push Notifications + Pop-ups, which just makes life easier for everyone. The setup is easy. The messaging automation is easy. We like easy.
Though we certainly wouldn't consider ourselves an eCommerce company, Omnisend does specialize in SMS solutions for folks who own online shops. Things like abandoned cart reminders, customized popups, and shipping confirmation and updates can all be automated.
Features
Email marketing
Web push notifications
Audience sync for ads
Segmentation
Reporting
Popups and forms
Personalized, omnichannel messaging
Pre-built ecommerce workflows
SMS list-building tools
Pros
Full prebuilt eCommerce workflows and Shopify integration
Easiest set up ever
Great option for eCommerce businesses to keep everything in one place
Can track buyer habits
Simple email builder and automation editor
Segmentation combined with reporting makes it easy to adjust SMS campaigns as needed
Cons
Not a very wide variety of templates for emails and forms
Unlimited users only offered in the Enterprise plan
Not a great marketing automation solution for non-e-commerce businesses
Pricing
Standard – $16/month unlimited contacts (reach up to 500), 6,000 emails per month, unlimited web push notifications, 24/7 chat and live support, customer success manager, Facebook custom audience, and Google customer match
Pro- $59/month– everything in the standard version plus unlimited emails, up to 3,540 international SMS, unlimited web push notifications, advanced reporting, customer success manager, and 24/7 priority support
These are Omnisend's base prices for users sending marketing promotions to 500 or fewer contacts. As users grow their contact lists, prices go up.
Read our Omnisend Review
Most affordable
Visit Mobile Text Alerts
The easy setup with Mobile Text Alerts is great because it allows me to get started on a plan right away.
Once you get started, the rest of the process is also easy. The dashboard is easy to navigate. The mobile app feature is a huge plus for busy business owners who need to check in on how well their SMS campaign is going or draft bulk messages to send in the future from wherever they may be.
The integration features are stellar, too.
Features
QR code opt-in
Two-way messaging
Mobile surveys
MMS
SMS templates
Scheduled messages
Import spreadsheet
Text-to-join
Group segmentation
Unlimited administrators
Link tracking
Mobile app
Pros
Easy setup – you can get your account created and working within just 30 seconds.
Convenient to use – they have an easy-to-use dashboard setup as well as a mobile app.
Conversational – respond through the platform and set up automated responses to keep 24/7 communication with customers.
Experience – after over 10 years in SMS marketing, the company has amassed a few big-name clients including Roblox, Kroger, Yeti, and more.
Integrations – over 200 integrations that allow me to connect my SMS marketing campaign to Zoom, WordPress, Gmail, Shopify, etc.
Cons
The character limit – If you go over the character limit for texts, it will send as multiple separate texts, though this is standard for most text message advertising services.
MMS – MMS (Multimedia Messaging Service) messages count as 3 messages instead of 1 toward your monthly count.
Personalization – there isn't a way to add customers' personal names to each of the messages they receive, which I think would add a nice touch.
Pricing
Basic – $19/month. 500 messages per month, 1 opt-in keyword.
Starter – $26/month. 1,000 messages per month, 2 opt-in keywords.
Standard – $48/month. 2,000 messages per month, 3 opt-in keywords.
Professional – $110/month. 5,000 messages per month, 4 opt-in keywords.
Plus – $199/month. 10,000 messages per month, 5 opt-in keywords.
Premium – $349/month. 20,000 messages per month, 6 opt-in keywords, priority support.
Elite – $749/month. 50,000 messages per month, 7 opt-in keywords, priority support.
Enterprise – $1,299/month. 100,000 messages per month, 8 opt-in keywords, priority support.
Read our Mobile Text Alerts review.
Visit Textmagic
The variety of API Gateways as well as Zapier integrations offered by Textmagic is what makes it a favorite of mine. These, in combination with the awesome team-sharing function, make it easy to keep everyone and everything in the same place.
The UI is super easy to use, which, as you should know by now, is one of the most important things to us here. Premade templates add to the ease, making Textmagic one of our top picks.
Features
API Gateways and Zapier integrations
How-to articles and video tutorials
Two-way SMS
Send bulk SMS online
Email-to-SMS
Mail merge SMS and templates
Mobile app
Import mobile numbers
Premade templates
SMS attachments and MMS
Team-sharing function
Pros
A simple yet scalable pricing structure makes it a great option for smaller businesses with fewer contacts.
A simple yet versatile UI that won't take much time to pick up.
Creating bulk text messaging templates and importing contacts was also incredibly simple and definitely sped up our process.
Extensive API tools and integrations that allow you to hook up Textmagic with other apps.
Subaccounts allow you and your team to collaborate on automated SMS campaigns.
Plenty of resources are available to help you with integrating APIs into your SMS toolset.
Cons
If you send a large volume of texts and receive messages back from customers, it can get a little pricey.
Their lack of pricing tiers sacrifices scalability since a lot of larger businesses won't benefit from the pay-as-you-text structure.
You have to pay a monthly fee for a virtual number, which probably won't be an issue for some but that wasn't entirely clear upon completing the free trial.
Some users have complained about unresponsive customer service in the past.
Pricing
The pricing is a flat rate pay-as-you-go type of deal.
The single standard fee for each text is $0.04, meaning you'll pay 4 cents for every text you send. In context, if you send 10 texts to 10 different contacts, you'll be paying $0.40.
U.S. and Canadian users will be required to use a dedicated virtual number from which to send out texts. The first month is included in the free trial, but after that, it'll cost $4 a month.
Read our Textmagic Review
Visit ClickSend
No software and no contract are our favorite unique things about ClickSend.
We love that this cloud-based SMS marketing service offers everything from SMS to Facebook messenger and even WhatsApp, which allow us to communicate with our customers no matter what channel they use.
The pay-as-you-go model allows us the flexibility to pay more during months we send more SMS and save money when we don't text our customers as much.
Features
Cloud-based (so no software)
No contracts
Prepaid or pay-as-you-go plans
SMS, MMS, voice, email, fax, postcards, and messaging through WhatsApp or Facebook are available
Google Analytics tracking is available
API options include REST, HTTP, SMPP, SMTP, FTP, and SOAP
Integrations with Slack, Zapier, IFTTT, and Salesforce
Pros
Super simple to use. It's easy to upload contacts and send out bulk text messages. I was able to set up an account, import a list of over 1000 contacts, and send out a bulk SMS in less than thirty minutes.
This software provides huge ROI potential (I saw ~800% ROI on my ClickSend investment) and is a dream tool for marketers.
The pay-as-you-go system is GREAT for our budget.
The price match guarantee is stellar.
Refund available with no questions asked for the first 14 days.
Fantastic customer support. You can talk to the Sales or Support team via a live chat or consult the Knowledge Base section on the company's site.
Cons
The reporting leaves a little to be desired and just scratched the surface. Reviewing the data is a little clumsy and there isn't an easy way to export and share insights.
I had a couple of issues where I'd create a campaign, but then need to go back and modify my list, or adjust some settings. Because I didn't set the campaign up as a template, it didn't save as a draft. This was a little annoying because I had to go back and recreate the text.
If you're looking to do a lot of custom programming and automation, or if you're an enterprise, you might be better off checking out a ClickSend alternative like Twilio.
Pricing
Outbound price per SMS- Under 2k- $0.0235, 2k or more- $0.0168, 10k or more- $0.0114, 100k or more- $0.0084. Custom pricing for over 200k.
Dedicated number- $1.68/month
Dedicated shortcode- $975.27/month ($975.27 – Setup Fee)
Outbound MMS- $0.0398/MMS
Read our ClickSend Review
Visit UltraSMSScript
UltraSMSScript offers downloadable white-label software for a one-time fee, making it our favorite pick for affordable SMS marketing software.
I love that once you set the software up, you own it and can use it as you see fit. You do need to go elsewhere to pay for the messages themselves, but you can buy them at wholesale prices, which I find to be a more affordable option than paying a monthly fee for most SMS services.
If you don't want to deal with the hassle, you can also pay them to host it for you, which is easier for most folks.
Features
One-time fee to download white-label software
Option to pay for hosting
Reseller accounts for folks wanting to sell it as a white-label service
Number lookup
Batch processing
A/B split testing
Away messaging
Voicemail text back
Blacklist words
Pros
One-time payment for software setup
Once the software is set up, you own it and can sell it as a service
SMS messages send for wholesale price (less than a penny)
The dashboard is easy to use
API makes it easy to integrate with other software to streamline the process
Monthly hosted plans for those who would rather not host the platform themselves
Cons
Customization only comes with the higher-priced plans
No solutions for mobile apps
No free plan option
Can be tricky for someone without tech experience to install, but that's why they offer free installation
Pricing
Read our UltraSMSScript Review for more information on pricing. They have a lot of options!
Learn More
Keeping it super simple, Salesmsg's UI features just four easy-to-navigate tabs so that you can access all the stuff you need without having to navigate through all the stuff you don't.
We already have a landline, so their call-forwarding feature that allows us to forward calls automatically was a huge bonus that not all that many providers offer.
You already know we love a team feature that allows us to collaborate with each other, and Salesmsg's is built right into the UI so we can message each other as well as our customers. Love it.
Features
Integrations with Zapier, Salesforce, ActiveCampaign, InfusionSoft, HubSpot, and Pipedrive offered
Text-enable and forward calls to your existing landline
Team-sharing feature allows you to share inboxes with team members and make internal notes
Auto-reply business hours
Import and export contacts
Calendar integrations
Built-in opt-out management
Pros
Setting up an account and sending the first few texts was extremely simple.
The dashboard is easy to navigate and everything is clearly labeled.
Being able to share inboxes with team members is helpful and bolsters efficiency.
Carrying out two-way conversations is simple and effective.
Being able to set up meetings, change schedules, relay messages to other team members, and opt numbers out of an SMS list are all made simple.
There is an auto-reply system that you can configure around your business hours to nurture conversations when a contact tries to reach you in off-hours.
Cons
The mobile apps seem to leave a lot to be desired. They're not optimized to handle hundreds of texts coming in and the desktop version is superior. This might be a drag for businesses that are constantly on the go.
You don't get discounts for sending more messages, meaning SMS and MMS prices stay static even if you send plenty of bulk texts.
The simplistic design might constrain some developers or experienced marketing teams.
Pricing
Pro plan- $35/month. Send up to 750 text messages a month, comes with unlimited contacts and app integrations. Text using pictures, perform SMS broadcasts and share your inbox with your team.
Premium plan- $300/month. Monthly text message limit upped to 7,500 while the plan offers shortcode mass texting as well. Comprehensive onboarding and premier support on top of everything offered in the Pro plan.
The Custom plan varies but is a flexible solution for enterprises looking to create a scalable text messaging solution. You'll have to negotiate a price with Salesmsg when choosing this option, but you also gain access to dedicated shortcodes, 1-on-1 phone support, and a managed account setup.
If you want to send more texts than your monthly plan allows, you can purchase additional SMS for $0.025 each, or MMS for $0.05
Read our Salesmsg review.
Learn More
We've talked AT LENGTH about how much we love team-sharing features and you'd be hard-pressed to find more of these features than the ones offered by Heymarket.
Being able to assign specific contacts made it easy to streamline work between multiple users and the private chat feature is an incredibly useful collaborative tool in a remote work environment.
Unfortunately, Heymarket doesn't offer as many guides or tools to help with setting up your account or navigating the UI.
Features
Integrations with Salesforce, Hubspot, Apple Business Chat, Zapier, and Facebook Messenger.
Receive and send messages from Facebook, your business's website, and Google search results.
Shared inbox and private comments for team members
CSAT services
Automation
Performance metrics
Customer insight and sentiment
Unlimited users
Pros
Team-focused features like the shared inbox, unlimited users, private messaging, and contact assignments can elevate your marketing or customer service team.
Easy-to-use UI makes creating and executing SMS strategies a breeze.
Integrations allow for easier contact imports and allow you to connect with your other business apps.
Being able to access messages from Facebook, Google, and your own website allows for greater outreach.
Intuitive campaign manager along with solid reporting and analytics tools offered.
Each subscription plan is priced relative to a business's size, making it scalable.
Cons
Some features like integrations and APIs are only included in more expensive plans.
Lack of resources and guides for APIs, integrations, and other features that some inexperienced users might have trouble navigating.
It's not optimized for multiple languages, meaning users with a non-English customer base might have to go through some hurdles.
Pricing
The Standard plan- $59 a month or $588 annually. Includes unlimited team members, contacts, devices, and message retention. Send up to 1,000 messages per month and receive a daily list size of 400.
The Plus plan- $119 a month or $1188 annually. 2,500 messages per month and a 600 daily list size. Includes everything in the Standard plan plus reports and analytics for a year's worth of data and access to integrations.
The Pro plan- $239 a month or $2388 annually. 5,000 messages per month and receive reports for 2 years' worth of data on top of API access. Contacts, team members, devices, and retention are all unlimited.
Read our Heymarket review.
Learn More
Twilio is arguably the biggest name in SMS marketing and, in my opinion, for good reason.
That being said, I wouldn't recommend it for smaller companies or honestly anyone who isn't well-versed in development.
I (and many others) would consider Twilio the standout winner for large enterprises and development teams due to its huge array of advanced features.
Personally, as someone who is not a developer, it's a bit much. If you need easy, this is not the choice for you, sorry. But every backend developer I know gets excited any time I bring it up.
Features
Programmable Messaging API and Conversations API allow you to send messages and engage in two-way conversations with customers.
Offers code samples for SMS functions like notifications, service alerts, reminders, and marketing messages in languages such as C#, Java, Node, and Python.
Shortcodes for sending mass texts and for collecting phone numbers.
Programmable Voice APIs that let you make, receive, and monitor phone calls.
Option to use WhatsApp, Facebook Messenger, and Google Business messages.
Tools to create 2FA and other security programs.
Customer data analysis tools.
Communication workflow design tools.
Pros
Versatile SMS APIs let you create virtually any programmed text messaging you want while connecting it with your other business applications and websites.
Highly-scalable pricing structure for large enterprises and no big contracts.
The resources page is packed with helpful information about getting started with your SMS campaign.
The customer service program is responsive and helpful with most basic inquiries.
They accommodate most developers by making their APIs and shortcodes available in a number of different coding languages.
Cons
Their services are geared towards programmers and developers, so folks inexperienced in those fields will be overwhelmed.
Setting up responses should be more intuitive like an email autoresponder or a chatbot service where you can send users through flows based on actions.
Their UI, while clean and well-formatted, can be a bit cumbersome with the amount of text in each tab. Some of the vernacular is a little confusing too.
Twilio's usage analytics could be more comprehensive and user-friendly.
Their documentation could be improved. It can be hard to figure out what you are looking for if you don't already know where and how to look for it. When new features are added, their communication of those features is sometimes non-existent.
While their customer service is helpful, it can take a little bit of time to get a response since it's done through email and not by phone.
Pricing
Twilio uses a "pay-as-you-go" structure.
Starts at $0.0075 to send a message and the same amount to receive messages. This price is the same for local and toll-free numbers.
$0.02 to send picture messages and $0.01 to receive (MMS).
$1/month to use a clean local number and $2/month to use a toll-free number. You can lower that cost to $0.50 a month if you use your own number.
You can purchase a high-volume shortcode that lets you send 100+ messages per second for $1,000 a month. This can be reduced to $500 a month if you manage your own lease.
Read our Twilio review.
Learn More
As the name suggests, EZ Texting makes SMS marketing… well, easy.
Starting at a super affordable price of $19 a month with the option to add more messages as your business grows, we love EZ Texting for newer or smaller businesses with less tech experience.
When I tried this out myself, I found it super easy to sign up, pick a plan, and begin sending out texts to customers. The templates for messages and sign-up forms are another huge selling point for this beginner-friendly SMS marketing service.
Features
2-way communication and mass texting
Import contacts in seconds
Pay-as-you-go pricing
Integrations with Constant Contact, HubSpot, Squarespace, and more
Message/sign-up form templates
QR code generator
Bulk opt-out
Link shortener
Message forwarding
iOS app
Pros
Easy and scalable pricing structure provides plenty of options for smaller businesses that may not use SMS as frequently as larger firms or corporations.
Purchasing per 500 credits can be a starter option for those who just want to do a few smaller SMS marketing campaigns per year.
MMS messaging is available for photo, video, and audio file integration.
Intuitive UI for ease of use and intuitive processes.
Thousands of Zapier integrations as well as API gateway access for integrated marketing solutions.
Simple to create sign-up forms, QR codes, and shortened URLs using EZ Texting.
Cons
Without a monthly plan, customers have to purchase additional keywords and extra textable numbers as you go which leads to higher cost.
EZ Texting's iOS mobile app has slightly less functionality than the browser version.
Only supports SMS to US and Canadian numbers.
Higher prices and the platform is pushing to increase monthly features and add-ons.
Pricing
Free trial includes 120 credits. Sending an SMS message costs 1 credit each while an MMS message costs 3 credits each to send.
Value – $24 per month
Essentials – $36 per month
Premium – $61 per month
Custom – $299 per month
Save 20% when you pay annually instead of monthly
Read our EZ Texting review.
Learn More
Need someone to hold your hand through setting up? SlickText offers 1-on-1 help for folks setting up their SMS marketing software. Your guide will inform you of best practices so that you can get started off on the right foot.
After helping you get set up, SlickText offers plenty of integrations and a unique, fully-functional REST API to craft and develop the right solution tailored to fit your business.
Features
1-on-1 account setup
SMS templates
Options for automation
Personal REST API
Text-to-join
Text-to-win
Surveys
MMS
SMS shortcode
SMS autoresponders
Pros
The 1-on-1 account setup is seriously helpful. Users get insight into best practices, allowing them to easily get set up for success.
The REST API is unique and easy to use and makes it easy to create a custom workflow that integrates with your SMS marketing software.
They make sure all of your SMS marketing is above board and legal, so you won't accidentally break any laws in your text marketing.
The customer support is exceptional, I feel like they're always available to provide guidance and expert advice.
Text-to-win contests make SMS marketing interactive and increased customer engagement.
Cons
Would love to see more analytics offered.
Slack and Zapier integrations could be better.
No mobile app (not a huge deal, but it would make things easier!)
Pricing
14-day free trial
The Basic- $29/month- 500 texts per month, 2 text words, free incoming messages, picture messaging, rollover texts, live chat support
The Step Up- $49/month- 1,000 texts per month, everything in Basic but with 4 text words
The Lil Bro- $79/month- 2,000 texts per month, everything in Basic but with 6 text words
The Big Bro- $139/month- 3,600 texts per month, everything in Basic but with 8 text words, plus automated workflows and 1-on-1 onboarding
The Boss- $189/month- 5,000 texts per month, everything in The Big Bro but with 14 text words
The Albatross- $350/month- 10,000 texts per month, everything in The Boss but with 16 text words
The Whale- $750/month- 25,000 texts per month, everything in The Albatross but with 20 text words
The Monstro- $1,250/month- 50,000 texts per month, everything in The Whale but with 20 text words
Learn More
TextSanity offers versatility and freedom for businesses who want to try different methods.
Business owners who use TextSanity have the option to create drip campaigns, blast mass messages, or use keywords to segment customers into specific groups for easier marketing.
Webform sign-ups are offered which makes it quick and easy for folks to sign up for your text messaging campaigns. This also makes it easier for you to save and organize their contact info.
Features
Contact management
Mass texting
Message personalization
Scheduled messaging
2-Way messaging
Mobile keywords
Auto-responders
Audience segmentation
API
CRM
Pros
The unlimited keyword feature is super helpful, easy to use, and effective in our marketing campaigns.
No extra stuff on the dashboard which makes it pretty easy to navigate.
Audience segmentation is easy, making personalization simple and effective.
Customer service is generally pretty solid though I did see some other reviews claimed it was lacking.
Cons
Importing a contact list is a bit tricky.
Analytics are lacking.
The simple platform, while easier to use, does lack some of the "bells and whistles" that other SMS software offers (it's a bit old school)
Some customer reviews claimed a lack of customer support available.
Pricing
$30/month- 500 message credits per month (600 when you bill annually), 4.5 cents per additional message
$50/month- 1,000 message credits per month (1,200 when you bill annually), 4 cents per additional message
$80/month- 2,000 message credits per month (2,400 when you bill annually), 3.5 cents per additional message
$100/month- 3,000 message credits per month (3,600 when you bill annually), 3 cents per additional message
$150/month- 7,500 message credits per month (8,250 when you bill annually), 2 cents per additional message
$380/month- 25,000 message credits per month (27,500 when you bill annually), 1.5 cents per additional message
$630/month- 50,000 message credits per month (55,000 when you bill annually), 1.25 cents per additional message
$1,155/month- 100,000 message credits per month (110,000 when you bill annually), 1 cent per additional message
Learn More
On the fence about using an SMS marketing service? You're in luck. There's no credit card required for a 14-day trial with Textedly.
A few of the intuitive features offered include SMS automation, shortcode links, and the option to send coupons and special promotional discounts.
They also have services that allow business owners to invite customers to review their services or refer them to friends. You can even create customer loyalty programs to thank your customers for their business.
Features
Webforms
Conversation triggers
Mass group texting
Text keyword
Text scheduling
Auto-reply messages
CTIA and mobile carrier compliance
Free incoming text messages
Unlimited contacts
Built-in link sharing
Pros
Detailed analytics that let us see how successful each campaign has been and helps us measure overall success for the year.
The interface is super user-friendly and easy to use. I found that most of us didn't even need to watch a tutorial before sending mass texts to customers.
I like that we receive email alerts when clients text back so we don't miss anything just because we didn't have to app opened at that time.
Customer service is excellent and timely. They're very friendly and helpful, answering emails within a reasonable time frame.
The Instagram texting feature is pretty unique. This allows folks visiting the Instagram account to easily send us a text message, allowing for easier communication across the board.
Cons
Uploading a large contact list from a CSV can get tedious and time-consuming.
I wish you had the flexibility to update a contact if someone on your list changes their phone number.
It's kind of annoying to have to keep contacts of subscribers or employees after they opt out from receiving messages. I understand the point, but it just seems like extra data clutter.
Would love a mobile app so I can manage SMS campaigns on the go.
Learn More
With an option that's 100% free, Klaviyo offers an SMS marketing resource to companies who have no budget at all. Klaviyo offers free SMS services for up to 250 contacts, 500 monthly email sends, and 150 free monthly SMS/MMS sends.
The integrations, pre-built templates, chat and email support, and ability to manage email campaigns alongside your SMS ones are all huge pluses that make this provider a top pick of ours.
Features
Free option available
Over 220 integrations
Pre-built template libraries
Audience segmentation
Ecommerce automations
Pre-built signup forms
2-way messaging
Legal compliance safeguards
CRM available
Email and SMS options
Pros
Free option!
There are many high-quality templates available that my team really enjoyed. Sometimes it's hard to know what to say or how to say it and the pre-made templates made communication much easier.
They seem committed to growth, constantly adding new features and analytics to make their SMS software more useful.
I like that they have awesome email software built right in so I can centralize all of my marketing and communication instead of switching between apps.
Integrations are a must for me and Klaviyo offers hundreds of them, allowing me to add it into my workflow seamlessly.
Cons
Som of the UI can be just a bit clunky but, once you get used to it, it's not a problem and becomes easy enough to use.
Image quality (if you attach images to your email or MMS) can be a bit fuzzy.
No mobile app (which is always a con for me. Apps just make everything easier!)
Pricing
Free- up to 250 contacts, 150 monthly SMS/MMS credits and 500 email sends, built-in CDP, email support for first 60 days, on-demand and live training, includes applicable SMS carrier fees
Email- starts at $45/month, 1,0001-1,500 contacts, 15,000 email sends and 150 monthly SMS/MMS credits. Everything in free plan plus onboarding, a customer success manager, and removal of Klaviyo branding
Email and SMS- starts at $60/month, 1,001-1,500 contacts, 15,000 monthly email sends and 1,250 – 450,000 SMS/MMS credits (varies by plan.) Everything in email plan.
What Is SMS Marketing?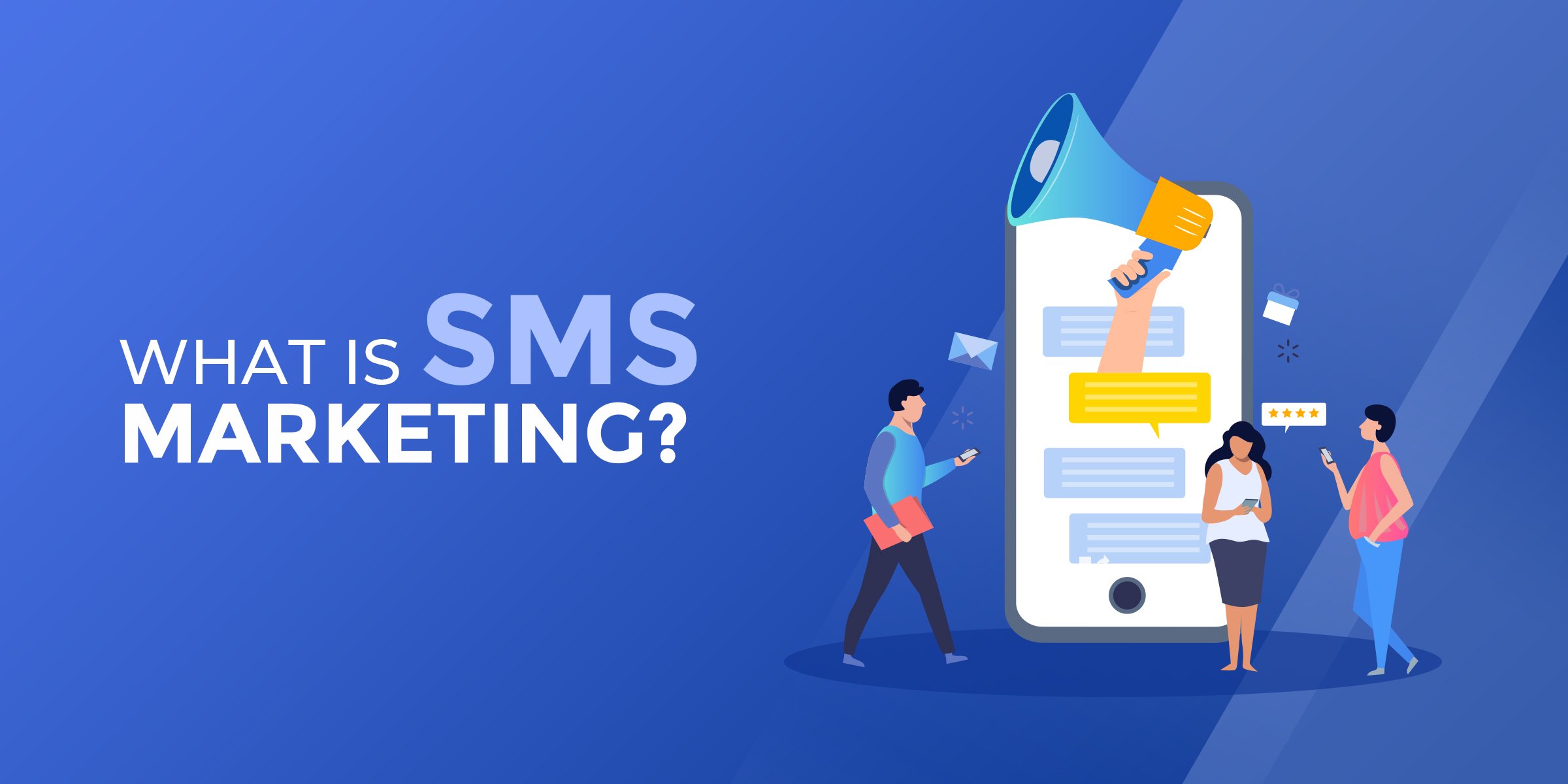 SMS marketing is the process of sending promotional and transactional messages for marketing purposes through text messages. These messages are meant to notify customers about promotional offers, reminders (for Zoom meetings), and other updates to those who consented to receive such texts.
As an evolution of fax and email marketing, SMS has become increasingly sought after because of the increase in the number of people checking their phones daily. Because just about all consumers own a cell phone, SMS marketing allows companies to reach their customers at the touch of a button.
The effectiveness of SMS speaks for itself, as it's known to increase foot traffic to businesses while increasing overall sales and customer base. Don't believe us? Check out these mouth-watering statistics to see the full potential of SMS marketing.
The instant communication that SMS facilitates creates stronger connections between customers and the business. Not only can consumers stay in touch with their favorite brands, but they'll also be immediately notified of pertinent updates.
It can even be a useful tool to complement other marketing strategies, as SMS marketing initiatives are known to improve the effectiveness of email marketing strategies when conducted together while staying compliant with SMS marketing regulations. This is a great way to maximize ROI for businesses focused on multi-channel marketing.
What Is an SMS Marketing Platform?
An SMS marketing platform is a set of tools that allows you to send text messages to people who are on your phone or your email list. The platform will allow you to set up multiple messages that can be sent out multiple times throughout the day. Additionally, the platform will have analytics that will help you understand what strategies are working best. Check out our guide on how to start and manage an SMS marketing campaign.
If you'd rather hand off the responsibilities to an agency, consider these top SMS marketing agencies.
What to Look For in SMS Marketing Software?

Ease of use
The point of SMS marketing services is to make messaging easier, not to complicate it further.
We only featured the SMS services that allowed us to easily upload contacts, integrate SMS with our other processes, and send messages.
We're not going to waste your time with SMS services that were hard for us to use.
Integration with other apps
We use many SaaS tools and need an SMS marketing service that plays well with others.
Synergy is essential here. The best SMS tool fits like a missing piece into the puzzle that is our workflow.
Whether you need to connect your text-marketing program with Google Calendar, Outlook, Salesforce, MailChimp, or any other application, having the freedom to connect with other important services is important for executing your SMS strategy.
Features
We wanted our best SMS marketing service to include extra features like two-way conversation, automated responses, the ability to schedule messages ahead of time, and mass text a lengthy list of subscribers.
You may be looking for other features like multiple keywords, advanced analytics, event reminders, or shipping updates. That's cool, too. Just make sure your SMS service matches your needs.
Pricing + Scalability
Respectfully, we aren't going to pay thousands of dollars each month to send messages to our people. But maybe in the future, we'll be so popular and famous that we need to send out millions of messages every day.
Our perfect SMS service is one that has affordable options for every budget with the ability to upgrade as your business grows.
If you don't need all the extra features, consider these free SMS marketing services to get started.
Customer Support
Sometimes we just need a little help. The best SMS marketing service for us is one with friendly, knowledgeable experts available whenever we get stuck or have questions.
No ghosting here.
Is SMS Marketing Expensive?
You can expect to pay anywhere from .01 to .05 cents per text message. Therefore, if you send out one text message to 1,000 people, you can expect to pay anywhere from $10 to $50.
On average, an SMS marketing campaign is on the less expensive side of the marketing spectrum.
What Is the Best SMS Marketing Tool?
SMS marketing is an incredibly versatile tool for a variety of businesses. The software and services that we highlighted in this article are all fairly robust and offer competitive pricing.
Editor's Pick for Best SMS Marketing
Our favorite app for SMS Marketing is SimpleTexting.
They provide the best overall pricing and an easy-to-use platform to send bulk marketing text messages.
At the end of the day, it's all about usability and cost. After all, marketing is all about ROI. We've tested every provider on this list and have found that SimpleTexting is the best SMS software for marketing. Setting up an account and campaign takes less than 30 minutes. Also, their flexible API and pre-built Zapier integrations make setting up your marketing automation workflows a breeze.
Best of all, they only charge for outbound messages and allow you to roll over monthly credits. The more texts you buy upfront, the lower the cost. There are no setup fees, no contracts, no user restrictions, and unlimited contacts.
Industry Specific SMS Guides
Frequently Asked Questions
Is SMS marketing effective?
SMS is widely believed to be an effective marketing technique. Almost 97% of people text at least once a day, meaning they're constantly checking their phones for one reason or another.
SMS messages are also not screened by any spam filter, meaning they can reach your intended audience with little to no interference. Almost 90% of SMS messages are read within the first few minutes.
What is the open rate for SMS?
Open rate is the percentage of messages sent by companies that are actually opened by the recipients. SMS marketing strategies typically have an open rate of 98%.
As a comparison, email marketing only has an average open rate of 20%. Thus, SMS marketing gives you a much higher chance of reaching your target audience with deals and promotions.
What is the conversion rate for SMS?
Conversion rate is the percentage of visitors to your site that complete the desired goal, such as making a purchase or signing up for a newsletter.
Traditional email marketing has a conversion rate of about 3%. Meanwhile, SMS marketing strategies have a conversion rate of over 30%.
Is SMS marketing legal?
Yes, SMS marketing is legal under U.S. federal law. Marketers have to follow a set of rules and codes so as to not send a barrage of irrelevant messages to customers.