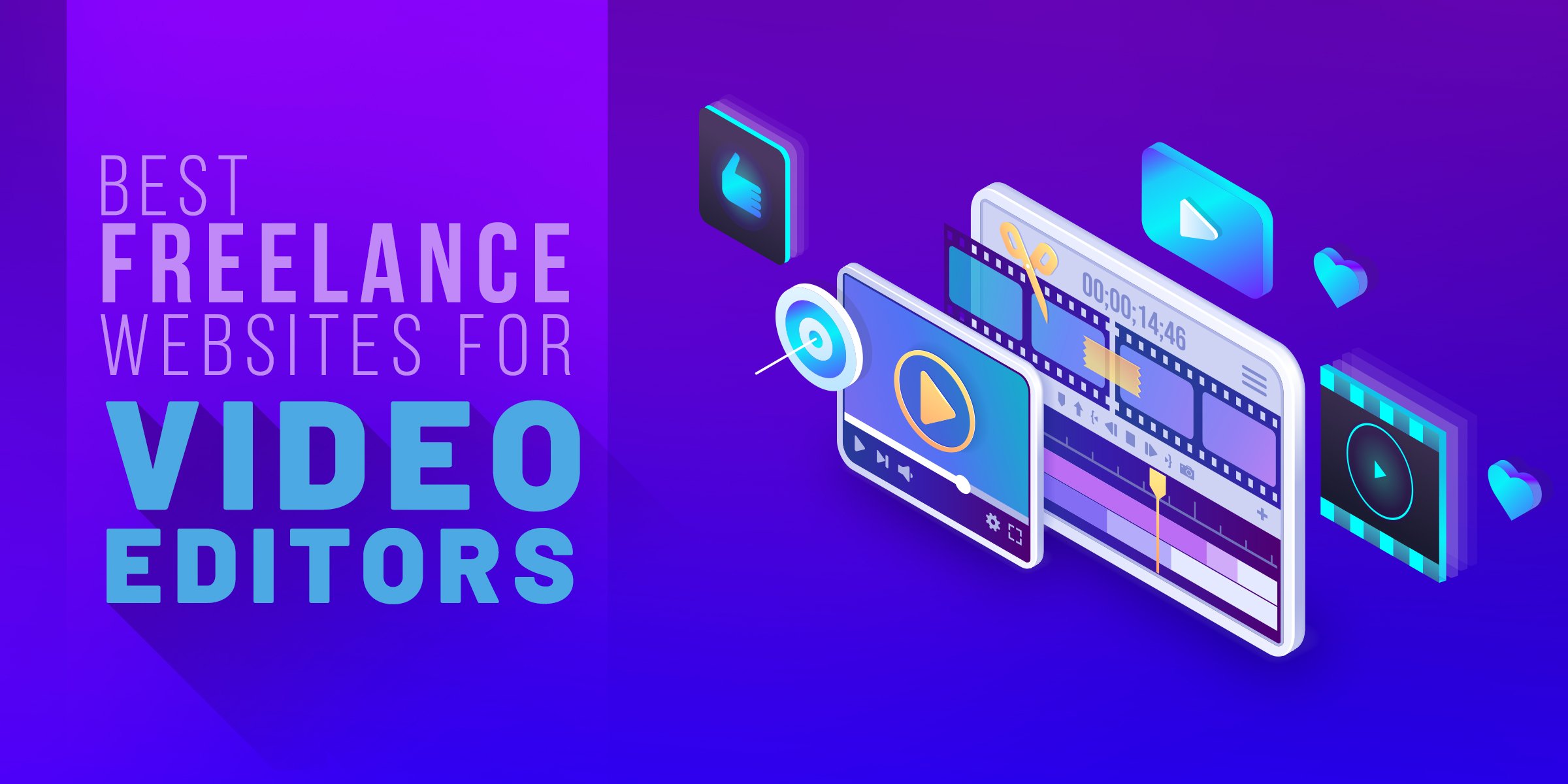 Video is a great medium for creating engaging content that can attract new customers or clients to your business. Video editing, however, is time-consuming, tedious, and difficult to do unless you've had experience.
If you're looking to save time and ultimately money by hiring a freelancer to do your video editing, you need to check out this list I've compiled of the best sites to find a freelance video editor.
Advertising Disclosure
Advertising Disclosure
We offer this website completely free to our visitors. To help pay the bills, we'll often (but not always) set up affiliate relationships with the top providers after selecting our favorites. However, we do our best not to let this impact our choices. There are plenty of high-paying companies we've turned down because we didn't like their product.
An added benefit of our relationships is that we always try to negotiate exclusive discounts for our visitors.
Check out our list of the best freelance websites for hiring talent.
Best Freelance Websites for Video Editors
Visit Fiverr
Viedit gives clients the opportunity to choose their video editor from a list of profiles or upload details on their video project and let the editors come to them. They even have a tab for "Movies," where you can browse freelancers based on their previous work.
Their video editors are from all around the world. To find the right one for the job, simply browse the profiles on the "Creators" tab. Selecting the profile of a freelancer brings you to their personal page where you can see samples of their work, reach out to chat, save to your favorites, or hire them for your project.
With the "Create Project!" tab, you can put in the title of your project, attach inspiration via personal file or YouTube, let them know what kind of audio you'll need (music, voice, or music and voice), and add instructions. You can also set parameters for a specific movie length, the deadline, and how much you're willing to pay.
Visit Fiverr
A popular site for actors to find gigs, Backstage also has profiles of video editing freelancers for all of your film and TV editing needs.
We recommend this site specifically for film and/or television, though you can find editors ready to edit a short video for your social media or advertising.
Backstage's robust filtering system allows you to narrow your search based on location, skills, union status, and more. Once the job is completed to your satisfaction, Backstage will take care of the contracts and the payment to your video editor, taking one less thing off your plate.
Best for small projects and gigs
Visit Fiverr
Another popular site with a slightly different approach to connecting companies to freelancers is Fiverr.
On Fiverr, you search through profiles of freelancers and find one that you want to work with. These freelancers can list different specialties on their profiles, like video editing, graphics, and others. The freelancers themselves list their prices right on their profiles so you can see who will fit your budget.
You can browse to find people that specialize in everything from animation to advertising; freelancers proficient in Final Cut Pro, Adobe Premiere Pro, and CyberLink PowerDirector 365. There are freelancers that do everything from editing Twitch streams to YouTube-friendly clips and even an editor to help you create the perfect TikTok.
The freelancers on this site post samples of their work right on their profile, allowing you the opportunity to see if their editing skills are what you're looking for. Check out our top Fiverr picks for video editors.
Visit Fiverr
Regarded by many as the leader in video production freelance, ProductionHUB has been connecting freelance video editors with clients since 1999.
Just about all of the major TV networks and studios have turned to this site to find their production crew so it's safe to say you're bound to find a video editor for your project.
They offer three ways to hire. You can "Search and Connect" by browsing over 150,000 verified professional profiles searching by location, choosing from one of their 300+ categories, or typing in a keyword.
"Post a Request" by submitting your request for a video editor and allowing them to match your project to the freelancers who best fit your needs.
Lastly, you can simply "Post a Job" and attract qualified video editors.
Best for unlimited graphic design and video editing
Visit Kimp
If you want unlimited video editing and graphic design services at one monthly fee, Kimp is the way to go.
All you have to do is sign up for a monthly subscription and you get a whole team of designers and editors who will handle every request you throw their way.
The video packages start at $599 per month (with 20% off the first month, making it $479.20 that month). For that price, you can expect:
Unlimited Requests, Revisions, and Brands

No Contract

2-4 Day Turnaround

Add Unlimited Team Members

Dedicated Video Team

Dedicated Project Manager

Free Stock Images, Videos, and Audio

Source Files

Trello Project Management

Zapier integration
Though this is more of an all-inclusive service than a freelancer, it's a great way to cover all of your bases to make sure that you get all of the video editing you need done with a quick turnaround time and consistency.
Visit Visugu
Another great unlimited video editing service is Visugu.
They provide unlimited projects and revisions each month for one flat fee, even offering a 24-hour turnaround for certain projects.
You'll be assigned your very own dedicated account manager who will oversee your project. You will also get access to royalty-free stock video, plus the company uses royalty-free music, meaning no extra fees.
A few of the specific video editing services they offer include:
YouTube video editing
Travel video editing
Music video editing
Training videos
Wedding video editing
Since there are no contracts, you can cancel at any time.
Visit Video Husky
With one simple plan that covers all of the video editing you could possibly need; Video Husky is a company worth looking into.
Their primary focus is on helping content creators (YouTubers, TikTokers, etc) streamline their process and focus on the content itself. Specifically, content creators who have a clear vision of their own brand and content, who just need someone to do the tedious legwork of editing.
Their plan will cost you $749 per month ($674 per month if you choose the quarterly plan) will offer you five days a week of service including:
20-minute videos

Max 40GB raw footage

Up to 5 exports per video

Transitions & lower thirds

Premium Stock Footage and Music

4K footage & exports
Best Freelance Websites by Category
Looking for more of the best freelance websites but need to browse by category? Check out our below freelance website reviews to either expand your portfolio or hire a freelancer for your next project.
What is video editing freelancing?
A video editor is a skilled professional who can work with raw video footage and edit it into something like an advertisement, film, or even a vlog.
Video editing freelancing is what a person who edits videos, typically for multiple different entities, on a contract-based agreement or monthly retainer.
Is video editing hard?
Yes. If you've ever tried editing a video yourself, you know that, at the very least, it's tedious. That's why outsourcing this task to someone who knows what they're doing is well worth it to save you time, energy, and frustration.
How much does it cost to hire a video editor?
Depending on the level of experience you want your editor to have and the scope of the project, you can expect to pay a video editing freelancer around $40-$150 an hour.
Summary
If you don't have the time or the knowledge to edit a video, it's best to hand things over to a video editing professional. Check out one of these sites to find a reputable video editing freelancer that's right for your project and your budget.