You spent so much time coding and programming the most innovative, cutting-edge software ever created, but… does it actually work?
Getting a qualified software testing expert is the final step you need before you send your software child out into the world. But where do you find such a person…?
Luckily we've done a lot of the legwork to help you find that perfect software or QA tester to find the last remaining bugs in your software.
Advertising Disclosure
Advertising Disclosure
We offer this website completely free to our visitors. To help pay the bills, we'll often (but not always) set up affiliate relationships with the top providers after selecting our favorites. However, we do our best not to let this impact our choices. There are plenty of high-paying companies we've turned down because we didn't like their product.
An added benefit of our relationships is that we always try to negotiate exclusive discounts for our visitors.
Need to find work as a software tester? Check out our list of the best places to find work.
13 Best Freelance Websites for Software/QA Testing
Here are the best freelance websites to find software testing experts.
Best for user testing
Learn More
While it's great to have a professional developer test the functionality of your software, you need to have normal, non-tech people test it, too. UserTesting is how you do that.
Anyone can create an account to test out software, so you have real, live humans trying out your software. Not that developers and programmers aren't humans, but you get the point.
You can select your testers based on the demographics of your target audience, honing in on what works and what doesn't for the people you want to use your software in real life.
Companies like HelloFresh, HP, Canva, and GoDaddy have all used UserTexting's services to make sure that their software is easy to use and provides an enjoyable experience to the everyday folks who will be using your software.
Learn More
As a female-founded business, Testlio is committed to hiring a diverse pool of software testing talent, making it the perfect option for software developers looking for a wide variety of testers.
This company is just as committed to excellence as it is to diversity, only accepting around 3% of applicants.
Testlio has testers in over 150 countries, with over 1,200 devices, and over 100 languages. Because of this, they boast the ability to test "in any country, on any device, in any language."
Their platform allows users to easily see everything that's happening with their testing, making it easier to understand and evaluate as they go through the testing process.
Learn More
With testers all over the world, TestingTime is another solid option for developers and businesses to use.
With TestingTime, you not only control the type of testers you have but also where they're located. You can pick between options for 'Remote', 'At your location' or 'At the test user's home' to narrow down the pool of testers based on where you need them.
Simply select location, how many testers you want, and what type of testers you're looking for to get AI-matched QA testers that will provide you with valuable feedback on the functionality and appearance of your software or app.
Learn More
If the over 100k testers on Userbrain aren't exactly what you're looking for, or if you have your own crew that you want to test your software, Userbrain can set you up for success anyway.
Testers record live videos of themselves interacting with the software/app that you're having them test, allowing you to see their step-by-step interaction with the software so that you can quickly identify issues and fix them easily.
Customers also have the ability to collaborate with their teams through the intuitive interface on the site and can schedule regular testing ahead of time to keep things running smoothly.
Learn More
Used by huge names like Microsoft, Intuit, and IBM, Respondent has a wide pool of over 2 million testers ready and qualified to try your software before you launch.
They offer a simple pricing model for each individual project that scales to your audience so you don't have to pay for any subscriptions or get locked into any contracts. You can choose from a pay-as-you-go setup where you choose how much you want to incentivize participants and pay a 50% incentive fee or a credit bundle starting at a $10,000 incentive where the service fee decreases the more participants you get.
Respondent works fast. While the average time to find and schedule participants is around 3 days, many first matches are made within 30 minutes of proposing your project.
Learn More
With 22 years on the market, Daxx has plenty of experience with vetting and hiring skilled software testing experts for its clients.
Daxx charges no upfront fees, has a vetting process, and provides you with knowledge transfer so that you don't have to worry about the onboarding process with your new software tester.
They also have a variety of options when it comes to the type of work you want. You can either hire one QA specialist to complete the project, utilize a whole team of software testing experts, or even use one of their QA packages for one-off projects.
Rather than use an employee bench, Daxx uses its recruitment team to select a software specialist from a talent pool of 250,000 experts in its network, ensuring the right fit for your team.
Learn More
With consulting, engineering, and testing solutions for software companies, ValueCoders is a great option to outsource your company's software testing.
They have experience working with over 2,500 companies across a variety of different industries and of all sizes, from small startups to large Fortune 500 companies.
In their over 17 years in business, the India-based company has maintained an impressive 97% customer satisfaction rate, so it's clear that they provide their clients with great services.
With this option you can hire a full team of software testing experts, making it great for large enterprises.
Learn More
Upwork is one of the most popular freelancing sites, so you're bound to find one that's right for you.
Upwork lets you view each candidate's profile and overall rate, which makes checking each freelancer's qualifications much more efficient. You have the power to reach out to a software testing freelancer using Upwork's intuitive communication app that makes connecting easy.
You start by posting a job with all of your desired specifications in the description. Upwork then analyzes your needs and sorts through its thousands of freelancers to select the right fit, providing you with a shortlist of Upwork's best candidates for you to choose from. You can also look through submissions from software testers who respond to your posting.
Software testers can either be paid by the hour or per project. Their freelancers can connect with you for recurring work or even full-time contract work. This means you'll be able to find someone to test your software for a variety of different projects.
Best for customized matches
Learn More
With plenty of freelancers specializing in software testing using the site to find work, Fiverr is one of the best platforms to connect with QA professionals. Fiverr's name comes from the original price for services being just $5 but you can probably expect to pay a bit more than that for a quality software tester.
With Fiverr, you can look through the site's long list of software testing and QA specialists, using its various filter tools to find the right fit for your app or software. You can filter prospective software testers based on their specialty and what markets they have experience in, making it easy to find the right software tester for the job.
You then contact the right tester by selecting their profile and reaching out to them directly to discuss rates and come up with a plan. Once the terms for a project have been finalized, you will pay your software tester upfront for their work.
Learn More
Guru is a freelancing site that houses job listings for anything from programming and development work to administrative and secretarial duties, and yes, that includes software testing. There are over 72,449 freelancers capable of performing various software tasks that can either be paid for contract work or long-term positions depending on the needs of your business.
Clients can browse through Guru's freelancer list by first selecting "Software testing" as their main category. The site lists both individual freelance accountants and agencies. There are dozens of subcategories to choose from, allowing users to focus their search based on specific software needs.
Once you find a software testing expert that you're interested in, you can contact them and come to an agreement on your own. If you'd rather let the experts come to you, you can post a job on Guru's job board and wait for testers to reach out to you.
When you and your software tester get paired, Guru provides you with dedicated "WorkRooms" that you can use to collaborate with your software freelancer.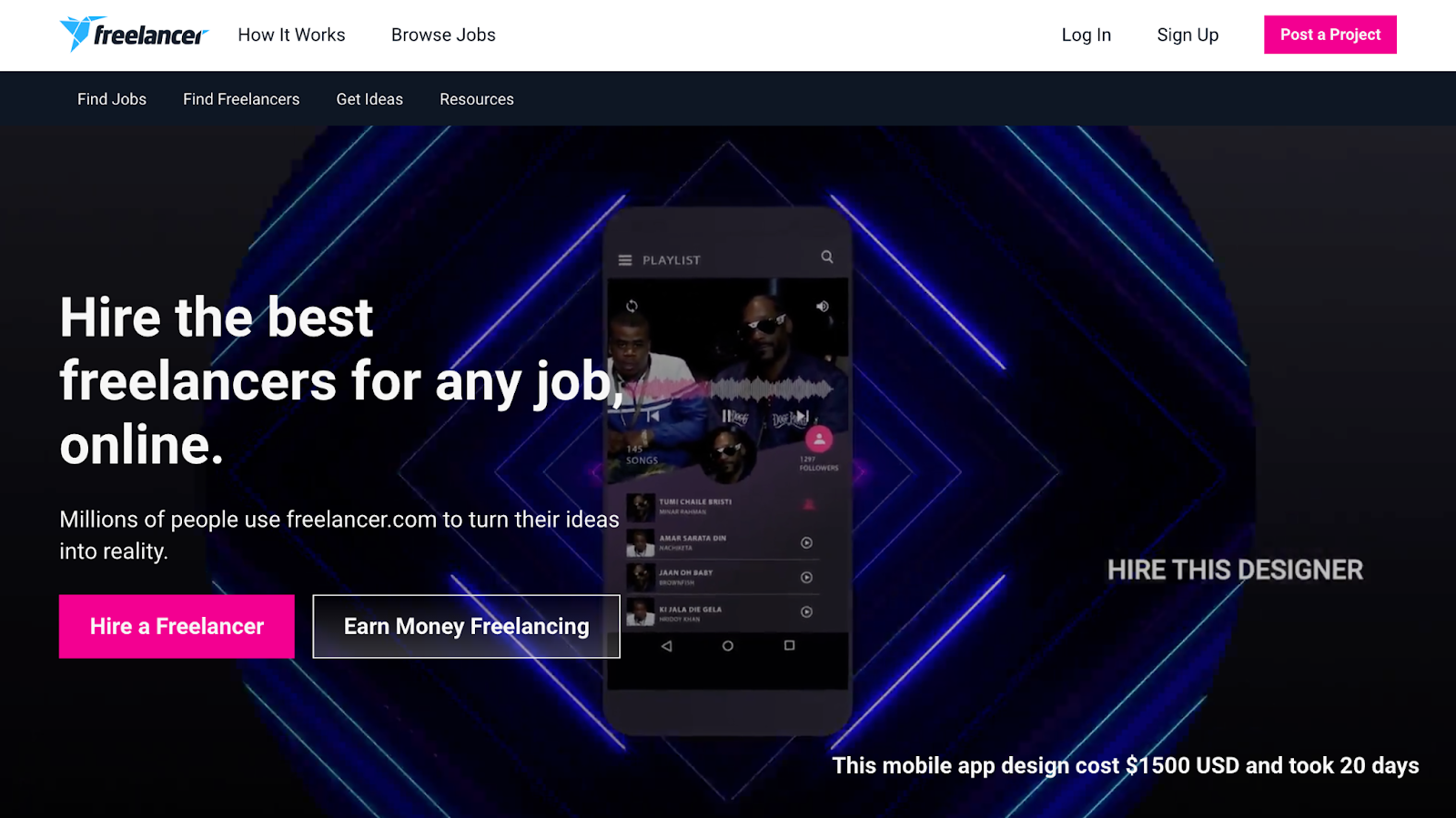 Learn More
As one of the original freelance hiring platforms, Freelancer has over 50 million freelancers, making it a great place to find a software tester.
One of the things that we love about this site is that it has a secure payment system that allows you to rest easy about where your money is going.
This site is great for people who are looking for someone to test your software because it allows you to post a job with your budget and negotiate bids or browse profiles of different software testers to find the perfect one for you.
They also have convenient features like a time tracker and a mobile app so that you can check on the progress of your freelancer in real-time, whether you have access to your computer or not.
Learn More
With a large variety of talent from all around the world, Truelancer is another fantastic pick for finding a freelancing software testing expert for your next project.
You can easily see a list of top software testing freelancers with their qualifications, any relevant degrees or certifications, location, and rates. They also list their specialties so that you can find a software testing expert with experience in QA, UX, and more.
Each profile features a short intro written by the freelancer that allows you to get a feel for who they are as a person and whether or not their personality could be a good fit for your team.
Learn More
Sometimes you forget to hire a software tester until the last minute. If you need someone to test out your software at the last minute, go to People Per Hour.
They have software development specialists from all around the world, with options for every budget. You can browse through freelance software testers' resumes and portfolios to find one with a body of work that fits the needs of your project.
People Per Hour has helped 100,000,000 tech businesses across the globe find folks to complete different tech projects for them, including software testing.
Best Freelance Websites by Category
Looking for more of the best freelance websites but need to browse by category? Check out our below freelance website reviews to either expand your portfolio or hire a freelancer for your next project.
Where Can I Find a Freelance Software Testing Expert?
There are a few different options that SaaS companies have to find software testers for their product.
A popular option is to hire a freelance software tester which can be done through open-market places like Upwork and Fiverr for smaller projects and budgets. Larger companies or ones with bigger budgets can use highly-vetted agencies like Toptal and UpStack.
You also can use a service like UserTesting to see what your target audience thinks of your software and have prospective users of your software give their feedback.
For larger enterprises, we recommend a company like ValueCoders to get together a team for testing your software.
What Do Freelance Software Testing Specialists Do?
Freelance software testing specialists are hired by a company to examine the usability, aesthetics, and functionality of the company's software.
Since they are freelancers, these specific software testing specialists are contractors who are often hired for a short-term project, though you usually have the option to hire them full-time if you both agree to it.
Is Hiring a Freelance Software Tester Worth It?
Hiring a freelance software tester is worth it for quality assurance before launching your software to the public, as they can check and make sure that everything works as it should.
Freelancers are also a more affordable option for smaller startups who have tight budgets and only need a one-time test done.
How Much Does a Freelance Software Tester Charge?
Freelance software testers charge differently depending on their level of experience, expertise, the duration and scope of the project, and how much work you need from them.
You can expect to pay a freelance software testing expert $22-$45 per hour ($33 on average).
How to Hire a Freelance Software Testing Expert
To hire a freelance software testing expert, first, decide how much you can carve out of your budget to spend on one with the scope of your software in mind.
Once you have that number in mind, begin your search. If your software is a smaller project, look to a site like Upwork or Fiverr. If your software launch is going to be bigger, try Toptal or ValueCoders, services that are more effective for larger projects.
Depending on what platform you use, it's easy to draw up terms for a contract that you and your freelance software testing expert agree on.
From there, enjoy having the peace of mind that your software is beautiful, effective, and provides users with a good experience.
FAQs
Can you freelance as a software tester?
Yes, people of different levels of software knowledge can freelance as software testers.
When should I hire a freelance software tester?
You should hire a freelance software tester when your software has reached a point where your software is almost fully functional, though you can hire one early on in the process as well.
Where is the best place to find freelance software testers for an enterprise?
ValueCoders is the best place to find freelance software testers for an enterprise.
How do I start freelance software testing?
Beginners can start freelance software testing on UserTesting and more experienced developers can create profiles for free on Fiverr and Upwork.