SEO is one of the most important aspects of running a successful website. But it also requires expertise to execute effectively.
You could learn everything there is to know about the ever-changing landscape of SEO (eek!) or you could just hire an expert to handle it for you. (Spoiler alert: we prefer the latter.)
Here are the best freelance websites for hiring SEO experts.
Need to find work as a digital marketer? Check out our list of the best places to find work.
Best Freelance Websites for SEO Experts
Best overall
Learn More
Our top pick for hiring a high-quality, experienced SEO expert is MarketerHire.
MarketerHire connects businesses with elite digital marketers. They proactively search online platforms for top talent and invite only the top SEO freelancers to apply. Applicants are rigorously vetted for expertise, skills, and professionalism.
They also make hiring an SEO expert quick and easy. Businesses fill out a form detailing their needs and MarketerHire will match them with the ideal SEO expert within 48 hours, eliminating traditional hiring hassles.
After onboarding, MarketerHire ensures consistent quality by checking in with clients bi-weekly.
Runner-up for best overall
Learn More
When hiring an SEO expert, it's essential to find someone who not only possesses the right skills but also seamlessly integrates into your team. Growtal gets it.
Their method involves a direct consultation to get a feel for your company's specific needs. Based on this, they tap into their vast network of top-tier SEO specialists to identify the ones best suited for your business needs. Within two business days, they introduce you to three to five potential experts for interviews, allowing you to make an informed decision.
Opting for Growtal is ideal if you're pressed for time or lack the expertise to sift through countless freelancer profiles elsewhere but need an SEO specialist for your digital marketing squad.
Best for hiring top SEO experts
Learn More
Toptal is renowned for its elite SEO professionals, representing the "top 3%" in the field.
They select this talent through a stringent vetting process that includes skill assessments, test screenings, and soft skills evaluations.
Toptal provides personalized client services, matching companies with individuals or teams tailored to their precise needs. If you'd rather do the searching for yourself, they also offer a job board for direct candidate searches based on specific expertise.
They offer clients access to every form of SEO skill, including the best SEO developers, engineers, programmers, coders, architects, and consultants.
Learn More
Mayple stands out in the crowded freelance marketplace with its unique approach. Unlike marketplace platforms like Fiverr or Upwork, Mayple is another matching service that ensures businesses get matched with top SEO talent.
They use a rigorous, data-driven vetting system that results in a pool of SEO experts, many of whom have experience with Fortune 500 firms. Their unique algorithm ensures expert matching and their unbiased account managers monitor and challenge your freelance SEO expert.
My favorite part of their service is the real-time monitoring tools to ensure continuous improvement and transparency during the whole process.
Their pricing might be a bit steep for some, but I think it's worth it because of their rigorous vetting. Their high-quality talent pool saves businesses time and possible issues that can arise from hiring a random person on Fiverr. For agencies and businesses that need quick, quality SEO experts, Mayple is a game-changer.
Best for small businesses
Learn More
Upwork is one of the biggest freelancing platforms out there and has been for quite some time now.
The variety of freelancers with different levels of experience makes it a great option for small businesses looking for an SEO expert. The site grants you access to freelance SEO experts who may be newer to the industry and willing to work with your smaller budget.
Business owners can follow an easy process to post a job description detailing requirements and pay and allow interested freelancers to apply directly.
Handling the paperwork side of things is one of the biggest benefits of using the site, as you don't have to worry about how to pay your SEO expert; they already have it covered.
Learn More
If you're looking for a "legit" solution to your SEO needs, check out marketplace Legiit.
Their unique approach integrates software and AI to curate connections between businesses and SEO experts that are scientifically proven to lead to long-term success.
Legiit's cutting-edge software can audit your website, giving your site a score based on analytics, on-page SEO, rank tracking, and more. This allows you to identify areas for improvement.
All of their experts are vetted, so no matter which SEO professional you're matched with, you can rest assured that you'll receive quality results.
Learn More
Dedicated to matching businesses with SEO professionals, SEO Clerks is a premiere freelance marketplace tailored to businesses needing SEO specialists.
Here, you will find SEO experts for everything you need. From link-building to programming and even art and design, SEO Clerks has a freelancer or agency that's perfect for the job.
You can set your budget and use other filters for software proficiency and specific types of SEO services needed. You can even use the "on-sale" option to score a deal on SEO services.
Runner-up for small businesses
Learn More
Fiverr is one of the original platforms for freelancers and offers a diverse range of SEO experts.
Business owners can refine their search for the perfect SEO expert based on expertise areas such as development or on-page optimization. They can also set guidelines and filters for budget, service options, and delivery timelines.
The platform facilitates direct communication between clients and SEO professionals to finalize project specifics.
Payments are securely processed through Fiverr's platform once you select and connect with your SEO professional.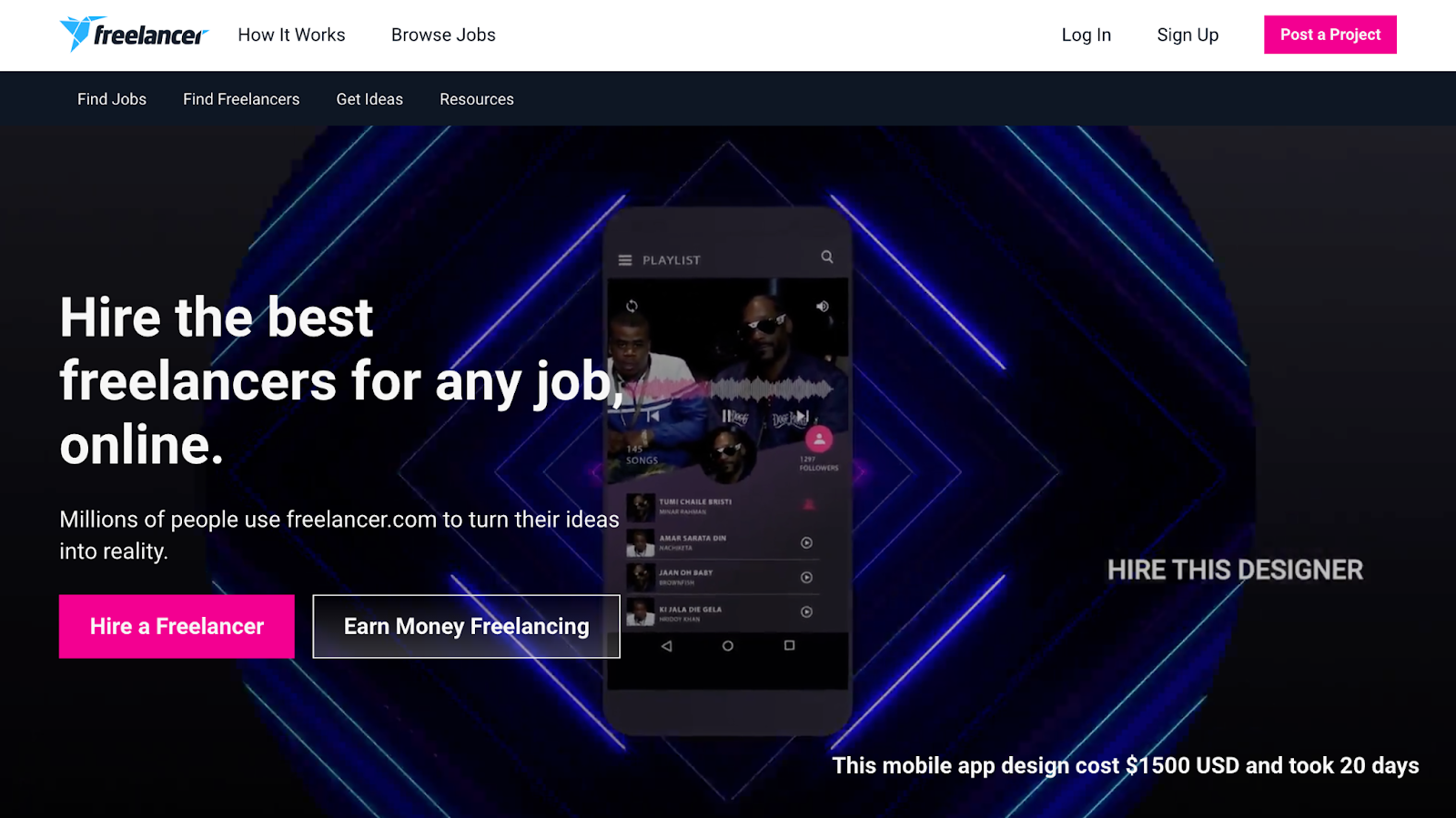 Learn More
There are many good reasons that Freelancer.com stands out as a great option to hire SEO experts.
As the original freelancer marketplace, it has a longstanding reputation and an extensive pool of talent. Businesses can find the right SEO expert, tailored to their specific needs.
One of our favorite features on the site is the time-tracking tool, which allows clients to monitor their freelancer's progress in real time. This ensures transparency and accountability, helping you manage project timelines efficiently.
The combination of its long history, vast talent pool, and useful extra features like time-tracking makes Freelancer.com a solid choice for businesses seeking expert SEO services.
Learn More
People Per Hour offers a streamlined platform to hire SEO experts worldwide.
Clients are offered high-quality professionals suited to their needs.
The platform's transparent review system allows clients to gauge the expertise and reliability of SEO freelancers.
Its escrow payment system ensures financial security for both parties. This combination of quality assurance, transparency, and security makes People Per Hour an excellent choice for businesses seeking SEO experts.
Learn More
Guru, similar to platforms like Upwork and Fiverr, hosts a vast array of freelancer profiles, including SEO specialists.
To explore SEO specialists on Guru, start by selecting "Sales & Marketing" as your primary category. Narrow down your search by opting for "Web / Digital Marketing" followed by the "SEO" subcategory.
The platform presents an extensive lineup of both individual SEO professionals and agencies. With a multitude of subcategories available, users can pinpoint their search to cater to distinct SEO requirements.
Guru also offers exclusive "WorkRooms" for seamless collaboration with your chosen SEO expert.
What Do Freelance SEO Experts Do?
Freelance SEO (Search Engine Optimization) experts specialize in optimizing websites to improve their visibility and help them rank higher on search engines like Google, Bing, and Yahoo.
Their responsibilities include:
Keyword Research: Identifying relevant and high-traffic keywords for a client's business or niche.
On-Page Optimization: Tweaking site elements like meta tags, content, images, and URL structure to make the site itself more search engine-friendly.
Off-Page Optimization: Building high-quality backlinks from reputable sources to boost a website's authority to improve ranking.
Content Strategy: Creating and optimizing written and creative content that is both user-friendly and search engine-friendly.
Technical SEO: Addressing website technicalities like site speed, mobile optimization, XML sitemaps, and structured data markup.
Local SEO: Managing Google My Business listings, local citations, and reviews to optimize businesses for local searches.
SEO Audits: Evaluating a website's current SEO status and recommending appropriate improvements.
Reporting and Analysis: Using tools like Google Analytics and Google Search Console to monitor website traffic, user behavior, and keyword rankings, then providing insights to business owners based on the data.
Staying Updated: Keeping updated on the latest SEO trends, algorithm updates, and best practices to ensure strategies remain effective.
Client Communication: Regularly updating clients on progress, changes, and results.
Freelance SEO experts aim to increase organic traffic to a website, enhancing its chances of converting visitors into customers or clients.
Where Can I Find Freelance SEO Experts?
There are a few different options that companies have to find SEO experts for their sites.
A popular option is to hire a freelance SEO expert through open-market places like Upwork and Fiverr for smaller projects and budgets. Larger companies or ones with bigger budgets can use highly-vetted agencies like Toptal, MarketerHire, and Mayple.
Is Hiring a Freelance SEO Expert Worth It?
Hiring a freelance SEO expert is worth it for businesses seeking cost-effective solutions to improve their online visibility.
These experts optimize websites for search engines, driving organic traffic and potential customers.
By leveraging the skills of an SEO specialist, businesses can achieve higher search rankings, increase brand awareness, and gain a competitive edge, all without the overhead costs of a full-time employee.
How Much Does a Freelance SEO Expert Charge?
Freelance SEO experts charge differently depending on their level of experience, expertise, the duration and scope of the project, and how much work is needed from them.
You can expect to pay a freelance SEO expert anywhere between $50-$150 per hour.
How to Hire a Freelance SEO Expert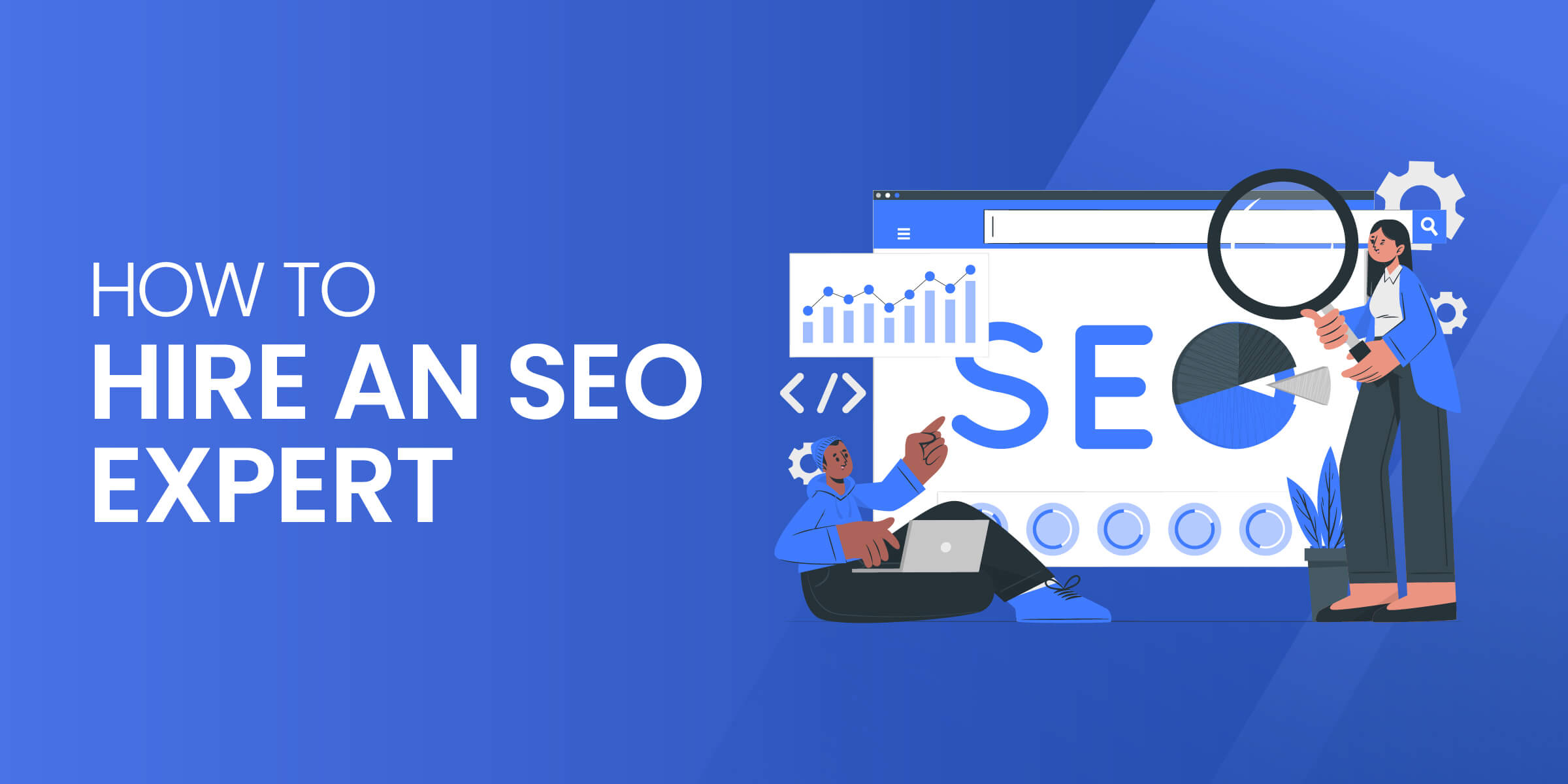 To hire a freelance SEO expert, you should:
Define Your Needs: Understand your SEO goals and requirements to determine what you're looking for in a freelance SEO expert.
Research Platforms: Use platforms like Upwork, Fiverr, or Toptal to find freelancers.
Check Reviews & Ratings: Evaluate each SEO specialist's past client feedback and ratings.
Request Portfolios: Review the freelancer's previous work and any available case studies.
Interview Candidates: Discuss their strategies, tools, and experience.
Ask for References: Contact past clients for feedback on the freelancer's performance.
Discuss Budget & Timeline: Cover the details on costs and deliverables.
Draft a Contract: Outline responsibilities, payment terms, and confidentiality.
Monitor Progress: Regularly review reports and updates.
Choosing the right expert can ensure optimal website performance and visibility.
Check out our ultimate guide to hiring an SEO expert for a more in-depth look at the process.
Best Freelance Websites by Category
Looking for more of the best freelance websites but need to browse by category? Check out our below freelance website reviews to either expand your portfolio or hire a freelancer for your next project.
Frequently Asked Questions
Can you freelance as an SEO Expert?
Yes, you can freelance as an SEO expert.
When should I hire a freelance SEO Expert?
You should hire a freelance SEO expert if you notice your site underperforming on search engines or at the beginning of the creation of your site.
Where is the best place to find freelance SEO Experts for small businesses?
Upwork and Fiverr are the best marketplaces to find freelance SEO experts for small businesses.
How do I start freelancing as an SEO Expert?
To start freelancing as an SEO expert, gather the necessary information and tools on how to carry out SEO processes. Obtaining certifications is recommended. Then, create a freelancing profile and build out your resumé to secure better job opportunities.