We've personally tried out many of the top freelancing platforms, so by this point, we know what makes it a good one or bad.
As one example, Freelancer is a platform that allows freelancers to find company projects and companies to find freelancers for their projects.
But among all of the freelancing sites, how do you know if Freelancer is worth it? The short answer, this one may not be.
Our Favorite Place to Find Freelancers
---
Read our Upwork Review
Upwork offers the largest pool of freelancers
Find the widest variety of technical talent and specialties
Good for short-term projects and tasks
No minimum budget
Advertising Disclosure
Advertising Disclosure
We offer this website completely free to our visitors. To help pay the bills, we'll often (but not always) set up affiliate relationships with the top providers after selecting our favorites. However, we do our best not to let this impact our choices. There are plenty of high-paying companies we've turned down because we didn't like their product.
An added benefit of our relationships is that we always try to negotiate exclusive discounts for our visitors.
Freelancer Overview
What is Freelancer?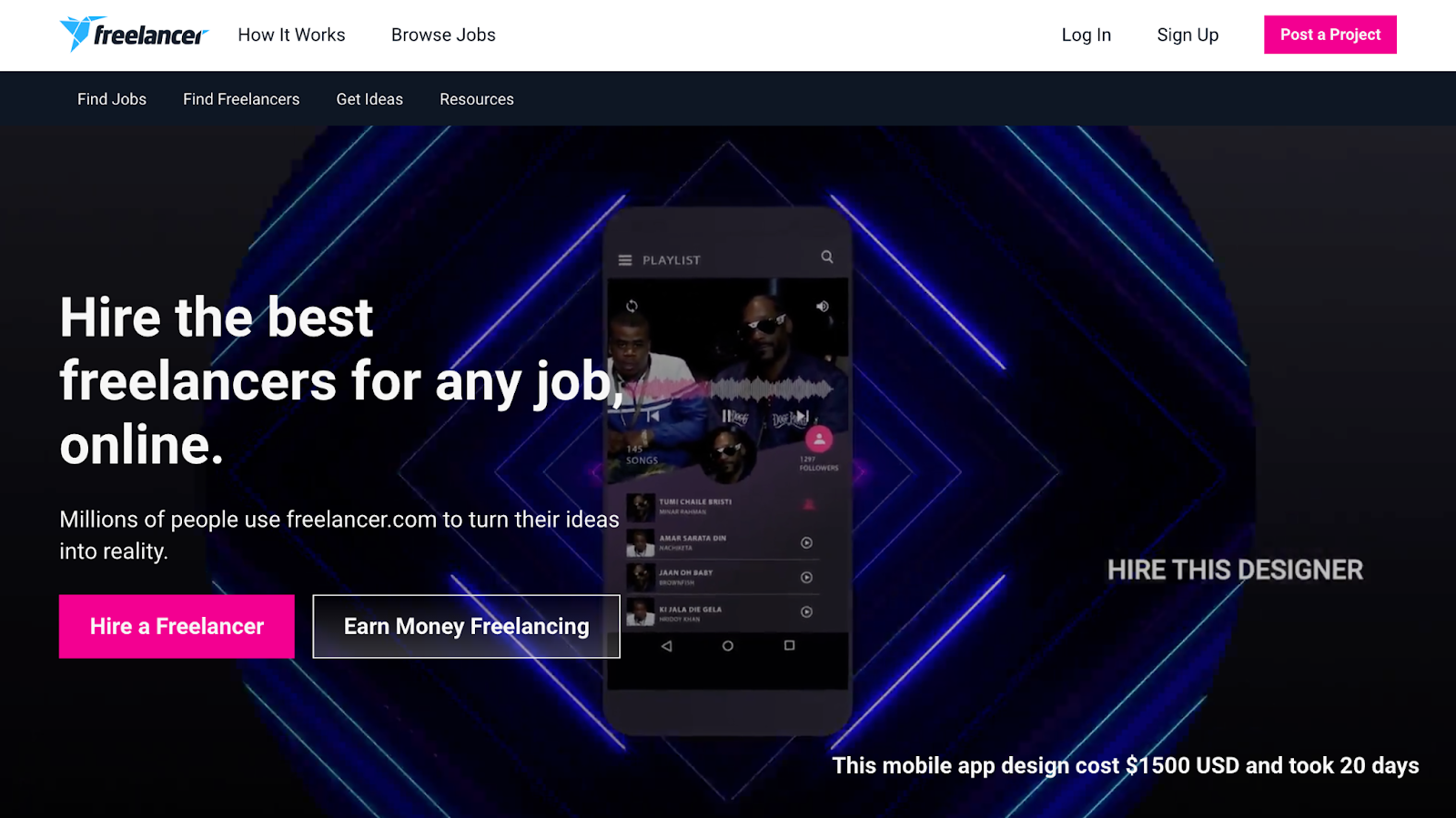 Freelancer is the world's largest marketplace, with 60.2 million registered users and 21.6 million total jobs posted. In this extensive network, Freelancer can match your business with the right freelancer for your job in minutes. They have about 1,800 categories of jobs that you can post in, from logo design to engineering.
You could even post your projects in a contest format, so you can see several project results and only pay for the best one.
How Does Freelancer Work?
Freelancer works similarly to job search platforms like ZipRecruiter or Monster.
Freelancers can create an account, search for jobs under specific categories, and bid on a project they like. If the company chooses them as the best option, they will get the project.
For your business, Freelancer is a platform you can post projects on. You can create a free account and post a project of any size. You'll receive competitive bids from freelancers within minutes. You can view the freelancer's profiles and chat with them before you choose who to hire for the project.
Freelancer also provides resources during your project, like live chat with the freelancer to ask questions and get updates on the progress. There is also a mobile app you can use to manage the project and collaborate from anywhere.
Once you're completely satisfied with the project, you can pay securely through the MiIlsetone Payment system and consider the project done!
What Is Freelancer Good For?
Freelancer is good for any business that needs any specific project completed.
The website features some freelancers' design work as the main thrust of the platform. However, businesses can post projects related to almost any industry, including websites, software, writing, media, data entry, engineering, science, marketing, accounting, HR, law, manufacturing, and translation.
The size of your business does not matter either, as Freelancer has small businesses and large enterprises posting and hiring on the platform.
Freelancer is especially good for choosing freelancers who can complete the project to your specifications. With the contest format, you can post your project and have multiple freelancers all try to make the best version of your project. You can review the submitted drafts and choose the winner. That freelancer will then refine the project to your requirements, and you only have to pay them for the project.
Who Uses Freelancer?
Many big-name companies have used Freelancer to find a professional with the experience and skill for their project. Some of these renowned companies include:
Amazon
Facebook
Deloitte
NASA
Google
Beyond the big names, companies from all across the world use Freelancer. Some companies come from India, Pakistan, Bangladesh, and Algeria, seeking the skills of the professionals on Freelancer.
What Does Freelancer Cost? (Freelancer Pricing)
A Freelancer account is free for freelancers if they only want to apply for 8 jobs a month. Or freelancers can get a membership plan, which allows them to make more bids a month depending on the plan they choose.
The Basic Plan for $4.95 a month allows 50 bids per month.
The Plus Plan for $9.95 a month allows 100 bids per month.
The Professional Plan for $29.95 a month allows 300 bids per month.
The Premier Plan for $59.95 a month allows 1,500 bids per month.
How Does Freelancer Earn Money?
On top of these membership fees, Freelancer earns money by charging freelancers 10% fees or $5 on each fixed-price job, whichever free is higher. On hourly projects, Freelancer charges 10% for each hourly payment. But these frees are raised to 15% for Preferred Freelancers—professionals who are particularly skilled and receive project invites from Freelancer daily. As a downside for professionals using Freelancer, they must pay these fees by a certain date, even if the company has not paid them for the project yet.
You as an employer can post projects for free, but once you accept a project bid, you have to pay 3% or $3 for fixed-price jobs, whichever is higher. On hourly jobs, you pay 3% for every hourly payment. However, this is a relatively low fee compared to other services.
Freelancer Review
Freelancer gives businesses like yours the opportunity to compare different project proposals from different freelancers and select the best one for the job. It has some unique features, like competitive projects, free job posting, and quick project quotes that give it an advantage over the competition.
Freelancer is especially helpful if you want to use the same platform for many different types of projects because it offers an array of job categories in several different industries.
However, the platform has some disadvantages; namely the lack of vetting. Freelancer has no restrictions on people who can join the network, so you may find entirely unqualified and inexperienced candidates along with experts in the field.
Pros: Here's what I like about Freelancer
Offers a unique competition format for a project so you can receive project samples and choose the best one.
A large talent base with over 50 million freelancers to choose from.
Includes over 1800 different project categories which encompass many industries.
Doesn't require payment until you're 100% satisfied with your project.
Allows free job posting and will only charge after you accept a project bid.
Can receive quotes from freelancers within 60 seconds.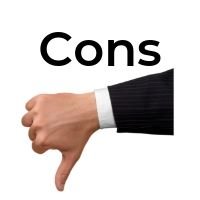 Cons: Here's what I don't like about Freelancer
Allows anyone to join the network, so there is no guarantee on the experience or skillset of the freelancers.
Has so many freelancers available that the options may become overwhelming.
Requires large amounts of sensitive information to verify the identity of users.
Freelancer Alternatives
The top Freelancer alternatives and competitors include:
Our Favorite Place to Find Freelancers
---
Read our Upwork Review
Upwork offers the largest pool of freelancers
Find the widest variety of technical talent and specialties
Good for short-term projects and tasks
No minimum budget
Frequently Asked Questions
Is Freelancer good for beginners?
Yes, Freelancer is good for beginners because it is easy to use with several resources and insights for help. It also offers recruiters that can help you find the right freelancer for the job and manage your project effectively.
Is Freelancer legit?
Yes, Freelancer is a legitimate company. It has been used by many businesses and is now the largest freelance marketplace. You can read customer testimonials or follow them on social media to see how people successfully and safely use Freelancer.
Is Freelancer free?
The basic account for businesses is free, and you can post jobs for free. Freelancers must pay a membership to apply for more than 8 jobs per month. Additionally, you have to pay a service fee once you accept a project bid.
Does Freelancer have a screening process?
No, Freelancer does not have a screening process for freelancers who want to join the network, so you must assess the quality and skill level of freelancers you find on your own.