Since I couldn't find an objective comparison between freelancing sites, I decided to create one myself.  The following reviews of freelancing sites are based on my personal experiences.
Best Overall Website for Freelancers
---
Our Rating – 4.9/5
Upwork is the largest freelance marketplace in the world.
Quickly find and hire the best possible freelancers.
Flexible contract types for short-term and long-term projects.
Trusted by industry leading brands like Microsoft, Airbnb, GoDaddy, and more!
Every freelance website will tell you they are the number one destination with the most qualified freelancers.  But you should take that with a grain of salt.  If you're looking for talent, here's an unbiased review of your best options broken down by category.
Best Freelance Websites
Best overall freelance website
Upwork was created under a different name, Elance oDesk. Today, as one of the world's most popular freelancing sites for both freelancers and clients alike, Upwork is a great place to find work especially if you're a freelancer. From a client point of view, it's easy to post a job listing that you need to fill and find freelancers. You can sort through the applications manually and reach out to anyone you're interested in.
Best freelance website for beginners and fixed projects
Fiverr is a great option for anyone looking for freelance work on a budget. The name came from their initial offer, which was all services priced at just $5. While they don't have that same pricing model any longer, it's still possible to find low prices while retaining quality work. Fiverr lets freelancers create their service offerings, tiered packages, and rates for clients to browse and choose from.
If you want something turned around quickly without breaking the bank, Fiverr is an option worth checking out. It's also a great option for freelancers looking to make a little extra cash on the side. If you have a unique service offering and are creative at marketing, you can really stand out from the crowd and make a solid living off of the site.
Best freelance website for developers and programmers
For those looking for the best developers and programmers that the web has to offer, Toptal is likely the place to find them. The site proclaims to house the "top 3%" of developer talent, hence their name.
They're known for their rigorous screening process when selecting developers for their hiring staff, with various skill reviews and test screenings dwindling their candidates to the top 3% of all qualified developers. This means if you choose to go with Toptal, you'll be getting the best of the best.
Toptal works with each client personally and connects them with the right candidate or team of candidates based on specific needs. These could include the time frame for a project and the cost of the overall project.
Toptal also has a robust job board that lets you search and contact candidates based on their expertise. Whether you want a flexible freelance developer, a mobile app specialist, or a JavaScript developer, Toptal has you covered with the best candidates available.
Best freelance website for graphic designers
Kimp isn't technically a "freelancing website". It's more of a graphic design service that is ideal for companies looking to save on freelance graphic design costs. If you're looking for on-going graphic design work and are tired of paying high hourly rates, then consider Kimp. They provide unlimited graphic design requests and edits for a low fixed monthly fee. This keeps graphic design costs predictable and increases the amount of projects you can get done each month without breaking the bank.
Kimp is also a great addition to freelancer designers that are looking to scale their graphic design business. They can provide you with the additional bandwidth required to tackle multiple projects at once, allowing you to more effectively focus on creative strategy, conceptualization, client management and other work critical to run your business more smoothly.
Best for hiring blog and content writers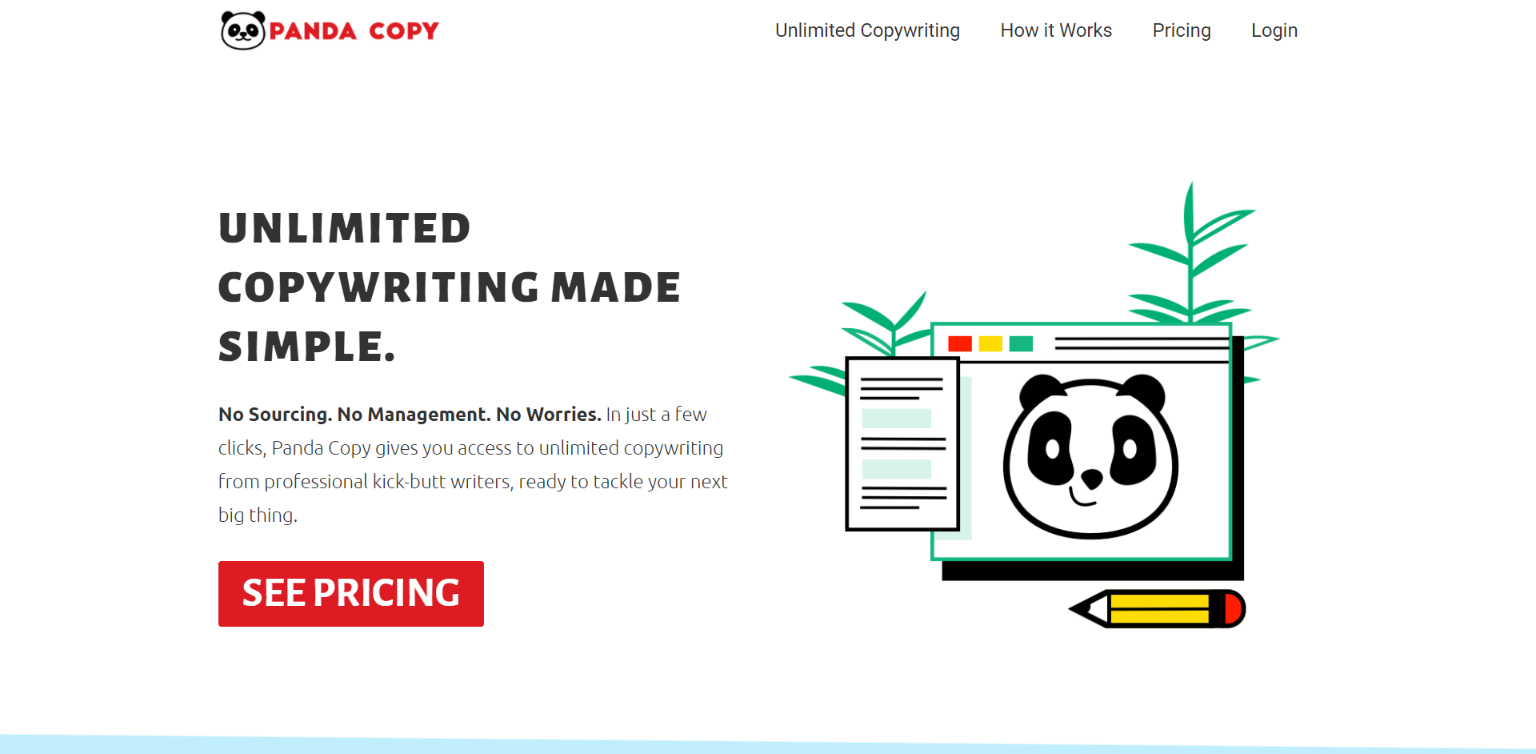 Panda Copy offers a flat rate every month accompanied by an unlimited amount of content and revisions. In this way, customers looking for a copywriting service (such as yourself) can get great service for lower writing and editing costs. One unique differentiator is that they offer two monthly plans. They also have a lot of experience with writing short copy.
An advantage to using Panda Copy is that it can help companies with plenty of marketing ideas but not enough manpower. Panda Copy allows you to write as many different blogs, articles, copies, social media content, and stories as you want. Furthermore, you won't have to worry about extra charges regarding the number of revisions or word count since this is all included in their service.
Panda Copy was built by a team of dedicated specialists in the marketing industry who have been perfecting their craft for 15 years. And while the brand itself has just come to fruition this year, the company has provided a solution to the same problem over and over again: by creating great content through qualified copywriters. In consideration of the current pandemic, every writer they hire is currently working from their homes and are based in the USA.
Best freelance website for virtual assistants
Onlinejobs.ph is the best place to find talented virtual assistants from the Philippines. Founded back in 2008 by John Jonas, Onlinejobs.ph has since become the largest online marketplace to find Filipino VAs or specialized talent.
This platform is unique because it only highlights the skills of remote workers in the Philippines, which comes with several benefits. Most Filipino workers speak English, which makes it easy to communicate about projects. They're also some of the most hard-working talents you'll find and often have much lower rates than some US freelancers.
While Onlinejobs.ph is known as a virtual assistant site, it also has members that are skilled in areas like SEO, graphic design, and CRO.
If you're interested in working with talented Filipino designers, be sure to give Onlinejobs.ph a look.
Best freelance website for digital marketers
Mayple is a freelance website that helps connect talented digital marketers with business that are looking to grow rapidly.
Unlike more generic freelance marketplaces such as Fiverr and Upwork, Mayple vets all signups and provides ratings of their skillsets in a process. They then provide an onboarding questionnaire to help connect businesses with the best possible marketing resource.
Mayple is dedicated to providing the best possible marketing results for your unique business needs. That's why they learn about your business needs before planning a tailored-made digital marketing strategy to reach your goals.
Many of Mayple's marketers have worked for the world's leading agencies and companies. However, they dig even deeper to ensure the best possible talent is available on their platform. Mayple vets marketers based on a data-driven scoring system. Only those with proven experience and skills will make the cut and join the Mayple talent pool.
Best Freelance Websites by Category
Looking for more of the best freelance websites but need to browse by category? Check out our below freelance website reviews to either expand your portfolio or hire a freelancer for your next project.
How do Freelance Websites Work?
There are typically three ways a freelance website works:
You can search and filter freelance worker profiles and invite a candidate to work on your job.
You can post a job and wait for freelancers to apply.
You can sign up and a recruiter will match you with pre-screened job applicants.
Different Types of Freelance Website Pricing models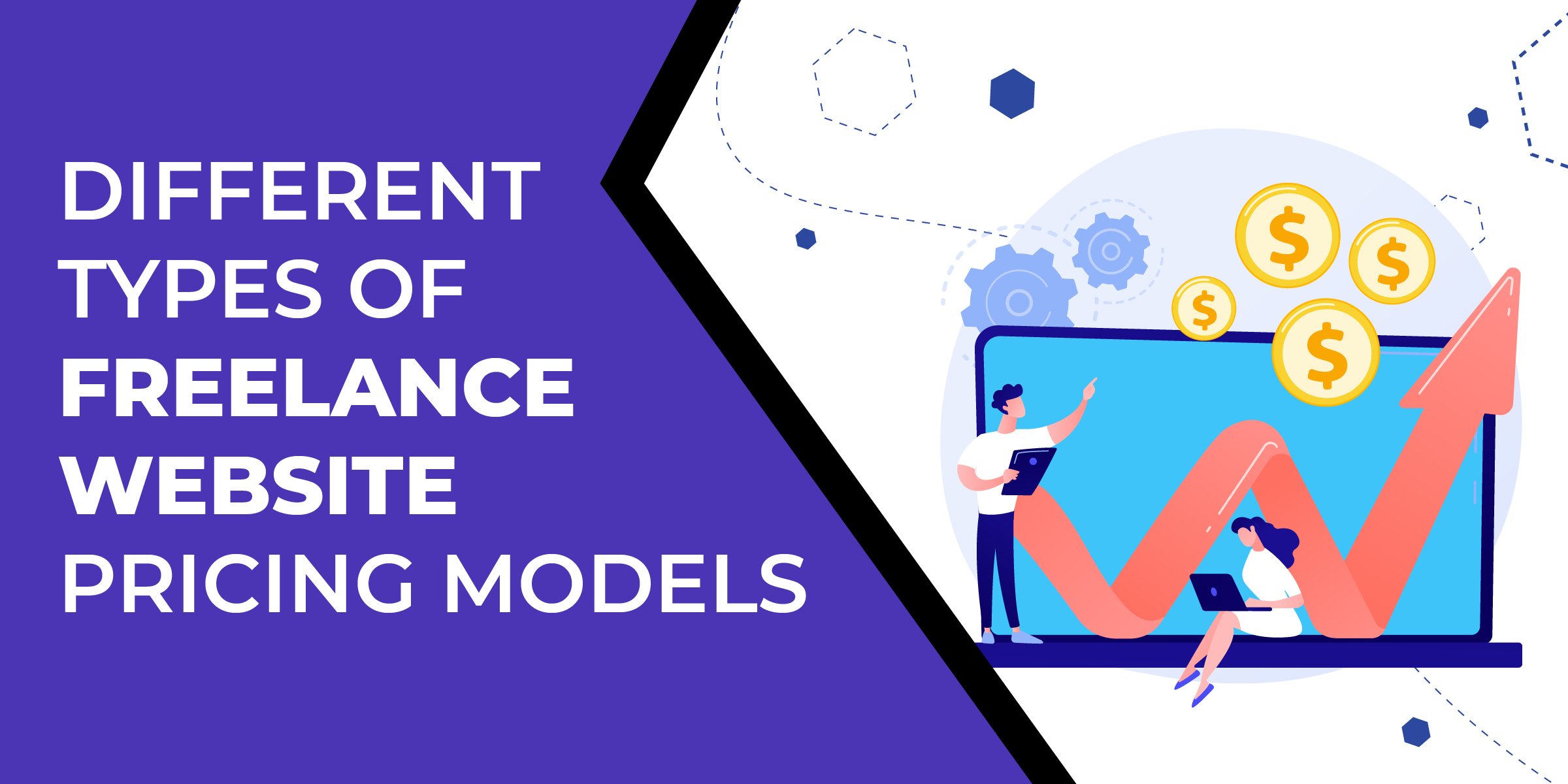 Freelance websites typically make money by charging in these ways:
Do I have to Generate a 1099 for Gig Workers?
Check with your accountant, but many websites will generate a Form 1099-MISC on your behalf when payments are made to a U.S. contractor through their platform (usually above a $600 threshold).  If you pay contract workers directly you are typically on the hook for tax forms.  The exception to this rule is if you hire foreigners working outside the U.S. or use a payment processor like PayPal who will generate the 1099 for you.
Things to Consider When Using Freelance Websites
These are the factors I considered when evaluating freelance marketplaces.
The big difference between freelancing sites is usability
You'll find qualified freelancers (and duds) on every site and some people have profiles on multiple sites.
Did you know that there are approximately 1.1 billion freelancers around the world? Read our post for more freelance statistics.
That's why I focus on freelance websites that are easy to use.  To get a feel for which site works best for you, test-drive freelancers from several sites by creating a freelancer test assignment.
Frequently Asked Questions
What are freelancing websites?
Freelancing websites are online marketplaces where skilled workers can create a profile and connect with businesses to earn income as an independent contractor. They often provide an easy to use interface where freelancers can build their profile and showcase their expertise. From a hiring perspective, most freelancing websites come with job posting, freelancer search tools, and messaging capabilities so you can quickly hire and collaborate with your freelancers to get more work done.
What is the best freelance website for beginners?
Fiverr and Upwork are the two most popular freelance websites for beginners (up to a point). While it's easier to get started with these sites, you still need to provide quality services and market yourself well to increase the likelihood of getting more gigs. The most successful freelancers on online marketplaces have effectively honed their craft prior to setting up a profile. Having job experience, testimonials, case studies, and a strong portfolio right from the jump will provide a strong base to get noticed and hired more often.
What is the largest freelance platform?
Upwork has over eighteen million registered freelancers and five million registered clients. Three million jobs worth over $1Bn USD are posted annually, making Upwork the largest freelancer marketplace in the world.