With more and more people leaving traditional 9-5 jobs in favor of becoming their own boss and choosing the work they want to do, freelancing has become more popular than ever.
This growth in popularity has only been magnified by the progress of technology and the ability to connect clients to freelancers across the world, allowing more people to do what they love on their own time without set hours.
But is freelancing all it's cracked up to be? What do the numbers actually look like? If you're looking to get out of the cubicle and set your own hours, you probably want to be certain that it's the right move to make.
Here are the most up-to-date statistics on what the freelancing landscape looks like in 2023.
Key takeaways:
1. 60% of freelancers make more than they did in their previous jobs
2. The median rate of freelancers in the US is $28/hour
3. Freelancers now make up 39% of the global workforce
4. The gig economy has grown 15x faster than the traditional job market
5. 55% of freelancers earn under $55,000 per year
Advertising Disclosure
Advertising Disclosure
We offer this website completely free to our visitors. To help pay the bills, we'll often (but not always) set up affiliate relationships with the top providers after selecting our favorites. However, we do our best not to let this impact our choices. There are plenty of high-paying companies we've turned down because we didn't like their product.
An added benefit of our relationships is that we always try to negotiate exclusive discounts for our visitors.
Key online freelance statistics
The word "freelancing" can mean many different things to different people, and that's by design. The only requirement to be considered a freelancer is to be someone who is a sort of a "free agent," who performs jobs and tasks without being part of any particular agency or company.
It's important to remember that any career from independent web developer to marketer to writer or even being a personal trainer falls under the "freelance" category. With that in mind, let's take a look at the overarching key statistics that represent what freelancing in 2023 looks like.
There are 1.57 billion freelancers in the world out of a total global workforce of 3.38 billion people.
There are 73.3 million freelancers in the U.S. in 2023. This number is almost 3 million, up from 70.4 million in 2022.
Among freelancers, 52.3% are women, and 47.7% are men.
The median rate of freelancers in the U.S. is $28 per hour.
The number of freelancers in the U.S. continues to grow and is expected to exceed 90.1 million by 2028.
In 2023, the global gig economy is on pace to cross the $455 billion mark.
The U.S. heads the top 10 freelancing countries list, posting the highest revenue growth of 78%.
More than 70% of freelancers find jobs through online markets and gig economy websites (like freelancing platforms.)
70% of freelancers claim that they choose to work in a gig economy for an improved work-life balance.
The freelance industry makes up almost 5% of the total U.S. GDP.
In 2022, 43% of all Gen Z professionals performed freelance work.
Freelance growth
Now that we have a grasp of just how prolific freelancing has become and what it looks like to be a freelancer, let's look at what growth looks like in the future.
Generally, it appears that freelancing will only become more popular in the near future, and many freelancers feel confident about this. If the past year of growth is any indicator of the future years to come, it's safe to say that most freelancing industries will likely see huge increases in the number of jobs and freelance workforce.
Here are what those freelance stats look like.
73% of freelancers say that perceptions of freelancing as a career are becoming more positive, up from 68% in 2021.
17% of U.S. workers are now diversified, meaning they seek multiple sources of income from a mix of traditional employment and freelance work. This number is up 3 percentage points from 2021.
Freelancers now make up 39% of the workforce, compared to 28% just last year.
The global freelance platform market size is projected to increase at a CAGR of 15.3% during 2021-2026.
About 26% of all U.S. freelancers hold a postgraduate degree, up from 20% in 2021.
The global freelance platform market is expected to grow with a CAGR of 15.4% and reach $12.01 billion by 2028.
There was a 17.4% compound annual growth rate (CAGR) of the global gig economy from 2018 to 2023.
The gig economy has grown 15x faster than the traditional job market.
Overall job growth in the United States between 2010-2020 was only 1.1%, while the gig economy's growth was a whopping 15%.
It is projected that during the next five years, the number of Americans who have worked independently will increase to 54% from the current 48%
Also Read: SMS Marketing Statistics
Freelancer Earning Statistics
With all of this projected success, freelancing seems like an easy choice for many. Still, the lack of stability is an issue for some, and there is often a stigma that freelancers just don't make as much money as folks with a steady job.
But how much of this concern is rooted in reality? And do freelancers make enough programming or designing to pay the bills?
Let's look at just how much most freelancers are actually making.
On average, a female freelancer would make 84% of a male freelancer's income.
55% of freelance workers earn under $50,000 per year.
42% percent of freelancers said that they earn $50,000 or more.
50% of freelancers experienced not getting paid by their employers on time or at all.
On average, a freelance writer on Upwork has a rate between $30-40/hr, with an annual salary of around $42,000.
Some copywriters can earn up to $250 an hour, though this is pretty rare.
Across multiple programming languages, the average freelance programmer makes $60-70/hr, with an annual salary of around $120,000.
65% of freelancers make more money than at their previous job.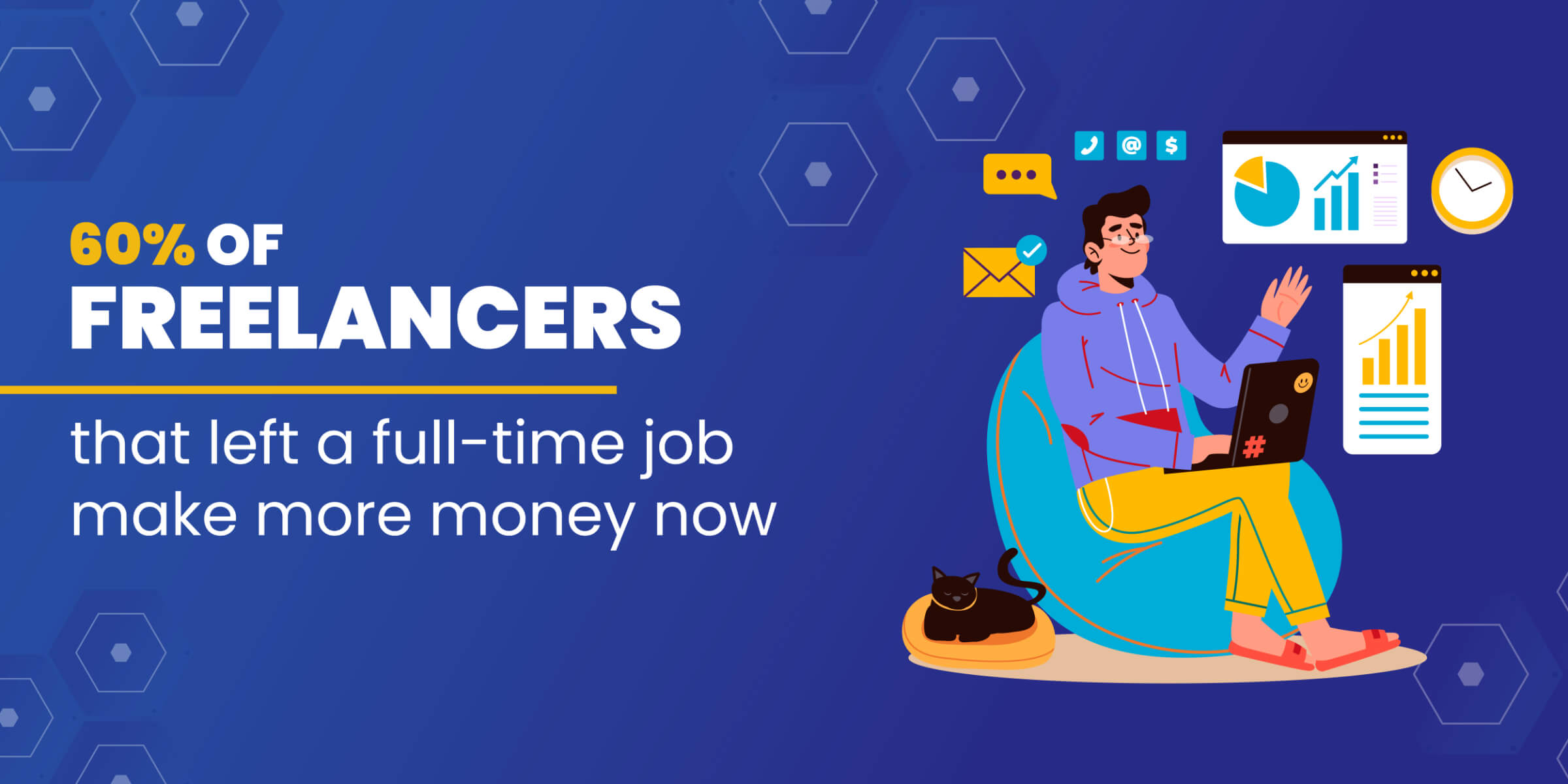 93% of full-time freelancers say that they have the flexibility to determine their income, and freelancing offers the possibility for them to earn more money when they choose to
The median annual salary for a freelance web designer is $77,200.
SEO (Search Engine Optimization) specialists are another well-paid freelancer category, with an average salary of $59,871.
At $28/hour, freelancers in web/mobile development, marketing, legal, accounting, and other skilled services are making more than 70% of all workers in the United States.
The majority of freelance wages currently range between $19.95 (25th percentile) to $38.46 (75th percentile) across the United States.
Most freelance salaries currently range between $41,500 (25th percentile) to $80,000 (75th percentile) with top earners (90th percentile) making $119,000 annually across the United States.
60% of freelancers who left a full-time job to become freelancers make more money than they did in their previous jobs.
ALSO READ: Freelance Developer Rates
Popular freelance jobs
Though the freelancing industry has historically been predominantly occupied by artists and folks in the creative field, the number of jobs and the need for freelancers seems to grow in variety constantly.
As of 2023, these are the most popular freelance jobs on the market.
Content writing is one of the most popular freelancer occupations.
Graphic designers can earn up to $150 USD per hour on Upwork on average, making design more lucrative than standard content writers.
The majority of freelancers in the U.S. work in the creative field.
Most of the workers in the art and design industry are freelancers, at 75%.
The field of entertainment also has 55% of its workers in the United States as freelancers.
Construction is another field that has a majority pool of its workforce in the freelance category, at 55%
Web design is one of the top 15 in-demand skills for Upwork freelancers.
SEO consulting is a great option for freelancers who are looking for longevity, as it can lead to creating your own SEO agency and more.
The highest-paying freelance careers are SEO consulting, ad management, direct response copywriting, software development, and sales and lead generation.
The most wanted skills currently for freelance jobs are Instagram marketing, brand strategy, and AI (development).
Though there are many different ways for freelancers to get gigs, there are three major sites that allow freelancers and clients to connect for various projects.
The three biggest sites right now are Upwork, Freelancer.com, and Fiverr. Each has its own unique advantages, so it's not a bad idea to check out all of them if you're looking to get into freelancing.
Here's what each of the largest freelancing platforms has to boast.
Upwork
There are over 12 million registered freelancers on Upwork, making it the biggest platform for freelancers as of 2023.
Most workers are experts or certified in their fields, and therefore, charge their own hourly or project rates based on their own decision, not at a fixed rate like Fiverr.
Upwork has grown, year over year, by 22.4%.
Upwork charges a variable service fee between 5-20%, which is taken directly out of the freelancer's earnings.
Managed services revenue grew 33% year-over-year to $11.9 million for the first quarter of 2022.
Upwork's website generates over 40 million monthly visits.
Freelancer.com
Freelancer.com has 6.7 million visits per month.
There are over 1,800 different categories of jobs on Freelancer.com
Freelancer.com is the most popular in India.
Freelancer.com has established itself as an outsources market for experts.
Projects related to Ethereum are up by 335% on Freelancer.com.
Fiverr
In 2021, Fiverr's revenue was $297.66 million.
There are currently over 3 million active sellers on Fiverr.
Fiverr's website generates over 50 million monthly hits.
Currently, there are more than 550 categories on Fiverr.
According to the Q1 2022 press release, currently, Fiverr has buyers in over 160 countries.
What Percentage Of Freelance Succeed?
If we take earning over $75,000 a year as a metric of success, and Zippia's claim that 36% of US-based, full-time freelancers achieve this, then we can infer that 36% of freelancers are "successful" by this standard. 
However, keep in mind that "success" in freelancing isn't only measured by income. Factors such as work-life balance, job satisfaction, and freedom of choice also play a crucial role in determining success for many freelancers. Furthermore, the proportion of successful freelancers may vary depending on the specific industry, skill set, level of experience, and geographical location. 
Future of freelancing
Is there a future for freelancing? The freelance stats say yes.
Freelancing seems to be a huge industry with nowhere to go but up. Take a look at just what exactly the future looks like for freelancing.
67% of freelancers working full time expect their income to rise in the next year.
64% of freelancers state that no amount of money will take them back to traditional 9-5 work.
59% of non-freelancers say it is likely that they will do freelance work in the future.
The vast majority of freelance workers (91%) believe that the future of freelance work is positive.
71% of the employees in the United States are planning to freelance in 2023.
Leveraging freelance statistics
Now that you know how bright the future looks for the freelancing industry, how can you use these statistics to your advantage? The best way to make use of these freelancing trends is to start now.
As the freelancing industry continues to grow, it's a good idea for freelancers to begin forming relationships with clients as soon as possible.
For businesses, this is a great opportunity to grow a network of freelancers to outsource certain tasks that can help your business run more efficiently.
As the freelancing industry continues to grow, it's a good idea for freelancers to begin forming relationships with clients as soon as possible. As a freelancer, the more relevant your skills are, the more leverage you have to negotiate contracts and become a more successful freelancer.
ALSO READ: Freelance vs. Contract vs. Self Employed: What's the Difference?
Sources:
https://techjury.net/blog/freelance-statistics/
https://techjury.net/blog/freelance-statistics/
https://techjury.net/blog/freelance-statistics/
https://financesonline.com/number-of-freelancers-in-the-us/
https://financesonline.com/number-of-freelancers-in-the-us/
https://techjury.net/blog/freelance-statistics/
https://techjury.net/blog/freelance-statistics
https://financesonline.com/number-of-freelancers-in-the-us/
https://www.zippia.com/advice/gig-economy-statistics/
https://www.websiteplanet.com/blog/freelance-stats/
https://www.hcmtechnologyreport.com/freelancers-now-make-up-39-of-workforce-study-says/
https://www.hcmtechnologyreport.com/freelancers-now-make-up-39-of-workforce-study-says
https://www.hcmtechnologyreport.com/freelancers-now-make-up-39-of-workforce-study-says/
https://www.hcmtechnologyreport.com/freelancers-now-make-up-39-of-workforce-study-says/
https://elitecontentmarketer.com/freelance-statistics/
https://www.hcmtechnologyreport.com/freelancers-now-make-up-39-of-workforce-study-says/
https://techjury.net/blog/freelance-statistics/#gref
https://techjury.net/blog/freelance-statistics/#gref
https://www.zippia.com/advice/gig-economy-statistics/
https://www.zippia.com/advice/gig-economy-statistics/
https://www.demandsage.com/freelance-statistics/
https://www.demandsage.com/freelance-statistics/
https://financesonline.com/number-of-freelancers-in-the-us/
https://financesonline.com/number-of-freelancers-in-the-us/
https://financesonline.com/number-of-freelancers-in-the-us/
https://www.upwork.com/resources/how-much-do-freelancers-make
https://elitecontentmarketer.com/freelance-statistics/
https://www.upwork.com/resources/how-much-do-freelancers-make
https://99firms.com/blog/freelance-statistics/
https://www.upwork.com/resources/how-much-do-freelancers-make
https://99firms.com/blog/freelance-statistics/
https://99firms.com/blog/freelance-statistics/
https://www.upwork.com/resources/how-much-do-freelancers-make
https://www.ziprecruiter.com/Salaries/Freelance-Salary-per-Hour
https://www.ziprecruiter.com/Salaries/Freelance-Salary.
https://www.upwork.com/resources/how-much-do-freelancers-make
https://99firms.com/blog/freelance-statistics/
https://skillscouter.com/freelance-statistics/
https://99firms.com/blog/freelance-statistics/
https://skillscouter.com/freelance-statistics/
https://careersidekick.com/top-freelance-careers/
https://careersidekick.com/top-freelance-careers/
https://careersidekick.com/top-freelance-careers/
https://skillscouter.com/freelance-statistics/
https://skillscouter.com/freelance-statistics/
https://skillscouter.com/freelance-statistics/
https://skillscouter.com/freelance-statistics/
https://www.demandsage.com/freelance-statistics
https://spendmenot.com/blog/freelance-statistics/
https://sellcoursesonline.com/upwork-statistics
https://investors.upwork.com/static-files/28d7a49a-75bd-4eb9-b57f-96b0ec3ed378
https://sellcoursesonline.com/upwork-statistics
https://webtribunal.net/blog/freelancer-com-statistics/#gref
https://www.websiteplanet.com/blog/freelance-stats/
https://webtribunal.net/blog/freelancer-com-statistics/#gref
https://skillscouter.com/freelance-statistics/
https://webtribunal.net/blog/freelancer-com-statistics/#gref
https://sellcoursesonline.com/fiverr-statistics
https://www.websitebuilderinsider.com/how-many-sellers-are-there-on-fiverr
https://sellcoursesonline.com/fiverr-statistics
https://sellcoursesonline.com/fiverr-statistics
https://sellcoursesonline.com/fiverr-statistics
https://skillscouter.com/freelance-statistics/
https://skillscouter.com/freelance-statistics
https://firstsiteguide.com/freelance-stats/
https://skillscouter.com/freelance-statistics/
https://www.demandsage.com/freelance-statistics/