Graphic design has been a staple of digital marketing, website design, and even printable materials since computers were capable of it.
Overall, graphic design has been regarded as one of the most important parts of any business's online presence. It has proven multiple times to be essential in attracting the eyes of prospective customers and clients, and a lot of that is based on psychology and human nature.
But what does graphic design look like in 2023?
Let's look at the numbers to see how the industry is doing.
Need an expert quote for your story? We're happy to help. Contact our Editor & Founder, Geoff Cudd.
Advertising Disclosure
Advertising Disclosure
We offer this website completely free to our visitors. To help pay the bills, we'll often (but not always) set up affiliate relationships with the top providers after selecting our favorites. However, we do our best not to let this impact our choices. There are plenty of high-paying companies we've turned down because we didn't like their product.
An added benefit of our relationships is that we always try to negotiate exclusive discounts for our visitors.
Key Graphic Design Statistics
Here are our top 7 picks for graphic design statistics this year.
The market size, measured by revenue, of the Web Design Services industry, is $11.0bn in 2023.
The market size of the Web Design Services industry is expected to decline -by 0.5% in 2023.
The market size of the Web Design Services industry in the US has declined 2.7% per year on average between 2018 and 2023.
Freelance graphic designers earn $20-$150 per hour.
The graphic design employment rate is projected to grow by 3% over the next decade.
In the U.S. alone, the graphic design market size is worth $13.3 billion.
90% of the graphic design industry is made up of freelancers.
Statistics for the Graphic Design Industry
The graphic design industry has been able to adapt to ever-changing technological advances, with the industry consistently remaining successful.
Here's what you need to know about graphic design as an industry.
Industry
The market size of the Web Design Services industry in the U.S. declined faster than the economy and technology industry overall.
The primary negative factors affecting this industry are a declining life cycle stage and high competition.
COVID-19 might have shrunk the U.S. graphic design industry by almost 15%.
Logo design and branding make up about $3 billion of the entire graphic design market.
The global graphic design industry is ranked #9 among all business activities.
Career
There are 177,812 people employed in the Graphic Designers industry in the U.S. as of 2023.
Employment of web developers and digital designers is projected to grow 8 percent from 2019 to 2029, much faster than the average for all occupations.
The Graphic Designers industry in the U.S. is the 17th-ranked Professional, Scientific, and Technical Services industry by employment and the 204th largest in the U.S.
Graphic designer turnover is 24% in under a year.
The number of people employed in the Graphic Designers industry in the U.S. increased by 0.6% on average over the five years between 2018 and 2023.
Compensation
According to Glassdoor, Graphic Designers in the U.S. earn $54,941 per year.
A Graphic Designer can receive salaries ranging between $31,720 to $93,440, depending on experience.
The best graphic designer jobs can pay up to $102,000 per year.
The average hourly pay for a freelance graphic designer in the United States is $28.09 an hour.
Despite the near-equal divide between men and women in the industry, there is still a wage gap, with women making $46,733 a year on average, compared to $49,181 for their male counterparts.
Graphic Design in Businesses
So, just how important is graphic design for business success? Here are some numbers that can show you how important this industry is for businesses.
General
75% of clients rate a business's credibility based on its web design.
400,258 businesses were working in the graphic design field in 2020.
According to a study published on Research Gate, around 94% of first impressions that a client gets of a business are design-related.
A study conducted by Behaviour and Information Technology found that it takes only 50 milliseconds for users to form an opinion about your website and your business.
81% of shoppers choose to research a business online before making a purchase, with 55% searching for online reviews and 47% searching for the business' website.
Small Businesses
71% of small businesses have their own website.
84.6% of web designers believe crowded web design is the most common mistake made by small businesses.
At least 29% of small businesses don't have a website.
32% of small businesses already have a mobile app and 42% plan to build one in the future.
80% of small businesses acknowledge graphic design as very important.
B2B
51% of B2B digital marketers find visual assets to be important for content marketing.
Of those visual aspects, 72% of B2B companies use video content, 65% use infographics, and 56% use illustrations and photos.
Costs
The average cost of designing a basic website is $3200, however:
Many web designers charge less than $2,000.
Around 67% of small businesses would spend up to $500 on a logo.
The federal executive branch pays graphic designers in the US the most, with the annual mean salary in the federal executive branch being $88,090.
The rates of graphics designers can vary from $15 to $150 per hour.
The average cost to hire a freelance designer is $31.25 per hour.
Some freelance graphic designers charge per project, and the cost of a project can range from $50 to $1000+ depending on the number of hours required to complete the whole task.
Graphic Design and Consumer Behavior
At the end of the day, everything you do for your business is in the hopes of getting more customers and keeping your current ones. So how does graphic design impact how consumers interact with your site or business?
Three to seven out of 10 consumers see packaging design as crucial for buying decisions.
66% of people want to look at a beautifully designed website.
Only 6.8 seconds are enough for the consumer to form an impression, a good design can add 50 milliseconds to that.
59% of users prefer appealing designs, while 41% prefer plain and simple designs.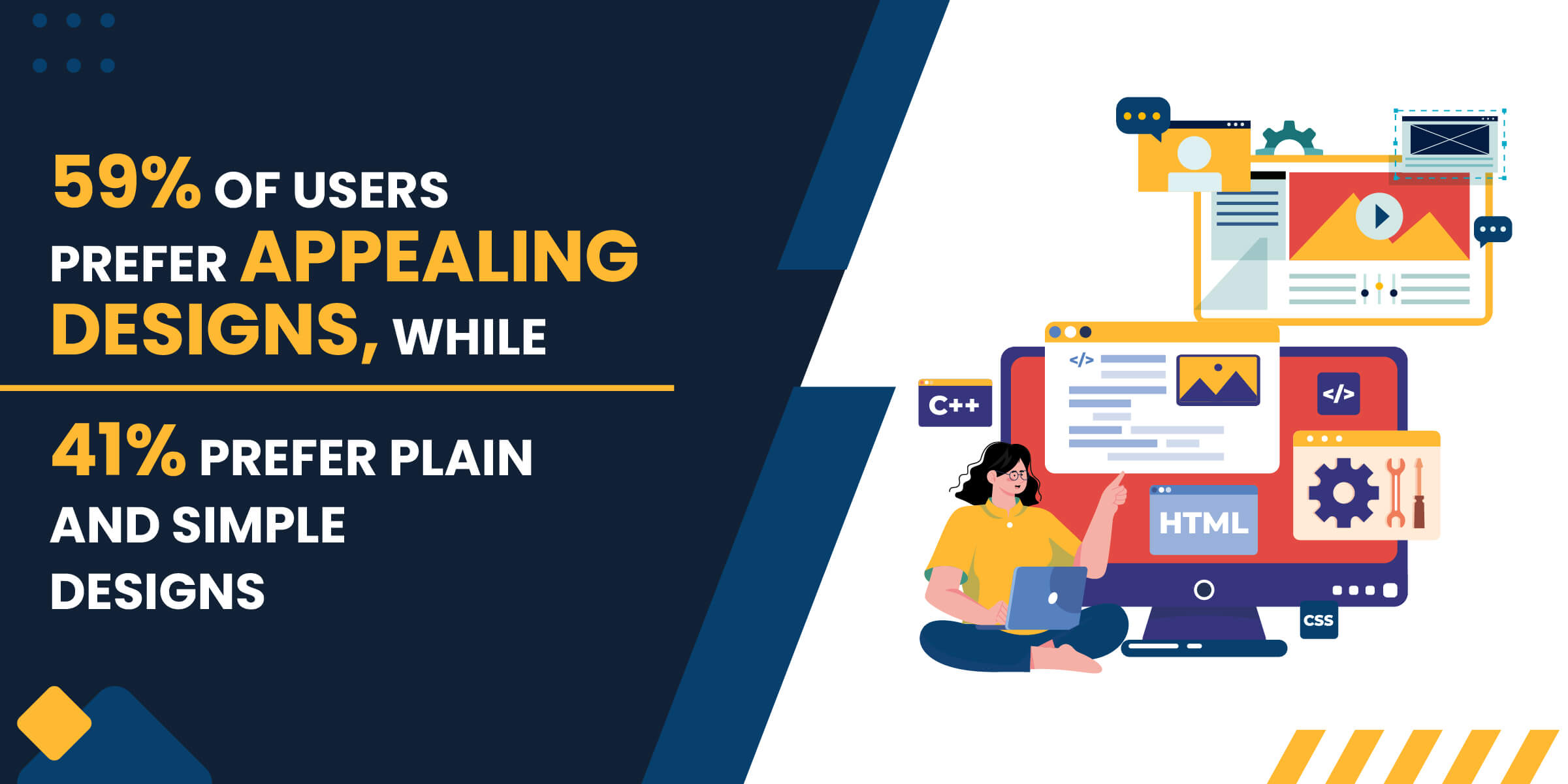 38% of customers will stop engaging with a site if it doesn't have an appealing layout.
94% of consumers report poor web design will make them suspicious of the website.
Leading Companies
Up to 17% of designers work for Fortune 500 companies.
60% of the top 500 companies use combination logos which are a combination of logotype and logomark.
Color and Brand Awareness
When asked what visual elements they value on a company website, 39% of consumers said color.
26% of consumers prefer primary color schemes, 21% prefer complementary, and 20% prefer analogous.
22% of consumers visiting a website for the first time look for eye-catching colors.
Visual dimension is the #1 influencing factor that affects the purchasing decision for 92.6% of people.
Color is the trigger behind 62-90% of consumer decisions.
A signature color can increase brand recognition by 80%, branding statistics show.
57% of consumers associate the color blue with success. Blue is also the color people associate with reliability (43%), trust (34%), and security (28%).
A survey conducted in 10 countries across four continents shows that blue is the most popular favorite color and has a positive association.
Website Design
Since your business's website is often the first impression that many customers have of your company, it's easy to understand why the design of your website is so important.
73.1% of web designers believe that a non-responsive design is a top reason why visitors leave a website.
There are over 1.8 billion websites on the internet.
53.8% of web designers cite "not being responsive on all devices" as a top reason for a website to be redesigned.
First impressions of websites are 94% related to design.
Good design accounts for 75% of the website's credibility.
Graphic Design in Marketing
Graphic design and marketing are heavily linked to each other, with the former often determining the latter's success.
With so many people consuming thousands of advertisements a day, your marketing strategy must include eye-catching designs that will pull consumers in.
Visual dimension is the #1 influencing factor that affects the purchasing decision for 92.6% of people.
Original graphics are an essential part of many companies' marketing activities, with 32.5% reporting to have used them in 2021, according to graphic design statistics.
Up to 60.8% of digital marketers claim visuals are the most important component of successful marketing.
Up to 85% of consumers use multiple devices at the same time, meaning marketers have to work twice as hard to capture the attention of consumers.
Up to 68% of marketers say they will use more visual content in the future.
Social Media Marketing
Social media posts with visuals have a 650% higher performance than those without images.
Social media posts with visuals are 40% more likely to get shared on social networks.
Facebook posts with images register 2.3 times more engagement, graphic design facts show.
80% of digital marketers use graphic design in social media marketing.
75% of users on Instagram visit a business's website after looking at brand posts on the app.
Rising Graphic Design Trends
So what does the future of graphic design look like?
Here are some of the recent trends that have taken over the graphic design scene and helped many businesses see success in their marketing campaigns.
A generally futuristic mood will be the major design focus in 2023, featuring dark-mode websites, liquid gradients, and sci-fi logos.
Background gradients are gaining popularity by 50%.
Chaotic, asymmetrical design, also known as the "anti-design movement," is 325% more popular.
Y2K aesthetics have also recently gained and maintained popularity, with the design style up 205%.
90% of marketers predict video content to be the key medium brands should adopt in the coming years.
How to Leverage Graphic Design Statistics
The numbers don't lie; graphic design is just as important for your online strategy as ever.
By using these rising trends as well as knowledge of what to be on the lookout for in the industry itself, you can make the most of the statistics to help your business realize more long-term success.
Sources:
https://www.ibisworld.com/industry-statistics/market-size/web-design-services-united-states/
https://www.ibisworld.com/industry-statistics/market-size/web-design-services-united-states/
https://www.ibisworld.com/industry-statistics/market-size/web-design-services-united-states/
https://truelist.co/blog/graphic-design-statistics/
https://truelist.co/blog/graphic-design-statistics/
https://onehourprofessor.com/graphic-design-statistics/
https://onehourprofessor.com/graphic-design-statistics/
https://www.ibisworld.com/industry-statistics/market-size/web-design-services-united-states/
https://www.ibisworld.com/industry-statistics/market-size/web-design-services-united-states/
https://truelist.co/blog/graphic-design-statistics/
https://onehourprofessor.com/graphic-design-statistics/
https://findstack.com/resources/graphic-design-statistics/
https://www.ibisworld.com/industry-statistics/employment/graphic-designers-united-states/
https://blog.hubspot.com/marketing/web-design-stats-for-2020
https://www.ibisworld.com/industry-statistics/employment/graphic-designers-united-states/
https://truelist.co/blog/graphic-design-statistics/
https://www.ibisworld.com/industry-statistics/employment/graphic-designers-united-states/
https://www.glassdoor.com/Salaries/graphic-designers-salary-SRCH_KO0,17.htm
https://www.recruiter.com/salaries/graphic-designers-salary/
https://www.ziprecruiter.com/g/Highest-Paying-Graphic-Designer-Jobs
https://www.ziprecruiter.com/Salaries/Freelance-Graphic-Designer-Salary-per-Hour
https://truelist.co/blog/graphic-design-statistics/
https://truelist.co/blog/graphic-design-statistics/
https://truelist.co/blog/graphic-design-statistics/
https://www.ibisworld.com/united-states/market-research-reports/web-design-services-industry/
https://bloggingwizard.com/web-design-statistics/
https://www.zippia.com/advice/small-business-website-statistics/
https://www.zippia.com/advice/small-business-website-statistics/
https://www.ibisworld.com/united-states/market-research-reports/web-design-services-industry/
https://www.zippia.com/advice/small-business-website-statistics
https://blog.hubspot.com/marketing/web-design-stats-for-2020
https://blog.hubspot.com/marketing/web-design-stats-for-2020
https://onehourprofessor.com/graphic-design-statistics/#Business-to-Business-Graphic-Design-Statistics
https://onehourprofessor.com/graphic-design-statistics/#Business-to-Business-Graphic-Design-Statistics
https://bloggingwizard.com/web-design-statistics/
https://bloggingwizard.com/web-design-statistics/
https://99firms.com/blog/graphic-design-statistics/
https://99firms.com/blog/graphic-design-statistics/
https://99firms.com/blog/graphic-design-statistics/
https://www.eksposure.com/graphic-designer-rates/
https://www.eksposure.com/graphic-designer-rates/
https://truelist.co/blog/graphic-design-statistics/
https://www.wildernessagency.com/22-vital-graphic-design-statistics-for-2022/
https://truelist.co/blog/graphic-design-statistics/
https://onehourprofessor.com/graphic-design-statistics/#Business-to-Business-Graphic-Design-Statistics
https://www.zippia.com/advice/small-business-website-statistics/
https://blog.hubspot.com/marketing/web-design-stats-for-2020
https://truelist.co/blog/graphic-design-statistics/
https://onehourprofessor.com/graphic-design-statistics/#Business-to-Business-Graphic-Design-Statistics
https://blog.hubspot.com/marketing/web-design-stats-for-2020
https://blog.hubspot.com/marketing/web-design-stats-for-2020
https://blog.hubspot.com/marketing/web-design-stats-for-2020
https://www.wildernessagency.com/22-vital-graphic-design-statistics-for-2022/
https://blog.hubspot.com/marketing/web-design-stats-for-2020
https://99firms.com/blog/graphic-design-statistics/
https://99firms.com/blog/graphic-design-statistics/
https://onehourprofessor.com/graphic-design-statistics/#Business-to-Business-Graphic-Design-Statistics
https://99firms.com/blog/graphic-design-statistics/
https://blog.hubspot.com/marketing/web-design-stats-for-2020
https://blog.hubspot.com/marketing/web-design-stats-for-2020
https://bloggingwizard.com/web-design-statistics/
https://99firms.com/blog/graphic-design-statistics/#gref
https://bloggingwizard.com/web-design-statistics/
https://www.wildernessagency.com/22-vital-graphic-design-statistics-for-2022/
https://financesonline.com/graphic-design-statistics/
https://digitalintheround.com/graphic-design-statistics/
https://digitalintheround.com/graphic-design-statistics/
https://digitalintheround.com/graphic-design-statistics/
https://99firms.com/blog/graphic-design-statistics/#gref
https://99firms.com/blog/graphic-design-statistics/#gref
https://findstack.com/resources/graphic-design-statistics/
https://inkbotdesign.com/social-media-marketing-and-graphic-design/
https://www.indesignskills.com/inspiration/the-10-biggest-graphic-design-trends-of-2023
https://www.socialmediatoday.com/news/graphic-design-trends-for-2022-infographic/621851/
https://www.socialmediatoday.com/news/graphic-design-trends-for-2022-infographic/621851/
https://www.socialmediatoday.com/news/graphic-design-trends-for-2022-infographic/621851/
https://venngage.com/blog/graphic-design-trends/