WordPress is one of the most popular content management systems in use today. With more than a quarter of all websites running on it, WordPress has an estimated market share of 55%. As a result, there are many companies offering WordPress development services and products for businesses.
This blog post will provide helpful information about the different types of WordPress development services and help you find the right company to help you build an awesome website.
Best for Hiring Freelancers
---
Top Talent: Get access to elite, pre-screened candidates (only accepts top 3%)
Flexibility: Ideal for long-term or shorter-term specialty projects
14-Day Risk-Free Trial: Only get billed if your satisfied
Best for Hiring Employees
---
AI matching saves time by finding the right candidates for you
Integrate with existing HR systems and workflow to streamline hiring process
Access to a network of 12 million candidates
Advertising Disclosure
Advertising Disclosure
We offer this website completely free to our visitors. To help pay the bills, we'll often (but not always) set up affiliate relationships with the top providers after selecting our favorites. However, we do our best not to let this impact our choices. There are plenty of high-paying companies we've turned down because we didn't like their product.
An added benefit of our relationships is that we always try to negotiate exclusive discounts for our visitors.
Best WordPress Development Companies [by service]
Best for Unlimited WordPress and WooCommerce Support
WP Tangerine has positioned themselves as an established, thriving company with about 60 full time employees dedicated to completing projects and tasks. They are our #1 recommended provider for unlimited WordPress and WooCommerce development.
They attract all sorts of customers including, bloggers, entrepreneurs, SMB, agencies and more. They have remote workers in the Philippines, but their management team is located in the US.
As a client you can get research and Q&A help to guide you and give you better insight for how to move forward. They also offer a dedicated developer, designer, client manager and WooCommerce experts.
Visit WP Tangerine
Best for WordPress Maintenance & Support
Based in Brisbane, Australia, WP Runner is our #1 recommended provider for monthly WordPress maintenance and support. They offer a complete range of services for all things WordPress, as well as additional website and marketing related tasks.
WP Runner's monthly maintenance plan provides unlimited updates to core files, plugins or themes; installation of new releases; performance optimization via caching and database optimization; security monitoring & remediation on an ongoing basis and first response within one hour in the event of an emergency.
Visit WP Runner
Best for High-End New Websites and Redesigns ($5,000+)
Okay, we might be a little biased here. But we have to toot our own horn, especially when it comes to Custom WordPress development!
Other than helping power DDIY, GrantSpark is a full-service digital marketing agency and communications firm based in Philadelphia. Our primary focus is helping jump start marketing efforts for non-profits and businesses with a social impact. And custom WordPress development has been a staple in GrantSpark's line of services.
While we are highly selective about the clients that we choose to work with, we are motivated to work on complex WordPress design and development projects. Creating custom themes for new builds, as well as redesigns, is our bread and butter. We really enjoy working with startups and high-growth companies that have the resources to invest in building a WordPress website the right way for continuous marketing and sustained business growth.
To discuss your web design and development vision, and to receive a proposal for a custom WordPress website, please visit our website and shoot us a message. We'll contact you to set up a time to learn more about your business and see if we are the right fit for you. And if for whatever reason we're not the right fit, we'll make a recommendation or refer you to one of our preferred WordPress development partners.
Visit GrantSpark
Best for Affordable New Websites and Redesigns ($500-$4,000)
CalTech Web is a full-service web design, hosting, and maintenance service. They are focused on working with small businesses. Historically, they have worked with a lot of churches.
While churches and ministries have been a core part of CalTech Web's success, they aren't limited to that vertical. CalTech has taken their process of working with churches to develop affordable WordPress websites and expanded their offering to a variety of small businesses. This is perfect for mom and pop shops, local businesses, and essentially anyone looking to keep WordPress design, development, and management costs as low as possible without sacrificing quality design.
Visit CalTech Web
Best for WordPress Security and Malware Removal
Sucuri is known globally as one of the leading website security companies in the world. They provide a number of products and services including firewalls, backups, DDoS Protection, Malware Detection, Malware Removal, Blacklist removal, and yes – WordPress security.
Sucuri offers a number of different plans to protect your website and the cost depends largely on what services you are looking for. At a minimum, they will keep your WordPress website malware free while also providing some additional protection against malicious attacks, which can cripple websites and impact uptime and revenue. In addition to these core services, they also offer premium plans that will provide more advanced website security, performance optimization and other features.
Sucuri is definitely not the cheapest option on the market when it comes to WordPress Security services. With that being said, web security isn't exactly something you want to cheap out on as it can have a catastrophic effect on your website, brand and business.
Visit Sucuri
Best for PSD to WordPress Developers
Though Fiverr isn't a development company per se, they can connect you with some amazing and affordable freelance developers. When it comes to WordPress specifically, Fiverr is a great resource for finding PSD to WordPress developers.
When navigating to Fiverr, search for "PSD to WordPress" – from there, you'll find no shortage of talented and cost-effective developers that can take your design and convert it into a mobile-responsive, dynamic WordPress theme. To find the absolute best provider, narrow your search by using the filters. From there, you can search for providers that have experience with specific businesses, plugins, and page builders.
Visit Fiverr
Best for WordPress Speed Optimization Services
Since 2015, WP Speed Fix has helped optimize over 4000 WordPress websites and can help make yours load lightning fast too. Their WordPress Speed Optimization Services can help you solve slow site problems, fix Core Web Vitals issues, score higher in Google PageSpeed Insights, troubleshoot slow backend issues, optimize WooCommerce checkout speed & much more.
They provide a wide variety of monthly packages ranging from $200-$2000+ per month. There are 150+ items in their speed optimization process. Some of the specific things they can do include Browser Caching Configuration & Tuning; Page Caching Configuration & Tuning; CSS & JavaScript (JS) Optimization; Database Optimization; 301 Redirect Optimization; Theme Optimization; Server Compression; HTTPS Implementation; PHP upgrades; CDN setup and more!
For a full list of WP Speed Fix's WordPress speed optimization services and pricing, visit their website by clicking the button below.
Visit WP Speed Fix
Types of WordPress Development Services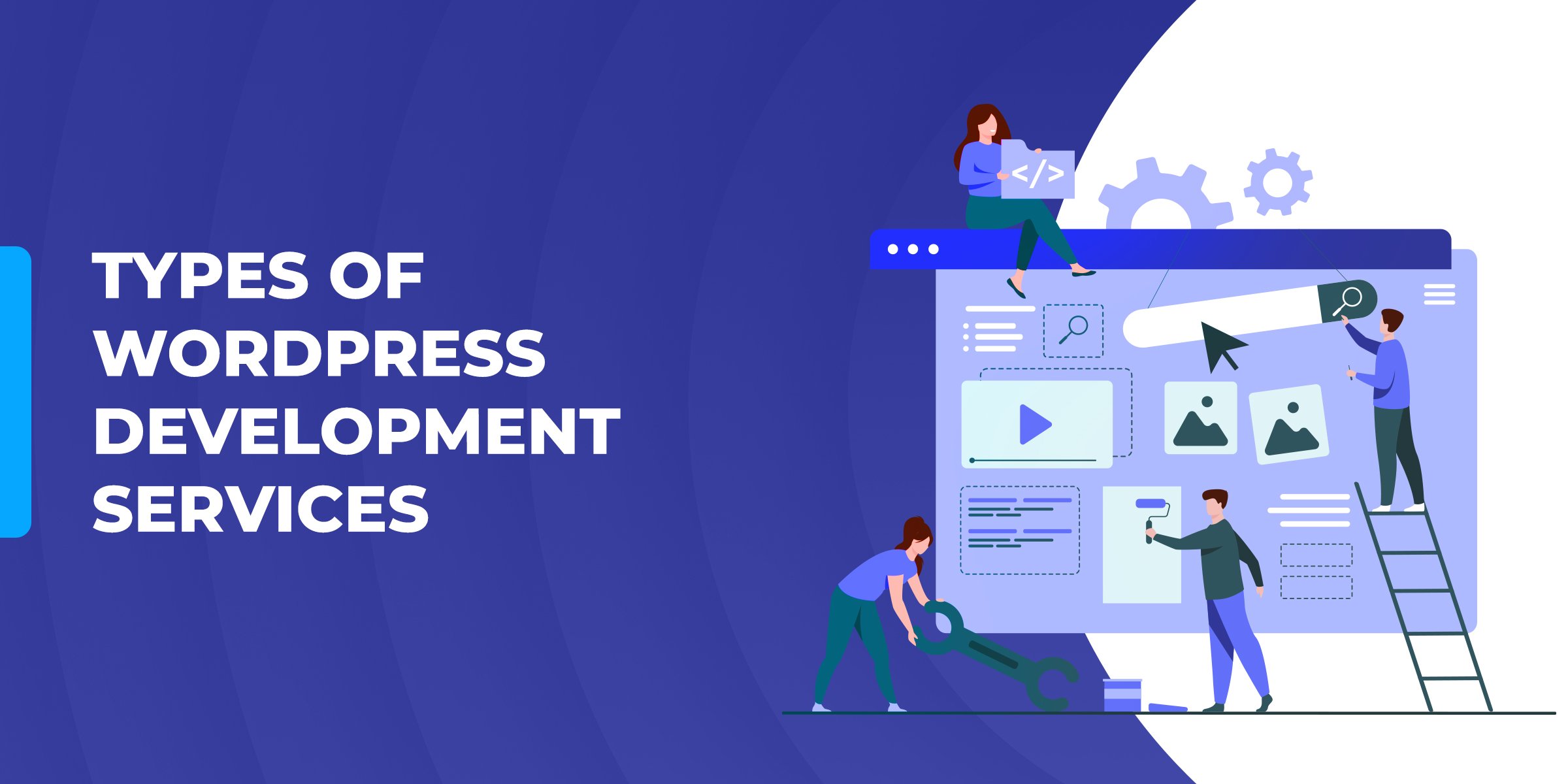 Cheap WordPress Website Design
If you are looking for help designing a new WordPress website, but are on a fixed budget, these are the types of companies that you'll want to look for.
The price for these types of service typically range from $500-$3000 depending on the scope of work and level of support provided. These services are not as robust as those offered by WordPress development companies and agencies, but they can get your website up quickly without having to spend a lot of money upfront.
There are some limitations to using these types of services particularly with design and customization. Most websites are built using pre-existing themes and you won't be able to integrate any custom design elements.
Custom WordPress Development
The next step up when it comes to WordPress design and development is hiring a company that has experience in custom WordPress development projects. Both specialty web design shops and agencies will typically fall under this category.
These companies typically charge $3000-$15,000+ for WordPress design and development projects. Businesses that are more established, focused on branding, need extended functionality beyond the based WordPress installation, and those that are ultimately looking to scale their web presence, will often seek the assistance of professional WordPress developers to design (or redesign) a custom WordPress website.
Custom WordPress development covers a wider variety of specialized tasks. It can include theme development from scratch, plugin development, API development work, custom fields, content development, SEO, UI/UX strategy and more.
Most companies will first meet with you to learn more about your business and specific project requirements. Then, they'll provide you with a custom proposal and scope of work with pricing options.
Unlimited WordPress
Unlimited WordPress providers are akin to unlimited graphic design companies. These are productized services that allow companies to sign up for a monthly subscription and receive unlimited support with their WordPress installation.
Typically, these types of services will provide you with unlimited small updates and maintenance tasks. The big plus to using these types of services is the predictable pricing and the fact that they can scale as your business grows. It's great for small businesses and bloggers that need help creating landing pages, posting blog articles, making menu changes, and doing small design and development work.
This type of service is typically less expensive than hiring a WordPress developer on an hourly basis. However, while you can technically submit an unlimited amount of requests, there is ultimately a cap on the amount of things that you can get done on a monthly basis. This makes is somewhat challenging to design a new site from scratch. While these services do provide a mix of designers and developers, they are typically more junior in their experience.
Monthly WordPress Maintenance
Another monthly service offering to consider for small, routine updates are WordPress maintenance services. These services are typically less expensive than Unlimited WordPress providers and come in at around $100 per month.
The big difference between the service offering is that these companies are typically much more passive. They are focused on making theme and plugin updates, fixing small bugs, and monitoring uptime. Some providers will also offer some security monitoring and provide weekly updates, but not to the extent that an unlimited WordPress provider would.
WooCommerce Development
As one of the most popular eCommerce solutions in the world, WooCommerce is the #1 solution for startups and small business looking to sell products and services via WordPress. WooCommerce is a plugin that can be installed with your WordPress installation and integrates with a number of payment gateways. There are also a wide number of themes that have extended WooCommerce capabilities.
WooCommerce is free to install, but there are premium add-ons available that provide additional functionality such as abandoned cart recovery, customer management tools, advanced shipping options, product bundles and more. While it is relatively easy to install, it can be somewhat complicated to setup, manage, and scale.
That's where WooCommerce specific providers come into play. These providers typically offer a monthly service fee for updates and maintenance tasks, but they do also provide custom WooCommerce development services including complete ecommerce websites that are mobile responsive. They also have a focus on working with large catalogs of products, developing shopping cart templates, checkout workflows, product filters and more.
Malware Removal Services
WordPress provides a ton of benefits, but there are some downsides. One of the biggest knocks on the open-source CMS is that it is a very popular target for hackers. While WordPress provides automatic updates to plug loopholes and fix bugs, you could still have your site hacked without the proper security in place.
Malware removal services provide a monthly service that monitors vulnerabilities and performs routine scans of your website looking for malware or other types of threats. If any are found, they will let you know and work with your team to remove the threats.
This type of service typically costs between $30 – $100 per month depending on what level of monitoring is included in their service offering. In some cases, they will also provide additional support if any issues are found outside of malware or security threats. For example, they could help fix an issue with your email, plugins, or hosting.
PSD to WP
One of the more common ways of creating a custom WordPress design and theme is to start in Photoshop. Using Photoshop, you can layout the design and then use frontend development practices to convert your Photoshop Design (PSD) into WordPress.
PSD to WP providers typically have a team of WordPress designers and developers that work with you to get your PSD converted into a custom theme. Once the conversion is done, they will install it onto one of their servers and provide time for testing before giving final approval on the project.
The cost involved in this type of service depends largely on how complex your design is and how many page templates you are going to require. Some providers will offer a flat rate, but others base it on an hourly basis. For complex designs and large websites, this can get very expensive quickly.
WordPress Speed Optimization Services
When it comes to retaining and converting users on your website, speed is king.
On average, a one second delay in page load time can result in a seven percent loss of conversions, eleven percent fewer page views and sixteen percent decrease in customer satisfaction.
While there is no silver bullet when it comes to improving WordPress speed (it's more about doing many things right), speed optimization services can take a lot of the guesswork out of the equation.
These providers will typically charge a monthly fee to do a lot of technical optimization to your WordPress websites, as well as the environments that they are hosted on. These service are typically more expensive the larger your site is in terms of traffic, but it can still be pricey for smaller sites as well depending on how much work needs to get done. With that being said, there is a ton of value in speeding up your website to increase SEO and conversions and hiring an expert is definitely worth considering.
What is WordPress?
WordPress is a content management system (CMS) that allows users to set up and run their own website. It was originally built as a blogging platform, but it has evolved into something much more.
You can install a basic website using WordPress without any coding knowledge or special skills needed. This makes it extremely easy for people to build their own websites and manage them on their own.
The fact that WordPress is open-source and free to download also makes it an attractive option for many companies – there is no need to purchase expensive licenses or subscriptions in order to use the software. In addition, you can add additional functionality using third party plugins.
Why is WordPress so popular?
WordPress has gained popularity due to its ease of use and the large number of developers available.
As mentioned above, WordPress is an open-source software which means there are many people who can help fix bugs or add new features if needed. This also makes it easy for other companies to create products for users looking at building specific websites .
Beyond ease of use, and a large community of developers, WordPress is very popular because it is built for digital marketing. The platform allows marketers to set up pages for SEO, social media sharing, and other marketing efforts.
What are WordPress services?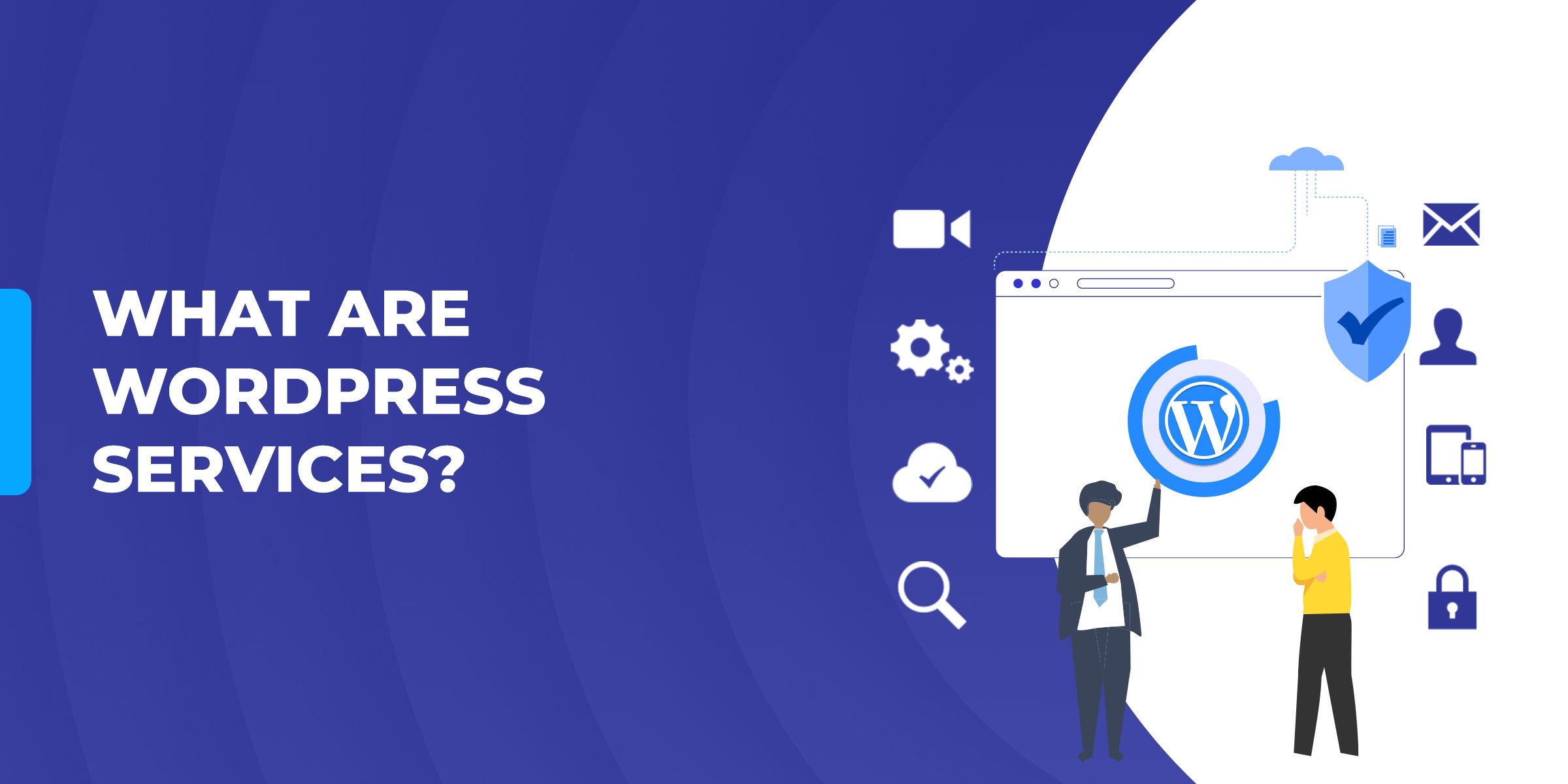 WordPress development is not one specific type of service but rather a group of different offerings related to designing and developing WordPress websites. Some companies will offer web design or content creation on top of their full fledged offering in this space, while other companies will just offer WordPress development services.
This means that there are certainly many different types of WordPress developers out there who specialize in specific areas including theme design, content creation, plugin development, search engine optimization, hosting, security, and more. While this provides a highly competitive landscape that's attractive to businesses looking to hire WordPress developer, it also creates confusion on who does what exactly. It also makes budgeting challenging as each company offers very different pricing.
The following list provides some examples of different types of WordPress development services you may find when researching companies.
Summary
Finding the right WordPress development company to support your business can be extremely difficult. Due to the vast landscape and wide range of specialty services, many companies fall into paralysis by analysis.
Narrowing your search becomes significantly easier once you understand what types WordPress development services you need exactly. Once you know this, you can use our best practices and guidelines to find the right provider for your company.
Did we miss a WordPress development service or company on this list? If so, we want to hear from you. Email us at [email protected] to help us expand on this post so we can share the best WordPress development tips and tricks with the world.