We run our own agency and have many clients that need WordPress development help.  Sometimes we do this in house, but we often take advantage of lower cost WordPress providers and outsource the work.
To skip the hassle of hiring and screening, we've started using unlimited WordPress services.  We found you can get quality developers at an affordable price.  And you can get fractional resources when you don't need someone full time.
But there are so many providers and it's hard to know who to choose.  So today we share our assessment of the the best unlimited WordPress providers.
Let's cut to the chase.  Our top pick is WP Tangerine.  They have a reliable service with carefully screened developers.

Use the coupon code WPT10 and receive 10% off your first month.


Visit WP Tangerine
What does Unlimited WordPress Development Mean?
Unlimited WordPress development means you can get as many development tasks as you want for a fixed monthly fee.  The only limitation is that developers will either work one task at a time and usually a set number of hours per day. Most development teams are overseas and managed from the U.S.
There are a few different types of unlimited WordPress services and it's important to understand the differences before you choose a provider.
WordPress Maintenance & Support
Unlimited WordPress companies will typically handle these common maintenance tasks:
Regular updates of WordPress Core, plugins, themes
Setting up website backups and restores
Uptime monitoring
Security hardening and malware removal
WordPress Development
WordPress development refers to making changes to the style and functionality of a WordPress website.  Be sure to look closely as some providers charge extra or do not offer development of new websites from scratch.   Common development tasks are:
Customizing themes and page designs
New website development as well as PSD to HTML
Connecting 3rd party applications like MailChimp, Keap, and other email service providers
Adding chatbots
Hosting migrations
Pagespeed optimization
WooCommerce development and other online store configuration
Membership site setup
Graphic Design & Video Editing
Unlimited graphic design providers use a similar model and charge a fixed monthly fee for as many design concepts as you want.  Some providers like WP Tangerine and Flocksy double up and offer both unlimited development and unlimited graphic design.  Flocksy even includes copywriting and video editing within their service.
Top Unlimited WordPress Companies
Here are the top development companies offering unlimited WordPress development in 2021.
Comparison of the Best Unlimited WordPress Companies
Unlimited WordPress Ratings

Service Name
Our Overall Rating
Our Full Review
WP Tangerine Review
WPRunner Review
UnlimitedWP Review
Flocksy Review
Editor's Notes

They have an entry level price point good for bloggers and they include graphic design so it's a great all in one package. They are also WooCommerce experts.

Incredible bang for your buck. Great if you have a lot of smaller maintenance tasks and if you're looking to grow an existing WordPress website.

Self-billed as the only service dedicated to agencies, they are prepared to work across large numbers of your customers' websites. You must use their custom task management system which you can whitelabel and provide access to your clients.
More of a "one stop shop" for graphic design, WordPress development, content development, and video editing.
Target user
Agencies, small busineses, and bloggers
Agencies, small businesses, and bloggers
Agencies
Agencies, small busineses, and bloggers
New site development
PSD to HTML and smaller design improvements
In top 2 billing plans only
WordPress maintenance
Security hardening & malware removal
Graphic design
Video editing & creation
Working hours
Aligned with U.S.
Overnight for U.S.
Overnight for U.S.
Overnight for U.S.
Service levels
1hr per day / 2 hrs per day / 4 hrs per day
Unlimited 30 Minute Website Tasks / Unlimited 1 Hour Website Tasks
2hrs per day / 4 hrs per day / 8 hrs per day
Not stated
Monthly Billing / tiers
$297 / $397 / $997
$72 / $437
$497 / $997 / $1,997
$720
Current Discounts
10% Off First Month With Code WPT10
N/A
20% Off First Month With Code DDIY20
10% Off First Month With Code GEOFF10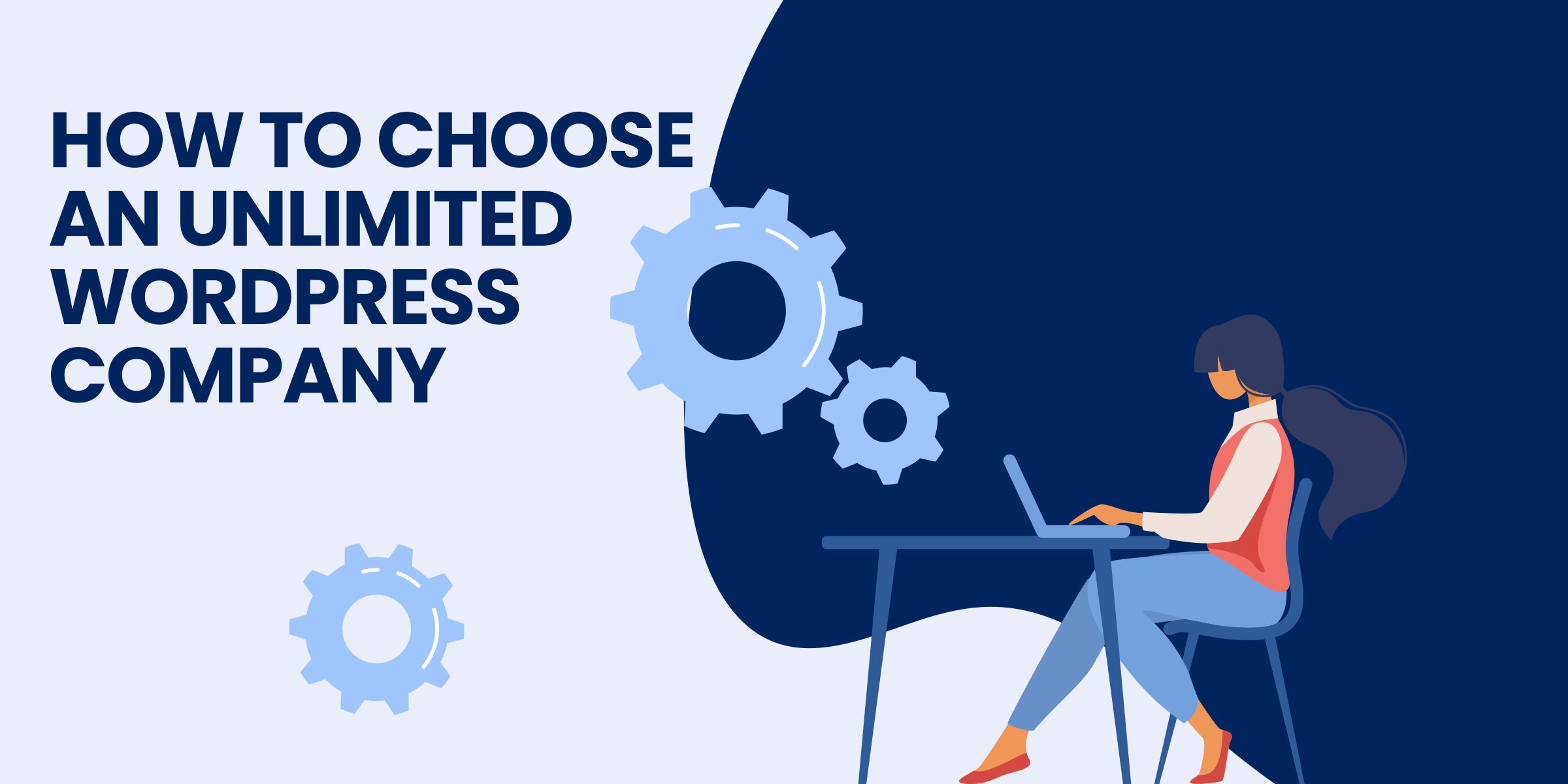 How to Choose an Unlimited WordPress Company
There are many things to consider when you are evaluating an unlimited WordPress company. Our suggestion is to work through the list below to help your decision-making process.
Your specific projects
How often do you need WordPress assistance? Daily? Weekly? Monthly? Try to estimate the number of hours.
Are you projects time sensitive and need to be completed within a few days? Or can you spread them out evenly across the month?
What types of development activities would you like to outsource?
Do you primarily need someone to take over maintenance or do you have regular customizations or new websites to build?
Do you have graphic design needs as well?
Have you used multiple independent developers in the past?
Communication
Do you like to have constant communication with your developer?
Are you comfortable with your developer working remotely?
Do you need your development work performed during working hours in the U.S.?
Cost
What do you typically spend on development work every month? Do you have a monthly budget for development work?
What is the cost of time of managing your current/past developers?
Do you have the budget to bring on a full-time employee or would a fixed cost be more beneficial? You should also consider the cost of time of bringing on a contractor or employee
Is Unlimited WordPress Worth the Money?
Unlimited WordPress is worth the money if you have ongoing WordPress customizations and support tasks and don't want the expense of hiring a full-time employee.

Unlimited WordPress development cost ranges between $300 and can go as high $3,000. The average plan for about 2 hours per day is $800-$1000/month.  That's a fraction of the cost of a U.S. based developer.
If you have a WordPress website, there's a high probability that the following are also true:
You need to apply your own time or money towards basic maintenance tasks
You hire contractors for technical tasks that you can't do yourself
When you use an unlimited WordPress service, you can take 2 big sighs of relief because:
The services allow you to submit as many development requests as you want per month
They keep budgeting simple by having one flat fee (charged monthly/yearly)
Even if you have just one development task that needs to be done (but done right), these services allow you to cancel any time.
There are many benefits to this type of service, so let's weigh the pros and the cons:
Pros: Here's what I like about Unlimited WordPress
Less Stress — Using unlimited WordPress removes the hassle of searching for and onboarding a contractor or employee. You get a top notch developer built-in to your monthly subscription and the rest of your projects can get more attention.
Cost Savings — With this monthly subscription, you save on the inevitable overhead costs of pay-per-activity services of independent contractors. You also get the additional relief of knowing you won't ever get overcharged and there are no hidden fees.
Operational Efficiency — Unlimited WordPress services give you and your team members higher levels of flexibility. Having a team of dedicated design professionals at your disposal allows you to concentrate on other aspects of your business and the business development that only you can do.
Cons: Here are the only things I don't like about Unlimited WordPress
Urgent projects: Most providers allocate a few hours each day for your websites.  This can be problematic if you have a short term project that requires many hours at once above your subscription.  That said, some providers will let you purchase additional hours or offer flex plans that let you use a block of hours anytime during the month.
Communication issues: The top unlimited WordPress providers often have limited phone communications. If you like to speak over the phone and lay things out verbally, this could be a potential issue.
Plan restrictions: Some providers have a lot of fine print and only support certain types of maintenance tasks or development activities.  Several do not offer new website development at all so read what features are included before you sign up.
What is the Best Unlimited WordPress Service?
If you are looking for a service that offers WordPress development and graphic design, our top pick for an all-in-one provider is WP Tangerine.
Not only do they offer WordPress coding, but also WooCommerce development and support.
But what we really love about WP Tangerine is you get your own dedicated support team.  They are the only provider to include a dedicated developer, designer, client manager, and importantly a QA specialist.  The QA (Quality Assurance) tester provides testing of all deliverables to ensure minimal defects.  No other provider includes testing resources.
WP Tangerine has the most affordable entry-level plan of any provider and a 30-day money-back guarantee.
Use promo code WPT10 to get 10% OFF your first month.
Try WP Tangerine
Frequently Asked Questions