There are literally dozens of unlimited graphic design services that all seem the same, so which should you choose?
Today we assess each of the top providers and share our pick for best unlimited design company. 
Let's get right to it…
What Does Unlimited Graphic Design Mean?
Unlimited graphic design means you get as many design concepts and revisions as you want for a fixed monthly fee.  The only limitation is that designers fulfill requests one at time, unless you pay a little extra for more than one designer.   Most design teams are overseas and complete requests over night while you sleep.
You get a dedicated professional design team for an affordable price without the pain of hiring your own staff.  There are typically no long term contracts so you can cancel anytime.
This type of on-demand service is great for startups, bloggers, agencies, and small businesses.
Top Unlimited Graphic Design Companies
Here are the top design providers offering unlimited graphic design in 2020.  Keep scrolling to see our comparison between providers and exclusive discounts.
Penji
Penji's mission is to make graphic design fast, simple, and affordable. Today Penji's unlimited graphic design platform supports thousands of brands and agencies worldwide including known brands such as Rebook, Pepboys, 1800-Flowers, and Express.
Read our review of Penji
Flocksy
Flocksy was founded by three brothers; Sam, Charles and George Ryan. As lifelong entrepreneurs they saw a need for a team focused, internet based creative platform that was affordable for businesses of all sizes.
Read our review of Flocksy
Design Pickle
Design Pickle was Founded by Russ Perry while he was working as a creative consultant. He had a large volume of very time-consuming graphic design requests. So he decided to build a platform to manage his projects. The rest is history!
Read our review of Design Pickle
Design Pickle Pricing
ManyPixels
ManyPixels is for anyone who needs high quality graphic design on a recurring basis but is not looking to have a full-time in-house designer. They work with SMEs, creative agencies, startups, entrepreneurs, SaaS, freelancers, bloggers, influencers, Amazon merchants and more.
Read our review of ManyPixels
Kapa99
Kapa99 is a US-based graphic design company offering unlimited graphic design requests and revisions for a flat monthly fee. They are headquartered in California, started operations in 2014, and have designers from all over the world.
Read our review of Kapa99
Comparison of the Best Unlimited Graphic Design Services
Unlimited Graphic Design Services Overview

Service Name
Our Overall Rating
Monthly billing / tiers
$369 / $479 / $698
$349 / $420 / $720
$399 / $995
$399 / $549
$399
Current Discounts
15% Off First Month With Code GEOFF15
10% Off First Month With Code GEOFF10
N/A
15% Off First Month With Code GEOFF15
N/A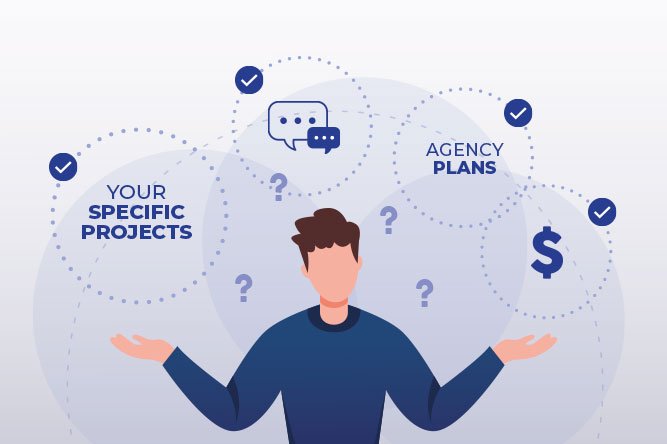 How to Choose an Unlimited Design Service
There are many things to consider when you are evaluating an unlimited graphic design company. Our suggestion is to work through the below list to help your decision making process.
Think about what type of graphic design projects you have. What type of communication are you looking for? What does your budget look like? What type of output do you need?
Your specific projects
How often do you work on design projects? Weekly? Monthly? Do you need designs a few times a year?

Do you see your future projects needing to go through multiple iterations? Have you spent time making many revisions in the past due to new specifications or preferences? 

Do you typically need designs within a day or two?

Have you used multiple independent designers in the past?
Communication
Do you like to have constant communication with your designer?

Are you comfortable with your designer working remotely?
Cost
What do you typically spend on design work every month? Do you have a monthly budget for design work? Unlimited graphic design services' starting price is roughly $400. Use that for a comparison to your current overhead.

What is the cost of time of managing your current/past designers?

Do you have the budget to bring on a full time employee or would a fixed cost be more beneficial? You should also consider the cost of time of bringing on a contractor or employee.
Agency plans
Do you have multiple team members that need to manage or review your designs? Some subscription plans allow multiple users for easy access to files, and an easier way to collaborate. 

Do you have more complex projects like web design projects or an app? 

Do you need 2 projects handled at one time?
What Do Unlimited Graphic Design Services Cost? Detailed Pricing Comparison
Unlimited graphic design services cost about $400 per month for typical starting plans.
Here is a break down of each of the best providers' plans and features:
Unlimited Graphic Design Services Tier 1 Monthly Plans

Service Name
Plan Name
Pro
The Base Plan
Standard
Basic
Kapa99 Monthly Plan
Monthly Plan Price
$369
$349
$399
$399
$399
Features Included
Unlimited design projects


1 brand


1 project at a time


2 users


Built-in instant messaging


Sharable design links


Email support
Unlimited Projects


24-Hour Turnaround


Quality Stock Photos


Dedicated Project Manager


1 User


One Project at a Time


1 Brand Bucket


Custom Template Library


Graphic Design Team
A dedicated professional designer


Unlimited requests


Unlimited revisions


Free stock photos


Native source files


Average next-business day turnaround


Zapier integration
Dedicated Designer


Unlimited Requests


Unlimited Revisions


Unlimited Brands


Source Files
Unlimited projects and revisions


24-48 hours delivery time


Source files
Unlimited Graphic Design Services Tier 2 Monthly Plans

Service Name
Plan Name
Team
The Team Plan
Pro
Premium
*Only one plan
Monthly Plan Price
$479
$420
$995
$549
*Only one plan
Features Included
Pro Plan features plus:


Unlimited website & app design


Unlimited brands


Day time designers


5 users


Dedicated account manager


Unlimited design libraries


UX and UI designers


The Base Plan features plus:


5 Users


10 Brand Buckets


Copywriting Team


Graphic Design Team and Animated Gifs


Custom Illustrations


Video Editing Team
Standard Plan features plus:


Real-time collaboration via Slack


Same-day delivery


API integration


Advanced infographics


Animated GIFs


PowerPoint and Google Slide decks
Basic Plan features plus:


Logos & Branding


Landing Pages and Light Website Design


2-3 sec GIFs


Presentation Design
Unlimited Graphic Design Services Tier 3 Monthly Plans

Service Name
Plan Name
Agency
The Plus Plan
*Only two plans
*Only two plans
*Only one plan
Monthly Plan Price
$698
$720
*Only two plans
*Only two plans
*Only one plan
Features Included
Pro and Team Plans' features plus:


2 projects at a time


10 users


Prioritized support
Base and Team Plans' features plus:


10 Users


Two Projects at a Time


Unlimited Brand Buckets


Create Projects via Email


Web Development Team
Is Unlimited Graphic Design Worth the Money?
Unlimited graphic design is worth the money if you have ongoing graphic design work and don't want the expense of hiring a full-time employee.
If you need to design a logo or landing page or infographic, there's a high probability that the following are also true:
You'll be creating something similar in the future

You have some type of budget for each individual design
When you use an unlimited graphic design service, you can take 2 big sighs of relief because:
The services allow you to submit as many concepts as you want per month

They keep budgeting simple by having one flat fee (charged monthly/yearly)
Even if you have just one design that needs to be done (but done right), these services allow you to cancel any time. We've gone through the hassle of paying $1,500 to an agency for just 3 logo concepts! Had we signed up for unlimited graphic design, we would have saved $1,101 and would have gotten a better design!
There are many benefits to this type of service, so let's weigh the pros and the cons:
Pros: Here's what I like about Unlimited Graphic Design
Less Stress

— Using unlimited graphic design removes the hassle of searching for and onboarding a contractor or employee. You get a top notch designer built-in to your monthly subscription and the rest of your projects can get more attention.

Cost Savings

— With this monthly subscription, you save on the inevitable overhead costs of pay-per-design services of independent contractors. You also get the additional relief of knowing you won't ever get overcharged and there are no hidden fees. 

Operational Efficiency

— Unlimited graphic design services give you and your team members higher levels of flexibility. Having a team of dedicated design professionals at your disposal allows you to concentrate on other aspects of your business and the business development that only you can do.
Cons: Here are the only things I don't like about Unlimited Graphic Design
Communication issues

: The top unlimited graphic design providers often have limited phone communications. If you like to speak over the phone and lay things out verbally, this could be a potential issue. 

Revisions

: Preferences are subjective, and it's very possible that you just don't mesh with the style of one designer. Luckily, the top unlimited graphic design services let you easily switch designers if you don't like the style of the designer initially working on your design.
What is the Best Unlimited Graphic Design Service?
Our top choice for unlimited graphic design is Penji.
Penji gives you full rights to the designs, a dedicated manager and designer, and access to some of the top designers in the world (they vet their designers and only take the top 2%). They also give you access to a Penji dashboard for instant messaging and easier project management.
Penji also offers 2 higher subscriptions for unlimited brands (perfect for agencies with multiple clients that need designs) and prioritized support.
Penji handles:
Custom logos & branding

T-shirts & merch

Website & app design (comes with team plans)

Social media design

Custom Illustrations

Print material

Custom design requests
When you sign up with our Penji promo code, you get all of the benefits of Penji for just $313.65 for your first month.
Unlimited Design Hacks
The best unlimited graphic design companies claim to save you the headache that comes with having an in-house team.
What they don't tell you is that they don't want you to inundate them with project requests and revisions. They bank on clients that poorly manage their subscription and are primarily focused on new user growth.
We've tested dozens of unlimited graphic design services and picked up on some tricks of the trade to increase our monthly output.
Our unlimited graphic designers hate us because they know we won't let them coast by without providing award-winning results. Don't waste any more time and money – replicate what's worked well for us and get the most bang for your buck.
Get Better Results from Unlimited Design – Download Our Free White Paper

Want to increase your monthly graphic design output by 10X? Sign up and receive a free copy of our whitepaper – 5 Hacks To Get More Design Output From Unlimited Graphic Design Services – and receive monthly tips to maximize your investment.

Frequently Asked Questions