I've used dozens of these unlimited graphic design services. So I know what the good, the bad, and the ugly look like when it comes to design services.
So which among those is Graphically?
Graphically is the budget option for individual blog owners or for small businesses that are looking for relatively basic designs, for blogs or banners. One special feature of Graphically is that they are one of the few providers to offer whiteboard animation videos.
---
Get $100 Off Your First Month With This Coupon Code: DDIY (enter at checkout)
Advertising Disclosure
Advertising Disclosure
We offer this website completely free to our visitors. To help pay the bills, we'll often (but not always) set up affiliate relationships with the top providers after selecting our favorites. However, we do our best not to let this impact our choices. There are plenty of high-paying companies we've turned down because we didn't like their product.
An added benefit of our relationships is that we always try to negotiate exclusive discounts for our visitors.
Graphically Overview
Graphically is an unlimited graphic design service that allows users to submit tasks through a portal that gets turned out in 24-48 hours.
Companies using Graphically
Some of the graphics they have the capabilities for include logo/favicon design, display ads, social media creative design, design for brochures, event flyers, banners, business cards, and t-shirts, as well as basic animated gifs and videos. They can also modify photos and videos you already have.
Users receive the final product through Dropbox, allowing businesses to easily see past versions.
You can also request as many revisions as you need, all with a 24-hour turnaround, which not all services like this offer.
The ticket system allows users to set order priority, re-open tasks, and easily ask questions.
Pros: Here's what I like about Graphically
Fairly simple and straightforward order creation process. A quick and easy-to-understand video is available to view for first-time users.
Simple messaging through the platform: if you can work a basic email inbox, you will have no trouble navigating Graphically's messaging system.
You get deliverables and revisions with Dropbox links. Each revision is a new Dropbox link so it's easy to differentiate between different versions.
The separate ticket/support system allows you to ask any questions or set order priority and they are pretty responsive.
Output and Timing: Even with 3 tasks with multiple images, I've always got something to review when I start working in the morning (9 AM EST). I've consistently gotten a turnaround time within 24 hours.
Whiteboard videos: they are pretty simple with few animations, but good if you are on a budget.
Easy ability to reopen closed tasks.
Provides source files upon request, generally provided as Adobe Illustrator files.
Free Online Editor: This allows you to do very basic functions like cropping, mirroring images, adding text, and adding "stickers" to any image or design.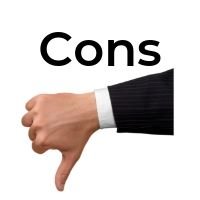 Cons: Here are the only things I don't like about Graphically
The platform isn't the most polished. You ultimately can get the product you want, but it isn't as streamlined as its competitors.
Limited payment options: Payment options are only limited to PayPal.
The first time doing an order creation can get confusing. There are some extra steps involved (like adding the order to a basket and checking out each time though it comes out to $0.00) but after doing it one time, the process gets easy.
The graphics themselves are decent and useable but not nearly as high quality as other services. It seems like Graphically puts the priority on getting a first draft out (sometimes using and re-using stock images) and then works through revisions with you.
You can only attach one file per request and they sometimes seem to ignore examples and reference images that you provide them during the order creation process.
Graphically Review

Overall, I think Graphically is a great, budget-friendly option for bloggers or influencers looking for simple, affordable custom graphics.
This service has its strengths. The platform (once you learn how to do your first order) and messaging system are easy to use. I get 10-15 images to review or approve consistently every day. I can rearrange the task queue in order of priority multiple times.
I can request multiple revisions without feeling like I'm poking too much. The people I interacted with were friendly and open to making as many changes as I wanted, and honestly, it's hard to beat that consistently fast turnaround.
However, it does have some shortcomings.
They do seem to focus more on quantity than quality. I did get the feeling that they were interested in churning out a design and then revising it as I requested, rather than sending out the best possible product from the jump.
Though I appreciate how informative the introductory video and blog posts were, I do feel that the process of submitting requests could be made a bit more clear from the beginning. I also wish that I could upload more than one reference image for each task.
If you're on a budget and only need a few simple designs? Graphically is great for you. If you have it in the budget to go with a more polished service that can produce more consistently high-quality products? Consider other services like Kimp and ManyPixels.
How Does Graphically Work?
If you've used another unlimited graphic design service, it's fairly similar, with a few key differences.
The order process looks a little something like this:
1. Pick between three options
Create New Assets: With this one you pick a certain type of request, but it doesn't list out everything they do, like blog images or whiteboard videos, so I didn't go with this flow.
Modify Assets: Edit or tweak existing designs
I Don't Know What I Need: This is their generic order request, the one I would always use to submit new design requests without any issues.
Once you place your orders, they get organized into tabs.
2. Check out order categories
Added to Task Queue: These are the orders that are in the queue for a designer to work on
Waiting for Client Approval: This is where the designer will put requests for you to review and leave any revisions
Revision Requested: This is where the task will go if you leave any revision requests
Completed: Task gets moved into this tab when the client approves an order
Source Requested: A separate tab that lists when the client requests the source file
3. Receive rough drafts
All iterations of the design are given to you via Dropbox, making it easy to keep track of every version of your designs.
4. Request revisions until you're happy!
Want to see for yourself? Check out this samples page.
Who Uses Graphically?
Graphically's standard package is the most popular among small businesses and bloggers.
These customers typically fall into one of these categories:
Bloggers that need custom images for posts
Advertising agencies to create display ads, blog post banners, logos, and company mascots
Influencers that need infographics or animated videos to engage their audience
Print companies that need decals, stickers, banners, or poster designs
Salespeople that need custom brochures
Companies that need a graphic designer but cannot justify a full-time in-house graphic designer
Graphically's Premium Membership is best for media studios and mid to large-scale marketing agencies.
What Does Graphically Cost? (Graphically Pricing)
Graphically has two different monthly packages available.
Standard (Most Popular) – $299/month- includes your own dedicated graphic designers, unlimited tasks (one at a time), ownership of all rights, stock images and videos included, order request panel, 24-36 hour delivery, native source files, whiteboard and animated videos, and a risk-free 7-day trial.
Premium– $349/Month- includes everything in standard with the ability to request 3 tasks at a time.
Keep in mind that you can only pay using PayPal.
Graphically Coupon – $100 Off First Month
So are you ready to try out Graphically? Click on the button below to reveal our exclusive coupon to get $100 off your first month:
Where Do I Enter the Graphically Coupon Code?
Once you are in your shopping cart, click on "Have a coupon?", copy and paste the discount code on the right-hand side, and click "Apply".
You should then see $100 off your first month!
Graphically Alternatives
There are certainly some other graphic design services that I'm happy to recommend.
Check out these Graphically alternatives:
Frequently Asked Questions
What is unlimited graphic design?
Unlimited graphic design is a service that gives users an unlimited number of graphic designs for one monthly flat fee.
Does Graphically have a free trial?
Yes, Graphically has a free, no-risk 7-day trial.
Who owns the rights to the designs?
You own the rights to the designs created by the team at Graphically.
Who uses Graphically?
Bloggers, influencers, and marketing agencies use Graphically.
What is the typical turnaround time?
The typical turnaround time is 24-36 hours.