Kimp is an unlimited graphic design platform. Let's review what exactly that means and compare their business model to the competition.
We break down the pros and cons so you can see if their new monthly graphic design service makes sense for you.

Advertising Disclosure
Advertising Disclosure
We offer this website completely free to our visitors. To help pay the bills, we'll often (but not always) set up affiliate relationships with the top providers after selecting our favorites. However, we do our best not to let this impact our choices. There are plenty of high-paying companies we've turned down because we didn't like their product.
An added benefit of our relationships is that we always try to negotiate exclusive discounts for our visitors.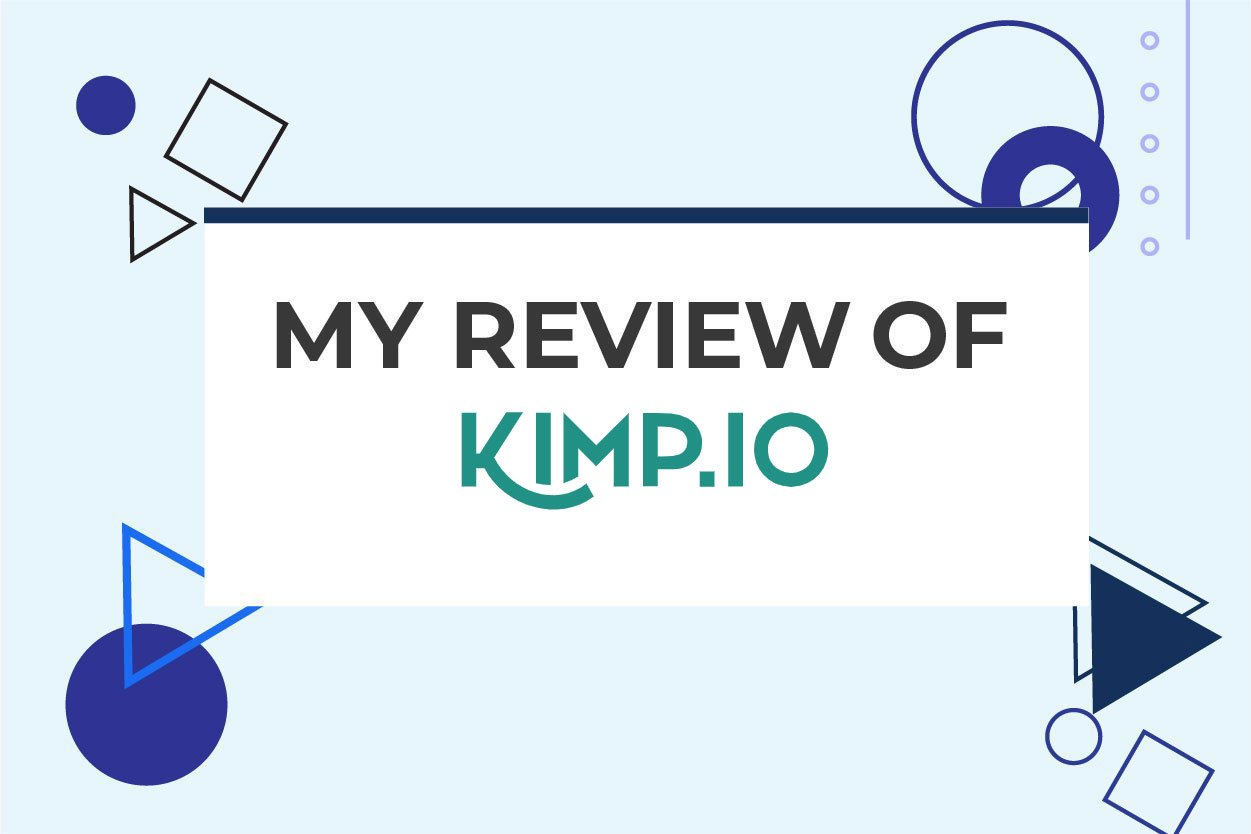 Kimp Overview
Kimp is one of our top picks for best unlimited graphic design services.  Kimp's design team will work on an unlimited number of designs and revisions for a fixed monthly fee.
With the new Kimp360, it's easier to use than ever, with options to add things like tags for a more organized dashboard and the ability to make requests/comments right on the deliverables.
Kimp also has an affordable video editing service to make your videos look professional grade.  More on that below.
Another exciting new addition is a full menu of UI services. Kimp plans now include all kinds of UI designs, including website and app, in addition to their existing list of graphic design services.
How does Kimp and unlimited graphic design work?
For their fixed monthly rate, you have a graphic design team and manager that will help with all your graphic design needs. Most designers are from India and Sri Lanka but their support team is located in Ontario and is available via phone, email, or video for your convenience. You are not locked into a contract and plans are month to month.
Typically, you get 2-4 designs every business day. That's double the output of competitors' plans.  The nature of the projects ranges from logo design to infographics and billboard designs.
READ: What does Unlimited Graphic Design mean?
Who is Kimp good for?
Kimp is for startups, bloggers, marketers, creative agencies, freelancers, entrepreneurs – just about anyone who needs cost-effective, high quality graphic design services, on an ongoing basis. Some industries they've worked with include:
Service Centers
Spas & Salons
Printing Companies
Churches
Not-For-Profits
Charities
E-Commerce and Retail Shops
Affiliate Marketers
Restaurants
Law Firms
Educational Institutions
Real Estate Agents
Mortgage Agents
Insurance Agents
Marketing Agencies
Social Media Managers
Business Development Managers
Amazon & Other Ecommerce Merchants
Who uses Kimp?
Kimp is used by both new entrepreneurs as well as established businesses. Here are a few brands they've worked with that you may recognize:
What does Kimp cost? (Kimp Pricing)
Kimp charges a fixed fee of $599/month for unlimited design requests and revisions.  Unlike their competitors, Kimp works on two tasks at a time instead of one so you get roughly double the output of comparable plans.
Kimp keeps their pricing dead simple.  Everything is included, even custom illustrations and stock photos.
If you are an agency and need a higher output of work you can simply stack multiple subscriptions.
Kimp has also introduced a new video editing service for $699/month.  This includes professional editing, custom graphics, and stock images, videos, and audio.
You can bundle together graphics and video for $995/month.
Kimp for Canva
Kimp uses Canva to streamline processes and make turnaround times faster and revisions easier.
The team at Kimp will design AI-powered graphics and videos right in Canva, allowing you the option to make edits and receive unlimited revisions.
Communicating and designing within Canva allows for quicker turnaround times.
With Kimp, you'll get more Canva for less.
We've gotten back source files back as Photoshop and Illustrator files, but having the designs in Canva makes everything so much easier.
There are two plans available for Canva:
Canva Graphics: $499/month ($249.50 for the first two months for new clients)
Canva Plus: $799/month ($399.50 for the first two months for new clients)
Kimp Review 
My favorite thing about Kimp is they work on 2-4 tasks at once.  This results in about double the output of their competitors' comparable plans.
Another thing I love about Kimp is that they stand out in a crowded unlimited graphic design marketplace. Maybe it's the monkey mascot, but they have a fun MailChimp vibe. Branding seems to be important to them. Their website looks sharp and was one of the first things I noticed. Frankly, it's what compelled me to write a review about them.
Even though Kimp only offers one plan, they provide a higher output of designs than any other comparable unlimited graphic design" plan we've reviewed.  And if you still want more output you can stack multiple subscriptions.
Our Thoughts on Kimp360
Overall, I'm a big fan of Kimp 360.
You can organize tasks with tags, including labels for projects that are "Priority" and "On Hold," as well as fully customizable tags (especially useful for companies that own multiple sites.)
My favorite part about Kimp360 is the way you approve/deny/leave revisions. Out of all the unlimited graphic design services we tested out, only one gave me the ability to leave revision notes right on the deliverable. Being able to pick an element on the image/deliverable and leave a note saves time and makes it so much easier to leave feedback. It's more clear for the designer, and less time is wasted on possible miscommunication.
I also like how you can approve/reject/leave revisions at an image level. For example, when I requested 6 images, I could approve 4, reject 1, and leave revisions for 1, all with a few clicks of a button.
Another highlight is the "My Files" feature which puts all deliverables in one place. So instead of having to search for the task and dig through comments to find the image or source file, it's all in one place and much quicker to reference back if needed.
The dashboard that functions on a system of moving cards is super easy. You can turn off notifications for certain card movements if you want so your inbox isn't flooded with extra info. I recommend watching their video, as they do a really good job of explaining.
One more awesome feature is how they will put designs in Canva. This is unique, I haven't seen any other unlimited graphic design service do this.
All I had to was invite them to my Canva account. They uploaded all designs there with no loss in quality.
I'm not a graphic designer, and I imagine most users are not graphic designers either, so I have very limited knowledge and experience with apps like Illustrator and Photoshop. However, I use Canva for very simple designs and edits that I can quickly do on my own without having to reach out to the designer.
Let's look at all the pro's and con's of using Kimp:

Pros: Here's what I like about Kimp
Unlike all other base level unlimited plans, Kimp designers will work on two tasks at once instead of one. 

This roughly doubles the output you get from other providers.

Kimp schedules their designers's working hours to have some overlap with your time zone, all around the world (see Kimp's business hours for different countries in their FAQs).  Smaller requests and revisions are often turned around same day if you make them in the first half of a designer's shift.
Kimp has the most straightforward pricing plan.   There is only one graphic design option and everything is included (except video editing).  If you are an agency and want more output you can stack plans together.
Their video editing chops are outstanding.  Check out the video they edited for us down below.
No add-on pricing for extras like other providers.  This includes free stock photos, custom illustration, and animated gifs.
Kimp360 dashboard makes it very easy to leave clear feedback for the designer
Great customer support.  You'll get an onboarding phone call and follow-up from a customer experience pro to help you get started and you can escalate to a project manager for complex requests.
The design of Kimp's website actually looks good and is unique; doesn't look cookie cutter like some competitors
The clients they work with are impressive – we're often judged by the company we keep for a reason
Kimp for Canva allows for faster turnaround times and easier communication than ever before.
UI design services are now available, including everything from website design to app design and more.
Cons: Here are the only things I don't like about Kimp
If you don't consistently need design work, you may not get the full value every month.  Kimp is worth it if you average at least 8-10 hours per month in design work.
Designers work in a different time zone than the U.S. so requests are completed overnight and in the morning (up until 11am EST)
Custom illustration takes longer than the typical graphic design requests which is to be expected.
Kimp Video Review and Walk Through
In the video below I share my full review.  I walk through the Kimp service and share some of the actual designs they created for us.
But what's really cool is that I tested out Kimp's new video editing service to polish up my video.  I was blown away by the results, but see for yourself!
Kimp Promo Code
If you want to try Kimp, use our exclusive coupon to get a 60% discount off your first month here.
Alternatives to Kimp
If you're looking for more options, we've reviewed the top alternatives to Kimp:
Also check out our Unlimited Graphic Design Services Comparison which breaks down each of these providers and our top 2 picks.
Trying out each of these platforms is your best bet to finding which works best for you. You are still saving hundreds if not thousands by going through these online services depending on your project needs.
Frequently Asked Questions
What is unlimited graphic design?
You get an unlimited number of graphic design projects and revisions for a fixed monthly fee. The only limitation is that designers fulfill requests one at time, unless you pay a little extra for more than one designer. Learn more about Kimp and get a coupon here.
How much is Kimp?
$599 per month. No set-up fee, no minimum terms, and no cancellation penalties. Learn more about Kimp and get a coupon here.
Is there a contract?
No. You can cancel anytime. Learn more about Kimp and get a coupon here.
Who owns the rights to the designs?
You own and control the Intellectual Property to the designs. Learn more about Kimp and get a coupon here.
What is the typical turnaround time?
24-48 hours. Learn more about Kimp and get a coupon here.
What is Kimp360?
Kimp 360 is Kimp's new and improved service that offers expanded features like tags and a dashboard that's easier to use than ever before.