Need a photographer for a corporate event, business headshots, or even a wedding?
A freelance photographer is your best bet.
Here are the top sites to find a freelance photographer.
Advertising Disclosure
Advertising Disclosure
We offer this website completely free to our visitors. To help pay the bills, we'll often (but not always) set up affiliate relationships with the top providers after selecting our favorites. However, we do our best not to let this impact our choices. There are plenty of high-paying companies we've turned down because we didn't like their product.
An added benefit of our relationships is that we always try to negotiate exclusive discounts for our visitors.
Check out our list of the best freelance websites for hiring talent.
Best Freelance Websites for Photographers
Best dedicated photography freelance site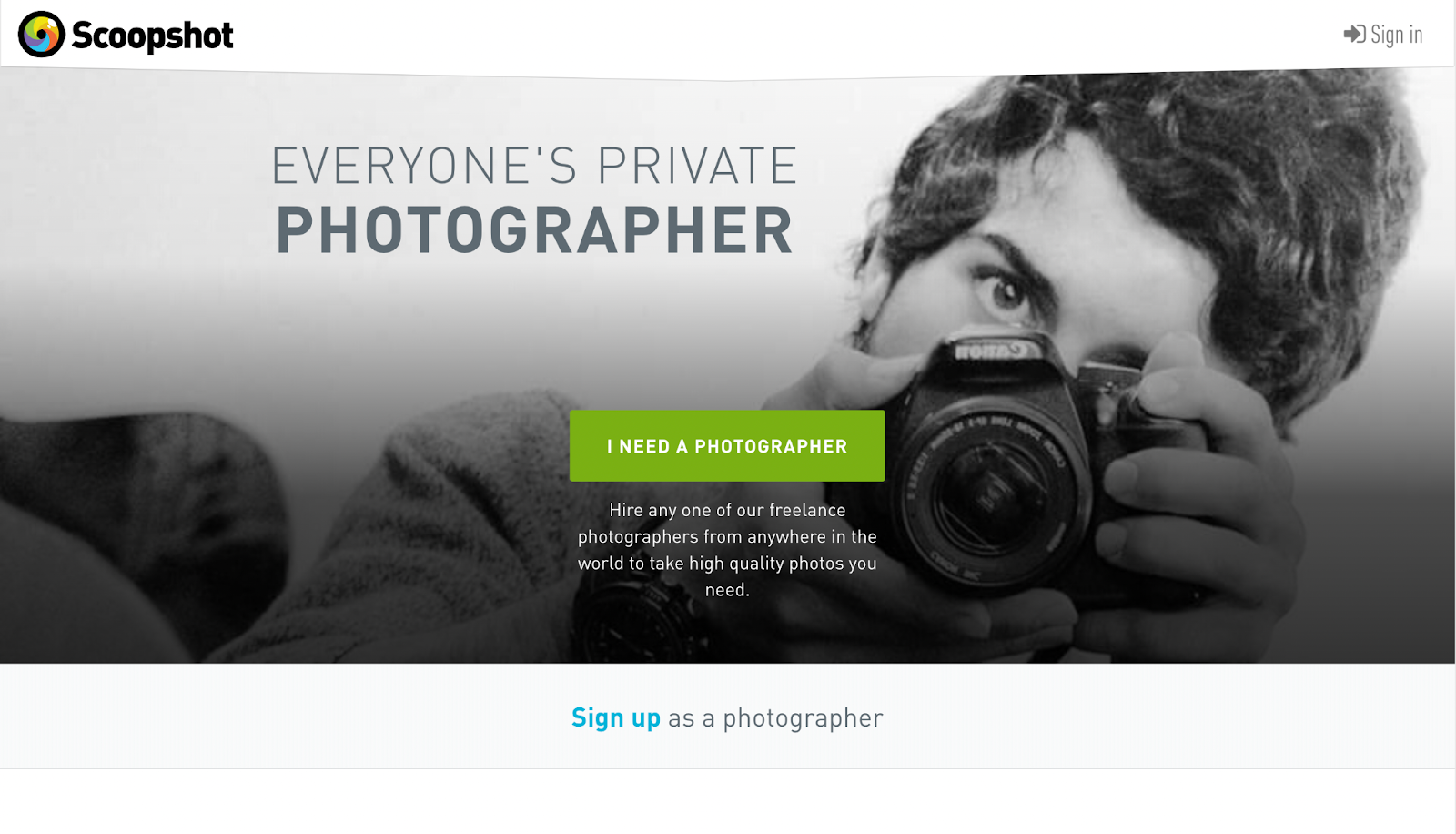 Learn More
Focusing solely on matching top-quality photographers with customers, Scoopshot is the premiere photography freelance site.
With photographers all over the globe, Scoopshot has connected huge brands like MTV3 Finnland and Finnair to photographers.
Photographers on Scoopshot specialize in everything from wedding photography to corporate photoshoots and even photojournalism.
No matter what types of photos you need, Scoophsot has a photographer near you that can help.
Best personalized matches
Learn More
Bark should make your shortlist when you're looking for a photographer.
They have a variety of services to consider, including tabs for business services, weddings, events, and more.
On Bark, you can find everything from wedding and event photography to headshots to commercial and corporate photography.
When you begin your search, Bark will ask a few questions to get a better understanding of what you're looking for. This questionnaire will allow them to curate a shortlist of talented photographers that meet your specifications.
Best for a wide variety of photographers
Learn More
Upwork, a popular freelancing platform, attracts photographers at all levels of expertise.
When it comes to finding the perfect photographer for your project on Upwork, you have full control over the job postings. You can create a detailed description that outlines all your specific requirements and preferences. Upwork's intelligent system will analyze your needs and sift through its extensive pool of freelancers to curate a shortlist of top photographers who align with your criteria.
You can also review photographers who directly apply to your job posting. Explore their profiles, to learn about their portfolio, photography style, resume, and even their hourly rates. You'll have all of the information you need to make an informed decision.
With Upwork's user-friendly interface and comprehensive selection process, you can easily connect with the photographer that best suits your project's needs.
Best for local photographers
Learn More
If you want a local, trusted photographer for the job, check out Thumbtack.
After entering basic information in the search bar, you get access to a list of photographers. Each photographer's profile shows their estimated prices, their star ratings from previous customers, what type of photographer they do, and how many customers have hired them on Thumbtack.
You can also see how quickly they usually respond to inquiries and if they're online right now, making communication fast and easy. The site will also show you which photographers are currently in high demand.
Best for small businesses
Learn More
Fiverr stands as one of the pioneering platforms in the freelancing market. It offers a wide range of services, including the expertise of talented photographers.
When searching for photographers on Fiverr, you can use various filters to narrow down your options based on their specialization, market experience, and preferred photography style.
Fiverr also provides filters for budget, service options, and delivery time. It empowers you to discover photographers who not only meet your specific requirements but can also deliver your project promptly.
By using Fiverr to find your photographer, you have the freedom to choose and directly engage with the photographer of your choice. Collaborate and finalize the details of your project with ease. Once all the terms have been agreed upon, you can securely make an upfront payment to the photographer through Fiverr's reliable payment platform.
Best platform for photographers around the world
Learn More
Truelancer serves as an excellent platform for discovering skilled photographers.
Finding the finest freelance photographers on Truelancer is a breeze. Explore a comprehensive list that showcases their qualifications, relevant degrees or certifications, location, and rates. It's also easy to identify their areas of expertise, whether it's wedding photography, business headshots, or publicity photos.
To gain further insight into a freelancer, you can check out the concise introduction provided on their profile. This brief overview will assist you in evaluating whether they are well-suited for your specific project.
Truelancer empowers you with valuable information to find a photographer who perfectly matches your requirements.
Best site for urgent photography needs
Learn More
If you find yourself in need of a photographer at the eleventh hour, People Per Hour is an excellent resource to rely on.
With People Per Hour, you can quickly navigate through the resumes and portfolios of thousands of freelance photographers, ensuring you discover the perfect match for your project. You can also find a photographer who aligns with your budgetary constraints.
The greatest advantage is that you can almost certainly find a photographer who can promptly fulfill your photography needs. Whether it's a tight deadline or an urgent request, People Per Hour offers a wide range of talented professionals who can meet your photography requirements as soon as possible.
Where Can I Find Freelance Photographer?
If you're seeking a freelance photographer, several excellent options are available.
For small businesses, Fiverr is a great choice, offering a wide range of freelancers and the ability to filter photographers based on specialty, budget, and delivery time.
Scoopshoot is considered the best-dedicated platform for freelance photography, connecting businesses directly with professional photographers worldwide.
If you're looking for a local photographer in your community, Thumbtack is the go-to platform, providing a convenient way to find talented photographers nearby.
Whether you need a photographer for a specific project or ongoing work, these platforms offer diverse options to meet your requirements.
What Do Freelance Photographers Do?
Freelance photographers are self-employed professionals who offer their services on a project basis. They specialize in capturing and creating high-quality photographs for various purposes.
Here are some common activities and responsibilities of freelance photographers:
Photoshoots: On-location or studio-based photoshoots, capturing images of people, events, landscapes, products, or other subjects based on client requirements.
Client Communication: They communicate with clients to understand their vision, requirements, and desired outcomes for the photography project.
Equipment Setup: Freelance photographers set up and operate their photography equipment, including cameras, lenses, lighting, and other accessories, to ensure optimal image quality.
Composition and Framing: They have a keen eye for composition, framing, and perspective. They must select the best angles, backgrounds, and lighting conditions to capture visually appealing and impactful photographs.
Post-Processing: After the photoshoot, freelance photographers often perform post-processing tasks, including editing, retouching, and enhancing images to achieve the desired final look.
Overall, freelance photographers offer their artistic and technical expertise to capture compelling and visually engaging photographs that meet the specific needs and expectations of their clients.
Is Hiring a Freelance Photographer Worth It?
Hiring a freelance photographer is definitely worth it for several reasons.
Freelance photographers bring their expertise and creative vision to the table, ensuring high-quality and professional results. They have the skills to capture moments, products, or events in a way that aligns with your vision.
Working with a freelance photographer offers unique flexibility since you can customize the project scope, timeline, and budget to suit your needs.
They can also provide a fresh perspective and artistic input to make your photos stand out.
Ultimately, investing in a freelance photographer can elevate your visuals and contribute to the overall success of your project or business.
How Much Does a Freelance Photographer Charge?
Since photography is a widely varying art, freelance photographers charge vastly different hourly rates based on the type and scope of the project, their level of experience, and additional requirements like travel, lodging, or special equipment.
That said, on average, freelance photographers typically charge between $100-$300 per hour or $75-$350 per image. Other estimates put this rate at around $50, so it really depends on what type of photography you're looking for.
How to Hire a Freelance Photographer?
To hire a freelance photographer, follow these steps:
Define your needs: Determine the purpose, scope, and specific requirements of your photography project. This includes identifying the type of photography, location, duration, and any desired deliverables.
Research and shortlist: Explore platforms like Fiverr, Upwork, or dedicated photography websites like Scoopshot to find freelance photographers. Review their portfolios, qualifications, experience, and client reviews to create a shortlist of potential candidates.
Evaluate communication and fit: Reach out to the shortlisted photographers and discuss your project details. Assess their communication style, responsiveness, and ability to understand your vision.
Discuss terms and rates: Talk about project specifics such as timeline, deliverables, usage rights, and budget. Ensure that both parties are clear on the agreed terms and pricing.
Finalize the agreement: Once you've found the photographer that best fits your needs, finalize the agreement. Ensure that all terms, rights, and payment details are clearly outlined in a contract or agreement.
Collaborate and provide feedback: Work closely with the photographer during the project, providing necessary guidance and feedback.
Review and recommend: After the project is completed, leave a review or recommendation for the photographer based on your experience. This helps build their reputation and can help future clients make informed decisions.
Remember to communicate openly, clarify expectations, and establish a professional relationship to ensure successful collaboration with your freelance photographer.
Best Freelance Websites by Category
Looking for more of the best freelance websites but need to browse by category? Check out our below freelance website reviews to either expand your portfolio or hire a freelancer for your next project.
Frequently Asked Questions
Can you freelance as a photographer?
Yes, you can freelance as a photographer, and most photographers are freelancers.
When should I hire a freelance photographer?
You should hire a freelance photographer when you have temporary photography needs. Hiring a freelance photographer offers the advantage of working with a skilled professional who can bring their creative vision and technical expertise to your specific needs.
Where is the best place to find a freelance photographer for a small business?
Fiverr is the best place to find a freelance photographer for a small business.
How do I start as a freelance photographer?
You can start freelance photography by offering services to friends and family, taking photography classes, and building a profile on one of the freelancing platforms.