Ready to leave the 9-to-5 and set your own schedule and rates? It may be time to try freelancing.
Once seen as "not a real job," freelancing is now a viable career path for people with a variety of skills and talents.
Here are the best freelance sites you can join to find work as a developer.
Advertising Disclosure
Advertising Disclosure
We offer this website completely free to our visitors. To help pay the bills, we'll often (but not always) set up affiliate relationships with the top providers after selecting our favorites. However, we do our best not to let this impact our choices. There are plenty of high-paying companies we've turned down because we didn't like their product.
An added benefit of our relationships is that we always try to negotiate exclusive discounts for our visitors.
Need to find a developer? Check out our list of the best freelance websites to find developers
Best Freelance Websites for Developers to Find Work
Most popular site
Learn More
Upwork is a great option for new developers entering the freelancing world.
It helps you find job openings that match your skills and experience level.
You have a limited number of connections per month, which determines how many jobs you can apply to. Some connections are free, but you may need to purchase more if you run out.
Upwork was the first site I used as a freelance copywriter and it played a significant role in starting my career.
They do take a 10% service fee on your earnings, but you have the flexibility to set and adjust your rates as you gain more experience.
Best for beginners
Learn More
Fiverr has established a steadfast presence and is home to a substantial user base across businesses of varying scales, making it an excellent platform for aspiring freelance developers to begin their journey.
Novices find it particularly appealing due to its straightforward profile creation process, which allows for swift entry into the freelancing business.
As a bonus, the platform offers access to a vast network of fellow freelance developers, creating opportunities for connection and brand growth within the development business.
Unfortunately, all of this convenience does come with a downside: Fiverr charges a 20% service fee that they deduct from your earnings.
Best for experienced developers
Learn More
Toptal is the best option out there for top development freelance talent looking for jobs with huge enterprise companies.
They partner with huge names like Bridgestone, Duolingo, KraftHeinz, and Shopify, so the possibilities to work for a big-name brand are endless.
Toptal focuses on skill tests rather than CVs or years of experience. If you're a great developer who has just had trouble finding work, they're a great way to find top-quality work without decades of work experience.
Developers on Toptal have the opportunity to work with people from all over the world, forming connections and honing their skills on a grand scale.
Best for developers looking for startups
Learn More
If you're a developer who's passionate about working with a startup in its beginning stages, Wellfound is the place to go.
Once you fill out a profile detailing your experience and what you're looking for, you can take advantage of the easy "one-click apply" feature. Starting pay and stock options are clearly visible, so you don't waste your time with gigs that aren't a good fit for you financially.
Wellfound connects freelance developers directly with the founders of startups. There isn't any middleman between you and the company you want to work with.
Learn More
Arc implements a rigorous "Silicon Valley-caliber interview process," handpicking only the top 1.1% of developers they assess.
This interview process is rigorous. After they have read your resume, they will reach out and request that you record a video introduction of yourself. In the video, you must respond to open-ended questions so the recruiters at Arc to assess your soft skills and English proficiency.
After that, you'll need to complete an hour-long vetting interview with one of their highly skilled developers to assess your knowledge and technical skills.
Even once you are hired, they will regularly review your work, so you'd better bring your A-game.
If you're in the top 1.1% of developers, you'll enjoy easy access to some of the highest-paying development gigs in the industry.
Largest community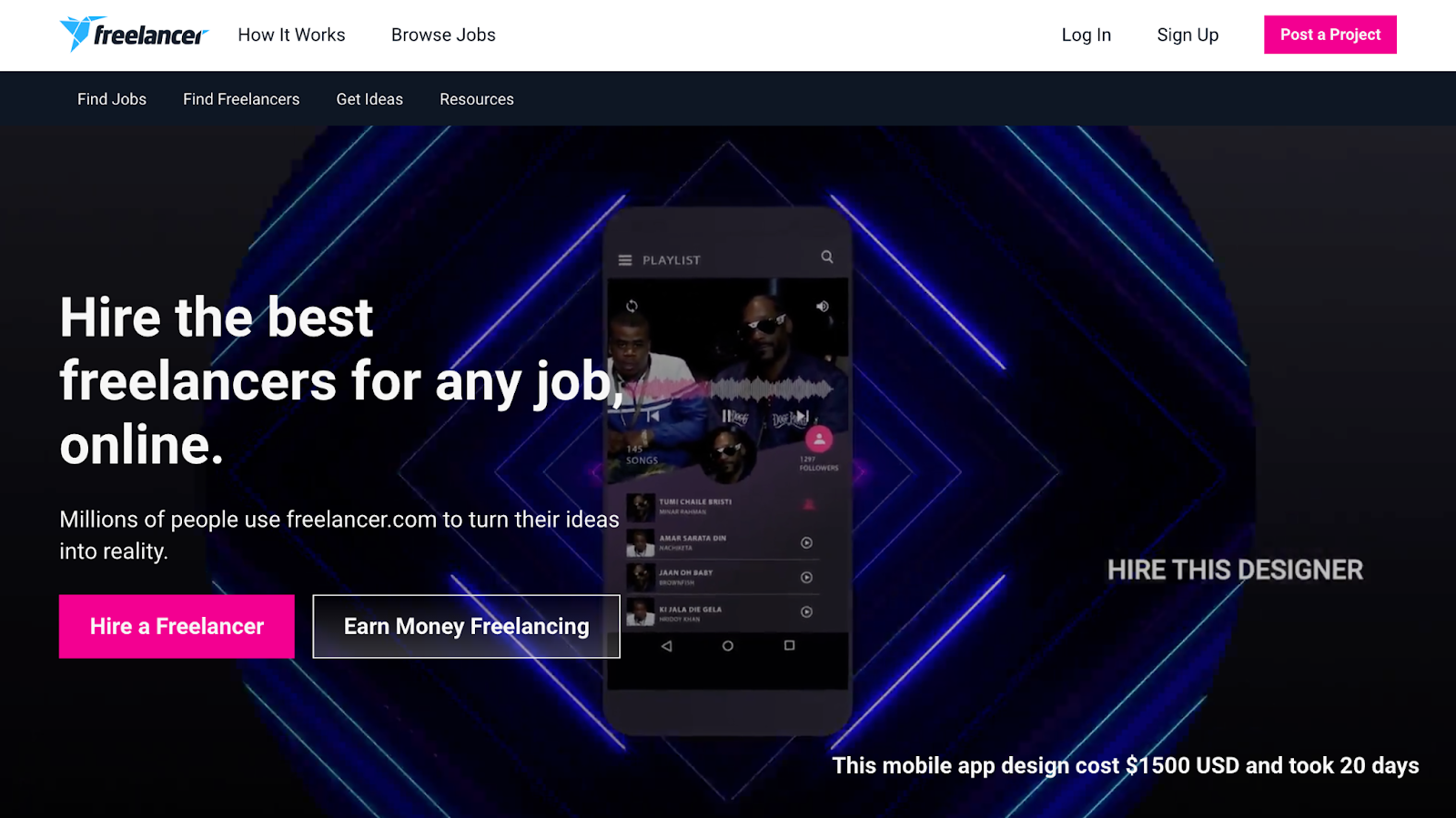 Learn More
Freelancer is a pioneer among freelancing marketplace platforms, boasting the most extensive list of freelance developers within its site.
For developers, the process of crafting an intriguing profile is effortless. The site also offers the convenience of sifting through job listings to identify the right opportunities that align with their skill set. The options can be filtered based on experience level and type of job.
Tight on cash but have some free time? Freelancer provides the opportunity to explore immediate client needs for project completion within 24 hours. These urgent requests often pay better due to the pressing timeline involved.
Learn More
Specializing in tech freelance, Dice promises to match developers at any point in their career with the right company for them.
Freelancers can browse by company or job listing, and then choose who they want to work for. A few big companies that use them for staffing include AT&T, Adobe, and Dell.
You also have the option to filter job postings based on how new the posting is, what type of hire they are looking for, and options for "remote only".
They also offer unique, helpful features like career advice and even career events.
Learn More
Turing uses a stringent vetting process that allows developers to access high-quality projects from top companies around the world.
Turing's AI-driven matching ensures the perfect match between developer skills and project requirements, fostering meaningful collaborations and finding developers their dream jobs.
The platform's remote-friendly approach provides flexibility, while its consistent support and ease of use make it an ideal choice for developers aiming to thrive in the freelance economy.
How to Become a Freelance Developer
Today, becoming a freelance developer is easier than ever.
The first step is to identify what type of developer you want to be and what industry you want to specialize in. Do you want to focus on the front end or the back end specifically? Or do you want to know it all and become a full-stack developer?
If you want to learn more about development, take an online class or do some research to make sure you can be good at that job.
Once you're sure of your talent, create a profile on one of the large freelancer marketplace platforms like Fiverr, Upwork, or Freelancer (the best options for beginners). You can create a resume and show off previous work experience or education and training.
Search for development jobs that interest you and match your abilities and talents.
You may have to set lower rates at first and work some gigs that aren't the most glamorous. But as you gain experience and get better at what you do, you'll collect a network of clients who trust you and will come back to you with more work.
Benefits of Freelancing as a Developer
There's a reason that so many people, especially developers, are leaving their 9-to-5s in favor of a more flexible career as a freelancer.
Here are some of the biggest benefits of freelancing as a developer for a living.
Flexibility and Independence
Freelancing allows you to have greater control over your work schedule. You have the freedom to choose when and where you work. This gives you the flexibility to balance work with other aspects of your life. This leads to improved work-life balance and reduced (or non-existent!) commuting time.
Diverse Projects
Freelancing developers often work on a variety of projects for different clients. The experience with diverse projects across different industries can help you develop a wide range of skills and knowledge. In turn, it makes you a more versatile and adaptable developer. It also keeps work interesting and prevents monotony.
Higher Earning Potential
Freelancers, especially freelancing developers, can earn more compared to traditional salaried roles. As a freelancer, you can set your own rates and take on multiple clients at the same time to increase your income. You can also negotiate higher rates as your skills and reputation grow.
Skill Growth and Learning
Freelancing exposes you to real-world challenges and client requirements, which can accelerate your learning and skill development. You'll encounter various technologies, tools, and approaches, pushing you to expand your knowledge and hone your skills.
Building a Personal Brand
With freelancing, you can establish and grow your personal brand as a developer. Building a strong online presence, sharing your expertise through blogs or social media, and delivering quality work can lead to a strong brand that can attract more clients and opportunities.
How to Choose the Right Freelance Website to Work For
To pick the right freelance site to work for, think seriously about your abilities, experience, and availability.
You should also take into consideration how much of your pay will be shaved off by any platform service fees.
If you're just getting started as a developer, we recommend setting up an easy, free account on Fiverr or Upwork to start building your resume.
As you gain experience and improve your skills, you can look into more advanced, vetted sites like Toptal or Upstack.
The great thing about freelancing sites is that you can create profiles on as many or few sites as you want, allowing you endless work opportunities.
Best Freelance Websites by Category
Looking for more of the best freelance websites but need to browse by category? Check out our below freelance website reviews to either expand your portfolio or hire a freelancer for your next project.
Frequently Asked Questions
How do freelance developers find work?
Freelance developers can find work by creating a profile on a freelance platform, uploading their resumes, and seeking out job opportunities.
How to work as a freelance developer?
To work as a freelance developer, decide what you want your expertise to be, complete any necessary training and education, create a profile on a freelance platform/ send out proposals to local businesses, and build skills and relationships with companies.
How do freelance developers get clients?
Freelance developers get clients by sending development proposals to businesses and building a strong brand that inspires past clients to refer people they know to that developer.
Where can freelancers find developer jobs?
Freelancers can find jobs on platforms like Upwork, Fiverr, Freelancer, Toptal, Wellfound, and more. They can also network with companies and find jobs organically or through LinkedIn.