With the rise of TikTok and the continued popularity of YouTube, video is a more important medium than ever. And if you want your cinematic efforts to stand out, you need a talented video editor.
We've done the research and read reviews in order to find the top 11 video editors on Fiverr.
Advertising Disclosure
Advertising Disclosure
We offer this website completely free to our visitors. To help pay the bills, we'll often (but not always) set up affiliate relationships with the top providers after selecting our favorites. However, we do our best not to let this impact our choices. There are plenty of high-paying companies we've turned down because we didn't like their product.
An added benefit of our relationships is that we always try to negotiate exclusive discounts for our visitors.
11 Best Fiverr Video Editing Providers
To find the top Fiverr video editors, we reviewed their Fiverr ratings and other details, then considered their project history, pricing tiers, and any other notable selling points they may offer.
One of the top Fiverr freelancers for video editing is arif840. Thanks to over 1,000 reviews and a 4.8 rating overall, this provider stands out for his quality, reliability, and affordable service packages.
With a BSc from a premier university in his native Bangladesh, he isn't just another homemade editor, either – he instills confidence in his clientele thanks to his professional schooling and significant experience.
Once you read his reviews, you'll see why he made our list.
---
Freelancer Onerory is a Fiverr Pro specialist out of the UK. Unlike many of the video editors on Fiverr, he doesn't come cheap – expect to pay $320 at the minimum and over $1,000 on the high end for one project.
With those high prices come high expectations, but Onerory seems to deliver: his reviews are nothing but positive, and he's also a Fiverr's Choice provider. When you want quality at all costs, check him out.
---
Need your project back in 24 hours or less? Check out Waleed001. An untarnished five-star rating across 750 or so reviews puts him at the top of his league, yet his prices begin at an incredibly affordable $10. He also has a 100% satisfaction guarantee – if you're not happy with his work, the job is done for free.
His informative profile and endless positive reviews reinforce that Waleed001 is the real deal, so keep him in mind if you need high-quality, affordable video editing completed in under 24 hours.
---
Twitch streamers, take heed: Prithvirajp99 is one of the top options on Fiverr for turning your Twitch streaming video into a YouTube highlight reel. He's also proficient in turning your footage into TikToks and other forms as well.
Clearly, his work resonates with his customers, as Fiverr notes he has plenty of repeat customers and a top-rated profile. Having been editing for over eight years, this provider is truly a master of turning a Twitch stream into the perfect montage.
---
Film has become critical to generating online real estate traffic, and if you're looking to put together the perfect video to showcase your listing, reach out to Mjthusha. This provider specializes in real estate editing and montages, offering 24-hour turnaround times and 15 minutes of edited footage in their entry-level package.
They also offer everything from tilting and color correction to motion graphics. For showstopping real estate footage, turn to Mjthusha.
---
Memorializing your wedding day with a professionally-shot video is fast becoming the norm with today's couples. And with a provider like Fouadelbali, you can enjoy top-notch editing and film services at excellent prices. They offer a full range of editing options and can have your project completed in 6-10 days, depending on the package you choose to purchase.
While his prices aren't the cheapest on Fiverr, his top-rated profile ensures your perfect day can be remembered in posterity thanks to this provider's brilliantly edited 4K footage.
---
If you have a children-oriented video project that you need edited, reach out to Awais_mughal60. This provider offers top-tier services that specialize in footage and video oriented to children, and they'll make the perfect kid-friendly intro for just $5.
It's a unique pitch that helps this provider stand out in a crowded market, and his ratings suggest they have found a compelling, competitive niche.
---
Freelancer Nh_pk_ is all about providing cinematic footage specializing in travel and color grading. He offers services like motion graphics, subtitles, and more, and uses professional, industry-grade tools like Adobe Premiere Pro.
With affordable pricing and a well-rated profile, this provider is the perfect fit if you're looking for that special something to elevate the footage of your exotic travels.
---
If you don't have your own footage to provide but want a cinematic video to call your own, turn to Migskipper. Their claim to fame is using stock footage to create something one of a kind, and from the introduction video it's clearly that this provider knows their stuff.
Though they've only garnered about 150 or so ratings thus far, they've worked with a couple big-name clients, including Whirlpool and Christophe Ducamp. With a client list like that, you can't go wrong.
---
Don't let the username fool you – Bookreviewstew is a video editor that can help you with adding in a green-screen spokesperson into your content, as well as provide a full range of additional video editing options as well. Having worked with top brands, this provider helps you take advantage of green-screen actor MJ Wolfe's talent for promoting your business or adding a professional touch to your video.
His options even allow for using videos for television commercials, but be sure to contact the provider first beforehand.
---
Rounding out our list is Ronyman75, a video editor who specializes in editing zoom calls. His specialty is perfect for a post-pandemic world, and his top-rated profile and Level 2 seller status further underscore the quality you can expect from this provider. Along with editing your raw footage, Ronyman75 can also add subtitles, a creative intro/outro, and more.
He's the perfect solution for turning that yawn-inducing Zoom meeting into something the whole company will want to watch.
Why Fiverr for Video Editors?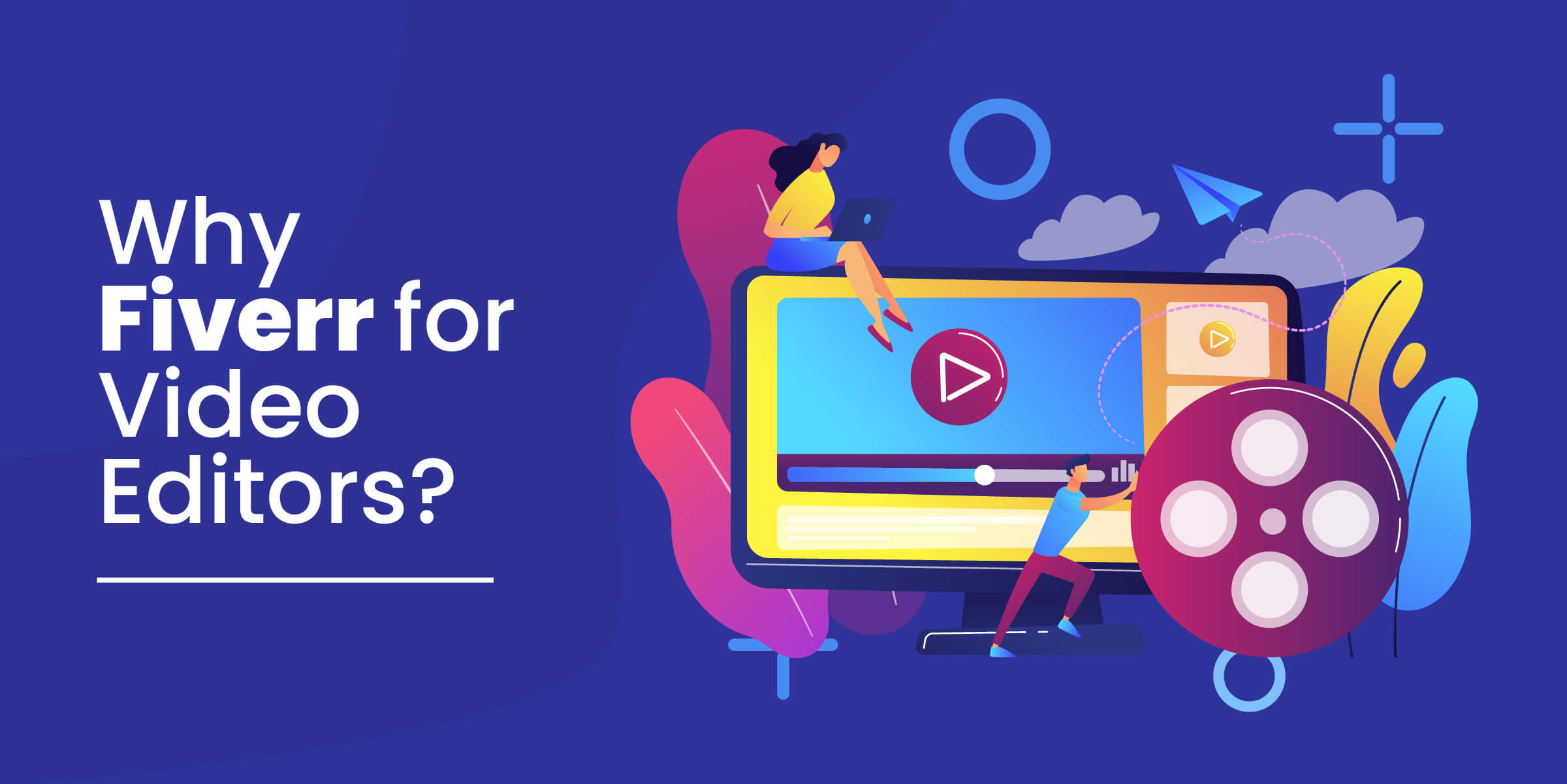 As one of the most well-known freelancing platforms, Fiverr attracts talent of all types. You'll find people from all over the world providing top-tier solutions at highly competitive prices, and the collective experience of this cohort encompasses just about every possible niche. It doesn't matter how obscure your project might be – chances are there's someone on Fiverr who's already done something similar.
Other reasons we love Fiverr? For starters, the short turnaround time you get with many of the top video editors is unparalleled. You can get projects back as soon as the next day in some instances, and most providers return a finished project in just a few days.
It's also worth noting that Fiverr handles all payment transactions in-house and is considered a Level 1 PCI-DSS service provider. The designation essentially means that facilitating online payments via Fiverr is as secure as conducting transactions on any other top-tier site.
Of course, Fiverr isn't the only option available to you. Besides other freelancer platforms, you can hire professional agencies or even try to do the work in-house. How do these options stack up to Fiverr? Let's take a look:
Fiverr vs. DIY: Video Editing
We'll warn you right now: attempting video editing yourself isn't worth it. Unless you're already a pro or enjoy it as a hobby, pay someone else to do it every time.
Why the strong stance? Because video editing is a highly specialized skill that requires intimate knowledge of certain softwares, an eye for design, and a host of certain technical skills that can't be learned overnight. By the time you pay for the right softwares and get up to speed on even just the basics, you'll be out plenty of money and countless hours – and all you'll have to show for it is a mediocre video that is more a high-school project than professional marketing asset.
Go on Fiverr, meanwhile, and you'll find experts who already know this stuff inside and out – and will extend their services to you for pennies on the dollar. No cost-benefit analysis is needed to see the advantages of going the freelancer route. The bottom line is that you'll save yourself significant time, money, and headache by contracting out specialty assignments like video editing.
Fiverr vs. Video Editing Agencies
Multiple marketing agencies proffer their video-editing expertise, and they are an excellent choice for businesses needing a long-term partner offering extensive collaboration. As a one-off solution, however, agencies don't make as much sense contractually or financially.
It all comes down to economics, convenience, and expectations. Fiverr is about quick turnaround times and affordable price points, and odds are you'll turn to a freelancer on this or any other platform to quickly have a project brought to fruition. An agency will need significantly more time on the front end as you negotiate pricing, establish a contract, and proceed through all the other formalities.
Tolerating the more cumbersome setup process with an agency is worth it if you know their packages and offerings are going to bring you value across a long-term or indefinite timeline. But if all you need is some light video editing for a temporary project or marketing experiment, go with a freelancer. Aside from often returning results of similar quality, freelancers are faster to get up to speed and cheaper to boot.
Fiverr vs. Other Freelance Marketplaces
Fiverr is a leader among freelance platforms, but it isn't the only source to hire independent contractors. A wide variety of freelance platforms now exist, including heavyweights such as Upwork.
While it may be worth utilizing those websites for certain freelance needs, we're still big fans of Fiverr. Why? For starters, Fiverr offers an easy-to-use platform, affordable pricing, and a nearly endless selection of freelance talent to choose from. Once you play around on the site for a bit, you'll see why other freelance platforms struggle to match Fiverr's usability and price points.
On top of that, Fiverr gives you a chance to review and accept the final product you contracted for. If you're not happy in any way, you can request that the freelancer makes revisions prior to authorizing payment. Alternatively, you can also request a refund and find another freelancer who may be a better fit.
How to Choose a Freelance Video Editor on Fiverr
Finding the perfect freelancer isn't easy no matter what your needs are. Luckily, Fiverr makes it as easy as it can be thanks to a straightforward website design and UX as well as a wide range of available filters. These tools – along with a standard caveat emptor philosophy that includes reading seller reviews and looking over their portfolios – are your ticket to finding a freelance video editor that won't disappoint. Here's how we'd do it:
Use the Filters
Filters are your best friend. By playing with the various parameters available through the advanced search options, you can whittle down potential service providers to those most closely aligned with your needs and expectations.
To get started, just visit Fiverr's website and search "video editor" in the main search box. This will give you a bird's-eye view of the Fiverr video editor market.
Just above the top search results, you'll see a few dropdown options for further filtering. These dropdowns are:
Category
Service Options
Seller Details
Budget
Delivery Time
Most of these categories filter the results you'd expect them to. Service options will filter by type of video – event, commercial, YouTube, TikTok, etc – as well as what the work will include, such as color gradient or subtitles. Seller Details lets you see results based on a freelancer's country of residence, native language, and seller level.
Review Seller Profiles
Now that you've narrowed down your search, it's time to look at individual seller profiles.
Any reputable and established video editor will have a portfolio of past work, which you should be able to review. Their videos will speak for themselves – if you like what you see, odds are you'll be happy with what you're looking to have done, so be sure to review their samples and determine if the feel and flavor of their work align with your creative vision.
If the freelancer has a link to their full portfolio, be sure to check that out as well. Don't see any reference to a larger portfolio, but want to explore more of their work? Just reach out and ask them for more information about their past work
Read Seller Reviews
You'll want to spend most of your time reading through seller reviews, as these testimonials can quickly showcase the general consensus of a freelancer's quality of work.
You'll want to especially read the negative reviews. If there are more than a few, can you spot a common thread between them? Are there any consistent red flags you're noticing? These are important things to be mindful of during the vetting process. With so many options on Fiverr, don't be afraid to walk away from any potential providers that have a spotty track record. That said, don't let one bad review outweigh fifty positive reviews.
The bottom line? Take time to read plenty of both positive and negative reviews. As you read through them, you'll know quickly whether or not a freelancer is worth further consideration.
Talk With Candidates
Once you've narrowed down the list of candidates, shoot them a message by clicking "Contact".
When beginning a conversation with candidates, start with the basics: what you're looking for, preliminary timelines and turnaround expectations, and, if applicable, any pricing parameters you're looking to stick to. This should help a freelancer determine if they're interested in learning more about your project.
Remember that each freelancer sets their own price and revision options through Fiverr's "Gig" system. Talk with each candidate about how this will work based on what you're looking to have done, as many sellers may be flexible for custom projects like video editing.
Once you've found someone who understands your brand and offers a pricing structure in line with your budget, you can proceed with finalizing a contract and having work commence.
Bonus Tip: Consider Buying Premium Gigs
As you'll see from visiting the providers on this list, many of the Gigs have different tiers (Basic, Standard, Premium). It's recommended you toggle through the various packages that a provider has listed to see the benefits of each tier.
Get in the habit of this and you'll likely find hidden gems in the Premium packages, as they often bundle an excellent array. While the premium packages may be a little more expensive upfront, you can get amazing value. This will also save you time trying to source different assets from different providers.
Types of Fiverr Gigs
Audio & Video
Website Optimizations
Frequently Asked Questions
What is the average turnaround time for video editing on Fiverr?
The average time a Fiverr provider typically needs is 2-3 days. You may be able to pay extra for 24-hour turnaround times, or less for a slightly longer window. Expect nearly all freelancers to provide a finalized project within a week, provided the work you're contracting out isn't a feature film.
How much does it cost to edit a video on Fiverr?
You can hire a video editor on Fiverr for well less than $50. Pricing depends on factors like the length of the video and the work you're looking to have done. Quick-hit videos shorter than five minutes will hardly break the bank, but longer pieces requiring more intricate editing will cost more money.
Is Fiverr worth it for finding video editors?
Yes. The site is brimming with top-tier talent from all over the world, and many are offering their services at incredibly affordable price points. Thanks to Fiverr's feedback system and secure payment processing, you can also vet and buy with confidence.
What are some alternatives to Fiverr to find video editors?
You can check out other freelance platforms like Upwork, or hire an agency that specializes in this work. Both are compelling options, and what's right for you depends on your needs, budget, expectations, and project type.