Video editing is a great way for creative souls to make money doing something they enjoy.
Freelancing as a video editor is one of the best ways to approach the profession.
Here are the best freelance sites you can join to find freelancing work as a video editor.
Advertising Disclosure
Advertising Disclosure
We offer this website completely free to our visitors. To help pay the bills, we'll often (but not always) set up affiliate relationships with the top providers after selecting our favorites. However, we do our best not to let this impact our choices. There are plenty of high-paying companies we've turned down because we didn't like their product.
An added benefit of our relationships is that we always try to negotiate exclusive discounts for our visitors.
Check out our list of the best freelance websites for hiring video editors
Best Freelance Websites for Video Editors to Find Work
Best overall
Learn More
Our top pick for freelance video editors to find work is Mandy.
Unlike other sites, video editors don't have to pay for credits or a premium subscription to get connected with editing gigs.
The options here are often one-offs and short-term projects, but there's plenty of variety. The site offers video editing gigs for everything from full-blow productions to directors looking for someone to edit their reels.
Whether you're a brand new video editor in need of your first job or a seasoned professional looking for some work to bridge the gap between gigs, Mandy is a trusted source.
Best for consistent work
Learn More
If you're tired of spending all of your time bidding for gigs that end up flaking out anyway, check out Video Husky.
Freelance editors who have worked there appreciate the atmosphere and enjoy an overall positive experience with co-editors and management. There are regular team meetings to keep a sense of community and keep everyone on the same page.
The biggest advantage of working for Video Husky is the increased regularity of jobs. In the freelancing world, it's not uncommon for editors to go weeks or months without any work. Video Husky provides video editors with regular work and consistency.
Best for networking
Learn More
Behance is a dynamic freelancing hub that serves as a diverse community for creative professionals as well as a job board.
We love Behance because it allows video editors to share their work in a simple, easy-to-use interface. It enables editors to create strong portfolios to show potential clients. It also offers video editing freelancers opportunities to connect with potential clients.
The "jobs" board offers the ability to find freelance video editing gigs based on keywords, location, and selected creative fields.
This site is our top pick for editors looking for a place to find community within their field.
Best for film and TV
Learn More
Backstage is our favorite option for video editors looking to work in TV and film.
A subscription to the site is free, but you can upgrade it for access to premium opportunities.
Freelance video editors have the ability to filter gigs based on location, rates, and more. And if you're actively on the hunt for a job, you can turn on job alerts and they'll send you emails with gigs that fit with your interests and abilities.
Learn More
Upwork serves as an excellent platform for new video editors to kickstart their freelance careers.
Its user-friendly interface and huge client base provide a steady stream of job opportunities. Beginners can showcase their skills through a well-structured profile and gain valuable experience by working on diverse projects.
The platform also offers payment protection and dispute resolution solutions to ensure secure transactions.
Upwork facilitates direct communication with clients, fostering professional relationships and feedback exchange, which can help you improve your skills.
Overall, Upwork offers a supportive environment for video editors just beginning their careers to build their portfolios and gain a foothold in the freelancing world.
Learn More
Fiverr is another standout platform for video editors because of its extensive clientele and the ability for freelancers to craft compelling profiles.
With a vast pool of potential clients, video editors can access a steady stream of job opportunities.
The platform's user-friendly interface empowers freelancers to create appealing profiles that showcase their skills and expertise. It makes it easier for clients to connect and collaborate. Fiverr's emphasis on freelancers' profiles and its broad client base makes it an ideal choice for video editors looking to grow their portfolios and build new connections.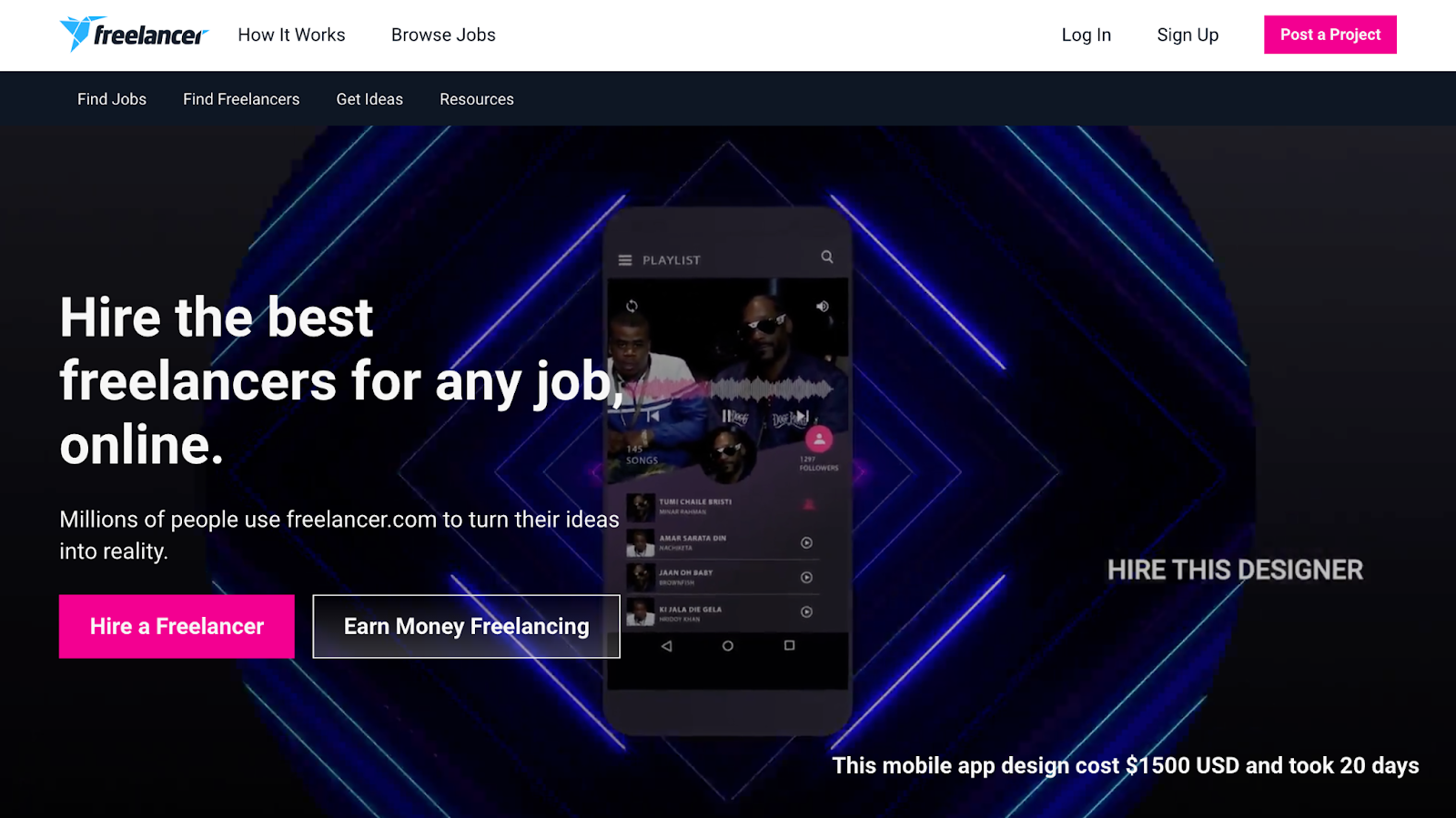 Learn More
Freelancer is the original freelancing site for freelancers of all professions to find gigs.
It's also a solid choice for video editors looking for work.
With Freelancer, getting gigs has a competitive edge. Freelancers can compete against each other in contests and bid against each other to land the job. Just be intentional with your bid proposals and be careful not to underbid yourself, or you could get stuck being underpaid.
How to Become a Freelance Video Editor
Today, becoming a freelance Video Editor is easier than ever.
First, identify what type of video editor you want to be, what medium you want to work with, and what industry you want to specialize in.
It's a good idea to at least take online classes on video editing and production and you may even consider going to get a formal degree.
As you learn more about video editing, start offering your services to friends and family. Create a demo reel to showcase your abilities.
With your demo reel ready to go, create a profile on one of the large freelancer marketplace platforms like Fiverr, Upwork, or Freelancer (the best options for beginners). You can create a resume and show off previous work experience or education and training.
Search for editing jobs that interest you and match your abilities and talents.
You're probably going to have to set low rates at first and work some gigs that aren't the most glamorous, but as you gain experience and get better at what you do, you'll collect a network of clients who trust you and will come back to you with more work.
Benefits of Freelancing as a Video Editor
Here are some of the biggest benefits of freelancing as a video editor for a living.
Flexibility
Freelance video editors have the freedom to set their own schedules, which allows them to balance work with personal life and adapt to changing circumstances. You can choose when and where you work, which is great for work-life balance.
Diverse Projects
Freelance video editors get the opportunity to work on a wide range of projects across different industries. This diversity can lead to a richer and more varied portfolio and offers the chance to learn and apply different editing styles and techniques.
Autonomy
As a freelancer, you can choose the projects you take on, set your own rates, and make creative decisions independently. This autonomy can be fulfilling and allows you to shape your career on your own terms.
Higher Earning Potential
While freelancers are responsible for managing their own jobs, they can potentially earn more than salaried video editors. As you gain experience and build a strong client base, you can increase your rates and take on more lucrative projects.
Networking Opportunities
Freelance video editors interact with a wide range of clients and collaborators. This can lead to valuable networking opportunities and connections in the video production industry. Building a strong professional network can open doors to new projects, partnerships, and career growth.
How to Choose the Right Freelance Website to Work For
To pick the right freelance site to work for, think seriously about your abilities, experience, and availability.
You should also take into consideration how much of your pay will be shaved off to pay platform service fees, as this can impact your overall income.
If you're just getting started as a video editor, we recommend setting up an easy, free account on Fiverr or Upwork to start building your resume.
As you gain experience and improve your skills, you can look into more advanced, vetted sites like ProductionHub.
The great thing about freelancing sites is that you can create profiles on as many or few sites as you want, allowing you endless work opportunities.
Best Freelance Websites by Category
Looking for more of the best freelance websites but need to browse by category? Check out our below freelance website reviews to either expand your portfolio or hire a freelancer for your next project.
Frequently Asked Questions
How do freelance video editors find work?
Freelance video editors find work through freelance platforms as well as through client referrals.
How do I get a job as a freelance video editor?
To get a job as a freelance video editor, you need to learn how to work with your medium, get training in editing and production, create a demo reel, and then create profiles on freelance platforms to grow your client base.
Is video editing a good side hustle?
Yes, video editing is a good side hustle if you possess the correct skills and are able to get work done in a timely manner.
Is there a high demand for video editors?
Yes, there is a high demand for video editors that is projected to increase in the near future.