The hardest part of marketing campaigns is always starting, and SMS is no exception.
Don't stress! We've got you covered.
Here's the only guide you'll ever need (seriously, no need to search anywhere else, we promise) to start and manage a winning SMS campaign.
Advertising Disclosure
Advertising Disclosure
We offer this website completely free to our visitors. To help pay the bills, we'll often (but not always) set up affiliate relationships with the top providers after selecting our favorites. However, we do our best not to let this impact our choices. There are plenty of high-paying companies we've turned down because we didn't like their product.
An added benefit of our relationships is that we always try to negotiate exclusive discounts for our visitors.
What Is Text Message Marketing?
Let's start with the basics.
Text message marketing is the concept of using SMS (text) messages to communicate with customers or clients for, you guessed it, marketing purposes.
This can include sending special discount codes to alerting customers about sales or new products to 2-way communication for customer service. SMS or text message marketing can also be used to send customer satisfaction surveys and review opportunities
How Do I Start an SMS Campaign?
Here are the 3 easy steps to help you get your first SMS campaign up and running.
1.   Pick an SMS Tool
Step one is to pick a good SMS tool that has the capability to do everything you want it to.
You can't really just text customers from your personal number (well, you could, but it might be kind of awkward…), so it's best to set up an SMS account with a trusted platform that can facilitate SMS communication in a neutral, legal, organized, and, most importantly, non-creepy way.
We'll get more into how to find the right SMS tool for your business later on [or jump to that section], but this is the first step you should take.
2.   Upload Your Contacts (Have them Opt-In)
Next, you need to get people to text.
Many SMS marketing services have API integration that allows you to transfer contacts from other services (like your email marketing service) into your SMS platform.
Before you start texting your contacts, you need to have them opt-in for SMS marketing. You can't text people without getting explicit permission from them. It's illegal.
3.   Create Shortcode and Keywords
To get people to opt-in, create keywords that allow customers to easily sign-up for your SMS campaign.
You can do this by using your SMS platform's services to set up an auto-response that confirms consent automatically any time a new number texts the keyword to your business number.
This also makes it easy to segment customers into lists based on which keyword they used to subscribe.
How Do I Run & Manage an SMS Campaign?
After you're all set up, keep the ball rolling with these steps.
Select and Create SMS Templates
A great SMS service will have plenty of pre-made templates that are designed to engage customers.
You can also create your own templates for things like sales, order updates, welcome messages, and more.
When you have your contacts set up, it's quick and easy to send custom messages that auto-fill your contacts' names in the future.
Schedule SMS Messages
Creating a new SMS each time you want to send one is a lot.
Automate things to make your SMS campaign easier by pre-scheduling mass texts for future dates.
Manage Conversations and Engage in Two-Way Messages
Two-way messaging is a great way to improve customer connections and satisfaction.
During business hours, employees can respond to customer inquiries in real-time.
You also have the option to set up auto-responses for commonly asked questions or for when people text your business after hours, allowing for communication even when nobody is "in the office."
Track Engagement and Success
Once your campaign is up and running, track engagement to see what's working and what isn't. Make adjustments as necessary, but if it ain't broke, don't fix it.
Best Text Messaging Campaign Examples (Case Studies)
Kiehl's
Pharmacy-turned-skincare-brand Kiehl's has been in business since 1851.
After trying a six-month SMS marketing campaign allowing customers to sign up for location-specific deals and promos at three locations, Kiel's saw significant success.
According to JookSMS, "over 73% of the customers who opted in participated in the experiment and purchased due to receiving texts. In addition, 81 percent completed an evaluation to provide Kiehl with important information for future endeavors."
Game of Thrones
Though many viewers won't be surprised at Game of Thrones' success, you may be surprised to learn that SMS marketing played a part in its average of 18.6 million viewers per episode.
Using an SMS marketing campaign that the team named the "Three-Eyed Raven," GoT sent subscribers reminders, links, and clues leading up to each episode.
Airbnb
When customers request a booking for an Airbnb, the host only has 32 hours to respond and confirm or deny the request. Since many hosts aren't at their computers all day, this led to missed opportunities.
To make it easier on hosts, Airbnb now uses SMS to communicate all of the details hosts need to confirm bookings faster and communicate with guests.
Who Should Use SMS Marketing Campaign
In a word: everyone.
To be more specific, the benefits of SMS marketing are undeniable. It's an easy and effective way for businesses large and small, in the auto, property, hotels, eCommerce, restaurant, or even non-profit industries, to get more customers in the door and increase their satisfaction.
So, if you have it in your budget at all, you should consider using SMS marketing.
Benefits of SMS Marketing
But why?
Here are a few of the biggest benefits of using SMS marketing.
High Open and Engagement Rate
Text messages have an impressive 98% open rate. Compared to the significantly lower email open rate (around 14%, depending on which source you're using), there's no doubt that if your customers are going to open anything, it's going to be an SMS.
As it relates to marketing, many customers actually report wanting to receive SMS communication from the businesses they follow.
Urgent
Not only are SMS messages more likely to be opened than any other form of communication, but they're also opened more quickly.
Most text messages (83%-95%) are opened within 3 minutes of being received, so if you have time-sensitive info that you want to send your subscribers, they will see that communication within moments of receipt.
Easy and Affordable
We've all texted before. We know how easy it is.
Although using an SMS marketing platform has a bit more to it than texting your friends, it's still pretty simple as there isn't much layout, formatting, or graphic design required.
Plus, it's (usually) cheap. There are even many services out there that offer free trials and even limited services at no cost.
Check out our calculator to see which provider is the most affordable for your needs.
More Personalized and Casual
Sending an email feels corporate and impersonal, and you can forget about sending snail mail altogether (we promise your customers don't want more paper in their mailbox that they always end up throwing away anyway.)
A text message is casual and can be more personalized than any other marketing format. This is essential in nurturing leads and creating a closer relationship with your customers and clients.
Drawbacks of SMS Marketing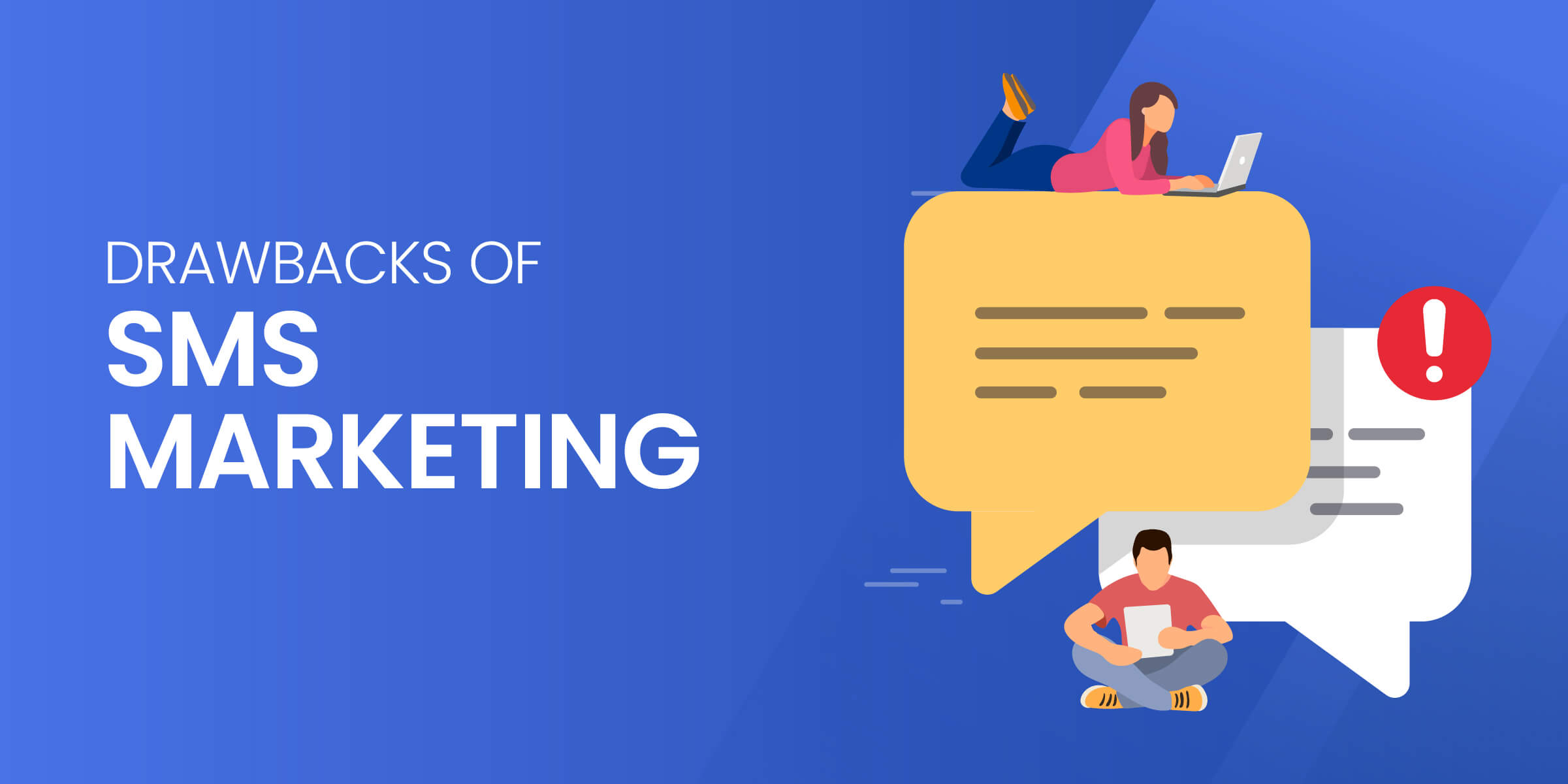 A few limits of SMS marketing are:
Length Limit
With SMS messages, you are limited to 160 characters, so you do have to be short with your content.
An Increase in SMS Fraud
Scammers have gotten creative with their communication and will often send text messages to phishing victims. This is going to work against you, as these scam messages typically come from phone numbers that could be similar to a company's.
Can Become Intrusive
People generally don't like double-or-triple-texters, and the same goes for a business. Don't blow up your subscribers' phones or message them at weird times of the day.
Best Practices for SMS Marketing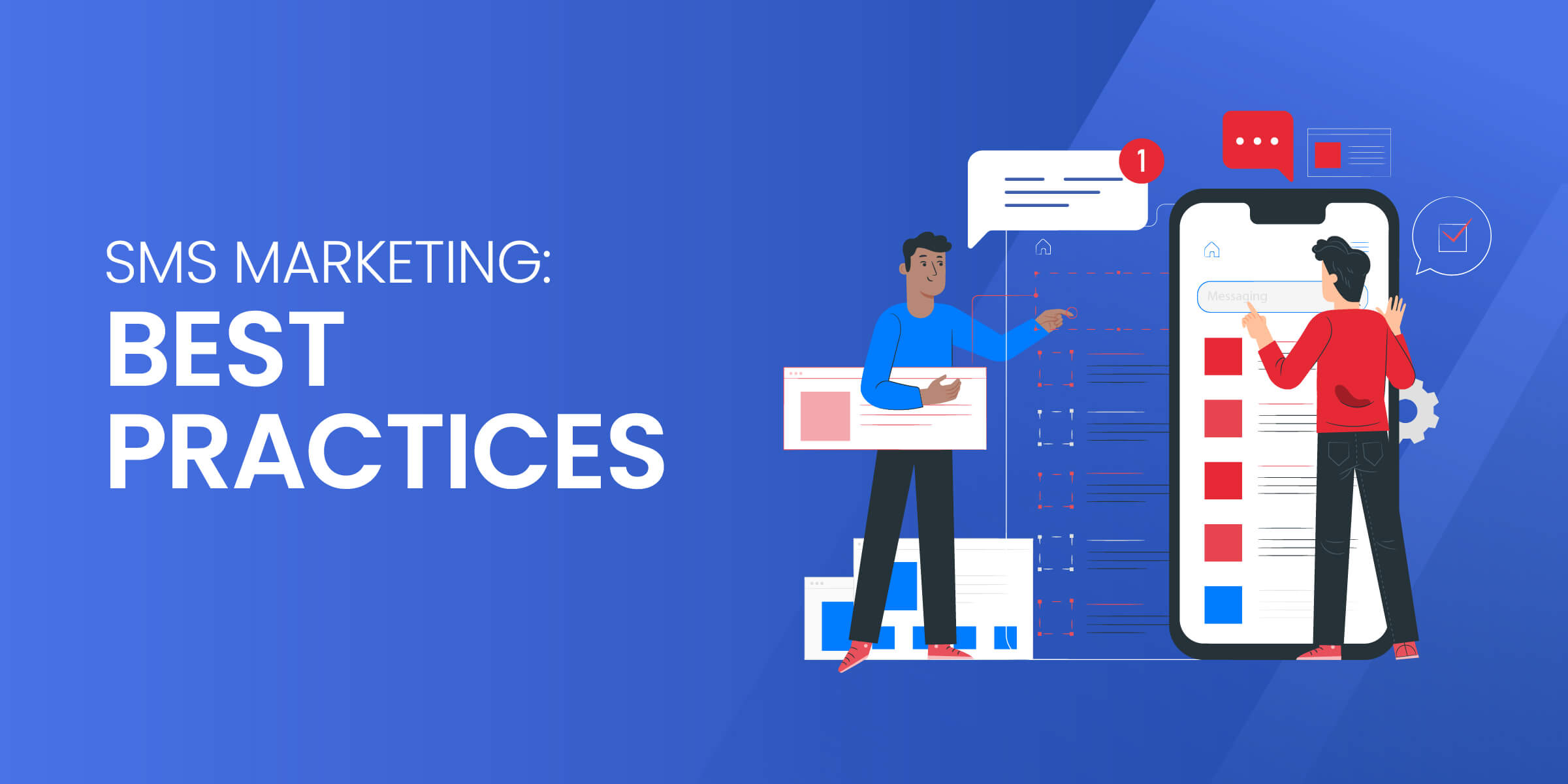 Make the most of your SMS marketing campaigns with these tried-and-true tips for businesses using SMS marketing.
Set Your Goals
This is important with any business practice but is just as important when it comes to SMS campaigning.
It can be easy to just start an SMS program to raise general brand awareness, and while that is a solid goal, it's better to get more specific with what you want to achieve with your SMS campaign.
Always Get Consent
It's important to get consent before you send subscribers any content.
Even when someone texts the subscribe keyword to join, you need to send them a form or a confirmation text to allow for full transparency before they confirm their subscription.
Personalize Content Using Keywords/Segmentation
Having multiple different keywords to have people subscribe is a great way to separate them into groups to create more personalized content for subscribers (also known as segmentation.)
Using auto-fill settings allows businesses to customize every message with the person's name, adding a personal touch that makes engagement more likely.
Use a Two-Way Chat Feature
SMS is, ultimately, used for communication.
Increase the quality of your customer service by having employees respond personally to messages sent by subscribers and setting up auto-responses to frequently asked questions.
Time Your SMS Well
Texting subscribers early in the morning or late at night comes off as intrusive and, frankly, annoying. The same goes for sending multiple messages back-to-back every day.
Make sure to only text your subscribers between 8 a.m. and 9 p.m. (local time), and don't message them every day. Check out our post for a detailed guide on the best day and time for SMS marketing messages.
Use a Strong Call to Action in SMS
Leave nothing to the imagination with your texts.
Have a direct call to action using a shortlink like "Click here to check out this sale here" or "respond "Y" to confirm that you got this" to encourage urgent action.
Choosing an SMS Marketing Platform: What to Look For
You know how to start, let's talk about the "where."
Pricing & Scalability
If you're a smaller business with a tight budget, consider looking into free or cheap, limited plans. Many of these have the option to purchase more messages for an additional fee as your subscription list grows.
If you have a bit more to work with financially, investing in a larger platform can give you more options and freedom. Check out our post to see if SMS marketing is financially worth it.
Two-Way Communication
Having a way to interact directly with customers and allow them to interact with you is an important feature to look for in your SMS marketing platform.
Integration and API
Integrating with your business's CRM, a scheduling application, or email software saves you time and makes your SMS campaigns more intuitive and easier to manage.
SMS platforms all have different API configurations, so find one that's compatible with the software that you're already using.
Easy to Use
If it's your first time experimenting with SMS marketing, make sure that your SMS marketing platform is easy to use.
If the software is too complicated, you're less likely (and able) to use it at all.
However, if you're more comfortable having an SMS marketing expert working with you, here's a list of SMS marketing profiles on Fiverr that we recommend.

---
SimpleTexting
Easiest platform to use
Send bulk SMS campaigns in minutes
Great for eCommerce, marketing messages, appt reminders and more

---
Mobile Text Alerts
200+ integrations with Salesforce, HubSpot, Mailchimp, and more
Cost-effective monthly pricing options
Great for businesses of any size
Industry-Specific Uses for SMS Marketing
Frequently Asked Questions
How do I start an SMS campaign?
You can start an SMS campaign by signing up for an SMS marketing software, importing contacts, and setting up keywords to enable people to subscribe.
What is an SMS campaign in marketing?
An SMS campaign is using text messaging to send special promotional and transactional materials to increase brand awareness and improve a company's connection with its customers.
How much does an SMS campaign cost?
An SMS campaign can cost anywhere from free to hundreds of dollars per month, depending on how many features you want to use and how many messages you want to send each month.
Is SMS marketing legal?
Yes, SMS marketing is legal as long as people have to opt-in to be a part of your subscriber list.