Trying to find an SMS marketing solution shouldn't be a workout in itself. So we've done the legwork and found the best SMS marketing software for your gym or fitness center.
We made some picks that are specific to this industry and also included some of the more well-known providers out there.
Advertising Disclosure
Advertising Disclosure
We offer this website completely free to our visitors. To help pay the bills, we'll often (but not always) set up affiliate relationships with the top providers after selecting our favorites. However, we do our best not to let this impact our choices. There are plenty of high-paying companies we've turned down because we didn't like their product.
An added benefit of our relationships is that we always try to negotiate exclusive discounts for our visitors.
Best SMS Software for Gyms and Fitness Centers
We did the searching, so you don't have to.
Also, check out the best marketing agencies for the health and wellness industry
Best overall
Learn More
SimpleTexting is our all-time favorite SMS software for gyms and fitness companies alike.
Gyms can send text messages to a list of contacts (customers), add pictures and other details or personal info on the customer to each contact, and even track who clicked on each link during SMS marketing campaigns.
SimpleTexting allows gyms and other fitness businesses to facilitate two-way conversations directly between employees and contacts as well as automated follow-up texts, boosting customer satisfaction and loyalty.
This software also offers many features that gyms may find useful, such as the ability to send mass texts and create drip campaigns to get clients excited for their next workout.
Their mobile application allows eCommerce site owners to manage SMS campaigns conveniently from their phones if they don't have access to a computer.
Best all-in-one software for boutique studios
Learn More
Glofox is our pick for all-in-one software to manage all functions of your boutique fitness studio.
On top of specialized SMS marketing functions, Glofox also offers live streaming and on-demand functions at no additional cost.
Creating class schedules is made easier, which, in turn, makes it even easier to keep your clients up-to-date on class offerings. No more empty seats at cycling sessions!
By offering integrations with multiple payment pathways, you can send automated payment reminders and allow members to pay easily from their phones.
Best all-in-one for performance gym management
Learn More
Exercise is one of the most comprehensive gym management software available on the market today.
Not only can you create and send custom branded SMS marketing and other content, but you can also offer digital assessments for clients' health and nutrition. This allows personal trainers to curate and deliver fully customized exercise plans for in-person and at-home workouts.
Exercise also offers employee and member management functions and advanced reporting and analytics to track the success of your SMS marketing campaigns.
Best self-hosted
Learn More
UltraSMSScript UltraSMSScript is an affordable SMS marketing software that gyms on a budget can use to manage SMS communications to their clients and employees.
Unlike other service providers, UltraSMSScript doesn't have a recurring commitment – you pay a one-time fee for the software. It's then downloaded to your system and you can pay for text messages wholesale through a provider.
They also have a hosted option if you don't want to deal with purchasing messages through another source.
If you own a gym, all you need to do is download the UltraSMSScript software. You can then organize all of your clients and employees into separate groups and buy text messages and enjoy the benefits of SMS communication.
Best for enterprise gyms
Learn More
Text Magic has a multitude of features that make it the perfect choice for gyms and fitness clubs of all sizes looking to streamline their SMS campaigns.
Text Magic offers gyms the ability to automate things like appointment reminders, customer service, and mobile vouchers for any special sales you may have going on.
Text Magic's extensive array of SMS solutions for enterprises includes single sign-on features for easy and secure access as well as advanced analytics and reporting features, making it an ideal choice for enterprises looking to keep track of their SMS campaigns.
Best for small businesses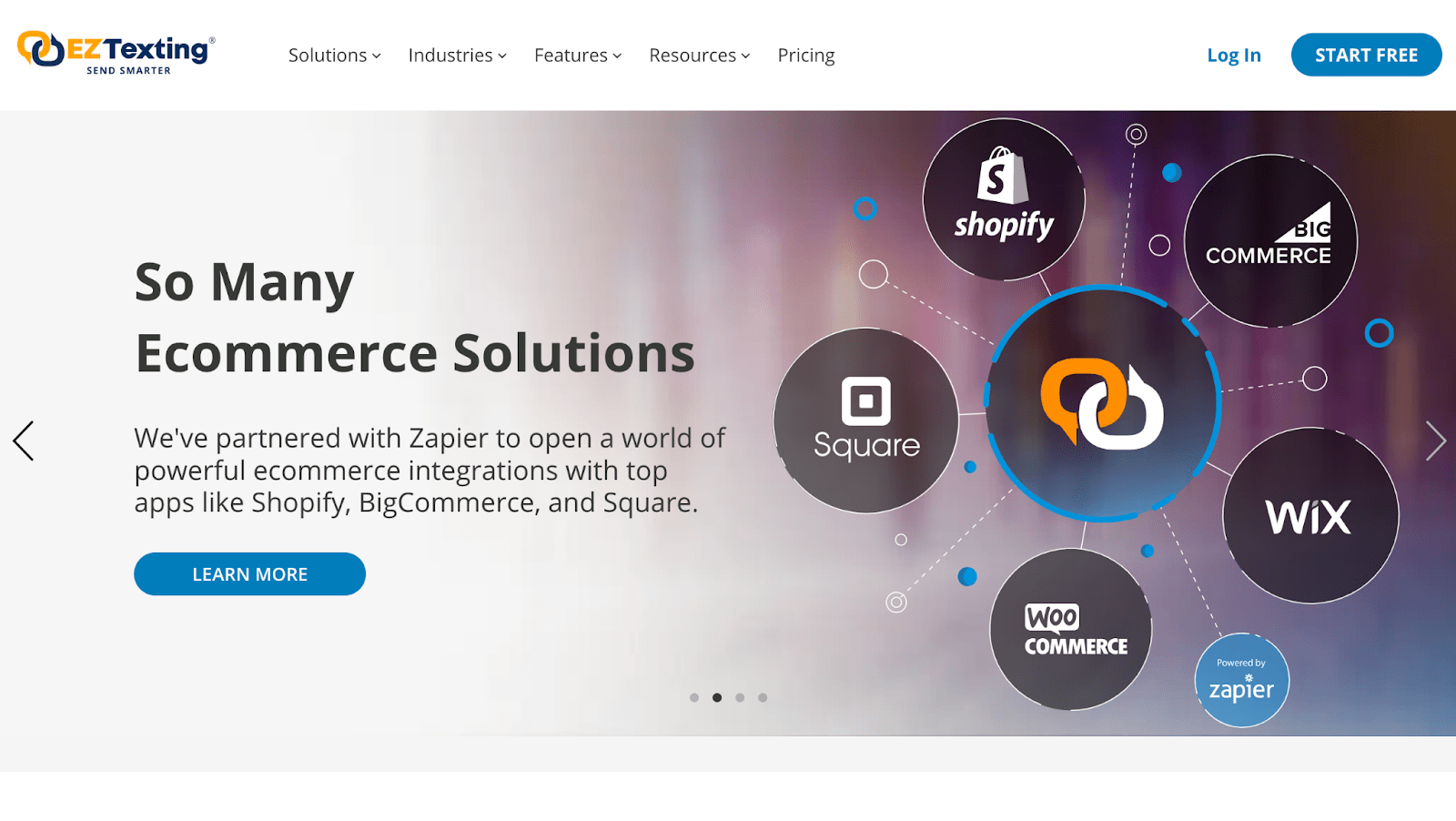 Learn More
With a price point beginning at $19 per month, EZ Texting is affordable for smaller gyms or fitness businesses with tighter budgets.
Another huge plus for small gyms? EZ Texting is, as its name would suggest, easy to use.
They have plenty of templated messages and web forms that small gyms can use to get new clients signed up for gym and personal training services, taking the guesswork out of creating SMS marketing campaigns.
I tried this one myself and I found it easy to sign up, pick a plan, and begin messaging customers. They have templates for everything from sign-up forms for new customers to the messages themselves. It's also easy to generate a QR code, add pictures or videos to your text messages, and create shortcodes for users to opt-in or make use of special promotions.
Learn More
ClickSend is the perfect solution for gyms looking for a quality, easy-to-use SMS option.
With ClickSend, gyms and personal trainers can manage different digital marketing campaigns through a cloud-based application, switching from email, text, fax, and even non-SMS channels like Facebook and WhatsApp on the fly.
ClickSend makes it easy for gyms to send customers motivating texts to come back to the gym, appointment reminders for personal training sessions, and keep them updated on any new equipment you're bringing into the gym.
You can also alert your customers of any seasonal specials you may have to increase customer retention and satisfaction.
Learn More
For gyms or personal trainers new to SMS marketing, Textedly offers a free, no credit card required 14-day trial.
Features include appointment confirmations, updates, reminders, and the option to send coupons and special promotional discounts.
If you're looking to increase membership by offering current members rewards, Textedly also has features for gyms to invite customers to review their services or refer them to friends. You can even create customer loyalty programs to thank your clients and customers for their business and reward healthy habits.
Learn More
Evolving its practices for over a decade, Mobile Text Alerts has perfected SMS marketing.
Automated responses to customer interactions 24/7 and bulk texting to offer promotions and discounts are among the features that gyms will love.
You can easily keep in communication with your clients no matter where you are by using the Mobile Text Alerts dashboard, which is easy to navigate and can be reached via the mobile app available for iOS and Android systems. This is especially helpful for personal trainers
The integrations offered by Mobile Text Alerts are very convenient for gyms and fitness businesses of all types and sizes. Thanks to integrations with Zoom, WordPress, Gmail, and more, everything can be kept in one place.
Learn More
TextSanity offers fitness centers and gyms a suite of tools to create successful text messaging campaigns for customers.
This service focuses on the versatility that SMS can offer gyms. Gym employees and trainers have the option to create drip campaigns, blast mass messages, or use keywords to organize customers into specific groups, making it easy to create successful marketing campaigns.
By offering webform sign-ups, TextSanity makes it easier for people to sign up for your text messaging campaigns as well as making it easier for you to organize their information.
Learn More
Text-Em-All is another fan favorite for SMS marketing software for gyms.
It's easy to choose from multiple templates to craft effective SMS communications for all of your customers on your message list, or to customize personal messages.
Aside from all of the ways Text-Em-All makes communicating with clients and customers easy, its benefits extend to your staff, as well. Text-Em-All's services allow for easy communication between you and your employees, keeping your company functioning properly.
Try using Text-Em-All's accessibility features. Automated phone calls and voice messaging services make communication more accessible to all of your customers.
What Is Text Messaging for Gyms and Fitness Centers?
Text messaging for gyms and fitness is a useful way to keep in contact with customers and employees.
There are many SMS software services out there that have streamlined services for gyms and fitness businesses, making it easier to communicate through text maintenance reminders, special discount codes, and promotional deals.
What Are the Benefits of SMS for Gyms and Fitness Centers?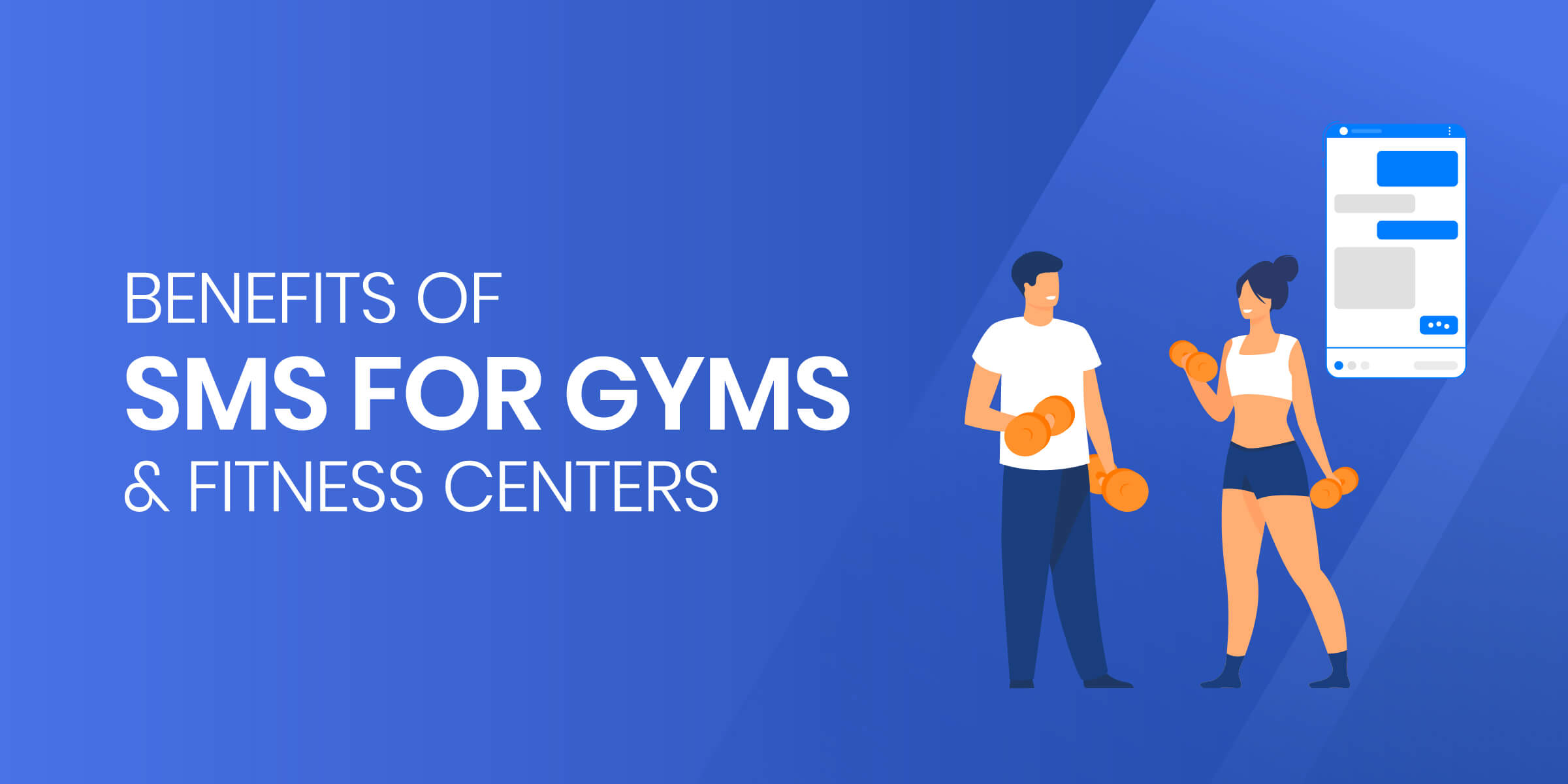 Keep Employees up to Date
SMS is a great way to communicate with your whole team.
Things like scheduling, recruiting, communication with prospective future employees, and general administrative tasks are so much easier with SMS software.
Confirm Appointments
Sometimes, clients get caught up in their busy lives and forget when their appointment with their personal trainer is.
By sending appointment confirmation texts, you can remind them of their appointment time and give them the opportunity to reschedule if they need to.
Send Payment Reminders
They've got bills to pay, they've got mouths to feed. SMS reminders can make this easier for your customers to pay their monthly fees on time.
Many SMS services allow you to automate monthly payment reminders and even include short links to your gym's payment platform, allowing them to make their payment right from their text.
Communicate Easily With Customers
Using many of these SMS software options, you can utilize two-way communication.
Let customers and clients get the responses they need quickly by using SMS communication.
Check out more uses cases and templates that you can use for your gym >> 
How Does Texting for Gyms and Fitness Centers Work?
Texting for gyms functions similarly to texting in any other industry.
All that a gym has to do is set up an account with an SMS software company and add their list of contacts, integrating their SMS service with other accounts like Mailchimp or Gmail.
Then, the gym or fitness center has the option to set up automated reminders for payment of monthly membership fees and confirmation texts for appointments with personal trainers.
Auto dealerships can also set up two-way messaging and scheduling reminders for sales associates, streamlining administrative tasks for your company.
Use Cases of SMS in Gyms and Fitness Centers
Loggerhead Fitness
After relying on communicating with customers and employees primarily through email, the folks at Loggerhead Fitness in South Florida were looking for a better way to get in touch with customers and employees.
After using SMS services from Simple Texting, they saw a 90% open rate within minutes of sending text messages to their customers.
By segmenting contact lists, Loggerhead can send class-specific messages to customers who are involved in those classes, increasing customer satisfaction, and retention.
Dad Bod Health
After previously using Facebook Messenger to send out mass messages, Dad Bod Health had to pivot its marketing strategy when Facebook changed the rules.
Using Simple Texting, Dad Bod Health has been able to nurture more leads than ever by automating message campaigns.
They also send notifications for live stream events and have noticed that many members respond more often and attendance to these events has also gone up.
How to Choose the Right SMS Software for Gyms and Fitness Centers
If your gym is looking to set up SMS software, the first thing you need to do is consider your budget. How much are you willing to spend monthly, or would you rather use a one-time fee, downloadable self-hosted platform?
Then, consider functionality. How many employees do you need to communicate with? Do you want two-way communication available to customers? Do you need a way to schedule personal training sessions through text? How about payment reminders and even bill-paying solutions that can be done through text?
How comprehensive your SMS software is should also play into your choice. Many SMS companies for fitness and gyms also offer services like analytics and ways to track customer interaction and satisfaction.
After considering everything, do a comparative analysis of the many SMS software options available on the market and decide what is right for your gym or fitness studio.
Other Uses for SMS Marketing
FAQs
What is the best SMS software for boutique gyms and studios?
Glofox is the best SMS software for boutique gyms and studios.
What is the best SMS software for large gyms?
Text Magic is the best SMS software for large gyms.
How can I use SMS for my gym or fitness center?
You can use SMS for sending promotional materials, confirming personal training sessions, sending monthly fee payment reminders, and general updates to your business to customers. You can also use SMS to communicate between employees.
Is SMS marketing legal for gyms?
Yes, SMS marketing is legal for gyms as long as customers decide to opt in.