SMS marketing is extremely popular among marketers and companies, as text message marketing is incredibly effective at capturing leads and retaining buyers.
Our Favorite SMS Marketing Software

---
Our Rating – 4.9/5
TextMagic has the best overall pricing and the most intuitive platform to send and receive marketing text messages to your customers.
No development experience required
2-way communication and mass texting
Import contacts in seconds
Pay as you go pricing
Building a strong SMS marketing campaign starts with finding a platform that gives you the right tools. EZ Texting provides businesses with everything they need to craft their ideal text message marketing campaigns.
Want to know if EZ Texting is right for you? In this article, we'll be highlighting its features to help you decide whether it's the right SMS marketing platform for your needs.
Advertising Disclosure
Advertising Disclosure
We offer this website completely free to our visitors. To help pay the bills, we'll often (but not always) set up affiliate relationships with the top providers after selecting our favorites. However, we do our best not to let this impact our choices. There are plenty of high-paying companies we've turned down because we didn't like their product.
An added benefit of our relationships is that we always try to negotiate exclusive discounts for our visitors.
EZ Texting Overview
What is EZ Texting?
EZ Texting is a text messaging service for businesses to send short or multimedia text messages to promote, inform, and entertain customers or employees.
It is easy to start sending SMS marketing texts regardless of your experience level. They are able to do this due to their simple UI and robust and straightforward customer education database and complementary toolkit to help you build sign-up forms, enable keywords, create QR codes, and shorten URLs—all on one website.
You can access EZ Texting through your browser on desktop or mobile, or you can download their app on iPhone. Also, you'll be able to check out analytics and respond to individual contacts for increased engagement and ROI.
How Does EZ Texting Work?
EZ Texting provides multiple texting tools that you can use through your browser or iOS mobile app to reach your customers with a new virtual phone number.
After logging in, simply click on the New Message button to begin composing an SMS (Short Message Service) or MMS (Multimedia Messaging Service) text message to specific phone numbers, contacts, or groups. You can personalize the message, insert media, links, and emojis, and choose a template if you desire. It's easy to add your own media or you can use stock-free media powered by Shutterstock.
Users can add contacts one at a time or can bulk add contacts by uploading a .csv, .xls, or .xlsx file or using EZ Texting's copy/paste feature. You can create specific groups of contacts for targeted marketing campaigns or for keyword campaigns.
If you are part of a team, you will all use the same account. However, you can upgrade to receive multiple textable numbers if you are managing multiple clients or businesses. Signed-in team members will be able to schedule texts and use the Reporting feature to assess delivery rates. Users can go to the Inbox to chat 1-on-1 with customers and subscribers.
It's easy to integrate EZ Texting with your other business apps or programs using app-to-app integration and API gateways. You can also use Zapier to integrate EZ Texting with over 2,000 other applications across the web. With these integrations, you are able to automate tasks between apps to save you time and money.
Apps that integrate with EZ Texting include, but are not limited to:
Constant Contact
Google Sheets
Facebook Lead Ads
HubSpot
MailChimp
SquareSpace
ClickFunnels
Who Uses EZ Texting?
EZ Texting can scale over time and is designed for use in myriad businesses regardless of the size of the company. Based on reviews across the internet, EZ Texting is most used by these industries:
Charities and nonprofit organizations
eCommerce sites
Real estate firms
Marketing agencies
Restaurants and bars
Property management
Software and tech companies
While primarily used for marketing to local, national, and international customers, EZ Texting is also frequently used by managers and human resources representatives for employee outreach, reminders, and company-related events.
Examples of case studies conducted by EZ Texting include companies like:
Big Brother Big Sister Foundation
Gilbert, Arizona city government
Enpowered Solutions
Domino's Pizza
Ikea
Jostens
What Does EZ Texting Cost? (EZ Texting Pricing)
EZ Texting provides a 30-day, risk-free trial and no credit card is required. The free trial includes 120 credits. Sending an SMS message costs 1 credit each while an MMS message costs 3 credits each to send.
After your free, 30-day, no-risk EZ Texting trial is over, you can choose from one of their monthly plans:
Value – $24 per month
Essentials – $36 per month
Premium – $61 per month
Custom – $299 per month
You can save 20% when you pay annually instead of monthly. For example, the Value plan would then be $19 per month after savings.
All of the plans include 1-3 textable numbers, 1-6 keywords, unlimited contacts & groups as well as unlimited 1:1 texting. You will be required to use the textable number given to you during account sign-up.
Each plan comes with 2400 credits per calendar year and additional credits will cost $0.04 / credit. Additional textable numbers or keywords will run $25 each.
If you do not want a monthly plan, you can purchase 500 credits for $20 ($0.04 / credit). This means that with $20, you can send out 500 SMS messages or almost 170 MMS messages.
EZ Texting Review
Overall, EZ Texting is a great SMS marketing platform whether you are just getting started as a solo entrepreneur or if you are in need of a more robust SMS strategy as a large corporation. You won't need a computer programming degree to navigate their straightforward, intuitive campaign creation process.
Send SMS marketing campaigns or engage in 1-on-1 conversations with customers. Check out EZ Texting


Visit EZ Texting
With its user-friendly UI, it only took a couple of minutes for us to set up and send out texts to our contacts. Using a template made it that much quicker for us to start texting.
They have a bulk upload Excel (or Google Sheets) template you can use so loading up to 50,000 contacts is a breeze. Simply copy and paste from your other spreadsheets if you have created your own.
One of our favorite extras that EZ Texting offers is their helpful Tools section.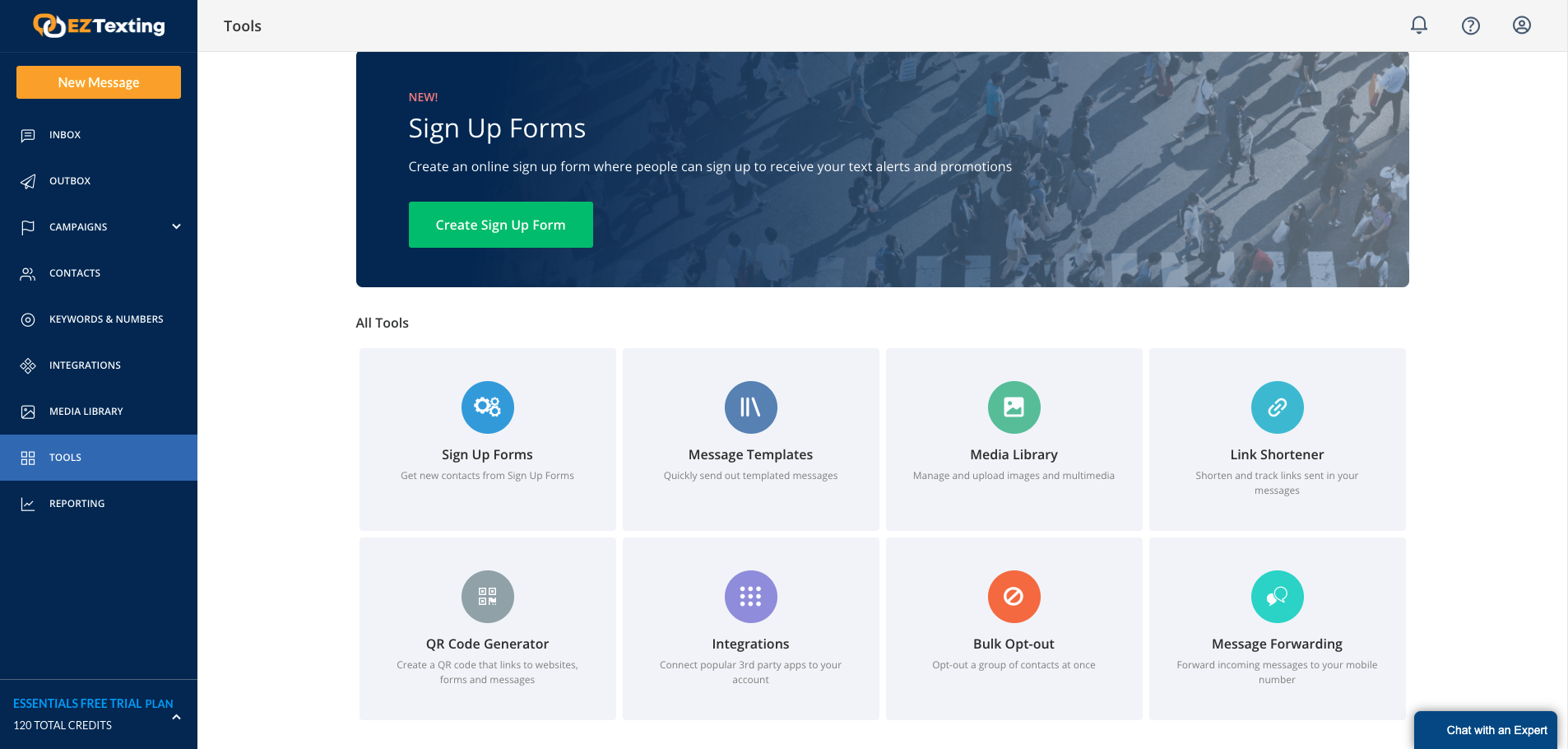 Users can quickly create a sign-up form for social media, email, or website integrations. You can also create templates, generate QR codes, and shorten URLs for your SMS or MMS campaigns all in one place. These tools made it that much easier for us to create and promote multifaceted texting campaigns without having to be an expert in SMS marketing or programming.
A standout feature is their MMS messaging ability powered by Shutterstock. You can filter the over 12 million images so it's simple to get the right photo you want for your text message campaign. Feel free to upload your own JPG, GIF, PNG, WAV, MP3, 3GP, or MP4 files.
They auto-optimize images up to 5MB, and video and audio can be up to 500KB. They will send a link to the media file instead if it is too large when you send it. This can save you hours and hours of editing time if you are in a hurry to set up a last-minute campaign.
EZ Texting's flexible pricing structure means businesses of all sizes can use their features as frequently or infrequently as they like. Monthly plans are ideal for larger businesses that need steady text message marketing.
You can easily purchase individual credits ($20 minimum) if you don't use text message marketing all the time. We loved how this made it easier for smaller businesses to get into the text-message marketing game.
Pros: Here's what I like about EZ Texting
An easy and scalable pricing structure provides plenty of options for smaller businesses that may not use SMS as frequently as larger firms or corporations.
Purchasing per 500 credits can be a starter option for those who just want to do a few smaller SMS marketing campaigns per year.
MMS messaging available for photo, video, and audio file integration to give your business more colorful options for text campaigns.
An intuitive UI for ease of use and intuitive processes.
Thousands of Zapier integrations as well as API gateway access for integrated marketing solutions.
It's simple to create sign-up forms, QR codes, and shortened URLs through EZ Texting's platform for an all-in-one text message solution.
Cons: Here are the only things I don't like about EZ Texting
Without a monthly plan, customers have to purchase additional keywords and extra textable numbers as you go which can lead to additional recurring costs.
EZ Texting's iOS mobile app is reported to have less functionality than the browser version making it slightly more difficult to use on-the-go.
Only supports SMS to US and Canadian numbers leaving international customers without an option.
Some reviews mention higher prices and the platform's push to increase monthly features and add-ons.
EZ Texting Alternatives
Still looking for a reliable SMS marketing solution?
Compare EZ Texting with other providers. Check out our detailed guide and get our recommendation on the best SMS marketing software.
You might've decided that EZ Texting isn't quite right for you. In that case here are a few other EZ Texting alternatives that could better suit your needs:
SMS marketing is a valuable strategy for any business regardless of size. Consider things like budget, use case, customer base, delivery speed, and customer support to find the right SMS marketing platform for your company.
Frequently Asked Questions
Does EZ Texting charge for incoming text messages?
No. You may receive incoming text messages at no additional charge.
Can they forward incoming text messages to my email for free?
Yes. EZ Texting can forward incoming messages for free to a valid email address. Most other SMS marketing platforms will charge extra for this.
Can I text international numbers with EZ Texting?
EZ Texting only supports texting to numbers from the US and Canada.
What is the maximum number of characters that I can include in a text message?
You are allowed to use up to 160 characters per text message. Special characters like $ may cost extra.
What is MMS?
MMS, or Multimedia Messaging Service, is an advanced text messaging service that is capable of sending attached media files and up to 1,600 text characters. Media files can be images, video, or audio. Read more about SMS vs MMS.