SMS marketing is extremely popular among marketers and companies, as text message marketing is incredibly effective at capturing leads and retaining buyers.
Our Favorite SMS Marketing Software

---
Enter code "DDIY20" to get 20% off your first month or annual plan
SimpleTexting provides the best overall pricing and an easy-to-use platform to send bulk marketing text messages
Easiest platform to use
Send bulk SMS campaigns in minutes
Great for eCommerce, marketing messages, appt reminders, and more
Low, flexible monthly pricing options
Building a strong SMS marketing campaign starts with finding a platform that gives you the right tools. SimpleTexting provides businesses with everything they need to craft their ideal text message marketing campaign.
Want to know if SimpleTexting is right for you? In this article, we'll be highlighting its features to help you decide whether it's the right SMS marketing platform for your needs.
Advertising Disclosure
Advertising Disclosure
We offer this website completely free to our visitors. To help pay the bills, we'll often (but not always) set up affiliate relationships with the top providers after selecting our favorites. However, we do our best not to let this impact our choices. There are plenty of high-paying companies we've turned down because we didn't like their product.
An added benefit of our relationships is that we always try to negotiate exclusive discounts for our visitors.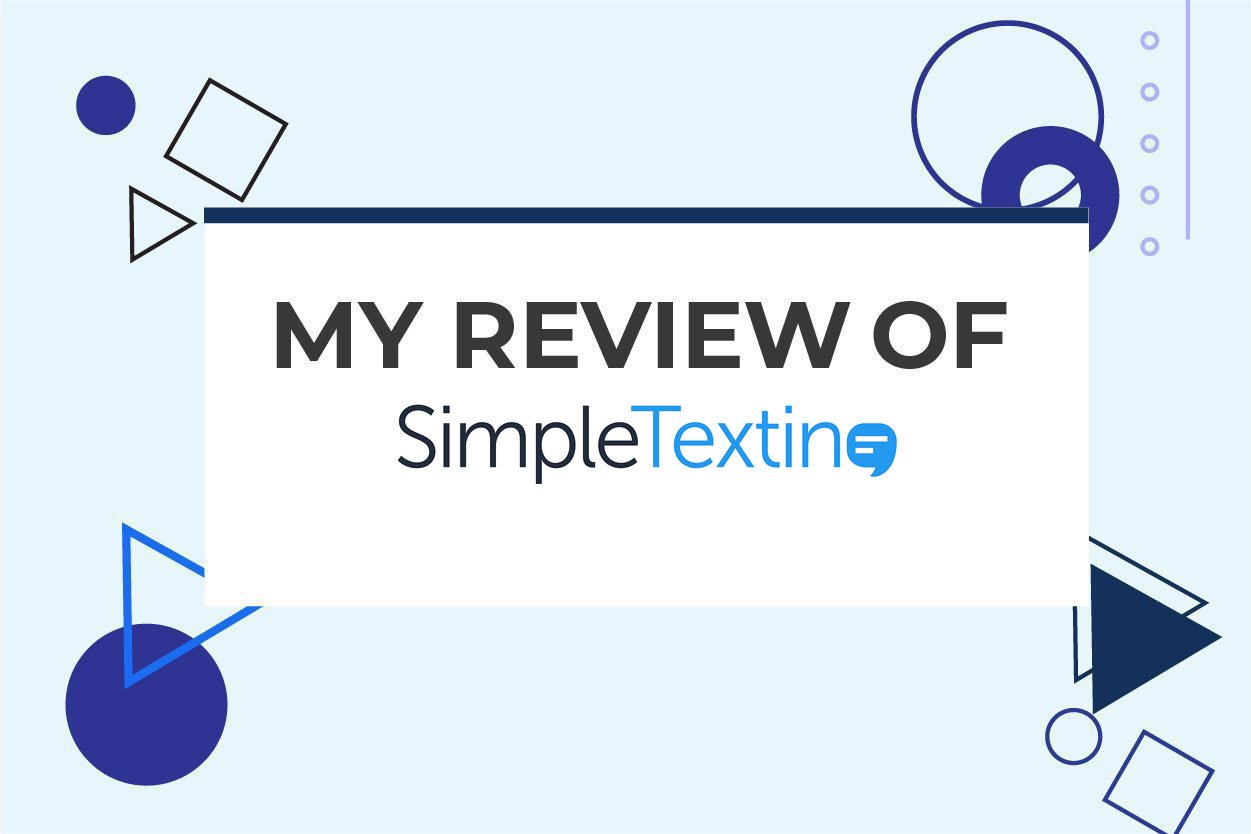 SimpleTexting Review
SimpleTexting is an intuitive all-in-one SMS marketing platform that gives businesses all the tools they need to launch a successful campaign without any real programming experience.
Send SMS marketing campaigns or engage in 1-on-1 conversations with customers. Check out SimpleTexting


Visit SimpleTexting
Their clean and simple dashboard allows you to create a campaign in minutes. Getting subscribers through an SMS keyword and filing through different client and subscriber lists is made simple through the intuitive UI.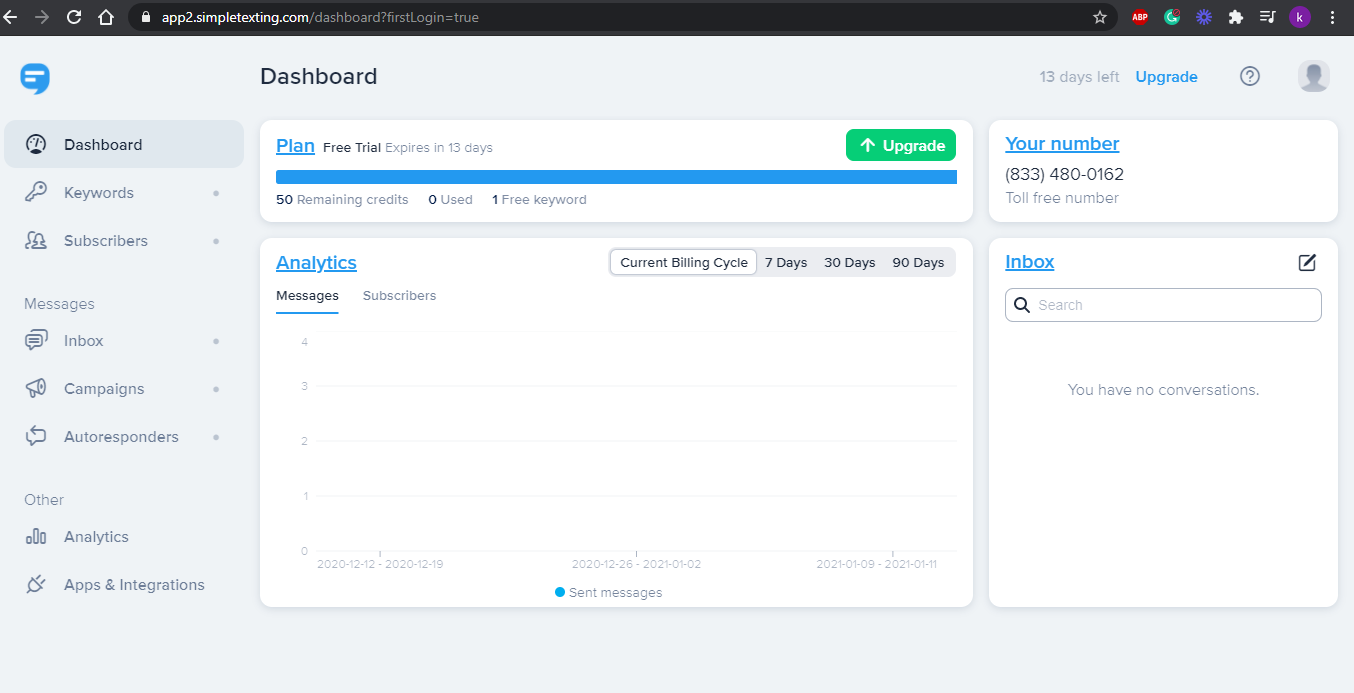 It's highly scalable – as shown by their diverse clientele – and you can easily integrate their services through MailChimp, Zapier, and other useful integrations.
SimpleTexting isn't just for marketing notifications either. You can send reminders to your employees and customers, which makes it a valuable tool for healthcare organizations and real-estate agencies.
Their customer support is reliable, and SimpleTexting offers a myriad of resources to help their users learn more about SMS marketing and integrations.
All in all, SimpleTexting takes the complexity out of SMS marketing and offers users a simple yet comprehensive platform to build their next campaign.
Pros: Here's what I like about SimpleTexting
The simple dashboard made it easy to build my first campaign in less than 20 minutes. I was able to leverage keywords and subscriber lists to create a campaign with just a few simple clicks. Overall, SimpleTexting has the best user experience of all the SMS marketing software available that we have tested.
Sorting through subscriber lists and campaigns is made simple through well-designed tabs.
Free incoming messages are a valuable tool, especially if you want to facilitate positive relationships with your customers.
SimpleTexting has a solid list of articles and instructional videos on their site to teach users about the basics of their program.
Importing contacts is made easy by their various integrations. A big plus is that they have a pre-built MailChimp SMS Marketing integration.
Their starting price is around $25, making it an affordable option for smaller businesses. With that being said, they have bulk discounts and enterprise-level plans that make SMS marketing a cost-effective, high ROI method for virtually any business.
With SimpleTexting you can create multiple keywords for your phone number at no additional cost. These keywords can then help you build different subscriber lists.
They have put a lot of thought into link tracking. They don't just give you the ability to track the overall click-through rate of your campaigns. You can also segment your subscribers based on who clicked and who didn't.
Sending a scheduled text message can be incredibly easy and convenient with a text marketing platform like SimpleTexting. You can schedule a text message from your phone or even right from your computer.
Cons: Here are the only things I don't like about SimpleTexting
Sharing SimpleTexting's platform among your team members requires you to pay extra unless your business chooses the 50,000+ credit plan.
Some users have reported that customer service can get backed up during certain hours, but SimpleTexting also has an extensive FAQ section to answer burning questions.
Some experienced programmers might feel constrained by the platform's overall simplicity.
I went over my text character limit (160) pretty quickly when working on some of my campaigns. For marketing promotions, you may need to trim down your texts more than you would like to save on outgoing message costs.
SimpleTexting Overview
SimpleTexting is an SMS marketing service that provides users with tools to create and execute text messaging marketing campaigns. Users can send mass texts to subscribers about their latest deals, or automate their systems to send reminders to customers.
Other tools, such as two-way conversations, makes following up much easier. Analytical tools can track your leads and conversion rates as well. Because SimpleTexting is cloud-based, you can access your campaigns from multiple devices through an integrated dashboard.
How Does SimpleTexting Work?
SimpleTexting offers different products through its dashboard and APIs to meet its clients' SMS needs. Companies can execute their text message campaigns by using the following:
Two-way messaging
Scheduled texts
SMS keywords to create contact lists
Data collection and analytical tools
Premade templates
Tiny links
Reminder texts
Once you create an account, you'll receive a toll-free number to send your texts. Customers can type in your custom keywords to subscribe to your SMS service.
You can then create text message campaigns and select who to send it to from your subscriber list. Two-way conversations can be enabled to reply to customers whenever they reply to one of your marketing texts.
These tasks can be managed through either a web browser or through a mobile app. SimpleTexting allows you to enable marketing campaigns on both iOS and Android.
Check out our video for a detailed walkthrough on how to set up SimpleTexting:
Who Uses SimpleTexting?
SimpleTexting's tools are optimized for both medium and large businesses looking to reach more customers. Based on their clientele and the reviews we've looked at, SimpleTexting's services are best used by members of the following industry:
E-Commerce stores
Human resources departments
Restaurants
Real estate agencies
Retail stores
Schools
Hospitals and healthcare organizations
Churches
Insurance agencies
This is certainly not an exhaustive list, as SMS marketing is an incredibly versatile tool optimized for a variety of industries. For example, SimpleTexting is a great SMS marketing software for customer service.
SimpleTexting's exceptional services have been used by the following brands:
Starbucks
Cisco
Century 21
Samsung
Stanford University
Marriott
Chick-fil-A
Legoland
What Does SimpleTexting Cost? (SimpleTexting Pricing)
SimpleTexting offers eight different pricing tiers to suit a wide variety of budgets depending on the size of your business. Each tier is priced based on the number of text messages you're likely to send per month.
You can pay a monthly fee, or pay a one-time annual fee and save 25% off of your plan. Clients essentially pay for credits, as each message sent is worth one credit. So if you pay for a 500 message plan, you're essentially paying for 500 credits per month.
The first tier starts at 500 messages per month, priced at $25. Each successive tier goes up by 500 words and caps off at 50,000 messages and a $625 monthly bill. After that, clients have to contact SimpleTexting and set up a custom plan that goes over 50,000 messages.
A plan that goes over 50,000 messages a month is called the Enterprise Level. Clients receive a dedicated account representative, priority support, and the ability to add more teammates with customer permissions.
Each plan comes with free incoming SMS messages, meaning you can receive texts from your subscribers without additional costs. You receive unlimited contacts and a toll-free number.
SimpleTexting also includes their dedicated customer service along with unlimited keywords and 5 user seats. Churches and non-profit organizations receive 15% off of their fees.
SimpleTexting offers a 14-day free trial for those wanting to try out their tools before committing to a monthly bill. There are no contracts or setup fees.
SimpleTexting Coupon Code
Use the link below and enter code DDIY20 to get 20% off your first month or annual plan.
---
Use the Link Below & Enter Code "DDIY20" to Get 20% Off Your First Month or Annual Plan
SimpleTexting Alternatives
Still looking for a reliable SMS marketing solution?
Compare SimpleTexting with other providers. Check out our detailed guide and get our recommendation on the best SMS marketing software.
You might've decided that SimpleTexting isn't quite right for you. In that case here are a few other SimpleTexting alternatives that could better suit your needs:
SMS marketing is a valuable strategy for any business regardless of size. Consider things like budget, use case, customer base, delivery speed, and customer support to find the right SMS marketing platform for your company.
Frequently Asked Questions
What carriers does SimpleTexting support?
SimpleTexting supports all major carriers in both the United States and Canada. Puerto Rico and the Caribbean are also included as well.
What are shortcodes?
Shortcodes are basically like phone numbers but, as the name suggests, much shorter. They're typically about 6 digits long and are designed for sending and receiving SMS messages.
How do keywords work?
Keywords are phrases or words that users choose to allow subscribers to opt into a program. For example, a subscriber can type in "PIZZA" to the number 666888 to subscribe to an SMS list for a local pizza shop.
Are there contracts for SimpleTexting?
No, you don't need to sign any contracts for SimpleTexting.
Can I manage multiple campaigns?
Yes, you can create more than one campaign, no matter the type (traditional messages, text to vote, text to win, etc).
Can MailChimp send text messages?
You can send out text messages with MailChimp's native features, but you can get the most out of your marketing campaign by integrating with other services like SimpleTexting. When integrated with another platform, Mailchimp contacts will be synced with the SMS marketing platform, giving you more control over when and how to send text messages to customers.
Can you send mass texts with MailChimp?
In addition to sending individual text messages with MailChimp, you can also send mass or bulk text messages with services like SimpleTexting. Integration with an SMS platform is fairly straightforward and gives you more control over your marketing campaign communications.
How does the MailChimp SMS Marketing integration work?
SimpleTexting's Mailchimp integration makes combining email and text marketing super simple. It works by syncing your Mailchimp and SimpleTexting contact lists. This allows you to connect your MailChimp account without any coding or third-party connection tools.
Once you connect the MailChimp SMS marketing plugin, you can have customers subscribe to emails via SMS, collect phone numbers through MailChimp forms, and automatically push those contacts through text message marketing funnels.