SMS marketing is becoming a very powerful tool for marketers to connect with leads, prospects, and customers. It literally gets you into the pocket of your audience! This leads to more interactions, engagement, and returns for businesses. As professional text message use continues to grow, the need for reliable SMS platforms and solutions becomes more prevalent.
Communication is also essential to the internal operations of your business. According to data released by the Society for Human Resource Management, miscommunication in a company with just 100 employees can cost it $420,000 in annual revenue. Your business needs a productive way to handle all of its communication efforts to avoid this drastic profit loss.
Here, we will review an online SMS marketing software that can help you do just that.
Our  ClickSend review will highlight everything you need to know about this text message gateway communication service. We'll highlight how its SMS services and its pricing system, pros and cons, and a few of its alternatives.
What Is Clicksend?
ClickSend is an SMS provider that lets businesses send, receive, and track SMS text messages worldwide. You can send transactional or marketing memos to customers or employees.
This product is cloud-based, so it's easy for businesses to integrate it with thousands of apps. It's also compatible with most network providers out there.
ClickSend lets users send SMS messages via online SMS gateway applications from a user dashboard. Alternatively, you can also send SMS messages using a designed API.
ClickSend also allows users to track their campaigns' progress in Google Analytics.
How Does ClickSend Work?
As one of the most popular cloud-based SMS providers, ClickSend has different products to meet its clients' needs. Businesses can send and receive memos through their dashboard or API via:
SMS
MMS
Text-to-speech calls
Email messaging
Faxing
Letters via an online cloud
Rich messaging channels (coming soon)
Once you create an account, you can start sending memos from your dashboard or API within minutes.
ClickSend also lets users integrate the software with Android and iOS mobile apps and Outlook. Software developers may also integrate their apps using ClickSend's multiple API options, including:
REST
HTTP
SMPP
SMTP
FTP
SOAP
Also Read: Text Message Marketing Laws
Who Uses ClickSend?
This SMS system is meant to be used by medium and large-sized businesses in the United States. From the reviews we've studied, the provider caters to businesses in a variety of industries, including:
Emergency services and healthcare
Hospitality
Transport and logistics
Sporting associations
Retail
Not-for-profit organizations
Marketing
Advertising
IT
Ecommerce
Banking and finance
While extensive, this list is not exhaustive. ClickSend can help USA businesses in any industry communicate better with their clients and employees.
What Does ClickSend Cost? (ClickSend Pricing)
To complete day-to-day tasks and watch your business prosper, you will need an efficient way to communicate with your staff and customers. Luckily, ClickSend allows you to do so at a great value for money.
ClickSend does not come with any startup or monthly fees. You will only pay for what you use. Your business will never be under the constraints of a contract.
The software offers both prepaid and postpaid plans. With a prepaid plan, you'll pay the price for memos as you send them out. ClickSend will send you an invoice with a postpaid plan each month for the price of the memos you sent out.
ClickSend charges its users based on the types of memos they send. The pricing details fall into seven different categories:
SMS: Users can send online SMS text messages starting at $0.024 per message when sharing less than 2,000 messages. The rates get cheaper as you send out more bulk text messages.
MMS: Outbound MMS messages will cost $0.0282 per message. (Read about the differences between SMS vs MMS)
Voice: Mobile and landline text-to-speech memos will be invoiced at $0.0145 per call.
Email: Emails are sent with ClickSend at a specific rate starting at $$0.0071 for under 25,000 messages per month.
Fax: Users can fax pages at an outbound rate of $0.0339 per page.
Post: Users can send postcards for a fixed rate of $0.71 each. Users can send letters for a per-letter rate that depends on selections like color, single- or double-sided, and priority mail.
Rich Messaging: This service is currently in the works but will be available soon. Users can share messages across conversation channels like WhatsApp, Facebook Messenger, and Apple Business Chat.
If you need to request a refund, the ClickSend staff will likely be able to help. Within the first 14 days of your purchase, the SMS service will grant a client a full refund with no questions asked. After 14 days, ClickSend will evaluate refund claims for its SMS services on a case-by-case basis.
ClickSend Review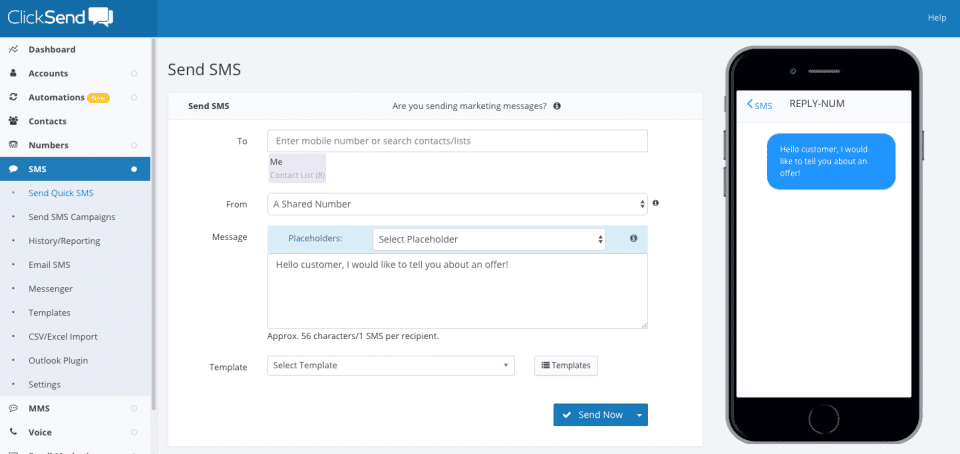 ClickSend is a reliable tool that can help improve communication in multiple areas. It lets clients:
Send bills and invoices
Offer customer service via text message support functionalities
Personalize and manage advertising and marketing leads
Simplify human resource communications
Manage delivery communications with suppliers
Send out birthday promotions to customers
Send reminders about meetings and events
As a versatile SMS gateway provider, ClickSend gives clients many ways to improve efficiency with communication. The reviews we've read paint the SMS service in a positive light, and we can't disagree.
Check out our review of its pros and cons below, and learn why we give this software such a high rating.
Track, Receive, & Send SMS Online Messages Worldwide. Check out ClickSend.


Visit ClickSend
ClickSend Alternatives
Are you shopping around for a text message marketing solution?
Compare ClickSend with other providers. Check out our detailed guide and get our recommendation on the best SMS marketing software.
After reading this ClickSend review, you may want to explore your other options. There are several other companies available that offer bulk SMS business texting services. If you're looking for a different SMS provider, some ClickSend alternatives include:
When it comes to deciding on the right SMS product to use, it's all a matter of what your business needs. Consider factors like pricing system, delivery speed, customer support, and others' overall experience with and reviews of the product.
Before settling on an SMS product, try and review each one to see which one works best for your company.
Frequently Asked Questions
Can I sign up for a free trial?
Yes, this USA text message software offers a free trial. To get started, you'll need to:
Make a free account
Provide your full name, business email address, company name, and phone number
Create a username and password
Accept the cookies that the Clicksend site uses
Upon making a free account, you will receive free credits to try out the SMS service. These free credits will help you review all of the service's features.
Can multiple users share the same account?
Yes! As the account owner, you can add, manage, and review as many additional accounts as needed. With their own "subaccount," designated employees can log in and have certain messaging freedoms like never before.
Is there a character limit in each message that I send?
The character limits in online SMS messages fall into two categories: Standard and Unicode characters. You can send up to 160 characters in one Standard SMS message and up to 70 characters in one Unicode SMS message.
For voice-to-text memos, the categories are the same. You can send up to 300 characters in one Standard voice message and up to 150 characters in one Unicode voice message.
What payment options can I use?
You can pay using a credit card or bank transfer. If you want to pay using another method, you can discuss the option with a USA team member.
How long does it take to set up an account?
Virtually no time at all! ClickSend promises an "instant" account setup process to help clients reach their SMS marketing goals. You can start sending bulk SMS text messages within moments.
Is ClickSend Worth It?
Our overall rating for ClickSend is high; this is a reliable SMS marketing software that will increase your business communications. Sure, there are SMS provider alternatives you should look into as well. However, ClickSend is definitely a reliable SMS provider you should research.