SMS marketing is one of the best ways businesses can create leads and generate more conversions. This ultimately leads to more engagement and better returns for companies.

---
SimpleTexting
Easiest platform to use
Send bulk SMS campaigns in minutes
Great for eCommerce, marketing messages, appt reminders and more

---
Mobile Text Alerts
200+ integrations with Salesforce, HubSpot, Mailchimp, and more
Cost-effective monthly pricing options
Great for businesses of any size
Finding the right platform to execute a successful SMS marketing campaign is extremely important, and Salesmsg fits this bill to a tee. As a simple and scalable text message marketing service, Salesmsg allows you to carry out two-way conversations to connect with your customers.
In this article, we'll be diving into what makes Salesmsg such a viable digital marketing platform by outlining its features as well as its pros and cons.
Advertising Disclosure
Advertising Disclosure
We offer this website completely free to our visitors. To help pay the bills, we'll often (but not always) set up affiliate relationships with the top providers after selecting our favorites. However, we do our best not to let this impact our choices. There are plenty of high-paying companies we've turned down because we didn't like their product.
An added benefit of our relationships is that we always try to negotiate exclusive discounts for our visitors.
Salesmsg Overview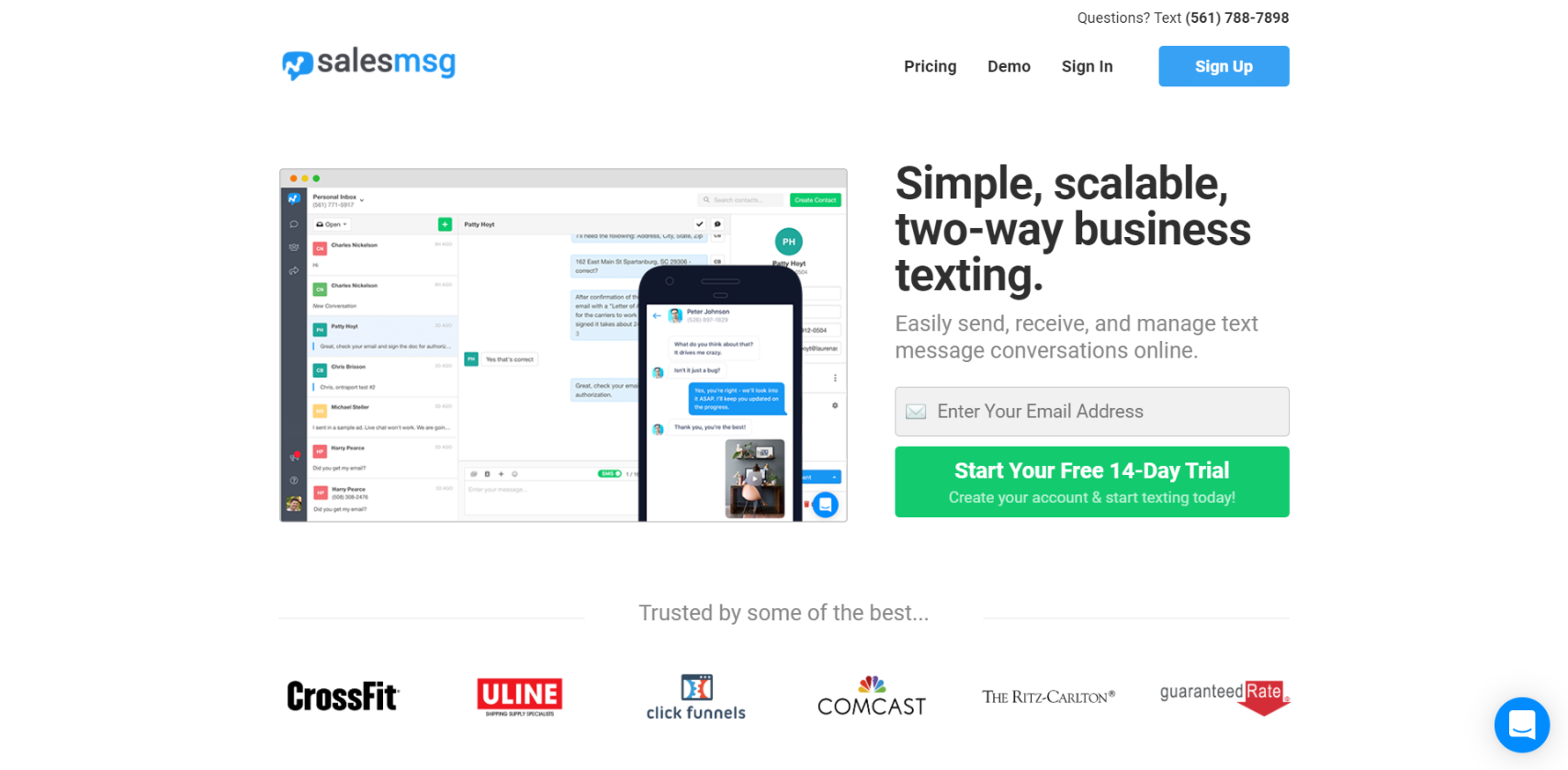 What is Salesmsg?
Salesmsg is an SMS provider that lets its users send, receive, and manage text message conversations from the internet. You can create subscriber lists to send mass texts as part of a text message marketing campaign.
As a cloud-based service, Salesmsg allows you to connect your services to thousands of other apps through comprehensive integrations. You can use Triggers and other integrations to send outbound texts and create instant conversations.
Salesmsg also allows you to share its texting features with other team members to optimize your sales and marketing reach. They also offer analytical tools to help you track your campaigns' progress.
How Does Salesmsg Work?
As a leading, versatile SMS marketing software, Salesmsg offers a variety of tools to optimize your text message marketing strategies.
You can integrate Salesmsg with other third-party tools to create instant conversations and automate text messages. These tools include, but are not limited to:
Zapier
Salesforce
ActiveCampaign
InfusionSoft
HubSpot
Pipedrive
Once you set up your account, users input their area code and gain access to a phone number. If you already have a landline set up, you can text-enable on their platform as well.
From there, you start creating conversations by manually inputting contacts, importing them in bulk, or through third-party software.
You can add images and GIFs to each message, and program pre-written templates to save time when replying to customers. You can also schedule to send messages at a later point in time or even set up meetings all in one place.
Salesmsg allows you to share inboxes with team members to better coordinate conversations and to track leads easier.
You can either use their desktop program or download the Salesmsg app for sending and receiving marketing messages. Their app is available for both iOS and Android.
Who Uses Salesmsg?
Salesmsg is a highly scalable platform that can be leveraged by smaller businesses and big-name brands alike. Based on their customer testimonials and third-party reviews, Salesmsg is popular among the following types of businesses:
Real estate companies
Marketing agencies
Investing companies
Brokerage firms
Software companies
While that's certainly not an extensive list, it's worth noting that Salesmsg's services can be used by a wide variety of companies looking to extend their outreach. It can also be used by larger brands to maintain their customer base. These brands include:
Comcast
Guaranteed Rate
Mattress Firm
The Ritz-Carlton
What Does Salesmsg Cost? (Salesmsg Pricing)
Salesmsg has three payment plans: Pro, Premium, and Custom. 
The Pro plan costs $35/month and lets you send up to 750 text messages a month, along with unlimited contacts and app integrations. You can text using pictures, perform SMS broadcasts, and share your inbox with your team. 
The Premium plan costs $300/month and is geared more towards medium to larger-sized companies. The monthly text message limit is upped to 7,500 while the plan offers shortcode mass texting as well. You also receive comprehensive onboarding and premier support on top of everything offered in the Pro plan. 
The Custom plan varies but is a flexible solution for enterprises looking to create a scalable text messaging solution. You'll have to negotiate a price with Salesmsg when choosing this option, but you also gain access to dedicated shortcodes, 1-on-1 phone support, and a managed account setup. 
If you want to send more texts than your monthly plan allows, you can purchase additional SMS for $0.025 each, or MMS for $0.05. 
Each plan comes with a 14-day free trial, as well as a 30-day money back guarantee. Salesmsg offers services for North American numbers only, so American and Canadian numbers are both eligible. 
Salesmsg Review
Salesmsg is a great SMS service provider that lets you optimize your text message marketing strategy without much prior programming knowledge. Their services are offered in a way that's easy to understand yet effective.
Much like its contemporaries, Salesmsg has a clean UI that's easy to navigate. There are only four tabs on the side that give you access to your inbox, contacts, broadcasts, and Triggers for integrations.
Easily send, receive, and manage text message conversations online. Check out Salesmsg


Visit Salesmsg
Creating contacts and starting conversations is extremely simple. They also have a call-forwarding feature that directs any phone calls sent to your Salesmsg number to another landline.
Their integrations in particular are useful, allowing you to not only import contacts from other apps but also automate certain functions to maximize efficiency.
Their standout feature is probably their team sharing system. While other services require a more expensive plan for team-sharing, along with additional fees for adding more members, Salesmsg gives that option to you off the bat.
Being able to coordinate conversations with your team members while sending private messages over the dashboard is a powerful function for small and big companies alike.
They also offer dedicated customer support and a resources page that serves as a virtual help desk for Salesmsg's many features. Another neat feature that's currently in beta is their analytics program, which tracks your conversions and overall outreach.
All in all, Salesmsg proved to be a highly scalable and reliable SMS provider that works best for companies with a dedicated marketing team looking to expand their customer outreach efforts.
Pros: Here's what I like about Salesmsg
Setting up an account and sending the first few texts was extremely simple.
The dashboard is easy to navigate and everything is clearly labeled.
Being able to share inboxes with team members is helpful and bolsters overall efficiency.
Carrying out two-way conversations is simple and effective.
Being able to set up meetings, change schedules, relay messages to other team members, and opt numbers out of an SMS list are all made simple through the intuitive UI.
They offer a good list of resources for figuring out some of Salesmsg's features.
There is an auto-reply system that you can configure around your business hours to nurture conversations when a contact tries to reach you in off-hours.
Cons: Here are the only things I don't like about Salesmsg
The mobile apps seem to leave a lot to be desired. Many users have claimed that their mobile apps are not optimized to handle hundreds of texts coming in and that the desktop version is superior. This might be a drag for businesses that are constantly on the go.

You don't get discounts for sending more messages, meaning SMS and MMS prices stay static even if you send plenty of bulk texts. 

The simplistic design might constrain some developers or experienced marketing teams.
Salesmsg Alternatives
Do you like some of Salesmsg's features but just aren't sure about committing to the platform itself?
Compare Salesmsg with other providers. Check out our detailed guide and get our recommendation on the best SMS marketing software.
In that case, you can explore a few other text message marketing options. There are other companies that offer similar bulk SMS services. A few great Salesmsg alternatives include:
SMS marketing is a useful but versatile practice. Choosing the right platform comes down to your specific business needs. Whether it's your budget, team members, customer support, or programming experience, it's important to pick a platform that suits your demands.
Frequently Asked Questions
Can I upgrade or downgrade my account?
You can upgrade, downgrade, and cancel your Salesmsg at any time.
Can I use my existing number with Salesmsg?
Yes and no. You can port a mobile phone number but Salesmsg doesn't recommend this. Once it's ported away from your original carrier, Salesmsg will control both the calling and texting on that number.
You can text-enable an existing landline, allowing Salesmsg to control texts while keeping its calling capabilities with your original provider.
Are all area codes available?
If an area code is not available, that most likely means there aren't any numbers available for that specific one at this time. You can either try another area code or transfer an existing landline number for that area.
How long are text messages allowed to be?
The industry-standard maximum for text messaging for both U.S. and Canadian carriers is 160 characters.
Can I use Salesmsg internationally?
Unfortunately, Salesmsg only supports U.S. and Canadian carriers at this time.