If you use a wide range of business and productivity apps, switching between one to access the other can be a hassle. Luckily, automation tools allow you to connect different apps to optimize your workflow.
Zapier is arguably the leading automation tool available on the market. In this article, we'll be exploring Zapier's core features as well as its pros and cons to help you decide whether it's right for you.
Advertising Disclosure
Advertising Disclosure
We offer this website completely free to our visitors. To help pay the bills, we'll often (but not always) set up affiliate relationships with the top providers after selecting our favorites. However, we do our best not to let this impact our choices. There are plenty of high-paying companies we've turned down because we didn't like their product.
An added benefit of our relationships is that we always try to negotiate exclusive discounts for our visitors.
Zapier Overview
What is Zapier?
Zapier is a software tool that connects your apps to automate certain tasks. It lets you build workflows without writing code or forcing you to depend on developers for integration.
If you find yourself repeatedly updating your spreadsheets with new information from your sales-related apps, Zapier lets you create a connection between these two channels for greater convenience.
Zapier has over 2,000 such integrations and currently has over 3 million users.

Learn Zapier from Automation Expert Jimmy Rose
Want to quickly master Zapier to automate your business?
Get back more time for yourself/your team/your clients through automation
Find quick wins: step-by-step automations that anyone can implement
Learn how to look at your business to find opportunities for automation
Learn how to build zaps to tools even when they don't have Zapier integration
How Does Zapier Work?
Signing up with Zapier takes but a few simple clicks. You can connect either your Facebook account, Google account, or even your Microsoft account to get started.
You're immediately met with personalizing options such as choosing your most-used apps and the number of employees in your company:
Once you select the apps you want to use and input other information, you're taken to your Zapier dashboard that has everything from recommended workflows to your Zap history and list of applications you're currently using.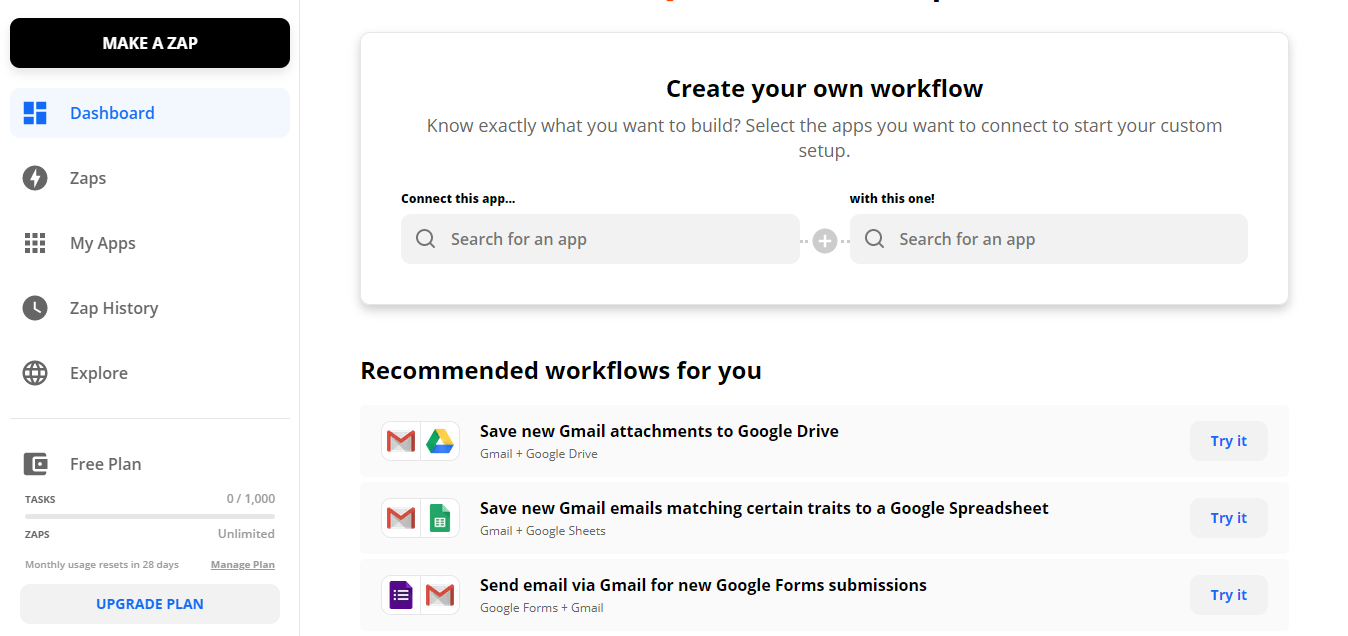 The main feature within Zapier is the Zaps, which consists of two elements: the trigger and the action.
The trigger requires you to choose a specific app and an associated action. For example, if you want your Google Calendar app to trigger something whenever you put in a new event. You'll log into your Calendar account and set it up as such:
Next you choose the action. Sticking with the above example, you can select from a number of different pre-built Trigger Events. For example, you could select "New Event".
Once you set up a Trigger event, you can configure your actions (what you want to happen next). Again using the above example, you could have all "New Events" send a notification to a Slack channel. You could extract the calendar details and sync them with a CRM like Salesforce. You could schedule to have a text message go out through an SMS marketing app to remind the participants of the event.
The options are really limited. This is just one example of a Zap, and users can store and track their Zaps in their dashboard.
Zapier Features
In terms of the Zaps themselves, Zapier provides advanced features so users can only allow actions when certain criteria are met.
For example, their Path option allows different steps for different rules. If you have a weather app connected to a Zap, for example, a freezing temperature weather report might trigger one action while a warmer temperature might trigger a completely different action.
You can also set up a Filter setting so that actions only occur when specific conditions are met in the trigger. You can even pause actions for a certain amount of time through the Delay function. This is helpful if you have time and date stamps. For example, if you generate a new lead on Facebook and want to send a follow-up email 24-hours after the lead originates.
Zapier Integrations (Most Popular)
While naming all the apps you can connect on Zapier would probably take several pages, here are some of the most popular Zapier integrations…
MailChimp
Salesforce
Asana
WooCommerce
Airtable
Slack
Quickbooks
Trello
Gmail
Infusionsoft
Google Calendar
Pipedrive
Google Sheets
Pandadoc
Paypal
Hubspot
Twilio
Squarespace
Who Uses Zapier?
Zapier is an incredibly valuable tool that can be used by a variety of businesses, particularly ones with a heavy focus on marketing.
Examples of businesses who use Zapier include:
Software engineering firms

Marketers

Advertising companies

IT departments

Real estate firms

Nonprofit organizations

Internet service providers
The ability to create workflows and automate the most mundane tasks makes Zapier a valuable asset for departments trying to share data across multiple platforms.
Some of the top brands using Zapier today include:
Buzzfeed

Spotify

inVision

Adobe

Fox
Zapier Pricing
Zapier has five different pricing options each varying in the number of tasks allowed and overall features.

Read our guide for a detailed overview on Zapier Pricing, plus tips on how to choose a plan and save money!
Zapier Review
I need to preface this by saying that I've used Zapier for over 3 years now to automate a handful of personal tasks. I've also worked as a Zapier consultant for some clients with our agency.
Zapier is a freaking awesome tool that is pretty simple to use (to an extent). There is a learning curve with virtually every online app, but if you're fairly tech-savvy, you should be able to hold your own. I continue to use Zapier today for a number of marketing automation tasks and it definitely pays for itself. I do also run custom automation scripts on servers for projects where Zapier just doesn't make sense. More on that later…
I love when a client asks me, "How hard would it be to integrate ABC App with XYZ App?" Because 9 times out of 10, I can reply with a coy smile and confidence:
"Super easy. We can use Zapier."
You don't get to 3 million users without easy-to-use and extremely versatile software. Choosing a trigger, defining an action, and creating integrations have never been easier.
Companies that don't have a dedicated team of developers or have no coding background can easily pick up Zapier to optimize their workflow.
Where Zapier really shines is with their pre-built integrations. Not only do they offer a diverse selection of apps to choose as triggers and actions (though some of them are locked to as premium apps), the number of combinations that are possible between each app is nearly endless.
Whether you're a small business owner trying to automatically download your website leads to Google Sheets, or if you are a larger organization looking to push data to a CRM or project management software, Zapier can help.
With that being said, things can get complicated pretty quickly, depending on what you're trying to integrate. I've definitely encountered smaller, lesser-known apps that do not have any prebuilt integrations on Zapier. The good news is that this isn't necessarily a deal-breaker because you can still use Zapier as a connection bridge. It just takes more development experience and knowledge.
One of my favorite features about Zapier is webhooks. Webhooks are automated messages sent from apps when something happens. They have a message—or payload—and are sent to a unique URL—essentially like an app's phone number or address.
This is great for apps that aren't on the Zapier marketplace. Because if they have an API, you can still GET, POST, and PUT requests from any data source as JSON, form data, or in the querystring. Being able to make API calls or forward any webhook to another service is a huge bonus and Zapier makes these custom jobs somewhat simple.
To be 100% transparent, there have been a handful of times where I've needed to hire a programmer to help set up a custom webhook. Usually, this revolved around having a developer modify one of our internal applications to be "Zapier friendly" so we could use a Retrieve Poll as a trigger event. If that sounds like a mouthful, it is. But that's a pretty special use case and shouldn't detract you from using Zapier.
I've developed some pretty complicated Zaps in my time. My record is 50+ steps. This is a testimony to the capability of Zapier. But it's also a testimony to my patience and a heck of a lot of quality assurance testing.
The thing is that as you add more steps to a Zap, the user interface just "adds little blocks" that you need to expand and fill out as you go. This isn't super intuitive. There's a lot of "clicking'" just to get Zapier to accept the write data. I've also had issues where it doesn't grab data from a previous step. Then, it's back to the drawing board, refresh, click some more, click some more, then test again and pray.
Speaking of refreshing data. This is critical when you duplicate a Zap and make modifications. I've duplicated a Zap and changed a trigger and Zapier has left the previous data source. It's a weird bug that I'm sure they'll fix. Again, not a deal-breaker, but you just have to be careful and go through each step manually and test your Zaps a lot to confirm that everything works properly.
Zapier is definitely more affordable than developing and hosting your own scripts (up to a point). Pricing becomes a bit of a concern when you start scaling up. I've found myself switching back and forth between plans, consolidating zaps, and removing unnecessary tasks just to keep costs down. If you use Zapier, one big thing to pay attention to is the monthly tasks that you run under each plan. On their website, they give you the base pricing. For instance, the Starter plan is $29.99/month for 750 tasks. But if you go over by just one task, the price jumps up to $58.50. Without upgrading, your Zaps just turn off until the next billing cycle. Gasp!
Overall, I love Zapier. It has saved me and my clients thousands of dollars in development costs. It's also given me exposure to a wide variety of tools that I otherwise may have never even heard about. The pros definitely outweigh the cons. Just don't get overwhelmed if you're new to marketing automation. Consider hiring a Zapier expert to help you get off the ground. This is an added expense up front, but it can save you hours of time and get you to the point of realizing cost savings from automation much faster.
Pros: Here's what I like about Zapier
An accessible and clean dashboard that keeps everything organized.
Great support for thousands of useful apps.
Easy to set up each Zap regardless of coding experience.
Simple to pick up, but has advanced features like paths, filtering, formatting, and webhooks.
Multi-step automation for even the most complicated workflows.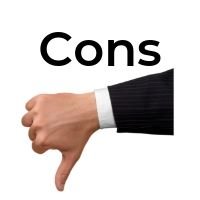 Cons: Here are the only things I don't like about Zapier
Limited control of how data transfer is a big drawback. As you upgrade plans, Zapier gives you more resources and faster update times. But even under the Company plan, you're restricted to 1-minute. You might think that is plenty fast enough to check for data updates, but when you're working in enterprise-level environments, you need to be able to transfer data to applications as close to real-time as possible. Every second counts. In these instances, a third-party API integration service like Zapier, or even any of their alternatives for that matter, probably doesn't make sense. Go custom.
Zapier problems happen all the time and you can spend a lot of time troubleshooting. This isn't necessarily a knock on Zapier. More often than not, it's a tiny user error. The problem is there isn't a super-easy way to nail down and troubleshoot. You can filter based on failed tasks and drill down to which Zaps have failed. But if you're working with a ton of Zaps and data this can be time-consuming.
No mobile support
Although the list of supported apps is robust, some apps have limited functionality. Be sure to check the details on the apps you are planning to use before investing too much time into setup.
Occasionally, Zaps break due to discontinued support of an app. This results in you often having to find a different solution or a workaround.
My #1 Marketing Automation Mistake
My biggest marketing automation mistake is "forgetting to be human".
Automating workflows and not having to deal with manual processes are the primary rewards of marketing automation tools like Zapier. But while this allows you to focus on more important matters, there's a risk of becoming too cookie-cutter and coming off as insincere.
I once spent 10+ hours developing a Zap that would send automated text messages to new leads as they were generated. I had multiple steps and crafted well-written text reminders to go out every day to new leads in effort to help my client generate appointments.
While we got in touch with way more people, our opt-outs skyrocketed. We also had overlap with text messages being sent from other members that didn't jive with our automated messaging. It led to angry customers. Conflicting appointments. We even called a handful of leads the wrong name. We've since flushed out the kinks, but that was a huge learning experience for me. The big takeaway is that you need to find a healthy balance between automation and personalization.
Remember that your customers are humans. And you're human too! People don't want to talk to a robot. Humanize yourself and your brand. Add a personal touch to your messages to make communication authentic and genuine, and use triggers and custom data fields so that your communications have strong relevancy to recipients.
Zapier Alternatives
Interested in Zapier's automation features but aren't sure if it's right for you? Here are some of our top alternatives that you can check out instead:
Automation and integrations are key tools for marketing teams across a wide variety of industries. Consider things like budget, scale, and monthly tasks to choose the right automation tool for you.
For more information, check out our detailed Zapier alternatives guide.
Frequently Asked Questions
What is Zapier good for?
Zapier is good for connecting online applications and automating repetitive tasks. It's a great tool for businesses looking to maximize the benefits of integrated technology without having to code.
Is Zapier for free?
Zapier has a free plan, but it is limited. With the free version of Zapier, you'll receive 5 Zaps and 100 tasks per month. To run more automation processes, you'll need to upgrade to one of their paid plans.
Is Zapier a CRM?
Zapier is not a CRM. It is a marketing automation tool that integrates third-party applications. You can use Zapier to connect many different CRMs, including SalesForce, Keap, Zoho, and many others, to your other cloud-based tools.
What is a Zapier Zap?
Zaps are automated tasks that you want to run over and over again between two online apps. Think of them as "workflows", where a single trigger can result in a number of different actions or outcomes.
What apps work with Zapier?
There are over 3,000 apps on Zapier's marketplace that have many prebuilt triggers. Zapier can also work with custom apps as long as they have some type of API that can be tapped into.
Is Zapier secure and legit?
Yes, Zapier is a legit company and safe to use. Zapier takes security of data very seriously. They use bank-level encryption on credentials. They also only store raw requests to other services for 7 days for troubleshooting purposes, then they they purge them.