We understand the value texting can bring to your business, and how certain SMS platforms are more useful in the car dealership industry than others.
We've done the legwork and compiled the best software services for this particular use case. We're personally big fans of #1 and #6 on our list.
Here's how to make the most of SMS software for auto dealerships.
Advertising Disclosure
Advertising Disclosure
We offer this website completely free to our visitors. To help pay the bills, we'll often (but not always) set up affiliate relationships with the top providers after selecting our favorites. However, we do our best not to let this impact our choices. There are plenty of high-paying companies we've turned down because we didn't like their product.
An added benefit of our relationships is that we always try to negotiate exclusive discounts for our visitors.
11 Best SMS Software for Auto Dealerships
Best mobile app
Learn More
SimpleTexting's SMS marketing service offers exactly what its name implies – simple SMS solutions for auto dealerships.
SimpleTexting offers many features that auto dealerships, in particular, may find useful. Things like encouraging sales through texting, utilizing keywords to automatically deliver discount codes to eligible customers, and offering servicing reminders and promotions can increase customer satisfaction.
Auto dealerships can carry out all functions through SimpleTexting's mobile app so you can keep in contact with customers even when you're away from the computer.
Best specialized SMS for auto dealerships
Learn More
Designed specifically for use by auto dealerships, Text2Drive has specialized features that help streamline auto dealership marketing efforts.
Users can do things like automating the lifecycle of texting campaigns, which has shown to have great results with 19% of users making a purchase within 30 days of receiving a text.
Among others, some of Text2Drive's features include templates for vehicle service and appointment reminders, lease expirations notices, safety recall notices, mobile bill pay, and multi-point inspections.
Text2Drive's services are used by huge names in the auto industry including Hendrick Automotive Group and Ken Garff.
Best for large auto dealerships
Learn More
With multiple options and features designed specifically for use by large enterprise businesses, Text Magic is our pick for larger auto dealerships.
Aside from offering a large variety of traditional SMS systems, Text Magic offers single sign-on features for enterprises. Any of your team members can use secure identity provider credentials to log on to your platform safely and manage messaging campaigns.
Auto dealerships may find the SMS polls and automated infoline for customers provided by Text Magic particularly useful.
Another solution offered to auto dealerships is advanced analytics and reporting. Among other things, enterprise businesses can use audit logs, role-based access, and SSO features to keep track of SMS campaigns and save time doing so.
Best for small auto dealerships
Learn More
With plenty of integration options and reasonably priced packages, EZ Texting is our pick for smaller dealerships that may be new to SMS marketing.
EZ Texting offers plenty of features to auto dealerships at reasonable prices, with plans starting at just $19 per month. Some features that auto dealerships may find particularly useful are marketing automation, dealer text solutions for lead nurture, and the ability to pre-schedule car sales follow-up texts.
I tried this one myself and I found it easy to sign up, pick a plan, and begin messaging customers. They have templates for everything from sign-up forms for new customers to the messages themselves. It's also easy to generate a QR code, add pictures or videos to your text messages, and create shortcodes for users to opt-in or make use of special promotions.
Best auto-specific features
Learn More
HeyMarket helps employees and customers save time by engaging in one of the easiest forms of communication: SMS.
Text messaging not only offers a casual and personal way to communicate but also creates a slight sense of urgency that compels customers to respond.
Sales experts can use HeyMarket's app for iPhone or Android to quickly close deals, follow up on appointments, and discuss test drives via SMS.
Receptionists and managers can use HeyMarket from their computers to set up auto-replies, create templated promotional messages to send to multiple customers, and schedule meetings and future test drives for prospective customers.
Most integrations
Learn More
Mobile Text Alerts has had over a decade in the business to evolve its practices and perfect SMS marketing.
Some of the features that auto dealerships will love include, easy 2-way conversations with automated responses for customer interaction 24/7, and bulk texting to easily offer all of your customers special promotions and discounts.
Mobile Text Alerts has an easy-to-navigate dashboard that can be reached via the mobile app available for iOS and Android systems, making it easy to keep in communication with customers no matter where you are.
We love Mobile Text Alerts for all of the convenient integrations that they offer. With integrations for Zoom, WordPress, Gmail, and more, you can seamlessly keep everything in one place.
Learn More
Another great option with intuitive features perfect for auto dealerships is Textedly.
Textedly offers a free, no credit card-required, 14-day trial so that auto dealerships can test out their services before making any sort of long-term financial commitment.
Features include appointment confirmations, service reminders, car advice and tips, and the option to send coupons and special promotional discounts.
Textedly also has features for auto dealerships to invite customers to review their services or refer them to friends. You can even create customer loyalty programs to thank your customers for their business.
Best self-hosted
Learn More
UltraSMSScript was founded in 2012 and is an enterprise-level, self-hosted SMS marketing platform.
UltraSMSScript is a bit different from other SMS services on this list, but it is a cheap SMS marketing software that auto dealerships on a budget can use to manage SMS communications to their customers, buyers, and employees.
Unlike other service providers, UltraSMSScript doesn't have a recurring commitment. You pay a one-time fee for the software. Since they're linked directly to the text-messaging gateways, you only pay the wholesale cost of texts.
Learn More
ClickSend is a quality, easy-to-use SMS option for auto dealerships of all sizes.
Auto dealership owners can manage different digital marketing campaigns through a cloud-based application, switching from email, text, fax, and even non-SMS channels like Facebook and WhatsApp on the fly.
Dealerships can send customers downloadable brochures on the cars you have, send high-quality images of your beautiful cars through text, and confirm and follow up on scheduled test drives.
You can also alert your customers of any seasonal specials you may have to increase customer retention.
Learn More
Trumpia is one of the top players in the SMS game and they have plenty of features that are made perfectly for auto dealerships.
Trumpia is focused on helping companies grow through SMS marketing and communication, which makes them a great option for auto dealerships that are seriously looking to scale.
Not only does Trumpia offer simple texting solutions, but it also offers SMS messaging to answer customers' questions, automate repetitive processes like appointments and test drive reminders, and increase customer satisfaction.
Along with phenomenal SMS services to keep customers and salespeople connected, Trumpia users can create customized workflows to create streamlined communication between employees, making this a great all-in-one choice for any auto dealership.
Learn More
TextSanity offers auto dealerships everything they need to create successful text messaging campaigns for customers.
This company focuses on the versatility that SMS can offer auto dealerships. Dealers have the option to create drip campaigns, blast mass messages, or use keywords to organize customers into specific groups for easier marketing.
They also offer webform sign-ups so that everyone who signs up for your text messaging campaigns can do so easily and quickly, which also makes it easier for you to save and organize their contact info.
Other Uses for SMS Marketing
What Is Text Messaging for Auto Dealerships?
Text messaging for auto dealerships is a useful way to keep in contact with customers and employees.
There are many SMS software services out there that have streamlined services for auto dealerships, making it easier to communicate things like maintenance reminders, special discount codes, and promotional deals.
What Are the Benefits of SMS for Auto Dealerships?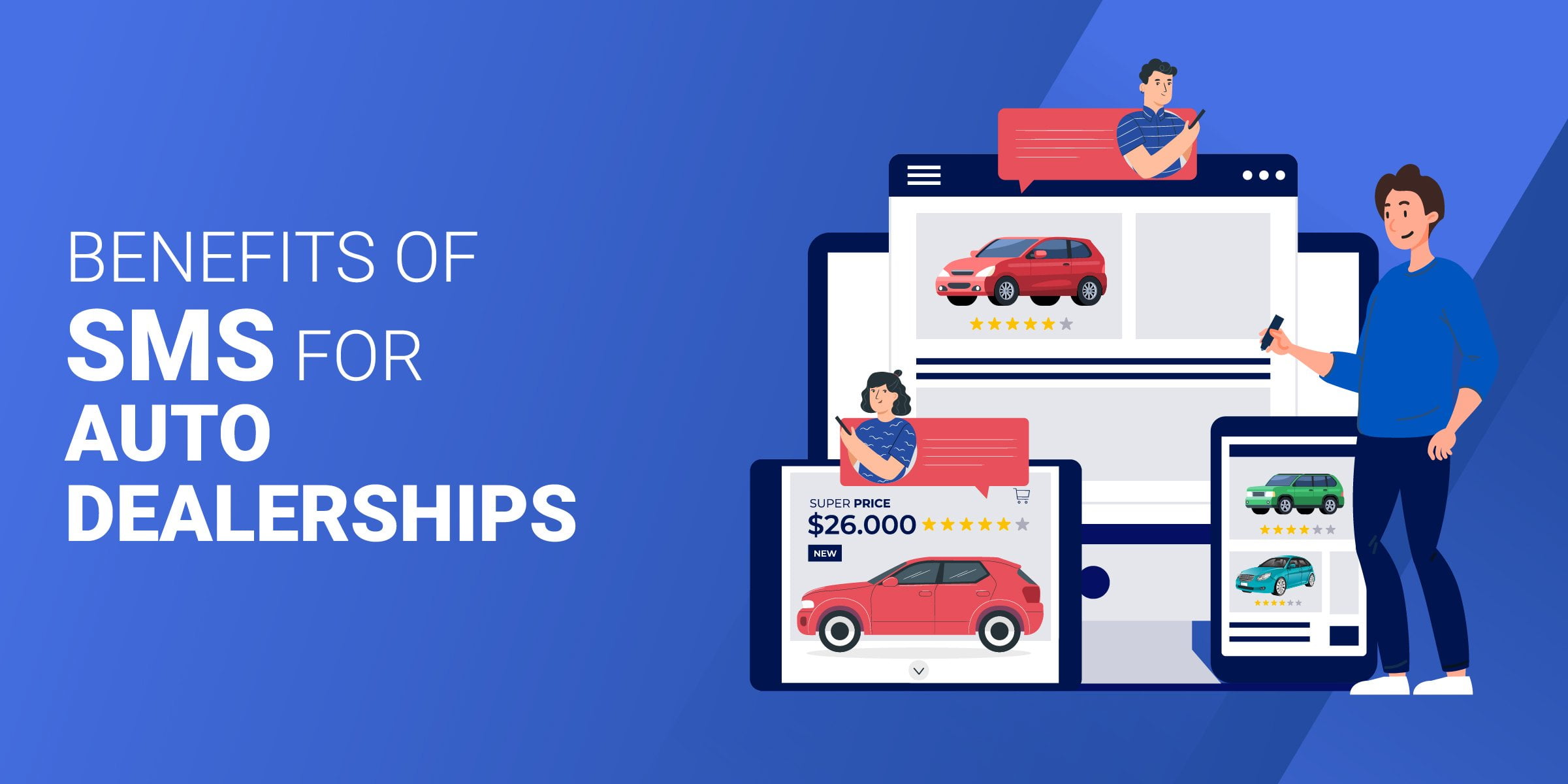 Increase Customer Loyalty with Maintenance Reminders
After the initial sale, your work isn't done.
To make sure that your customers keep coming back, send them regular maintenance reminders whenever their vehicle is due for one. This will keep their car working well and increase income for the dealership.
Get More Customers with Specialized Discount Codes
Everyone loves a discount, especially when it comes to a huge purchase like a new car.
To bring in new customers, offer special discount codes to people who sign up for your SMS updates. They'll be more likely to purchase their car there and you'll get their information for future communication.
Drive Up Sales with Promotional Messages
Do you have customers on your subscription list that need to know about a crazy sale you have going on right now?
SMS mass campaigns are the perfect way to get the word out on any deals or specials going on at your car dealership.
Improve Customer Service with Two-Way Messaging
Customers are bound to have questions. Make it easier for them by enabling a two-way messaging feature that allows customers to get in touch with employees in real-time without having to make a phone call.
If customers have questions when your team is off the clock, they can receive auto-responses that may help them through the process.
How Does Texting for Auto Dealerships Work?
Texting for auto dealerships functions similarly to texting in any other industry.
All that an auto dealership has to do is set up an account with an SMS software company and add their list of contacts, integrating their SMS service with other accounts like Mailchimp or Gmail.
Then, the auto dealership has the option to set up automated reminders for things like test drives and regular maintenance.
Auto dealerships can also set up two-way messaging and schedule reminders for sales associates, streamlining administrative tasks for your company.
Uses Cases of SMS in Auto Dealerships
Auction Broadcasting Company
A case study from EZTexting about Auction Broadcasting Company shows how one auto dealership was able to streamline its dated and ineffective marketing campaigns.
The dealership uploaded all opted-in contacts and with one click was able to send alerts and announcements to independent dealers and franchises about how many cars will be auctioned off in the upcoming week. In addition to information on special payment promotions, giveaways, and other incentives.
Being able to send these alerts and track engagement, attendance and sales went up. The 1:1 messaging feature also increased customer satisfaction across the board.
Prospect Expert
In a case study from Text Magic on Prospect Expert, the auto dealership was able to increase customer loyalty by allowing easier communication.
Every time the auto dealership schedules an appointment, they also schedule an SMS appointment reminder. These reminders helped Prospect Expert increase their appointments to as high as 60%-80% and allowed customers to message to cancel or reschedule, saving time and resources.
How to Choose the Right SMS Software for Auto Dealerships
If your car dealership is looking to set up SMS software, the first thing you need to do is consider your budget. How much are you willing to spend monthly, or would you rather use a one-time fee, downloadable self-hosted platform?
Then, consider functionality. How many employees do you need to communicate with? Do you want two-way communication available to customers? Do you need a way to schedule test drives through text? How about payment reminders and even bill-paying solutions that can be done through text?
How comprehensive your SMS software is should also play into your choice. Many SMS companies for auto dealerships also offer services like analytics and ways to track customer interaction and satisfaction.
After taking everything into consideration, do a comparative analysis of the many SMS software options available on the market and decide which is right for your auto dealership.
FAQs
What is the best SMS software for small auto dealerships?
EZ Texting is the best SMS software for small auto dealerships.
What is the best SMS software for large auto dealerships?
Text Magic is the best SMS software for large auto dealerships.
How can I use SMS for my auto dealership?
You can use SMS for sending promotional materials, alerts about sales, and general updates to your business to customers. You can also use SMS to communicate between employees.
Is SMS marketing legal for auto dealerships?
Yes, SMS marketing is legal for auto dealerships as long as customers decide to opt-in.