It'd be silly to offer up an experience to customers that is confusing and frustrating, but that's what good UI/UX aims to solve.
User Interface and User Experience is more than just an offshoot of graphic design; it involves aspects of design, research, analytics, and studying user behavior.
UI/UX is gaining traction for how important it is to consider, so get a head start from the competition, and learn about what UI/UX can do for your business.
Or, if you already know you need a designer, check out our top agency picks for UI/UX. If you're freelancing as a UX designer, check out our list of the best places to find work.
Best for UX (User Experience)
---
Get a comprehensive UX strategy
Dedicated UX designers and researchers
Build your visual brand identity and high-converting designs
Best for UI (User Interface)
---
Mobile and website user interface design
High-end, yet affordable graphic design
Great for agencies and digital marketing teams who need a quick turnaround time
Advertising Disclosure
Advertising Disclosure
We offer this website completely free to our visitors. To help pay the bills, we'll often (but not always) set up affiliate relationships with the top providers after selecting our favorites. However, we do our best not to let this impact our choices. There are plenty of high-paying companies we've turned down because we didn't like their product.
An added benefit of our relationships is that we always try to negotiate exclusive discounts for our visitors.
What Is User Interface/User Experience?
User interface can be thought of as the "face" of the webpage which users "interact" with. It's more about the artistic vision and expression of the final product.
This includes aspects of the webpage or application that are tactile and observed by the senses, AKA visual, auditory, and sensory aspects of a webpage or application, as well as any touch or click features.
When user interfaces are designed well, users should be able to easily and effortlessly navigate and interact with all aspects of your website or mobile app. It should be efficient and intuitive so that users stay engaged with the media rather than leave the webpage because it's too confusing.
User experience, on the other hand, is more about the functionality of these features. It includes more backend work like market research, development, and more big-picture stuff.
User experience is the background work, conception, functionality, and creation, while user interface is the aesthetic and feel of the finished product.
Both aspects rely heavily on the other to create a successful product.
What's the Difference Between UI and UX?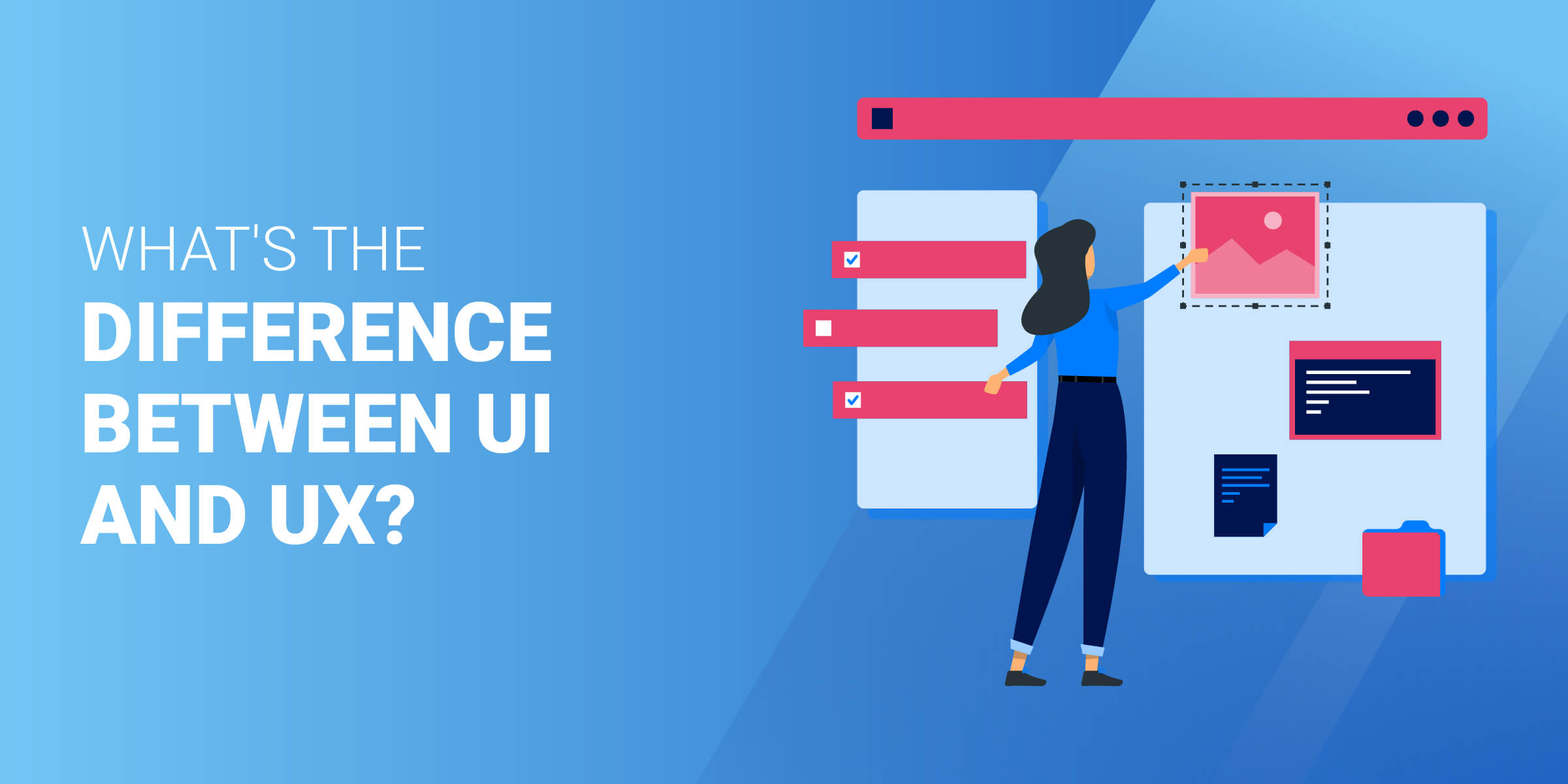 Though UI and UX are often used in tandem with each other, and some designers are capable of doing both, there are a few key differences between the two.
Think of UX as more of a comprehensive, project management type of position. UX designers do the research, create personas and customer journeys, wireframing, prototyping, and user testing, as well as the overall functionality of the site or software.
UI focuses on the look and design of the final product. UI designers typically come in later in the process than UX designers, often when prototypes are being created.
UX is more big-picture, and UI is more fine-tuning the details.
Why Is UI/UX So Important?
So why bother outsourcing UX or UI design? Isn't it easier to just make it yourself?
We're called Don't Do It Yourself for a reason. As much as it seems great to do everything that needs to be done for your business, it's not practical.
UX and UI design could be the thing that separates successful sites and apps from unsuccessful ones. Investing in UX and UI from the jump can save you time, money, and stress in the future.
Save Money
At face value, it seems like putting another person on the payroll would do the opposite of saving a business money. But hiring a UX and UI designer is an upfront investment that will save money in the long run.
Paying to have a professional create the best possible site, application, or software from the beginning saves money when compared with fixing and editing things in the future.
Increase Customer Retention and Satisfaction
Customers love reliability. And good UX and UI design create reliability by lessening the opportunities for things to go wrong.
Happy customers who can easily navigate aesthetically pleasing, intuitive software or applications are more likely to come back for more.
Create Accessibility and Usability for Customers
Though smaller companies think they don't necessarily need to follow them, ADA laws apply to all sites. If your website isn't ADA-compliant, you could get sued and slapped with heavy fines.
Any good UX or UI designer is going to know all of the qualifications your site needs to meet to be ADA-compliant. This means you can be certain that your final product will be accessible to all customers.
Similarly to the customer satisfaction increase, you will see a pretty significant ROI on hiring a UX designer and may just see a larger share of your market.
The ease of use and interactability of a well-designed site creates a positive emotional connection between your brand and the customer, making them more likely to spend money with you.
How Much Do UI/UX Services Cost?
The level and type of UI/UX service you need for your company can vary widely.
Since it does cover essentially the research, creation, testing, and every aspect of the design of your product, these services will cost you.
In the U.S., UI/UX design agencies will typically charge an average of $75,000 for a project from start to finish. That includes services like market research, prototyping, wireframing, user testing, and creating the final product.
Check out our full hiring guide for UI/UX specialists here.
What Deliverables Do UX Roles Produce?
To get a comprehensive understanding of the full scope of a UX designer's responsibilities, let's look at the tangible work a UX designer will need to produce.
Wireframes and Prototypes
UX designers will produce wireframes and prototypes, which are outlines or "rough drafts" and early iterations of the software or site that the client or company is producing.
These are essential early steps in the UX process and help the team get a basic understanding of how the application or product will work before all of the bells and whistles are added.
Heuristics
Problems arise, decisions need to be made, and there's only so much time in the day.
Jakob Nielsen's 10 general principles for interaction design, aka heuristics, are quick, easy, practical ways that UX designers can use to make problem-solving and decision-making simple and efficient.
This is a sort of checklist that UX designers need to go through to determine the usability of their design.
These 10 heuristics are:
System status needs to be visible to users.
Information in the system needs to be understandable to people (use real-world, widely-understood language to communicate info to users.)
Give users control and freedom.
Be consistent and have standards.
Prevent errors.
Give clear instructions and any related information so that users don't have to rely on memory to use the product.
Be flexible and efficient to allow advanced users shortcuts and freedom.
A clean aesthetic, with no visual clutter.
Help should be easy to get if users encounter problems or errors.
Provide easily accessible documentation that lists out steps for users to take to solve problems.
Personas, User Scenarios, and Customer Journey Maps
A persona is a sort of "everyman" character that incorporates aspects of user demographics, habits, and other specifics to create an average of the company's target audience. All of these traits are represented by this singular, symbolic user persona.
User scenarios use these personas to create imaginary use cases and different variations of those situations.
Customer journey maps use these personas to map out the relationship between the persona and business over time to find the best ways to keep customers continually engaged.
User Testing
Once UX designers have a prototype of the application or software, the UX designer is responsible for conducting user testing.
This puts the product in the hands of real-world prospective users and is the best way to gauge the successful aspects and areas with room for improvement of any application or site.
What Skills Are Required for UX Roles?
To effectively deliver on these responsibilities, UX designers need to have a wide range of knowledge and advanced skills.
A few of these include:
User research and strategy– UX designers need to be able to research and understand the user personas of your client or company's target audience.
Information architecture– Roles in the UX field will need to have a good way of organizing things
Collaboration and communication– UX designers will most likely be working with a team who they will need to be able to communicate effectively with to create the best possible product.
Design and design software– One of the biggest parts of UX design is, no surprise, designing. UX designers need to know how to use design software like Adobe Photoshop or Sketch.
Prototyping and wireframing– Creating "rough drafts" of software is important for a UX designer's job, so knowledge of how to create these elements is essential.
Types of Freelance UI/UX Services
Some even more specific job titles fall under the umbrella of UI and UX. Let's look at the different possibilities.
UX Designer Job Description
The responsibilities of a UX designer include everything necessary to turn the idea for an application into a functional, usable application.
This includes researching the market, creating user personas and customer situations and journeys, wireframing, prototyping, user testing, and designing an application.
A UX designer should also have a working knowledge of coding.
UI Designer Job Description
A UI designer's job description includes knowledge of design elements like branding, typography, color theory, and how to understand and file style guides.
UI designers also need to know how wireframing and prototyping work as well as knowledge of key tools used in the industry, including Sketch
Teamwork and communication skills are also necessary.
UX Researcher Job Description
A UX researcher studies the target users of the application, then analyzes this data and provides that information to better inform the UX design.
Information Architect Job Description
Information architects take the data and organize it into an easily readable and understandable for the audience.
They focus more on how accessible and understandable the information is to the target audience.
Content Strategist Job Description
A content strategist focuses on the quality, planning, and delivery of the content.
UX Copywriter Job Description
A UX copywriter takes the information and plan provided by the content strategist and, after researching and organizing the content, writes the written content that goes on a site.
Check out our top picks for UX writers on Fiverr.
UI/UX Developer Job Description
A UI/UX developer is a unicorn!
Someone who is a UX/UI developer or designer is capable of executing the duties of all of the above.
Understandably, it's an impressive and diverse set of skills that one of these individuals possesses.
Usability Analyst Job Description
A usability analyst analyzes the working components of an application to identify anything in the programming that could be tweaked to improve user experience.
Best for UX (User Experience)
---
Get a comprehensive UX strategy
Dedicated UX designers and researchers
Build your visual brand identity and high-converting designs
Best for UI (User Interface)
---
Mobile and website user interface design
High-end, yet affordable graphic design
Great for agencies and digital marketing teams who need a quick turnaround time
FAQs
What are other titles for UX designers?
A UX designer is also known as an interaction designer, experience designer, UI/UX, product designer, digital designer, or UX architect.
What's the difference between UI and UX?
UX refers to the backend research, wireframing, prototyping, and user testing side of applications, whereas UI refers to the visual aspects of the final product.
Is UX a subset of graphic design?
No, UX is not a subset of graphic design.
When should I bring in a UX designer for a project?
You should bring in a UX designer for your project as soon as it starts since their duties include researching your target group of users.
Is UI/UX worth it for my business?
It's always worth it to hire a UX/UI for your business to make sure your app provides the best possible experience for users.
What is the UX process?
The UX process is to understand, research, analyze, design, launch/produce, and analyze again.
What Does UI/UX Mean?
"UI" and "UX" are terms that are often used to describe the designers of user interface and user experience. Together, the UI and UX create the finished product that can then be presented to the client or company.