Before you spend money on a logo or a graphic designer, read my review of 99designs. I'll tell you exactly what I like about 99designs and where the site needs improvement. Let's take a closer look.
Here's Why We Recommend Kimp Over 99designs
The two reasons we recommend Kimp over other graphic design providers:
Get more bang for your buck. Kimp has the highest output and best return on investment. Read our review
Affordable. You could get a logo plus a dozen other designs for the same price as 1 logo on 99designs
Advertising Disclosure
Advertising Disclosure
We offer this website completely free to our visitors. To help pay the bills, we'll often (but not always) set up affiliate relationships with the top providers after selecting our favorites. However, we do our best not to let this impact our choices. There are plenty of high-paying companies we've turned down because we didn't like their product.
An added benefit of our relationships is that we always try to negotiate exclusive discounts for our visitors.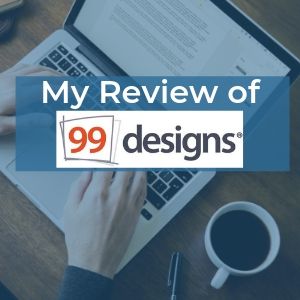 99designs Review
My "Expert" Opinion
"99designs is one of the best logo design firms and will result in you getting a bunch of high-quality designs to choose from.  However, it's simply too expensive and time consuming.  I've had better luck and much faster turnaround using a more affordable unlimited design service like Kimp.  You could get a logo plus a dozen other designs for the same price as 1 logo on 99designs."

-Geoff Cudd, creator of Don't Do It Yourself, August 31st, 2020
Pros: Here's what I like about 99designs
99designs has an intuitive design posting process that helps you present your vision to designers in an organized fashion. Visions can be subjective and their process helps you get a much better result than a typical graphic design job posting. Non-designers usually have no idea how to explain a concept to a graphic designer and I like the questions 99designs asks you to define your design brief. Many other crowdsourcing websites leave your design description wide-open which can lead to you not getting what you want.
They have a money back guarantee which means you won't have to pay for a result that doesn't satisfy you.
I like how you get an estimate of the expected number of submissions based on your budget.
You have the option to run a blind contest where no one gets to see the submissions other than you.
Because of the nature of a design contest, you are paying for a fixed bid project. You'll never pay more than what you set upfront. If you were to hire a designer to work by the hour, you could end up with a project that took longer and cost more than you originally planned. And you might end up getting a design you don't even like.
Because they are one of the largest marketplaces you could get literally hundreds of bids on a single project.
Cons: Here are the only things I don't like about 99designs
I like that you can set your own price for design projects, but that statement is a little misleading because there are minimums for each design category. The minimum prices are reasonable (albeit not the lowest you can find), but when I hear "set your own price", I interpret that to mean I should be able to set any price I want.
You can't review resumes, portfolios, or employer feedback and you can't hold an interview. Yes, you can see designs a contestant has created for other contests, but if you want to dig deeper you can't really get a good view of a designer's background. This is fine if you are buying a single art product, but if you want to hire someone for ongoing work after the contest you may want to view qualifications and vet candidates a little more thoroughly.
YOU may not be a good judge of quality. Everyone thinks they are an expert at judging art, but are you really? If you like a design does it mean it will do best with most consumers? If you hired a designer based on their artistic training and job experience you may end up with a better product than keeping the decision about a contest winner in your own hands.
There's a camp of people that believe design contests are where newbie designers go because they can't find steady jobs yet. And there may be some truth to this, but for the most part, who cares? You still get to review all the designs and pick one you like, even if it was created by a junior designer.
Designers who participate in contests may not get paid for their efforts if they don't win many contests. Of course, designers know this going in, so it's not like it's a surprise and a contest can be a learning experience. That said, I wouldn't mind seeing 99designs keep a few featured designers on a small retainer so that they could make some money submitting a certain number of designs each month.
Overall, you have little to lose by trying a design contest for your next graphic design project. And if you do use 99designs, here's some great tips to manage a 99designs contest from one of my readers and other user reviews.
Is 99designs legit?
Yes, 99designs is a legitimate company.  They provide crowdsourced graphic designs for logos, websites, and more.
Today, over one million freelancers and businesses have used 99 Design's services for their mobile app designs, album covers, illustrations, and more.
The company was founded in 2008 in Melbourne, Australia, and has a U.S. office in Oakland, California.
Is 99designs worth it?
Whether 99 Designs is worth it or not depends on your needs and your budget.
Crowdsourcing your work through 99designs is a great way to see a variety of options for your project. If you're not 100% sure how exactly you want your designs to look, it's a great way to get fresh perspectives and creative ideas that could help you build a more cohesive brand image.
Still, there are other more affordable options, like one of these unlimited graphic design providers.
What is 99designs? Logos & More
How does 99designs work?
99designs is a platform to connect with web and graphic designers to create any type of design like logos, web designs, illustrations and many more.
Have you heard about "unlimited graphic design"?  Kimp offers unlimited designs for a low monthly fee.  You could get a logo plus a dozen other designs for the same price as 1 logo on 99designs. Read more…
According to 99designs, there are 3 steps in the design process.
Step 1: Brief- You start by creating a design brief which explains your project to designers.  The brief should relay all the specifications for your project like your preferred styles, colors, and visual elements.  (Don't worry, 99designs has an intuitive, web-based brief creation process to help you include the right components of your design brief).
Step 2: Connect- You can either hire a single designer or create a design contest where you ask multiple designers to submit ideas and you pick your favorite.
Step 3: Collaborate- You can provide feedback and iterate on a design until you are happy with the result. Once satisfied, you can release payment and get Production ready files for digital and print.
99designs Logos
One of 99designs' specialties is logo design. You can run a logo design contest or hire a freelance designer to create your logo.  99designs originally got its start with logo design contests and it has remained their bread and butter.
Logo contests crowdsource logo concepts to ensure a wide variety of submissions to choose from.
At the end of the contest you'll get a completely custom logo, with full legal copyrights and source image files for online and in print. This means the original, editable vector EPS files (in both CMYK and RGB for print and web), and web optimized files (JPG and PNG).
Logo contests come with a moneyback guarantee as well.
When your contest is done, you can optionally add-on and use the winning designer to create an entire brand package around your new logo.
How Much is 99designs?
99designs pricing varies depending on the type of design project and whether your start a contest or hire a freelance graphic designer.
Logo design pricing starts at $299 and go up to $1,299. Higher priced packages come with more logo concepts and higher rated designers.
Web page design pricing starts at $599. Higher priced packages come with more web design concepts and top rated designers.
Video production and photography pricing starts at $499 and $299 respectively.  Both of these types of projects require you to be in the US and entail a local pro coming out to do a shoot on site, so contests are not applicable.
Other types of projects like advertising materials, social media, merchandise, books, and illustrations vary in pricing.
1-to-1 project pricing: You can also hire a freelancer for a 1-to-1 project across any type of over 90 design skillsets.  Each 1-to-1 project is unique so pricing is determined based on your budget and what your designer charges for the work.
As a client, you'll also pay a flat 5% platform fee to cover the cost of payment processing, marketplace protection, and customer support.
How Long Does 99designs Take?
For all design categories except web design, the contest will run for 7 days.  You finish a contest by declaring a winner at any time, otherwise the contest will run in 3 stages:
Stage 1 – Qualifying Round (4 days): Designers submit designs and you provide feedback and select up to 6 finalist designers to compete in the Final round.
Stage 2 – Final round (3 days): You work closely with finalists to iterate and revise designs until you are satisfied and pick a winner.
Stage 3 – Finalization (up to 5 days): Once you've chosen a winner, your designer will send you the final files.
Tips to Run a Design Contest Successfully
Here are some tips to run a design contest and get results that you'll love:
Spend the extra effort upfront on your design brief. A thorough brief will not only get results closer to your vision, but it will also attract better designers.  Designers often decide whether to participate based on the quality of the design brief.
Setup your personal profile. Designers are more apt to submit work if there is the potential for future projects, especially if you appear to have a legitimate business with a marketing budget.
Guarantee payout for your design contest. A guaranteed payout ensures good designers are compensated if they put in the work. Quality designers are much more likely to participate in a guaranteed contest than a free one where there time may be wasted.
Take the time to invite designers to participate in your contest. By seeking out designers, you'll not only get more submissions, but designers may actually try harder when they know they were personally requested rather than submitting to a random design contest.
Consider a private (blind) contest instead of a public one. This means your designers won't be able to see the competition's logos.   Some will argue the benefit of a public contest is that all designers can incorporate your feedback on likes or dislikes into their concepts.  However, you can still give feedback in a blind contest, but you are more likely to get completely unique ideas which can drive a better end result.
Provide fast and frequent feedback. This one is kinda self-explanatory, the more feedback you provide, the better your result.
Survey your friends. You may think you've got a keen eye for art, but everyone is different and you want your designs to appeal to a broad audience. So poll some fresh eyes during the contest to get more opinions on your submissions.
What is a design contest?
A design contest is a competition between graphic designers to deliver the winning design for your project (logo, website, etc).
You submit a design brief describing your project, what you're looking for, and any other useful information.
99 Designs will send out that brief to however many designers you chose in your pricing package and then designers will start creating their own iterations of your request.
You will get the opportunity to provide feedback during the process to help designers improve their designs and send back new ideas.
At the end of the contest, you pick a winner who will receive the prize money. You then get the design files and copyright for the winning design.
Alternatives to 99designs
There are many competitors to 99designs that will handle your graphic design needs at a fraction of the price.
If you're looking for more options, we've reviewed the top alternatives to 99designs.
Many of these providers are unlimited graphic design companies which provide as many designs as you want for a fixed monthly price.
Here's Why We Recommend Kimp Over 99designs
The two reasons we recommend Kimp over other graphic design providers:
Get more bang for your buck. Kimp has the highest output and best return on investment. Read our review
Affordable. You could get a logo plus a dozen other designs for the same price as 1 logo on 99designs
Video Review of 99designs
Frequently Asked Questions
Is 99 Designs better than Fiverr?
While Fiverr may be cheaper on occasion, 99 Designs offers better-quality designs and a wide variety to choose from.
Is 99 Designs expensive?
99 Designs is pricier than hiring a freelance designer from Fiverr or Upwork, but they do produce more and better designs.
What are the alternatives to 99 Design?
Alternatives to 99 Design include Design Pickle, Fiverr, Designbro, and Crowdspring.