LearnDash is a WordPress learning management system (what is an LMS?) plugin primarily used by higher education institutions and professional training organizations. Let's review exactly what all of that means, and investigate how LearnDash compares to the competition. 
In this article, we break down the pros and cons of LearnDash and see if this plugin is the right fit for you.
Want to build and sell online courses from your WordPress website?  Visit LearnDash and see how their LMS plugin can transform your site into a lean, mean, course-selling machine.


Visit LearnDash
Advertising Disclosure
Advertising Disclosure
We offer this website completely free to our visitors. To help pay the bills, we'll often (but not always) set up affiliate relationships with the top providers after selecting our favorites. However, we do our best not to let this impact our choices. There are plenty of high-paying companies we've turned down because we didn't like their product.
An added benefit of our relationships is that we always try to negotiate exclusive discounts for our visitors.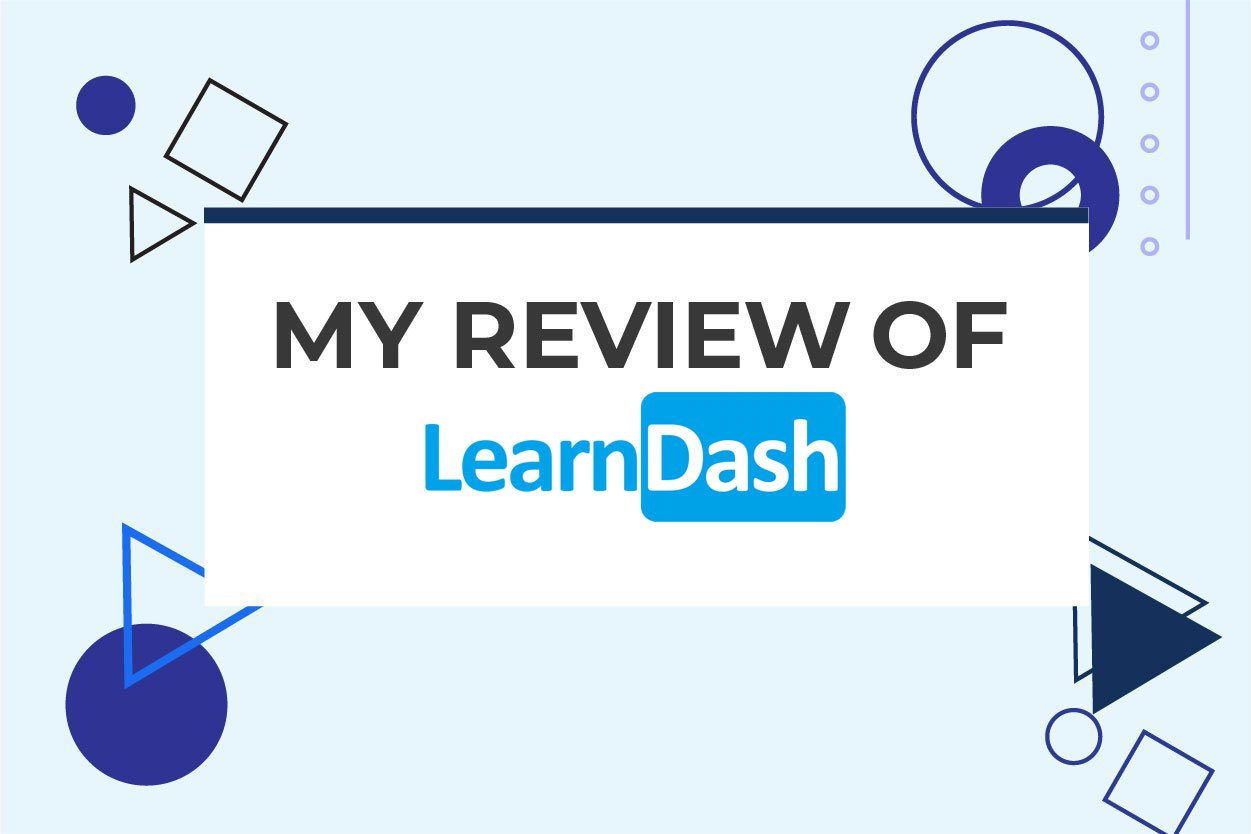 LearnDash Overview
LearnDash is a self-proclaimed "most trusted WordPress LMS," meaning users can build their own online courses and sell them to clients. It also allows you robust administration tools and integrates the latest technologies for your classes.
How do LearnDash and Learning Management Systems work?
Learning management systems are plugins that allow users to create and run online courses on WordPress. Most LMS plugins allow users to manage their own class content, handle subscriptions, allow for sale and distribution of their courses, and so on. 
Through an annual subscription, LearnDash allows its users to build their own academic or training courses through a drag-and-drop building tool. Some of the course features include separate lists of lessons and topics, videos, quizzes, assignments, prerequisites, and course forums. It also allows users to monetize the courses they build by allowing creating subscription portals, charging a membership fee, or even creating course bundles to sell on the market. 
It also allows course creators to expertly manage their courses by creating user/student profiles, automatic email notifications, detailed reporting on class progress, and group management. LearnDash allows several different addons if creators need to integrate more tools. It is mobile compatible, and users can implement any WordPress theme they want with their courses. 
Who is LearnDash good for?
LearnDash will be an extremely useful tool for anyone who needs to turn their WordPress site into a learning management system. This includes WordPress developers whose clients are requesting an LMS, organizations looking to offer professional training, companies that need to train their clients or workers, and educational institutions like universities.
Colleges or trainers can benefit from using LearnDash's robust set of tools to craft courses tailor-made for their students or clients.
Who uses LearnDash?
LearnDash is a great tool for universities, other educational institutions, training sites, or sites that want to provide onboarding training.
Some notable organizations listed on LearnDash's site include:
University of Florida

InfusionSoft

Digital Marketer 

WP Elevation

University of Michigan

ProBlogger

University of Washington
How Much Does LearnDash Cost? (LearnDash Pricing)
LearnDash pricing varies based on the package selected. 
The most basic package – priced at $199 – allows users to create as many courses as they want for as many members as they want. The course content is protected, meaning only course members have access to the materials, and the administrator can set specific dates for certain classes to go live, otherwise known as "drip-feed lessons." Other features include templates for quizzes, certificates, and badges to reward students, email notifications, and free integrations of other programs. 
The "Plus" package includes all of those features, but allows LearnDash support for up to 10 different sites, whereas in the basic package you can only apply these features to a single site. Users who purchase the Plus package also receive ProPanel, which allows them to monitor student course activity in real-time, manage all assignments and essays, and view students' progress and quiz results. It is priced at $229, only a $30 difference from the basic package. 
Finally, the "Pro" package is essentially the same as the Plus package, but allows for up to 25 site licenses instead of 10, and is priced at $369. 
LearnDash offers a 30-day money-back guarantee and automatically renews all licenses after one calendar year. Users can cancel at any time.
LearnDash Review
By far the best thing about LearnDash is its drag-and-drop builder feature. It allows users to visualize the layout of their course as they're building it. This way, you can visualize what your courses are going to look like before they're live, and allows you to connect everything together in real-time. You can also quick-add new lessons and quizzes from the course builder. You can lay out the curriculum from the outset, and choose to go back and edit it as needed. 
A unique feature that LearnDash offers is its video progression tool, which allows users to easily embed self or externally hosted videos onto their courses. You can automatically mark a lesson or course and complete once a student finishes a video while enabling video autoplay once a user finishes one video. You can even hide the play bar so that viewers don't skip the video, and set the video to play before or after a few small assignments are completed. 
The drip-feed feature is useful for getting users to come back to your course, or allow them to space out the curriculum and avoid binging it all in one day. LearnDash allows users to make the content available after a certain number of days, or you can set a release schedule for all of your content as well. 
Another useful feature is the prerequisites option. If you want to make sure that every student has the proper foundational knowledge before taking a more advanced course, LearnDash lets you create prerequisite courses. You can assign a specific set of courses as prerequisites before a user is allowed to move onto the core class. Whether or not you want users to complete all of the prerequisite classes or just a few is your choice. 
LearnDash also automates certain functions that make life easier for the course administrator. For example, engagement triggers allow users to automate certain functions once a student has completed a certain task. Whether a student completes a course, fails a quiz, finishes a lesson, or uploads an assignment, you can set these events to automatically trigger another function. 
Simple triggers may be sending an email to the user. Perhaps a student that failed a quiz needs some guidance, and you can easily reach out this way. There's plenty of room for creativity, especially if you integrate LearnDash with Zapier. 
The extent to which you can connect LearnDash with other third-party add-ons puts LearnDash above the rest, as you can easily integrate email apps or get more creative with your course structure. 
In terms of criticism, LearnDash doesn't offer a detailed tutorial to ease users into the experience. Although many will eventually figure things out on their own, there are certainly plenty of quirks and tricks that casual users will have to learn. 
Let's look at all the pros and cons of using LearnDash:
Start building and selling your courses on WordPress with LearnDash . Visit LearnDash


Visit LearnDash
Pros: Here's what I like about LearnDash
Organizing courses is made much easier due to the drag-and-drop feature.
Detailed functionality for creating and monetizing courses makes the program extremely robust.
The video features allow users to properly integrate videos into their lessons.
Drip-feed options allow courses to be spaced out better.
Users can automate various functions through third-party apps and through Zapier.
The program is localized for different languages, allowing a more diverse group of people to take your courses.
Generally a good price for a diverse set of features.
Cons: Here are the only things I don't like about LearnDash
If you don't have a WordPress application or website, you can't use it.
It's not user friendly at the beginning, as the program doesn't offer an extensive tutorial.
Although integrating other apps is not mandatory, if you want to monetize your courses, you'll need to learn how to use apps like Woocommerce to get maximum utility.
LearnDash Alternatives
Readers that aren't sold on using LearnDash, or are open to using other third-party platforms to craft and distribute their online courses can try these alternative plug-ins and services.
If you don't consider yourself to be tech-savvy or just aren't comfortable with setting up an online course distribution site by yourself, online course platforms might be the route for you. By hosting your sites on their servers, these platforms allow you to focus exclusively on creating course content.
The best online course platform that we recommend is Thinkific (read our review). On top of basic functions such as offering tests and quizzes or course reporting and analytic tools, Thinkific allows users to set up payment plans for individual customers and are PayPal integrated. It also offers third-party email marketing integrations while allowing custom domains.
Thinkific offers extensive customizability for their course domains without requiring users to be tech wizards. By offering payment plans that range from $39 to $399 a month, Thinkific is relatively affordable for the amount of content it offers. Based on these factors, we believe that it's the best online course platform that's currently available on the market.
Read our Thinkific Review
While on the surface, they provide users with the same learning experience, Kajabi and LearnDash are very different on the backend. LearnDash's focus is purely on online course creation, whereas Kajabi is focused on providing an entire solution to running an online course sales business.
Simply put, Kajabi does everything: host your main website, take payments, deliver courses, handle marketing automation pipelines, send marketing emails, and design landing pages. If you're just getting started online, this is a great solution to keep costs down.
Read our Kajabi Review
LearnPress
Unlike other LMS plugins mentioned above, LearnPress can be downloaded free of charge. It offers a slew of typical LMS features, such as quizzes, lessons, and questions. It also allows users to export content to other WordPress sites.
Although the initial setup is free for all users, LearnPress does offer paid add-ons that are likely necessary to make the most out of the plugin. You also need to pay for additional support by way of forums. Regardless, LearnPress is still an affordable option for many professionals looking to craft online courses and distribute them on the market.
Frequently Asked Questions
Wondering if LearnDash is the right choice for you? We've compiled a list of frequently asked questions and answered them as best we can to ensure that you're making the right choice by choosing this plugin.
Does LearnDash offer free trials?
LearnDash does not offer free trials but it does offer a 30-day money-back guarantee for anyone unsatisfied with the plugin after a month.
Does LearnDash support live training events or webinars?
Going live for training and holding webinars are becoming increasingly popular these days. While these aren't available as features on LearnDash, other conferencing tools can be integrated into your site through Zapier.
Do I need a membership plugin for LearnDash?
Nope. LearnDash protects your course content without the need for a membership plugin.
Will LearnDash be compatible with my WordPress theme?
Most likely. The plugin is built to work for most modern themes, but you can contact LearnDash's administrators about custom themes and their compatibility.
What type of support does LearnDash offer?
All users receive start-up guides, video tutorials, and help desk support to ensure a smooth setup process.
Does LearnDash offer refunds?
If you're unsatisfied with LearnDash within the first 30 days after purchase, you are eligible for a full refund under their refund policy.