You may have heard of a "learning management system," or LMS for short. The term is frequently mentioned in eLearning articles, beginner's guides, and tip sheets, so it's important to know exactly what an LMS is and how it works.
A learning management system generally refers to software that provides a framework for every aspect of the learning process. Whether it be uploading classes, delivering content, monitoring each students' progress, or even creating the classes themselves, an LMS is designed to facilitate all of those important functions.
LMS's have become a popular tool among companies, corporations, and many other organizations around the world. But you might still be wondering, should I invest in an LMS for my business? What are the specific advantages of purchasing an LMS, and which features do I need to be on the lookout for?
Those are the questions we'll answer today, as we break down the most common questions surrounding learning management systems to help you decide whether it's a program worth investing in.
Advertising Disclosure
Advertising Disclosure
We offer this website completely free to our visitors. To help pay the bills, we'll often (but not always) set up affiliate relationships with the top providers after selecting our favorites. However, we do our best not to let this impact our choices. There are plenty of high-paying companies we've turned down because we didn't like their product.
An added benefit of our relationships is that we always try to negotiate exclusive discounts for our visitors.
What is an LMS and What's it's Function?
The most common use for learning management systems is to create, deploy, and track online learning initiatives. It's where an organization houses learning content, such as training courses, delivers them to their clients or employees and tracks their progress.
How an organization uses an LMS is going to be different based on their needs, but it's generally boiled down to two use cases. One involves employees or clients using LMS to take training courses, and the other involves the management team creating, dispersing, and monitoring course progression.
Think of it as a repository that stores and tracks a wide range of learning-based information. An LMS allows management to create and disperse courses related to their organizational goals while tracking where each employee or client is at in meeting those milestones.
Assets are typically uploaded to LMS systems, meaning anyone with access can easily look through them. This makes an LMS ideal for remote learning. Because an LMS is equipped with built-in eLearning software, users can create their own content and share them on a single platform. This eliminates the need for integrating with other third-party programs.
How does an LMS work?
An LMS is like a gated community of knowledge that only those with log-in credentials and certain levels of access can enter. An LMS is similar to online distance learning where students and teachers interact with each other asynchronously. The means students can view and complete assignments while indirectly communicating with their teachers.
Because LMS platforms are entirely electronic, they're most commonly accessed through personal computers, laptops, tablets, and mobile devices. With the continued growth of smartphones, mobile LMS is becoming increasingly popular.
LMS typically involves three different log-in types:
admin log-in
teacher log-in
student log-in.
Admins create and upload content into the system, remove or add users to the platform, and give both teachers and students certain tools or access levels to navigate the system depending on their needs.
Teachers are responsible for giving out assignments, lessons, and other materials to their students. They also receive completed work, provide feedback, and give out grades.
Students log into an LMS to take courses, complete assignments and contact their teachers or system admins for support.
Why use an LMS?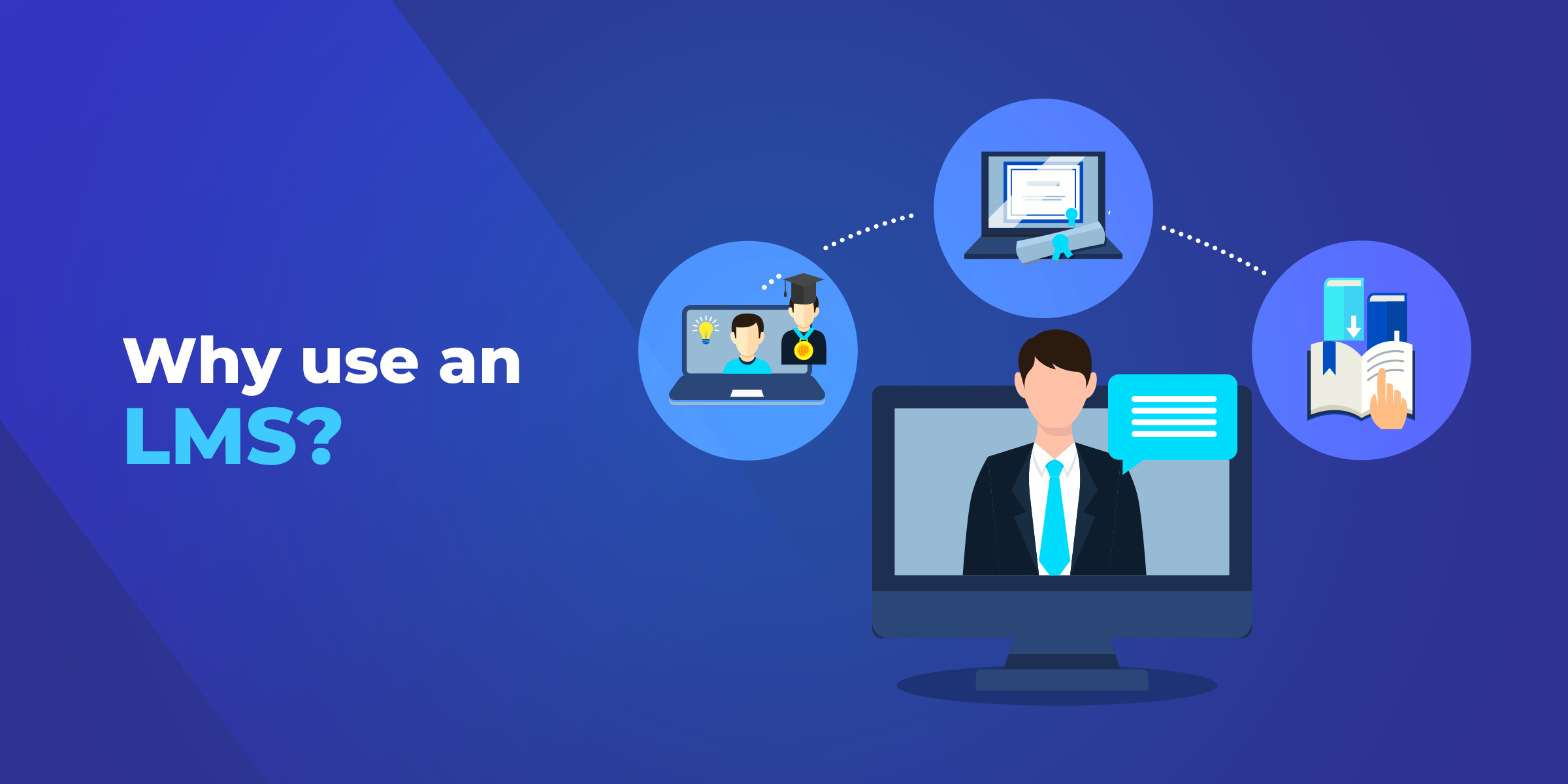 Training employees and getting them on the same wavelength about the organization's mission is an important part of any employer. Trained employees who understand the extent of their work creates a more productive workforce and a better bottom line.
As technology improves and with telework becoming more prevalent, it's important for employers to leverage LMS to keep their employees properly trained. Being able to automate this process as much as possible is a huge incentive for many businesses, which explains the growth of LMS as an industry in recent years.
Not only does and LMS keep training and learning materials in one place, but administrators and teachers can also track their workers' progress on the same platform as well. This provides far more leeway and efficiency when tracking training objectives.
An LMS helps reduce training costs by centralizing material and fast-tracking employee development. An LMS can also be integrated with third-party software to streamline the course creation and uploading process. It also saves time by having all parties congregate on one platform to learn, monitor, and create courses.
Because all course content is in a single place, an LMS is often integrated on mobile systems. This provides trainees with plenty of freedom to complete courses on their own schedule.
What types of businesses use LMS?
But who exactly uses LMS, and do you fit in one of these categories? LMS appeals to a wide range of clients, and it's important to know how they're used by different organizations.
Colleges and universities certainly use LMS to supplement their coursework, typically for students that are off campus or out of the country. With the current pandemic, there's a chance LMS will be used for more traditional student bodies as well.
Outside of education, HR departments heavily rely on LMS to train their employees and managers about the company objectives, rules, and mission. It's often used to teach key skills and used as an incentive for upward mobility.
Trade organizations within the medical, industrial, or engineering fields use LMS to give out specialty training, or as a requirement to earn a specific license.
Lastly, hobbyists and self-learners can use LMS to learn skills related to their profession or hobbies on their own time.
How many LMS are there?
There are currently over 800 LMS vendors on the market today as compared to 600 vendors in 2014.
One of the biggest contributors to LMS growth is the introduction of cloud capabilities. This means that users can log into the LMS platform through a web browser, thereby increasing accessibility.
With the LMS market expected to be worth over $15.71 billion by 2021, and over 40% of all Fortune 500 companies using these platforms, choosing the right LMS platform for your business can be a challenge. Luckily, we have some recommendations.
What is the best LMS?
There is an important distinction that needs to be made regarding LMS platforms. They're either self-hosted, meaning users need to download the software itself to utilize its features, or they're cloud-based and can be accessed via a browser.
The option you choose ultimately comes down to your organization's needs or priorities.
A company might invest in self-hosted LMS because these platforms typically offer greater customization, more flexibility, and greater security over private information than cloud-based systems.
On the flip side, organizations might use cloud-based or hosted LMS because they prioritize greater accessibility for users rather than increased customization. A company or school might not need private information from its users, and being able to access the system from a web browser makes it far more user-friendly than the alternative.
Whichever option is better suited for your organization, here are the best options for both hosted and self-hosted LMS on the market.
Hosted
Adobe Captivate Prime LMS
Adobe's award-winning SaaS LMS allows single users to set up, distribute, and track educational courses all by themselves. The platform allows for user-created courses and provides analytic tools to see how they're affecting your business. Companies can effectively train their employees through an accessible, mobile-friendly platform.
Docebo
Docebo leverages its artificial intelligence technology to automate learning management, making for smoother and efficient training tools for modern companies. Administrators can automate internal and external activities to optimize online learning environments,
Its AI ensures that any user-generated learning content is routed to learners that need it most, facilitating a dynamic social-learning environment. It also contains a learning library of over 700 different content material, making course-creation much more manageable for teachers and admins.
Self-hosted
eFront
For manufacturing, shipping, or banking companies – or organizations with a majority deskless workforce – eFront is a perfect fit. Its self-hosted structure means it won't crash even when it sees a spike in users.
It's ideal for onboarding and compliance training, making it well-suited for companies with complex learning ecosystems. Organizations can train thousands of employees from a single account with security functions that make sure that personal or valuable information will never be tampered with.
Gyrus Aim
Companies that require complex training for managers, compliance officers, sales managers, and safety officers, will likely find Gyrus Aim to be a well-suited fit.
It provides high-level analytics and reporting that can efficiently provide skill management while curating competency ratings among its user base. As a self-hosted LMS, all user information is secure and its high customizability makes it a scalable option for any organization looking to train their managers and higher-level positions.
What features should I look for in an LMS?
Ease of use
A lot of companies think about switching from LMS to LMS because the platform is just not easy enough to use. Learning management systems should not only have intuitive and user-friendly interfaces but also be easy and quick to learn. You want to upload your content as quickly as possible, and you want your employees or students to start learning as soon as you can.
Integration
Being able to share information across platforms outside of the LMS itself is a key feature for companies that use these platforms for training courses. If you want to know whether an employee finished their training course, you'll want to be able to transfer that information to other HR software. You should therefore be on the lookout for integration capabilities from learning management systems.
Mobile capabilities
As smartphone technology keeps advancing, more and more employees are going to want to use their devices to take training courses for greater convenience. A mobile-friendly LMS will allow your employees to complete training courses quicker while allowing admins to view course progress and other pertinent data.
Reporting and tracking
Being able to track course progress and report on important data is a must-have feature for LMS. These functions will allow admins to view exam scores, who's been completing them, and how quickly they're progressing through each course. If you're using LMS to sell your own courses, you'll also need to track sales, revenues, and overall marketing performance as well.
How much does an LMS cost?
Many LMS use the software-as-a-service model (SaaS), meaning users pay a subscription fee based on the features they actually use. Some vendors provide a one-time annual fee or a one-time license fee.
It's not uncommon for vendors to negotiate a price for their LMS, as costs can get complicated if users want to customize their features list.
Vendors often average the costs and charge per student or per course. Accord LMS for example charges $1.75 per learner for up to 200 learners or $0.80 per learner up to 1000 learners.
This pay-per-learner model can be integrated into a monthly billing plan, as CoreAchieve has a $299 per month plan for up to 100 users, equating to $2.99 per learner.
Sometimes vendors offer a one-time licensing fee, which generally varies from $500 to $20,000 depending on the complexity of the LMS itself.
Be sure to take into account different payment options for different LMS vendors. You can also make a decision based on whether they charge per learner, bill you a flat fee, or allow you to purchase a license. Either way, you're likely going to spend a few hundred dollars for even the most rudimentary LMS.
What is the difference between LMS and online course platforms?
When you consider LMS as a platform alongside similar online course platforms, it can get a little confusing. The main thing to remember is that learning management systems are primarily intended to distribute courses and give learners the ability to take the courses while letting course creators and admin track progress and gain analytics.
Online course platforms, for the purpose of this article, are sites and programs that allow users to create their own courses and distribute them to buyers and make a profit. They're a great way for educators and professionals to craft their own curriculums since the platform usually offers a wide range of creation tools, but the main focus is on creating and selling the courses.
Although the LMS we've mentioned in this article offer creation tools, their focus first and foremost is hosting and monitoring courses. Although the overlap can be confusing, LMS and online course platforms are similar yet separate entities.
Check out our article on the best online course platforms available to find out more.