Let's take a high-level look at Thinkific and then we'll dive into my review.
High Level Thinkific Review and Price Plans
Recognizable Thinkific Customers
Thinkific Review – The Good & Bad
Thinkific Video Review & Walk-through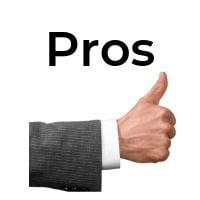 Pros: Here's what I like about Thinkific
Only course platform with a free option and no transaction fees. Thinkific's free option is really good.  The main limitation I see is that you are limited to 3 courses.
Phone support. Thinkific is the only platform to offer phone support.  They also offer priority phone support on higher plans.
Ability to customize. You can match the look and feel of your business or website
Custom domain. While Thinkific will host your course, you can set the domain to make it appear as part of your website.
Voice over PowerPoint presentation tool that makes video production easy.
You can offer students payment options like a monthly payment plan for more expensive courses.
You can offer a monthly recurring subscription for ongoing access to a course through a membership model.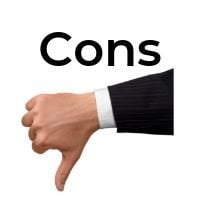 Cons: Here are the only things I don't like about Thinkific
No course marketplace to market your course.
No integrated email marketing, however, you can easily tie into 3rd party email providers like MailChimp and Aweber
No integrated sales funnel builder, however, you can easily tie into 3rd party sales funnel builders like Clickfunnels and LeadPages
There is no chat support, although they are only platform to offer phone support.
Review of Thinkific's Best Features
I first started this review by sharing the two features that make Thinkific stand out from other course providers. Let me expand:
1 – Thinkific's Free Plan is one of a kind
Thinkific is the only online course platform that actually has a viable, long-term, free option to sell courses. Other course providers either run 2-week free trials or free plans that require you to pay transaction fees.
Thinkific's free plan has zero transaction fees and comes loaded with a lot of premium features. You can fully setup 3 separate courses, add your own branding, collect payments, and run quizzes.
When you're ready to add more than 3 courses and take advantage of hundreds of extra features you can upgrade to Thinkific's reasonably priced paid plans.
2 – Thinkific's ability to customize and flexibility
Thinkific has more customization options than any other platforms by far. You can brand your courses and storefront to look just like your website, offer quizzes, surveys, student discussions, prerequisite lessons, completion certificates, and the list goes on and on.  The customization features are intuitive for everyday users, but if you on the technical side, Thinkific also gives you full access to modify HTML and CSS as well.
For anything not built into the platform, you can take advantage of one of the many existing integrations with platforms like MailChimp, Infusionsoft, and Brillium Exams. And if a 3rd party isn't already integrated, there are likely pre-built "zaps" you can use through Zapier integration to easily connect to almost any 3rd party platform.
We've negotiated an exclusive offer for our visitors.

For a limited time you can try Thinkific's Pro + Growth Plan, free for one month.
Alternatives to Thinkific
Thinkific is one of my top 2 picks out of the 5 best course platforms.  My other pick is Kajabi (read my Kajabi review here).
While Thinkific allows you to easily integrate with many 3rd party plaforms, Kajabi is an all-in-one platform that has many of those features built directly into their system.  Kajabi comes with built-in email management, a sales funnel builder, marketing automations, and more.
Whether you want the flexibility to use your favorite 3rd party providers or have those functions bundled in, you can't go wrong with either course platform.
Avoid This Mistake when Starting to Sell Courses
As you probably know, creating and selling online courses is one of the easiest ways to build a large passive income stream.  If you've got a great idea, you may be tempted to dive head first into a course and spend a ton of time and money on content creation, video production, and platform fees.
I'm excited about selling courses too and would be the last person to discourage other entrepreneurs.  However, if this is your first foray into course production, I'd suggest testing the waters and seeing if there is a market for your course.
Before investing months building out a course, try Thinkific's free plan and setup a mini-course in your niche.  Pick one topic or chapter of your master course and use that for your mini-course.  You can offer this for free or a nominal fee.
You can use your existing audience, social media followers or paid ads to find students.
At the end of the mini-course add a survey and ask students what could be improved and topics of interest.  This way you can tailor your full course to match the sub-topics your students really want to learn about.   And be sure to collect email addresses so you can notify those students when your full course is released and hit the ground running with course sales.
Frequently Asked Questions