Before picking a platform to start selling online courses, read my review of Teachable. I'll share the pros and cons of the platform and compare it to the other top online course providers.
I'll also discuss a big mistake to avoid when selling your first course.
Advertising Disclosure
Advertising Disclosure
We offer this website completely free to our visitors. To help pay the bills, we'll often (but not always) set up affiliate relationships with the top providers after selecting our favorites. However, we do our best not to let this impact our choices. There are plenty of high-paying companies we've turned down because we didn't like their product.
An added benefit of our relationships is that we always try to negotiate exclusive discounts for our visitors.
Teachable Pros + Cons Video
What Makes Teachable Different than Other Providers?
Teachable features are geared towards new course creators:
It has an intuitive admin interface which makes building your first course easy
It has a Free plan to get you started (UPDATE: Teachable discontinued their free plan and Thinkific is now the only course platform to offer one.  Read our comparison of Teachable vs. Thinkific)
It has the only built-in payment processing system, Teachable Payments
More on these below…
Let's take a high-level look at Teachable and then we'll dive into my review.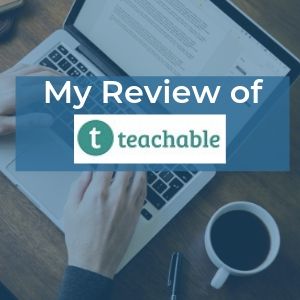 Teachable Overview and Pricing
Teachable is probably the most well-known online course platform that you can use to create and sell courses and membership sites.  Teachable will provide a framework for everything you need to create and sell your course.
You can build your course with videos and written content and then sell it through a Teachable sales page with a pre-made template.
The Teachable platform comes with built-in payment processing, Teachable Payments, or you can use your favorite 3rd party payment processor like PayPal or Stripe.
Teachable has 3 price plans: $39, $119, and $299.  Of note, the Basic Plan ($39/mo.) charges a 5% transaction fee each time you make a sale which can add up quickly.
My pick for the best Teachable plan is the Professional plan for $119/month.  This is the first Teachable plan with no transaction fees.  The Professional Plan comes with affiliate tools to help you sell your course and built-in course completion certificates which only Thinkific also offers.
Get the full rundown on Teachable pricing plans here.
Is Teachable Legit?
Teachable is absolutely legit. With over 100,000 instructors by 2020, Teachable knows what it's doing and takes its instructors' needs to heart.
Who Should Use Teachable?
Anyone creating an online course that works on iOS or handles EU VAT should use Teachable. Its no-coding-required interface makes it simple to use without a huge learning curve.
Recognizable Teachable Customers
Teachable is used by over 68,000 course creators with big names like Pat Flynn (Smart Passive Income) and Carrie-Anne Moss (Annapurna Living).
But it's not just for solo entrepreneurs, Enterprise users include The New York Times, Intuit, Shopify, Penn Law, and many more.
Teachable is accessed by over 18 million students and has generated over $338 million in sales.
Teachable Review – The Good & Bad
Pros: Here's what I like about Teachable
Teachable Payments is a built-in payment processing option so you don't need to get a separate Stripe or PayPal account.
Teachable's built-in email marketing tool lets you message students when events occur like enrolling or completing a course.
Course completion certificates are offered on the Professional plan and up (many providers do not offer this or require you to pay a 3rd party).
Your course can be accessed from the Teachable iOS app.
You can offer students payment options like a monthly payment plan for more expensive courses.
You can offer a monthly recurring subscription for ongoing access to a course in a membership model.
Teachable will handle EU VAT for you
There is a free option to get started, although this also falls under the Cons (see next section).
Cons: Here are the only things I don't like about Teachable
There's not as many course and site customization options as some of the other platforms.
There is no free plan
The Basic plan has a 5% transaction fee. (no transaction fees starting on the Professional Plan)
You would need to use a 3rd party platform (like ClickFunnels or LeadPages) for a sales funnel builder.
There is no phone support
No course marketplace
Is Teachable Worth It?
Whether or not Teachable is worth it depends upon your needs. If you want to test out a truly free plan (with no transaction fees), you should consider Thinkific instead. If you need a marketplace, you can look into Udemy or Skillshare.
If you want your students to be able to access the course on their mobile devices or have EU VAT handled or have a built-in email marketing tool, then you're going to want to look at Teachable.
Review of Teachable's Best Features
I first started this review by explaining that Teachable was focused on helping new course creators. Let me expand:
1 – Teachable's intuitive interface
Teachable has a straightforward admin panel which makes building your first course easy. Teachable's navigation is clean with only the most important customization features. Some other course platforms have so many customization features that a newbie can get a little lost.
2 – Teachable's payment processing
The Teachable platform comes with built-in payment processing through Teachable Payments. This saves you the trouble of having to get an account with a 3rd party payment processor and then configure within the platform. Teachable Payments fees are comparable to industry standards, Stripe and PayPal at 2.9% + 30 cents per transaction. The only caveat is that Teachable charges a 25 cent fee for each payout, which is negligible if you get your payouts once or twice a month.
3 – Coaching Options
Teachable's coaching option, which is available to all paid Teachable members, is a wonderful feature for solo entrepreneurs that are looking to earn money by selling digital coaching services online. It provides coaches with an easy way to set up a sales page and intake forms. There is also a 1:1 coaching space where users can schedule coaching sessions and communicate with you directly, which eliminates email and a lot of back and forth. There are also a ton of other scheduling and video conference tool integrations.
4 – Circle.so Integration
Teachable recently released a new integration with Circle.so, which offers a simple and intuitive community platform, designed to foster engagement and build relationships. You can create a free community to build a brand and generate new leads with Circle.so. In addition, you can create community space specifically for your cohort-based course to drive course discussions and accountability. With Teachable's Circle.so integration, you can create a free or paid stand alone community. You can also create a community that connects to your courses.
Teachable Promo Code – 50% OFF
Looking to try Teachable?  Use our exclusive coupon for a discount!
Alternatives to Teachable
We've analyzed dozens of the best online course platforms and made a shortlist of the top Teachable competitors.
Create and sell online courses and coaching services with Teachable

Visit Teachable
Avoid This Mistake when Starting to Sell Courses
As you probably know, creating and selling online courses is one of the easiest ways to build a large passive income stream. If you've got a great idea you may be tempted to dive head first into a course and spend a ton of time and money on content creation, video production, and platform fees.
I'm excited about selling courses too and would be the last person to discourage other entrepreneurs. However, if this is your first foray into course production, I'd suggest testing the waters and seeing if there is a market for your course.
Before investing months building out a course, setup a mini-course in your niche. Pick one topic or chapter of your master course and use that for your mini-course. You can offer this for free or a nominal fee.
You can use your existing audience, social media followers or paid ads to find students.
At the end of the mini-course add a survey and ask students what could be improved and topics of interest. This way you can tailor your full course to match the topics your students really want to know about. And be sure to collect email addresses so you can notify those students when your full course is released and hit the ground running with course sales.
Also Read: What to do when your course is stolen (our guide to fighting course pirates)
Frequently Asked Questions
Is Teachable legit?
Yes, Teachable is a legitimate company. It was founded in 2014 by Ankur Nagpal and has over 170 employees serving over 70,000 course creators.
Is Teachable mobile friendly?
Yes, Teachable courses are fully mobile responsive and render well on any phone, tablet, or computer.
Who uses Teachable?
Teachable is used by tens of thousands of individual course creators like Pat Flynn as well as big companies like The New York Times, Shopify, and Penn Law.
Does Teachable have a free plan?
Teachable does not have a free plan.
Does Teachable charge transaction fees?
Yes, Teachable has a 5% transaction fee on their Basic plan.  The Professional and Business plans do not have transaction fees.
How do teachable payments work?
Teachable Payments is Teachable's payment gateway to allow credit card transactions.  It allows for faster payouts which are paid out directly to your bank account via Stripe.  You enable Teachable Payments and select a payout schedule (daily, weekly, or monthly) when you are setting up your school.
Is Teachable a LMS?
Yes, Teachable is a web-based learning management system (LMS).  LMS software is used to provide training courses and educational content in both written and video format.
Is Thinkific better than Teachable?
Both Teachable and Teachable are leading providers of course software.  The main difference between the two platforms is that Teachable has more customization tools and better pricing options for course creators.
Where is Teachable located?
Teachable headquarters in New York, NY.