The average company in the United States spends about $4,000 to hire a new employee, taking up to 52 days to fill a position, and that's before they're even hired.
But what does that onboarding even look like? How do you know when a new hire is complete? When does an employee's training actually "stop" and just become educated?
Companies of all sizes are constantly looking for ways to make onboarding more efficient and effective. In this review, we'll take a look at Trainual, one of the biggest names in digital employee training solutions, and put it to the test.
Trainual Overview
Trainual does a lot of things, but at its core, it's software that lets you build out training and standard operating procedure (SOP) documentation. When it's used correctly, it is the place you tell your new hires to go and read through to get onboarded.
Trainual offers a thorough and intuitive system for business owners to write out, categorize, and centralize their best practices and operating procedures. It gives you more than enough tools to translate whatever documents you currently use to train new employees.
It works well for businesses with robust or sparse training materials, so it doesn't really matter if you have a full 'Training' folder on your work computer or a bunch of checklists that you keep in your head. Whether you're transferring from an existing system or building one up from scratch, Trainual gives you nearly everything you could need.
How Does Trainual Work?
Trainual gives your company a dashboard where you can build out SOPs, training documents, manuals, and much more. Some of the most prominent uses for Trainual are:
Onboarding materials and assets
Training new (employee onboarding) and existing employees on company practices or new procedures
SOP documentation (documents, infographics, and video storage)
Process documentation for simple or advanced procedures
Learning management systems (LMS) for ongoing employee training
You can start with a 7-day free trial that gives you access to the Premium pricing plan's suite of features. Once you create an account, you'll be brought to your own company dashboard, where you can begin to build out your materials, assets, manuals, or whatever else you want to use Trainual for.
Who Uses Trainual?
Companies of all sizes and industries use Trainual. The software is built to offer the essential onboarding/SOP needs for nearly any company where the employees can learn by reading written material. Even companies in which the labor is primarily manual can use Trainual for education on industry legal guidelines, client communications, billing and invoicing procedures, and many more purposes.
Trainual themselves boasts that their client base consists of " people-powered businesses serious about scaling up." Ignoring the marketing spin, this basically means that it's best used by businesses who expect to hire frequently in the coming months. The only time a business really doesn't need Trainual is if it doesn't expect to bring anyone new onboard anytime soon.
Here are some of the popular brands that Trainual boasts as clients:
The UPS Store
REMAX
Stanford University
1-800-GOT-JUNK?
Harmon Brothers
Ironman
Entrepreneurs Organization
There are countless more organizations, big and small, which use Trainual for a variety of purposes. The most important thing to take from this list is diversity. If your business is growing, Trainual is worth considering.
What Does Trainual Cost? (Trainual Pricing)
Trainual offers two different pricing plans, called Train and Scale. You can pay monthly or annually for either plan.
The Train plan costs $124/month (paid monthly) or $99/month (paid annually). In this plan, you get the following features:
Unlimited Subjects, Topics, Steps, & Tests

Document all your processes and procedures. Test on everything to boost comprehension and accountability.

Custom Branding

Make your account your own with your brand colors and logo.

Starter Templates and Process Playbooks

Access our free templates and exemplars to help guide you in documenting your business.

Trainual Insiders Private Group Access

Join our Manual Masters Facebook group to connect with other Trainual users and get exclusive content and training from our L&D team.

Easy Content Search

Built-in ability to filter and search your content by any keyword so your team can find everything they need, fast, and from wherever they are.

Chrome Browser Extension

Free Google Chrome extension to search and access your Trainual content right from your browser.

Quick Embeds

Creating training content has never been easier with 700+ Quick Embed integrations.

Tests and Progress Reports

Test your employees on their knowledge and get reports on their performance.

Zapier Integration

Use Zapier to connect Trainual seamlessly to the tools you use every day, including Google Drive, Slack, Asana and thousands more.

Library and Forum Features

Allow your employees to find and gain access to your entire library of content without being assigned.

Custom Secure URL

Create a free subdomain for your company to access Trainual.
The Scale plan costs $249/month (paid monthly) or $199/month (paid annually). In this plan, you get all the features listed above, as well as:
Custom Setup Session

Get 1-on-1 support from our team to help you set up your account, add employees, whatever you need to make the most of Trainual.

Public Share

Share content you create with anyone, even if they don't have a Trainual seat

25 Free E-Signatures

Add e-signatures to your policies for accountability

Automatic Training Time Estimates

Trainual automatically showcases and estimated time for each training task

Subject Due Dates

Seamlessly communicate what training content is a top priority and when your team needs to know it by.

API Access

Need access to Trainual's API to hook up complex integrations with yours systems? You got it.

Custom Domain

Add a custom domain to your Trainual account for greater personalization

Unlimited Support

Reach Trainual's support team by chat and email anytime
If you are unsure which plan is right for you and your team, Trainual offers a 1-on-1 session with a sales representative to go over your business's exact needs.
For most small to mid-sized businesses, a Train plan will likely be enough to cover what you need. One important distinction is the number of Seats. The Train plan includes 10 "seats" or users, while the Scale plan includes 20. This means that in addition to your admin account, you can add 9 and 19 accounts, respectively.
You can add more users to your account in batches of 5. Select the appropriate "team size" on their pricing page for an updated pricing estimate. If you only need to add a couple of additional seats to your account, you can individually purchase more. You can add additional seats for $3/ month with the Train plan and $4 with the Scale plan. For businesses that need to invite many more than 51 users to their accounts, contact Trainual for exact pricing.
Trainual Review
Trainual is a simple, intuitive, aesthetically pleasing, and effective onboarding and SOP tool. This is perhaps most apparent once you arrive at the dashboard, shown below.
How Does The Trainual Dashboard Work?
Trainual has one of the cleanest and simplest dashboard UIs out there. It feels robust but not overwhelming.
New users may be a little confused by the terminology used in the navigation menu at first, but it becomes fairly intuitive as you begin to build out your subjects. Since the platform is used by so many different business types, the UI chooses to use extremely general terms for what may go by different words in different industries. For example, "Subjects" may be more easily understood as "Topics", "Guides", or "Manuals" depending on what industry you come from, but the base Trainual uses is "Subjects". Fortunately, Trainual does allow for customization of most terms in their platform, allowing you to make the platform fit you and your team as easily as possible.
How Do You Get Started With Trainual?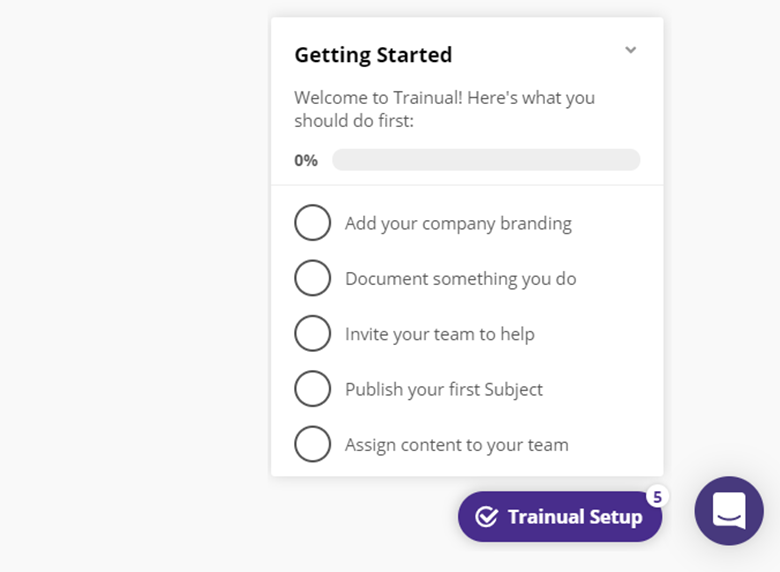 Perhaps the best aspect of Trainual for new users is how quickly and simply they walk you through the startup process. As soon as you start your subscription, you'll be greeted with a one-minute introduction video that will explain the absolute basics of the software to you. I found this video to be more informative than some 45-minute set-up webinars that I have attended for similar software.
Should you need more after the introduction video, there is a convenient Getting Started window that walks you through the best place to start customizing your account.
How Do I Add My Team To Trainual?
Trainual has an intuitive invitation system that lets you add users depending on their role in your company. By clicking "Invite User", you can start sending email invites to any team members you want to use Trainual. At this stage, you can set what access level you want each user to have, ranging from having billing control down to just reading certain Subjects in your library.
From this screen, you can also manage user Roles, which help you designate which content you need which people to see. You can create Roles for different departments on your team, such as HR or Sales, and designate specific procedures and content to those Roles.
What Does Content In Trainual Look Like?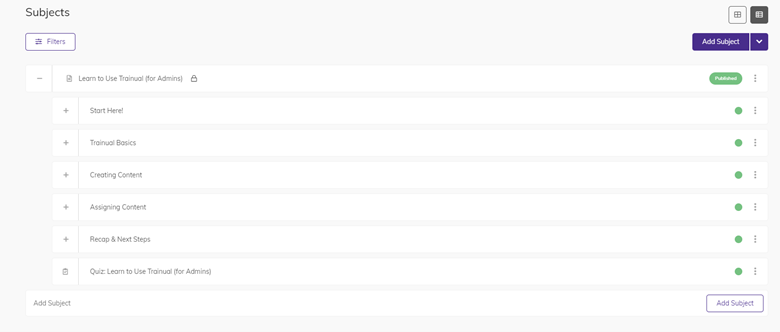 Once you're ready to start building out your Subjects (or whatever you choose to call them), you will have a deep repository of templates to get you started. Whether you're using Trainual to document Employee Policies or thorough SOP guidelines, Trainual has templates ready to import and customize so you don't have to build things from scratch.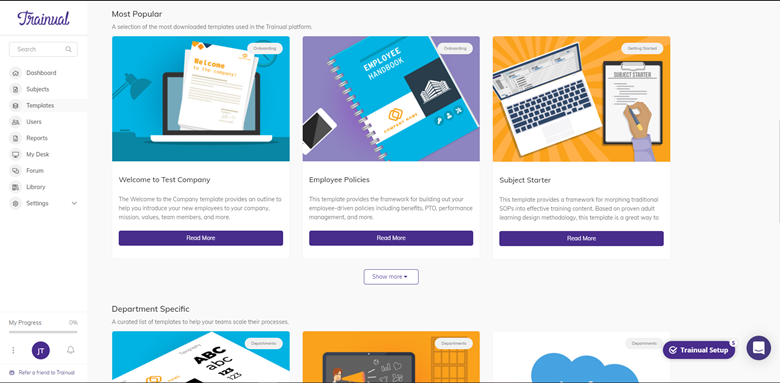 These templates are great shortcuts to transferring existing documentation, as well as inspiration for documentation you don't yet have for your company.
The templates range from very simple one-page guides to multi-step procedures. Whether you're documenting a single client's brand guidelines or outlining an extensive sexual harassment policy, Trainual has the templates that fit your content scope.
Once a Subject is created — either from scratch or from a Template — you can customize the "steps" in the Subject. Creating steps helps readers categorize your processes and view them as linear progressions.
If you click into any Subject, you'll be taken to an advanced view of that Subject and its subsequent steps. From this page, you can see whether the Subject is Published (aka readable to users), the average completion time for that subject, and what Roles have been assigned to view and complete those Subjects.
The same view is available for each step under each Subject. You can create extensive hierarchies within the Subjects tab, which can help you and your team categorize processes and procedures more efficiently. For example, it would likely make more sense to have a Subject titled "Social Media", and then have steps under it titled "Tone", "Where To Find Images", and "How To Respond To Comments". Each of those steps could have steps underneath them as well, should you so choose.
Once you get down to the actual content itself, your users will see a rich text editor that lets you insert images, GIFs, videos, and text. You can customize the content here much the same way you would in Microsoft Word or Google Docs. The editor itself is robust enough for nearly any content you would like to insert. It is not built to help you build new graphic content (like creating new images or videos), but it is capable of hosting them if you create them somewhere else.
How Do I Keep Track Of Things In Trainual?
Trainual's Reporting tab gives you everything you need to monitor your team's progress through Subjects.
In this tab, you can review data such as Average Completion and Users Assigned for all the Subjects you have created.
This way you, and any other admins can monitor how much Trainual is actually being used by your team.
Get Started: Custom Set-Up Support
While Trainual is pretty intuitive for those with software platform experience, adjusting can still take some time. Those without much tech expertise or who want to hit the ground running faster will appreciate Trainual's custom set-up support.
Work directly with an implementation specialist to learn the ins and outs of Trainual. They guide you through everything you need to know during the first four weeks of service. They'll help you:
Create the framework for your account
Share best practices for various roles of your team
Provide suggestions for implementing and formatting your content into Trainual
Develop new training content
Teach your team how to use Trainual
Pros: Here's what I like about Trainual
A simple, intuitive dashboard makes creating and managing processes feel less overwhelming
Excellent at training you to use Trainual. As soon as you hit the dashboard, there are built-in walkthroughs and user guides that are easy to follow and replicate. It's easy to feel like you need a manual on how to make a manual, and Trainual bypasses that completely
A great pool of templates to get you started. No need to build from scratch unless your documentation is very industry-specific, in which case the content creation UI is very simple to begin
Great advanced learning tools – FAQs, forums, webinars, how-to guides, and even podcasts are all part of Trainual's learning resources
Excellent support! We had a billing issue where our card was charged for the annual bill instead of a monthly bill (due to user error, not Trainual). They granted a full refund and swapped the account to monthly within 2 hours of the complaint being raised, despite their support team being offline
Great customization. Changing the default names of Subjects, Topics, Curriculums, etc. will be extremely helpful for industry-specific documents. This helps it feel like the software was built for you, not that you're MacGuyver-ing something against its original purpose
Ability to designate content to specific Roles or Teams – great for keeping users focused on exactly what they need to read, and not feel overwhelmed
Reporting and Average Time To Complete metrics are very helpful for assessing the biggest time sinks during the learning process
Built-in Forum allows for member discussion, centralizing where questions are asked of supervisors
Dark mode! Great UI change up for screen-tired eyes
Cons: Here are the only things I don't like about Trainual
The Seat limits are fairly low, at 10 and 20. While you can upgrade for additional Seats, the cost can quickly add up
If you are used to using different terms for content than their default terms (Subjects, Topics, Curriculums, etc.), the learning curve to start is a little steeper than other tools. That said, their videos and guides make it pretty simple to understand.
Due Dates for Subjects are limited to the Scale plan. This feels like a pretty essential feature to block off from Pro users, who are still paying over $100 a month.
Total integrations leave something to be desired. As a Zapier user, I will be fine. But those who don't use Zapier, Trainual's built-in catalog of native integrations may still feel sparse.
Trainual Alternatives
Still looking for a business policy, process, and SOP creation solution?
You might've decided that Trainual isn't quite right for you. In that case here are a few other Trainual alternatives that could better suit your needs:
Knowledge and Training Platforms
Online Course Platforms
Frequently Asked Questions
Does Trainual have a free trial period?
Yes. New users get 7-days free on either Train or Scale plans.
Does Trainual support PDFs, images, and file upload?
Yes. You can upload all the standard file types to specific Topics within your subjects in Trainual.
Can you make quizzes or tests in Trainual?
Yes. Trainual comes equipped with the ability to have a quiz be the final stage of a Topic or Subject, so you can force users to pass a test before the Subject is considered "complete". Great for academic purposes!
Is Trainual safe/secure to upload content?
Yes. From Trainual's support pages: "All of [Trainual] data is stored on a cloud-based server and database that is PCI Level 1 compliant and backed up daily. All uploaded images and files are stored with Amazon Web Services (AWS) S3 cloud storage."
Does Trainual offer refunds?
Publicly, Trainual's official policy does not offer refunds. However, as noted in this review, they may lift that policy in certain circumstances. If you are looking for a refund, I suggest messaging their support team and explaining your situation (honestly) to them. They may change their mind.
Does Trainual offer integrations?
Yes. Trainual integrates with a suite of other software, most of which are bread-and-butter software like Google Drive, Slack, Harvest, etc. You can see the full list of integrations on Trainual. The integrations catalog is not extensive but covers the basics for most users.