I have used many SMS marketing services in my time in this business, and I've learned a little bit about what works and what doesn't.
Recently, Twilio [review] acquired one of the popular SMS marketing services, Zipwhip.
If you're looking for alternatives to the popular SMS marketing service, check out this updated list of alternatives to Zipwhip.
Best Self-Hosted SMS Software
---
UltraSMSScript
Host your own SMS marketing sofware
Wholesale pricing on SMS messages for cost savings
Great for agencies and businesses that want more control

---
SimpleTexting
Easiest platform to use
Send bulk SMS campaigns in minutes
Great for eCommerce, marketing messages, appt reminders, and more
Advertising Disclosure
Advertising Disclosure
We offer this website completely free to our visitors. To help pay the bills, we'll often (but not always) set up affiliate relationships with the top providers after selecting our favorites. However, we do our best not to let this impact our choices. There are plenty of high-paying companies we've turned down because we didn't like their product.
An added benefit of our relationships is that we always try to negotiate exclusive discounts for our visitors.
Update: Twilio Acquisition of Zipwhip
Twilio, which is a leading cloud communications company, announced that they officially acquired toll-free message providing company Zipwhip.
They purchased Zipwhip with the belief that it will allow Twilio to offer a more all-inclusive customer engagement and experience opportunity for their clients.
The acquisition was announced in the summer of 2021.
Since then, things have changed. Twilio has announced that it will be shutting down Zipwhip by December of 2022.
With this in mind, it's worth it to take a look at other options that offer comparable services to Zipwhip.
Top Zipwhip Alternatives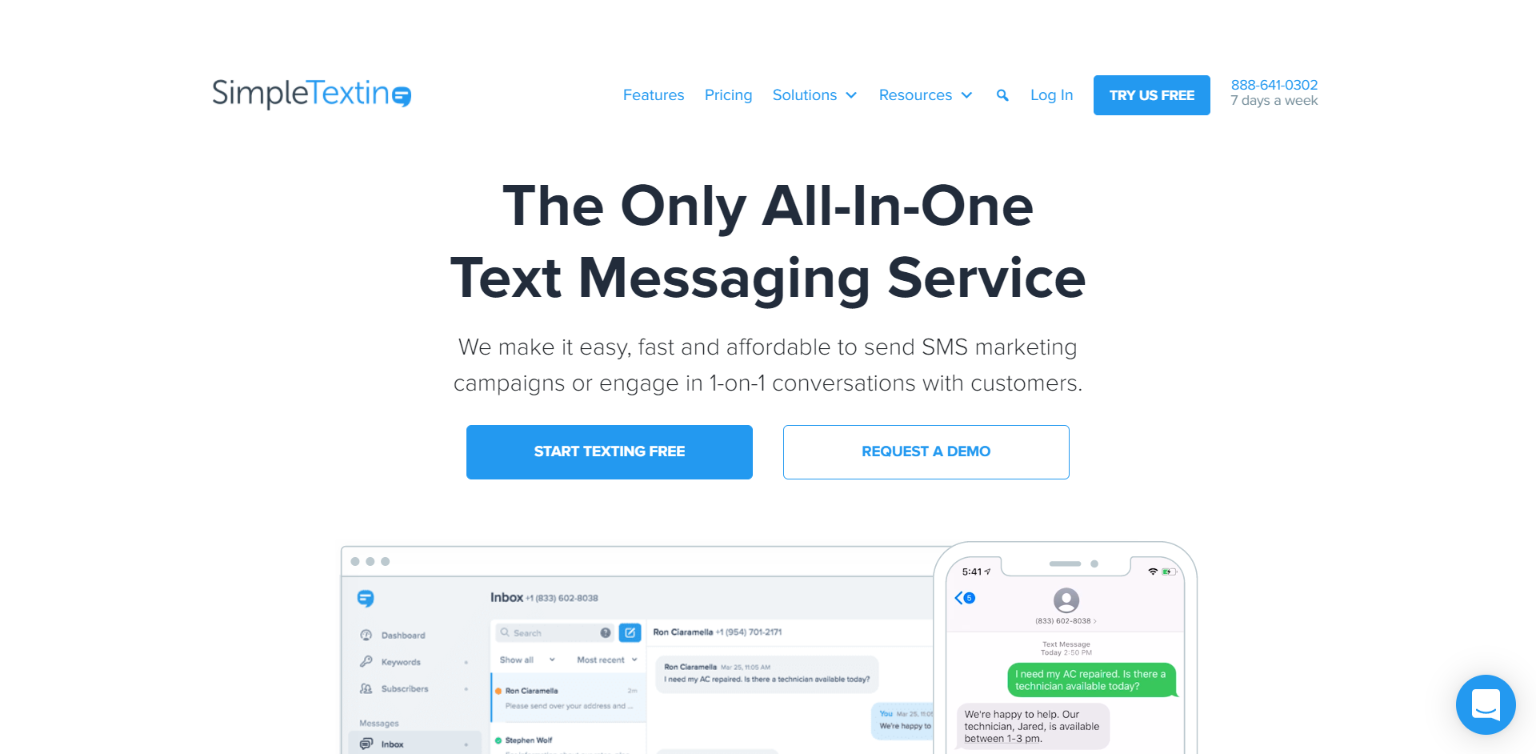 Learn More
SimpleTexting's SMS software is exactly what the name suggests- a simple platform to text your customers on.
Aside from the ability to send mass SMS messages to customers, folks who use SimpleTexting can add photos or other promotional materials to their text campaigns.
SimpleTexting allows for easy grouping of certain customers. You can group people by keywords which allows you to send more personalized messages that apply to a specific group of customers, which creates a higher success rate for your SMS marketing campaign.
You can also watch subscribers' behavior by tracking the open rate of messages sent, how many people subscribed or unsubscribed in a given month, and more in a monthly report given to you by SimpleTexting.
Learn More
As one of the biggest SMS marketing software solutions available, Mobile Text Alerts is an easy pick as an alternative to Zipwhip and Twilio.
This software offers an easy-to-use dashboard that allows businesses to quickly communicate with their customers, as well as a mobile app feature that business owners can use to manage SMS campaigns on their phones.
Mobile Text Alerts also gives companies the option to set up an automated messaging system, which allows automatic responses to messages received from customers or clients at any hour of the day.
Another great thing that users love about Mobile Text Alerts is that they have over 200 integrations that allow business owners to connect their SMS marketing campaigns to things like Zoom, Skype, Gmail, WordPress, and more.
Learn More
With over 15 years in the SMS marketing business, TextMagic is a solid option if you need a new provider.
With TextMagic, you can send alerts, notifications, reminders, and, of course, SMS marketing messages to your customers.
TextMagic has API gateways as well as Zapier integrations, making it easy to connect to Mailchimp, Gmail, Clickfunnels, and more.
You can set up team-sharing options so that you can automate your SMS marketing campaigns, get text messages sent directly to your email, and use the two-way communication feature to respond to text messages from your customers live.
TextMagic offers flexible pay-as-you-go pricing where users can pay $.04 per text message, which is a great option for small businesses that are new to SMS marketing.
Learn More
For a more inclusive SMS marketing service that also offers integrations to a wide range of other marketing platforms, check out ClickSend.
What makes this SMS software unique is the range of abilities it offers. Businesses who use ClickSend can send customers and clients bills or invoices, offer customer support through SMS, and even send automated birthday reminders and promotions to customers. Another plus is the ability to manage delivery communications with suppliers.
ClickSend is also a valuable resource to use in communication with the rest of your team. You can send mass messages out to employees or different teams, send reminders about meetings or events, and simplify human resources communications all through the software.
They also offer a pay-as-you-go pricing model with no pricey startup fees as well as a free 14-day trial to see if you want to use their services.
Learn More
Los Angeles-based Sandwich Video is one of the largest video marketing agencies in the country. With 60 to 70 employees, they have entire departments of video marketing pros at your disposal.
Since the company's inception in 2009, they have worked with an impressive list of clients including Rothy's, Stitch Fix, and Slack. The company provides four full services: creative, production, post-production, and distribution. Therefore, they can handle all aspects of video production.
Be aware that Sandwich Video is intended for larger companies with big budgets. It is not unexpected to spend six figures on some of their projects. However, Sandwich Video provides excellent service and will do well to serve large-scale campaigns.
Other Zipwhip Alternatives
What Is the Best Zipwhip Alternative?
SimpleTexting and UltraSMSScript are our personal favorites because they offer a perfect mix of a wide variety of services and affordability.
You can get started quickly and easily, the dashboard is straightforward and simple, and you have so many extra features to use like the 2-way conversation feature and analytics.
Best Self-Hosted SMS Software
---
UltraSMSScript
Host your own SMS marketing sofware
Wholesale pricing on SMS messages for cost savings
Great for agencies and businesses that want more control

---
SimpleTexting
Easiest platform to use
Send bulk SMS campaigns in minutes
Great for eCommerce, marketing messages, appt reminders, and more
FAQs
What is Zipwhip?
Zipwhip is a cloud-based mobile texting service that enables landline, toll-free, and mobile users to exchange text messages from any device.
How much does Zipwhip cost?
Zipwhip has the following package options and prices:
Starter  -$19, 500 messages, 1 user, 1 line
Unlimited- $49 Unlimited messages, Up to 3 users, 1 line
Premium -$99 Unlimited messages, Up to 5 users, 1 line
Commercial- Custom prices vary
Did Twilio buy Zipwhip?
Yes, Twilio bought Zipwhip in 2021.
What service is most similar to Zipwhip?
EZ Texting and Simple Texting are the most similar services to Zipwhip.