This JavaScript framework is used for developing single-page applications and technically streamlines having to write code. But if writing code at all is a bit more than you can handle, there are plenty of programmers willing to help you out.
Here are the best places to find a developer that specializes in AngularJS so that you don't have to waste time and money trying to teach yourself how to do it.
Best for Hiring Freelancers
---
Top Talent: Get access to elite, pre-screened candidates (only accepts top 3%)
Flexibility: Ideal for long-term or shorter-term specialty projects
14-Day Risk-Free Trial: Only get billed if your satisfied
Best for Hiring Employees
---
AI matching saves time by finding the right candidates for you
Integrate with existing HR systems and workflow to streamline hiring process
Access to a network of 12 million candidates
Also Read: AngularJS interview questions and job description
Where to Hire an AngularJS Developer – Top Websites
Where to find AngularJS developers will ultimately depend on a few factors. Consider product duration, developer experience, cost, and how much time you're willing to put into the hiring process.
Here are our top 7 favorite places to find AngularJS developers.
Combining the best things about hiring a headhunter and using a job board, Shortlist offers the best of both worlds for a fraction of the cost, time, and effort.
To start the process, the customer describes their idea of the perfect candidate in a 5-minute online form. Within 24 hours, Shortlist provides 3 benchmark candidates for approval.
Based on the customer's feedback on the suggested candidates, the team at Shortlist then identifies and contacts a few hundred highly-targeted candidates.
From there, interested candidates reply. Shortlist will then introduce the qualified and interested candidates to the customer. They promise 10 qualified candidates within 10 days of first contact.
The regular pricing for a job posting on Shortlist is $4,000.
Visit Shortlist
Best for hiring top freelancers
For the absolute best freelancing talent available, you can count on the experts on Toptal.
This company vets each freelancer so thoroughly that they only accept the top 3% of applicants each year. You can view these top coders' and developers' profiles to see what their resumes look like, what their level of expertise is, and what unique proficiencies they have. They always list their most successful developers at the top, making it easy to find the best of the best for whatever project you're working on.
This site has provided AngularJS developers to successful startups and huge brands including KraftHeinz, Bridgestone, Duolingo, and Shopify.
Toptal has its own hiring guides that are unique to its platform, so you can see a step-by-step process to connecting to the best Angular JS developer for your company.
Visit Toptal
Promising Silicon Valley-level Angular developers, Turing is the best place to go when you need top-of-the-line talent.
Though over 2 million engineers have applied to Turing, the site only showcases the top 1% of that talent. So customers can rest assured that they're only working with the best.
It takes the team at Turing an average of 4 days to match customers with their ideal developer, though many jobs are filled within the same day.
To get started, customers tell Turing what they're looking for in their Angular developer. Turing then scours their profiles to find a shortlist of developers that match the customer's description,. Then, the customer to schedules interviews with their top picks.
New customers can begin their search with a free two-week trial.
Visit Turing
Best for the top programming talent
If you need someone who is an expert in their field and whose work is vetted to a high degree, Upstack is the way to go.
This company sources talent from all around the world, using an 8-point hiring process to ensure their site users have access to the best candidates. This hiring process not only tests the technical skills of the AngularJS developers that apply but also tests their communication skills and personalities. With a unique approach like this, they ensure that their developers will be a great fit on multiple levels for your company.
Developers who have profiles on their site have extensive experience, working for big-name brands like Microsoft and Lego. But if your company hasn't reached Microsoft level just yet, Upstack also has a diverse talent pool that's highly scalable depending on the size and scope of your business.
Visit Upstack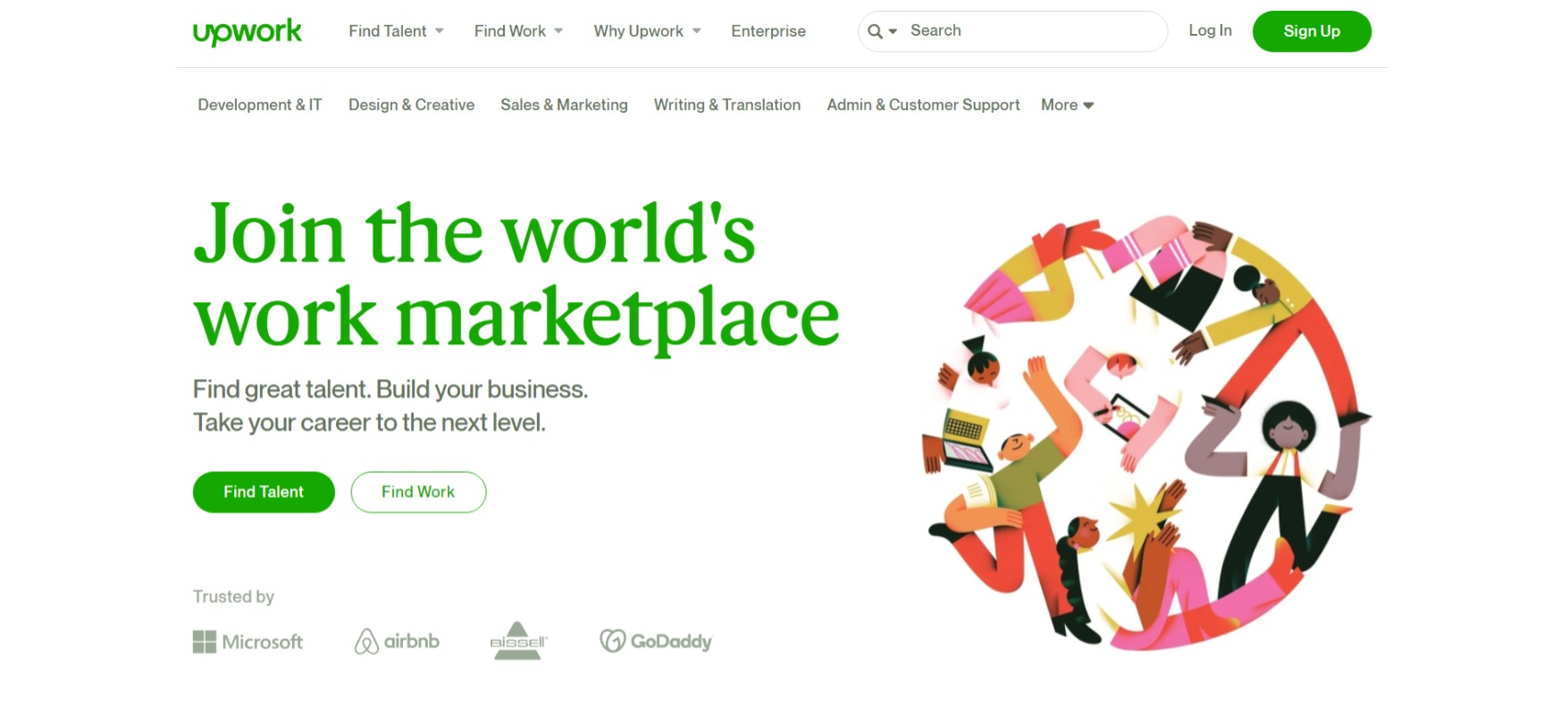 Best for hiring multiple developers
Sometimes, you're going to need more than one developer. For jobs like these, we recommend Upwork.
On this popular freelancing site, you have the power as the client. You can create a job posting for any project you need. Just list information like how long the project will take, what the pay rate is, what level of experience you're looking for and that you're looking for someone who has skills in AngularJS.
The reason we like this site for hiring multiple developers is that you can put in the job posting that you're looking for multiple AngularJS developers for a certain project. You can use the chat feature on the site itself to collaborate and create a finished product you're proud of.
You can sift through multiple applications to see which developers are right for your project and let Upwork handle all of the paperwork.
Visit Upwork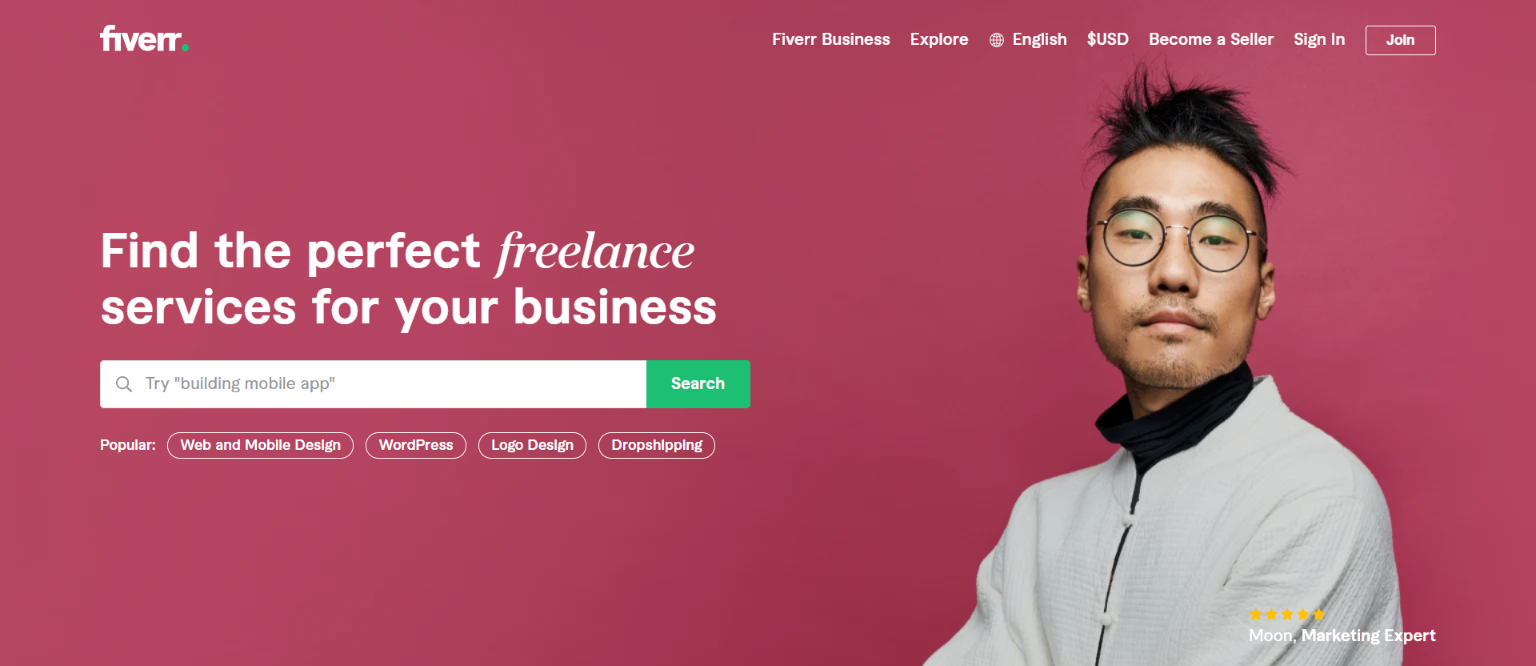 Best for small projects and gigs
Fiverr is one of the largest and most reliable platforms for connecting with prospective freelancers.
The format of this site allows you as the client to browse through pages of qualified freelancers. You can narrow down your search using any number of the many filters the site offers to specify the level of experience, hourly or per-project rates, and specialties of the developer (like AngularJS, for instance.)
The process is easy. You can contact the right developer directly and work out a contractual agreement. Once the terms for a project have been finalized, clients pay the developer upfront.
You have about three days to read over the finished product and decide whether to accept a project submission or reject it to get a refund, allowing you to be certain that you'll get the work you need done on time and done well.
Visit Fiverr
Best for specifically AngularJS jobs
With a name like Angular Jobs, it's instantly clear why Angular Jobs is a top pick when we discuss the best places to hire an AngularJS developer.
On this site, prospective clients get the best of both worlds. You can either post a job listing to applications from qualified developers or reach out to developers who have posted their credentials.
Though this is a smaller job board, it's better for honing in on only developers with the specific skill set that you're looking for.
Another thing that makes this site unique is that it's truly more of a community than a job posting board, which allows for more dedicated and passionate AngularJS developers who are open to collaboration.
Visit Angular Jobs
If you still want more ideas, here's a full list of the best freelance websites for developers.
Frequently Asked Question
How much does it cost to hire an angular developer?
Freelance Angular developers can charge anywhere from $20 to over $100 per hour, depending on their level of expertise and location. Websites like Upwork, Freelancer, and Toptal can give you a clearer picture of current rates. For a full-time developer in the United States, according to Glassdoor, the average salary for an Angular developer is around $76,526 per year, but this can go as high as $120,000 or more depending on the experience and location.
Keep in mind, these are rough estimates and the actual cost could be higher or lower. Always do your own research for the most current rates.
How do I hire an angular developer? 
Identify Your Needs: Outline the specifics of your project, including the tasks the developer will need to perform, the timeline, and your budget.
Post the Job: You can post the job on platforms like LinkedIn, Indeed, or on more specialized tech job boards like Stack Overflow Jobs or GitHub Jobs.
Freelance Platforms: Websites like Upwork, Toptal, and Freelancer allow you to post a project and have developers bid on it.
Use a Recruitment Agency: There are agencies that specialize in tech recruitment. These agencies can help find candidates with the right skill sets.
Screen Candidates: Look for developers with a solid understanding of Angular and previous experience with similar projects.
Interview: Conduct interviews to assess the technical skills and culture fit of each candidate. It's common to give a coding test or a small project to see their practical skills.
Hire: Once you find the right match, you can proceed with the hiring process. If you're hiring a freelancer, this typically involves setting up a contract that outlines the scope of work, payment, and other details.
Remember, hiring a developer is not just about their knowledge of Angular, but also about their problem-solving skills, familiarity with other technologies in your stack, and their ability to work well with your team.
Developer Hiring Guides
If you are looking for other types of technical talent, we've put together hiring guides for these technologies as well.
Top Programming Languages
Top Frontend Frameworks
Top Backend Frameworks
Express
Spring Boot
Flask
Phoenix
Content Management Systems
Ecommerce
Miscellaneous
Unity
Salesforce
iOS / Android