For over 20 years, my partners and I have worked in the web, mobile, and software development space. As such, we've vetted and hired hundreds of developers. Thankfully, we've picked up some best practices along the way.
Today we'll share our tips on what to look for specifically when it comes to hiring an AngularJS developer and where to find the best talent.
Best Place to Hire AngularJS Developers
---
Our Rating – 4.9/5
Upstack is a global network of experienced and well-vetted software developers, web developers, and engineers.
Top 1% of development talent in the world.
Artificial Intelligence (AI) and rigorous screening to match you with the best developer.
No commitment required. 14-day risk-free trial.
Where to Hire an AngularJS Developer – Top Websites
Where to find AngularJS developers will ultimately depend on a few factors. Consider product duration, developer experience, cost, and how much time you're willing to put into the hiring process.
Here are our top 2 favorite places to find AngularJS developers.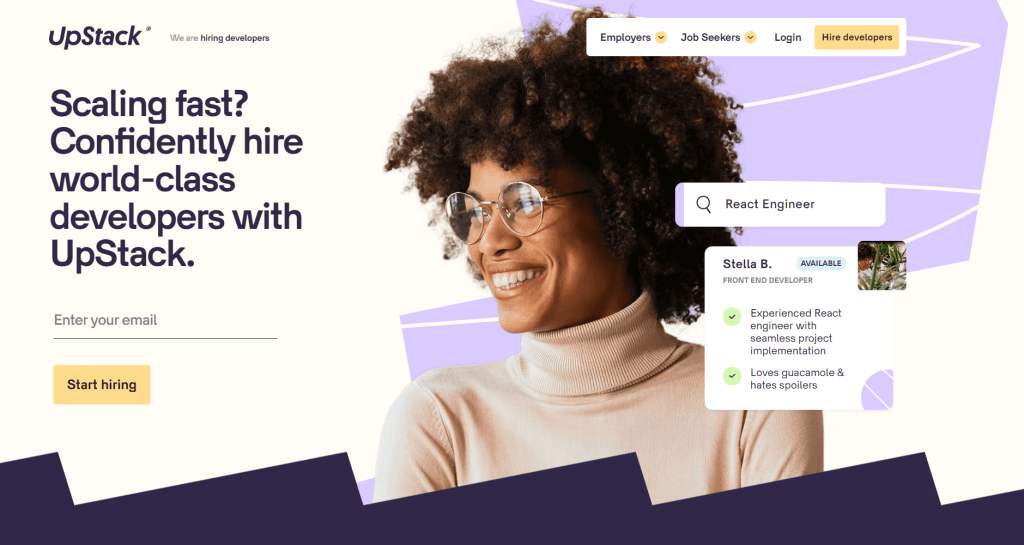 Best for the top programming talent
Upstack aims to elevate remote tech teams worldwide through dedicated freelance talent. They look for the best freelance talent by sourcing their developers from all over the world.
They deploy an 8 point hiring process to ensure their site users have access to the best candidates with top-notch developing skills, communication, and personalities. They offer talent in a diverse set of fields including Java, Python, iOS, and PHP.
They've worked for big-name brands like Microsoft and Lego. However, Upstack has a diverse talent pool that's highly scalable depending on the size and scope of your business.
Visit Upstack
Read our Upstack Review.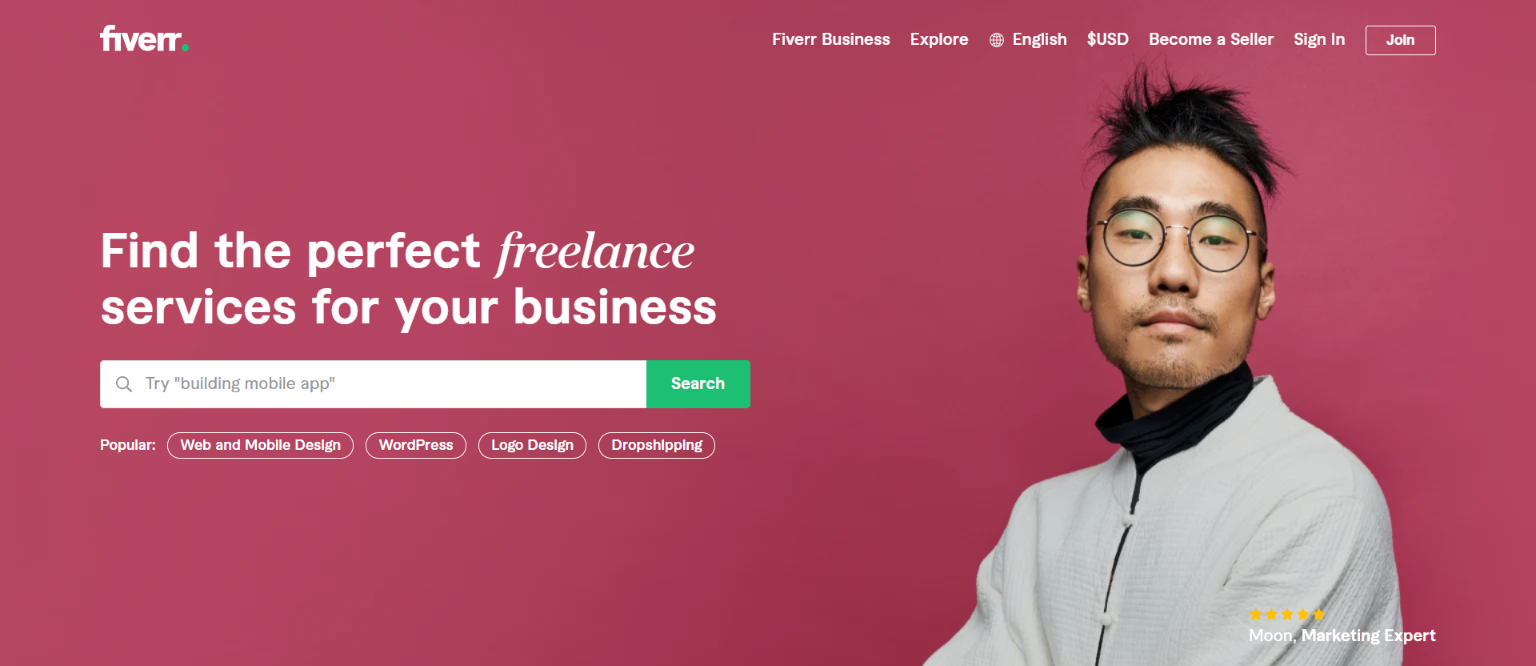 Best for small projects and gigs
As one of the largest freelancing job boards on the web, Fiverr is a proven platform for connecting with prospective freelancers. The site aims to streamline the process of connecting developers with clients in a way that's efficient for both sides.
You can contact a developer by selecting their profile if you think you've found a good fit. Once the terms for a project has been finalized, clients pay the developer upfront. You have about three days to read over the finished product and decide whether to accept a project submission or reject it to get a refund.
Clients look through the site's list of freelance developers by using its robust filter tools to find the right fit. You can filter developers based on their price range, body of work, and much more.
Fiverr is great for finding developers with a specific niche, as the site has categories for practically any type of development service. For example, if you click on the mobile application development link, it'll let you sift through candidates based on even more specific guidelines, such as custom app development or web-to-app conversions.
Visit Fiverr
If you still want more ideas, here's a full list of the best freelance websites for developers.
What is AngularJS Used For?
AngularJS is an open source Model-View-Controller framework which is similar to the JavaScript framework.
Angular JS is probably one of the most popular modern day web frameworks available today. This framework is used for developing mostly Single Page applications. This framework has been developed by a group of developers from Google itself.
Here are some common uses of AngularJS Programming Language:
Creating dynamic websites
AngularJS uses various techniques to make websites and web pages more interactive and streamlined for the user.
Creating RIA
RIA, or Rich Internet Applications, are web-based applications that can appear similar to a desktop application. This offers a faster and easier user experience along with more user interactivity than a traditional web-page can.
Creating SPA
SPA, or Single Page Application, loads the entire content of a website on a single page. This makes it easier for those browsing a website to click on a link without having to go to and load a new page. It allows them to move through various parts of the website without having to constantly reload.
Creating PWA
PWA, or Progressive Web Applications, is a tool used to help streamline computer and mobile experiences for website users. It combines the feeling of a webpage with the ease of using an application. In many ways, these are seen as the future of various online experiences.
Dynamic, Rich, and Fast content
AngularJS works with all browsers and allows for the browser to build the webpage the user will see when accessing a website. The server sends the information and allows the browser to build, making for faster and smoother loading times. A traditional javascript would put the heavy lifting on the server.
Writing Cleaner Code
AngularJS allows for "in conditions," loops, and variables in the templates, thus allowing for a much cleaner coding experience.
Data-binding
AngularJS uses data-binding, which means it takes data sources from the provider and consumer. This allows for quicker load times and smoother experiences for the user.
What to Look for When Hiring an AngularJS Developer
When hiring an AngularJS programmer, there are a few things you have to consider including experience, rates, and the type of work arrangement. It also depends on the type of project you have and what skills you need to complete it.
AngularJS Required Skills
Here are some of the basic skills that an AngularJS Developer is expected to have:
Thorough understanding of Angular framework
Strong understanding of JavaScript and HTML5
Comprehension of AngularJS and the coming updates
Experience with Node Package Manager
Ability to use Angular Command Line Interface
Knowledge of CSS and JS methods for working with visual effects at a frame rate constantly above 30fps
AngularJS Experience
AngularJS developers should have some experience with the following:
Providing responsive feedback from the client-side actions
Creating non-blocking code as well as using multi-threading and other techniques
Producing general use modules and components building off general AngularJS
Using task runners and scripts
Working with Continuous Integration environments
How to Write an AngularJS Job Description
Crafting the perfect AngularJS developer job description is critical to ensure that you get in front of the right developers. It's also important to ensure that you set the proper expectations up-front to streamline the vetting process, saving everyone time and money.
AngularJS Developer Job Description Template
Company Introduction
Use this section to write 2-3 sentences about your company. Make sure to provide information about the company culture and benefits. This would be a good section to link to your company website. The best candidates will do some advanced research.
Job Description
We are looking for an AngularJS developer responsible for building dynamic website applications utilizing (RIA, SPA, or PWA) for both mobile and desktop use. Your primary responsibility will be to design and develop these web applications as well as to work with the rest of the development team in order to create a streamlined experience for all web traffic coming through the application. You will focus on the client-side of our service.
Responsibilities
Design, build and maintain efficient, reusable, and reliable Angular JS code
Deliver a complete front end application (RIA, SPA, or PWA)
Identify issues on the user end and devise solutions to these problems
Help maintain code quality, organization, and automatization
Write code in JavaScript, HTML and CSS
Come up with SEO solutions for single-page apps
Communicating with external web services to ensure a streamlined experience
Add other responsibilities here that are important for the project/job
Skills
Strong proficiency in AngularJS, with working knowledge of the language specification
Strong understanding of JavaScript and HTML5
Specify any platform(s) that you want the developer to have a strong grasp of
Able to use CSS and work with CSS developers for streamlined animations
Familiarity with templating in AngularJS and HTML5
Familiarity with continuous integration
Experience with designing the necessary elements for serving the front-end app and assets
Ability to utilize e2e test suites for all elements of the application
Specify other frameworks, libraries, or any other technology relevant to your project/job
Education level or certification requirements
AngularJS Developer Interview questions
When looking to hire an AngularJS developer, consider asking some of the following interview questions:
What are the differences between Javascript and AngularJS?
What is an RIA?
What are the primary uses of AngularJS?
How does data-binding relate to AngularJS?
How does scope pertain to AngularJS?
Can you explain the controllers in AngularJS?
What are the services in AngularJS?
Can you explain how filters work in AngularJS?
What are directives in AngularJS?
How do templates work with AngularJS?
Can you name the advantages of using AngularJS?
Can you explain the disadvantages of using AngularJS?
Can you name and explain the core directives of AngularJS?
What is an MVC?
Can you explain the process of integrating AngularJS with HTML?
What are AngularJS expressions?
What is the process for validating data in AngularJS?
How can internationalization be implemented in AngularJS
Freelance AngularJS Developer Rates
On average, an AngularJS developer's medium salary comes in at $112,000. When hiring an AngularJS freelancer, you can expect to pay $59.96 on average per hour. Freelance AngularJS developer rates can range from $22-$160 per hour depending on the developer's experience, where they are located, their availability, and other programming languages required.
Check out our detailed pricing guide for more freelance website developer rates.
Developer Hiring Guides
If you are looking for other types of technical talent, we've put together hiring guides for these technologies as well.
Top Programming Languages
Top Backend Frameworks
Express
Spring Boot
Flask
Phoenix
Content Management Systems
Ecommerce
Miscellaneous
Unity
Salesforce
iOS / Android
FAQs
Where can I find an AngularJS developer?
There are plenty of online resources available for finding an AngularJS developer online. It's always an option to check popular job boards like LinkedIn and Indeed, but remote hiring platforms are wonderful options if it's a single project. Fiverr, Upstack, and Toptal are great ones, but check out our list of the best freelance websites for developers.
How much does it cost to hire an AngularJS developer?
On average, an AngularJS developer can expect to make between $79,000 and $100,000 early on in their career, with many making more than that. Talent.com puts the average salary at $112,000. This means it's common to pay a freelancer $50-$60 an hour depending on experience. On some freelance websites, you can find developers for as low as $10-$25 an hour, but they offer far less experience.
What are the most important skills to look for in an AngularJS developer?
Aside from obvious proficiency in AngularJS and HTML5, key skills for an AngularJS developer include knowledge of CSS and the ability to utilize e2e test suites. They will need to be able to use and create templates for AngularJS and HTML code. Additionally, they need to be good problem solvers in order to create the best performance for your front-end applications.
What does an AngularJS developer do?
An AngularJS developer creates the front-end experience for users. Their role is extremely important because they will be the ones creating the experience for your users and making sure that everything on the website works together with the user's system.