Before you hire a coder, you should understand the fundamentals of their practice: code. The challenge is that there are hundreds of different types of code.
In this article, we will share our tips on what to look for in a JavaScript developer and where to find the best talent.
What is JavaScript Used For?
JavaScript is an extremely popular web scripting language for adding interactivity to websites. The code runs on the user's machine and supports event-driven, functional, and imperative programming styles. Here are some common uses of the JavaScript programming language.
Website Interactivity
JavaScript is the programming language that allows users to interact with webpages. The things that can be achieved with JavaScript on websites is limitless, but common uses include showing and hiding information, creating on-screen animations, and modifying existing web pages.
Mobile Apps
One of the most popular methods of developing mobile apps is by using a JavaScript framework called React Native. React Native allows JavaScript developers to create a single app that can be used across multiple platforms including Android, iOS, and Windows. In this example, all code can be written in JavaScript.
Web Server
Node.js is an environment that allows JavaScript to be used outside a web browser. It can be used to listen to and send requests to other devices. By taking advantage of these possibilities, JavaScript developers can create fully-functioning web servers. The MEAN stack, a set of technologies to combine dynamic websites with web servers, uses Node.js.
Games
There are multiple different game engines for creating games, with each allowing code to be written in multiple different programming languages. Many game engines allow code to be written in JavaScript because it is one of the most popular programming languages, meaning that complete games can be written in JavaScript.
HTML5 games, made with traditional web programming languages including JavaScript, remain a popular use of the language.
Browser Extensions
Browser extensions allow users to make use of a company's products across the whole of the Internet. Popular browser extensions include Google Translate (for translating foreign languages) and Grammarly (for correcting written text). JavaScript is a frequently used language for writing browser extensions.
What to Look for When Hiring a JavaScript Developer
When hiring a JavaScript programmer, there are a few things you have to consider including experience, rates, and the type of work arrangement. It also depends on the type of project you have and what skills you need to complete it.
JavaScript Required Skills
Here are some of the basic skills that a JavaScript Developer is expected to have:
Standard JavaScript function programming
jQuery functions
Data structures such as linked lists and trees
Responsive design
JavaScript Experience
JavaScript developers should have some experience with the following:
Understanding of web markup, including HTML and CSS code
Object-oriented programming (OOP) and web development
Data representation through JSON
Angular or React frameworks
Asynchronous web handling with AJAX
Testing and debugging JavaScript programs
Page inspection and web browser developer console
Enterprise, commercial, and open-source projects
How to Write a JavaScript Job Description
Writing the perfect JavaScript job description is essential to ensure that you can attract the top developers. It's also important to ensure that you set the proper expectations up-front to streamline the vetting process, saving everyone time and money.
JavaScript Interview questions
When looking to hire a JavaScript developer, consider asking some of the following interview questions:
What is the undefined property?
What is event bubbling?
How do you submit a form using JavaScript?
Where might you need to use AJAX within JavaScript code?
How do you parse a JSON string?
How do you redirect a user in JavaScript
Why do we need callbacks?
What is the difference between JavaScript and Typescript?
What is the difference between the == and === operators?
What is the benefit of using modules?
How do you access web storage?
How can you use cookies in JavaScript?
Freelance JavaScipt Developer Rates
The average salary for a Javascript developer is $109,661 per year in the United States. When hiring a JavaScript freelancer, you can expect to pay $47.98 on average per hour. JavaScript freelancer rates can range from $15-$225 per hour depending on the developer's experience, where they are located, their availability, and other programming languages required.
Check out our detailed pricing guide for more web developer rates.
Where to Hire a JavaScript Developer – Top Websites
Where to find JavaScript developers will ultimately depend on a few factors. Consider product duration, developer experience, cost, and how much time you're willing to put into the hiring process.
Here are our top 2 favorite places to find JavaScript developers.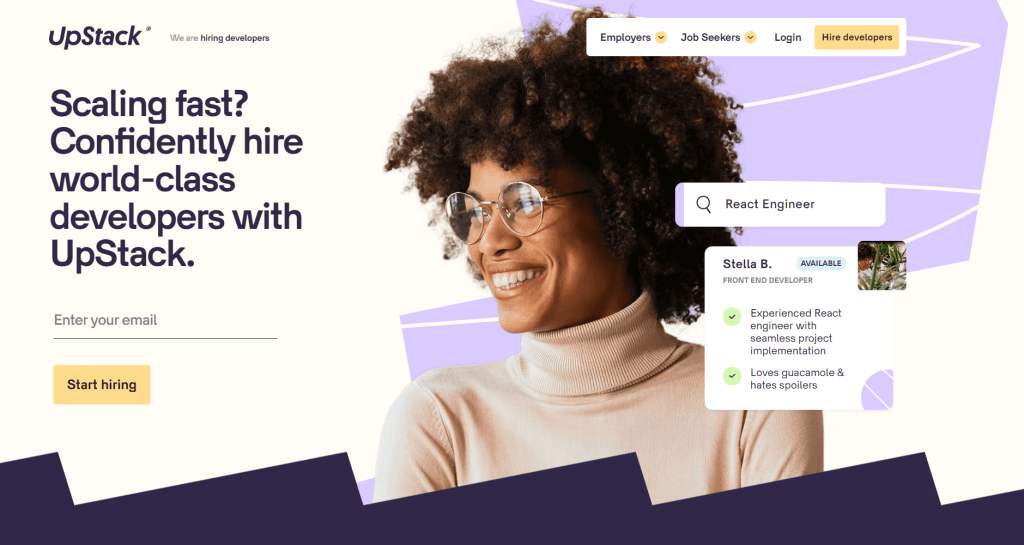 Best for the top programming talent
Upstack aims to elevate remote tech teams worldwide through dedicated freelance talent. They look for the best freelance talent by sourcing their developers from all over the world.
They deploy an 8 point hiring process to ensure their site users have access to the best candidates with top-notch developing skills, communication, and personalities. They offer talent in a diverse set of fields including Java, Python, iOS, and PHP.
They've worked for big-name brands like Microsoft and Lego. However, Upstack has a diverse talent pool that's highly scalable depending on the size and scope of your business.
Visit Upstack
Read our Upstack Review.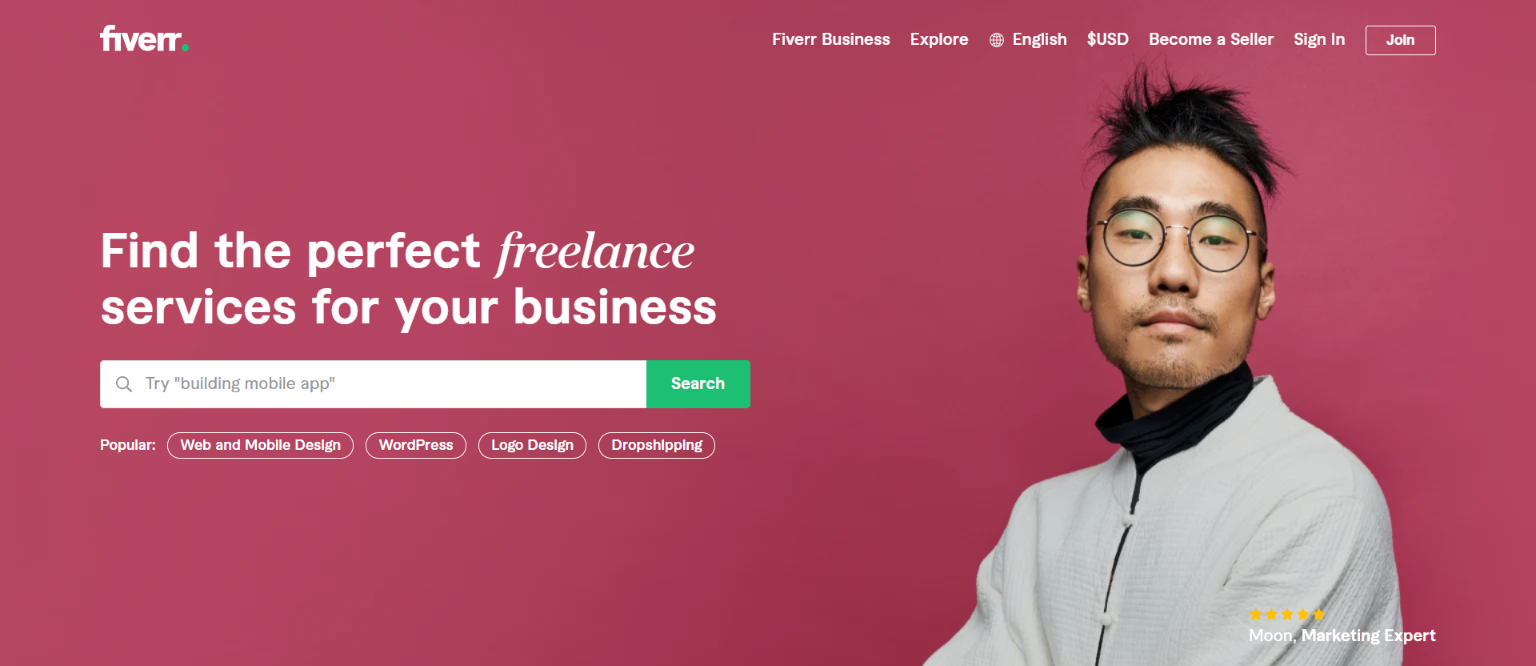 Best for small projects and gigs
As one of the largest freelancing job boards on the web, Fiverr is a proven platform for connecting with prospective freelancers. The site aims to streamline the process of connecting developers with clients in a way that's efficient for both sides.
You can contact a developer by selecting their profile if you think you've found a good fit. Once the terms for a project has been finalized, clients pay the developer upfront. You have about three days to read over the finished product and decide whether to accept a project submission or reject it to get a refund.
Clients look through the site's list of freelance developers by using its robust filter tools to find the right fit. You can filter developers based on their price range, body of work, and much more.
Fiverr is great for finding developers with a specific niche, as the site has categories for practically any type of development service. For example, if you click on the mobile application development link, it'll let you sift through candidates based on even more specific guidelines, such as custom app development or web-to-app conversions.
Visit Fiverr
If you still want more ideas, here's a full list of the best freelance websites for developers.
Developer Hiring Guides
If you are looking for other types of technical talent, we've put together hiring guides for these technologies as well.
FAQs
Where can I find a JavaScript developer?
There are many places where you can find and hire a JavaScript developer online. If you're looking for a full-time developer, you can try popular job boards like Indeed and LinkedIn. For the best freelancers, consider using a remote hiring platform focused on placing programmers like Upstack or Toptal. You can also find JavaScript developers on general freelancing marketplaces like Upwork and Fiverr.
How much does it cost to hire a JavaScript developer?
The average salary for a JavaScript developer is $109,661 per year in the United States. When hiring a JavaScript freelancer, you can expect to pay $47.98 on average per hour. JavaScript freelancer rates can range from $15-$225 per hour depending on the developer's experience, where they are located, their availability, and other programming languages required.
What are the most important skills to look for in a JavaScript developer?
There are many skills that a JavaScript developer needs to know. They must be familiar with HTML and CSS on webpages, using AJAX for data transfer, and have used popular libraries and frameworks such as jQuery, Angular, and React.
What does a JavaScript developer do?
To put it as simply as possible, a JavaScript developer designs and develops software using the JavaScript language. In addition to programming, continued development, and optimization, they will also be required to fix bugs in existing code, and test new code before it is released to the public.