Now that you know what questions to ask thanks to the hiring guide, it's time to put that new knowledge to use.
Here are the five best places to turn to when you need to hire a C# programmer.
Also Read: C# interview questions and job description
Where to Hire a C# Developer – Top Websites
Where to find C# developers will ultimately depend on a few factors. Consider product duration, developer experience, cost, and how much time you're willing to put into the firing process.
Here are our top 5 favorite places to find C# developers.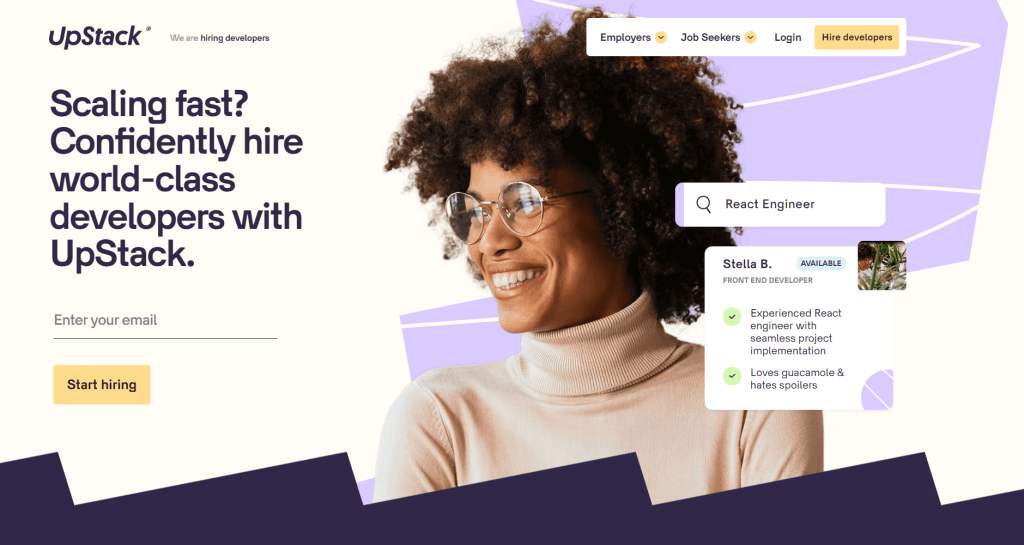 Best for the top programming talent
If you have a big, long-term C# project coming up and you need a freelancer to join your team, Upstack is a great place to look.
They source only the top programming talent from across the globe, matching you with a C# programmer that you can trust to get any job done right.
Upstack's approach to vetting its freelancers is a little bit different. Whereas many companies look only at a freelancer's body of work and technical skills, Upstack takes a more holistic look at the person they would be working with.
They use an 8-point process that tests developers' and programmers' technical skills as well as their communication skills and personalities. By taking this approach, they're able to match you with a C# developer that will truly mesh well with your team.
Though freelancers from Upstack have worked for big-name brands like Microsoft and Lego, they also have a diverse talent pool that's highly scalable, depending on the size and scope of your business.
Visit Upstack
Read our Upstack Review.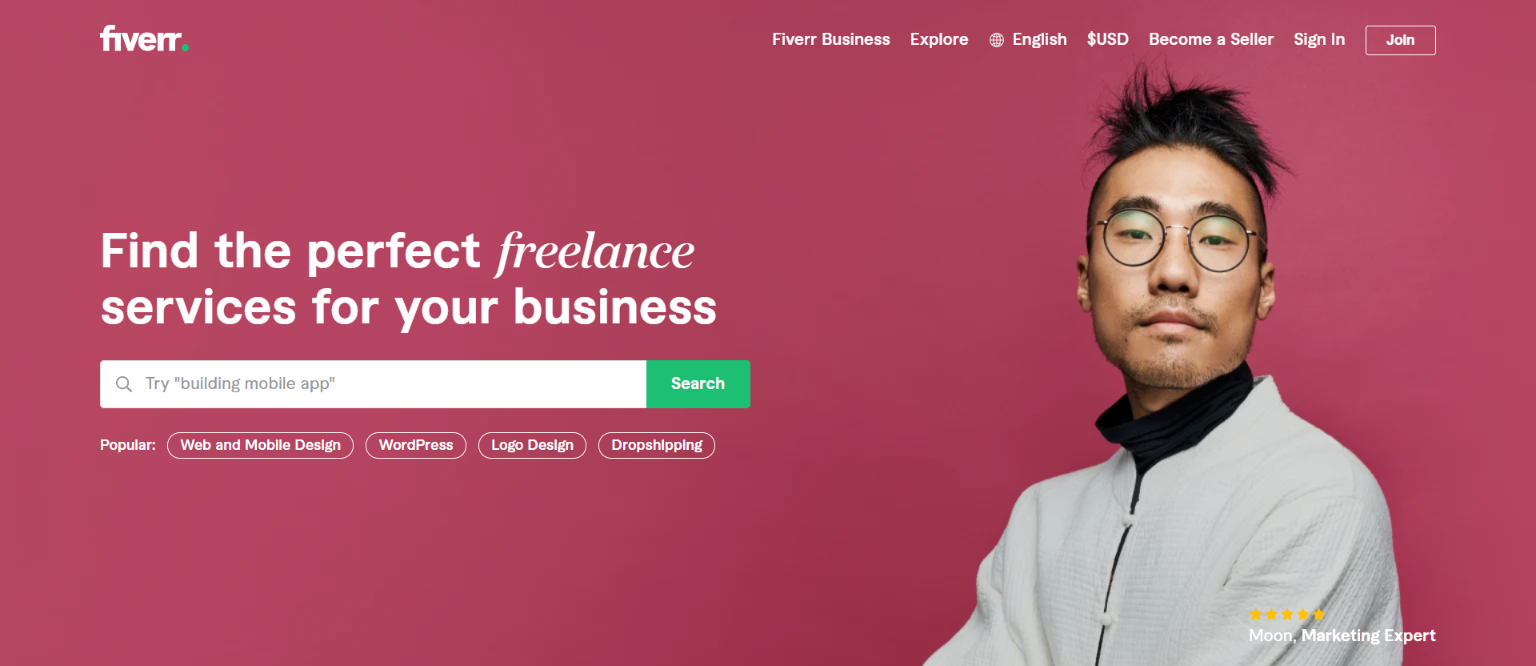 Best for small projects and gigs
As one of the largest freelancing job boards on the web, Fiverr is a proven platform for connecting clients with freelancers from all backgrounds and expertise, including C#.
The power to choose here lies in the hands of the client, and the process is pretty straightforward. To find a C# programmer, you can look through the site's list of freelance C# developers by using its robust filter tools to find the right fit. Filter developers based on their price range, body of work, years of experience, availability, and more.
It also makes things easier because you get to reach out to freelancers that you have an interest in, and you don't have to worry about doing any onboarding paperwork.
The sheer volume of freelancers on this site makes it a great place to turn to if you're looking for a freelancer to complete a smaller project on a one-time contract. If the relationship with your C# programmer is successful, you can always hire them again for future projects.
Visit Fiverr
Best for hiring multiple freelancers
Another one of the largest freelancing sites out there, Upwork has a wealth of C# programmers that you can work with for your next project.
The process on Upwork is the opposite of Fiverr. On Upwork, clients create job postings that detail what they're looking for. You can use key phrases like "C# developer," list the level of experience you're looking for, how much you're willing to pay for the project, and what the timeline for your project looks like.
Once you post the job, watch the applications roll in. Seriously, you're bound to get dozens of submissions from developers in a short amount of time, and you'll need to use your best judgment and the site's review features to see which programmer is right for your project.
Upwork is my pick for any project where you will need more than one person collaborating with you on a project since you can choose multiple submissions from just one job posting.
Visit Upwork
Best for hiring top freelancers on a deadline
If you need your C# project done quickly and well, Toptal is where you want to go.
Toptal is hyper-selective about which developers and programmers they feature on their site. So selective that they only take the top 3% of every applicant that they get each year.
When you use their advanced search tools to find a C# developer, you'll see their list of top programmers with that skill set. You can read up on things like what other skills they have, how much experience they have, how long they have worked with Toptal, and a short biography introducing themself to you.
This company also promises a 48-hour timeline for connections. When you submit a request to get matched with a C# programmer, they will get back to you with an available developer who can help you with your needs within just two business days.
Visit Toptal
Best for variety
Another trusted site with plenty of freelancers to choose from, Guru should be on your radar when you're on the search for a C# developer.
I like how simple and straightforward the layout of this site is. Sometimes you're in a serious time crunch and need to flip quickly through a bunch of profiles to find a C# programmer. On Guru, it's just as easy as typing in what you're looking for and get plenty of profiles to choose from.
Each of the freelancers' profiles has a "rating" based on what past clients had to say about their work and the ones with the highest ratings get pushed to the top.
This site lists pay a bit differently, showing how much a developer makes each year. With that info in mind, you can simply press the "get a quote" button, and discuss projects with programmers.
Visit Guru
If you still want more ideas, here's a full list of the best freelance websites for developers.
Developer Hiring Guides
If you are looking for other types of technical talent, we've put together hiring guides for these technologies as well.